Lemon Lavender Chia Pudding is an easy make ahead breakfast packed with anti-inflammatory turmeric, fresh zesty lemon and calming aromatic lavender for one creamy and delicious bite. (Dairy-free and Gluten-free)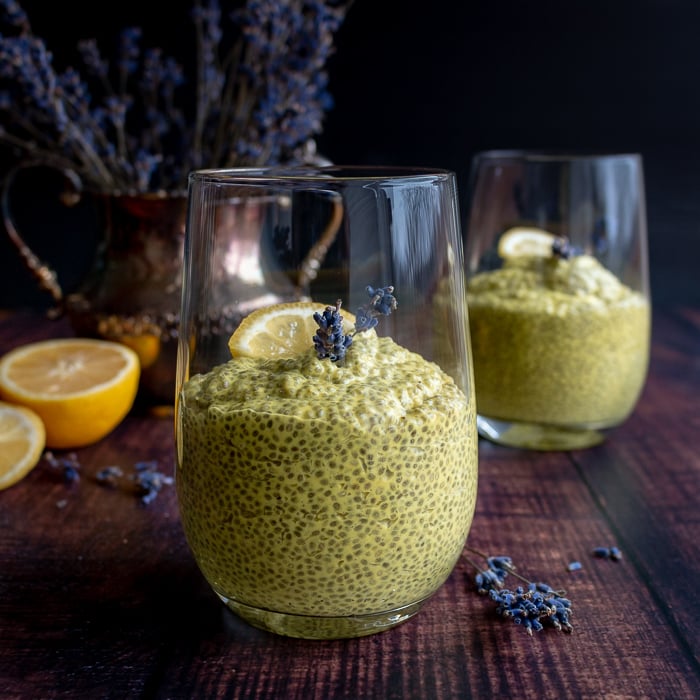 Jump to:
What's to Love
Healthy enough to be a breakfast but delicious enough to be a dessert. You got to love that. You know what is even better? Mom's love this! This Lemon Chia Pudding is creamy, bright and slightly sweet.
Chia puddings like our Chocolate Matcha Chia Seed Pudding, Spicy Chocolate Chai Pu-erh Chia Pudding and lemon lavender chia pudding are the perfect way to start the day. Dad's and kids this is going to be your go to no cook easy recipe for breakfast in bed for mom on Mother's Day.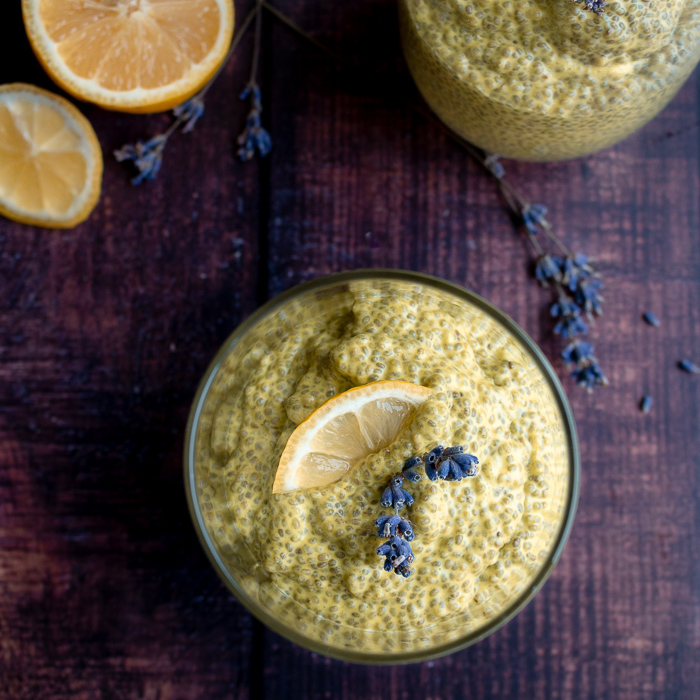 Chia Seed Pudding Craze
Have you jumped on the chia seed pudding bandwagon yet? We were hesitant at first because of the whole texture thing. Boy, we were wrong. A chia seed pudding is thick and creamy like tapioca pudding.
When chia seeds are allowed to sit in a liquid, they plump up and thicken the liquid. Chia seeds are smooth and take on any flavor you add to your pudding or liquid.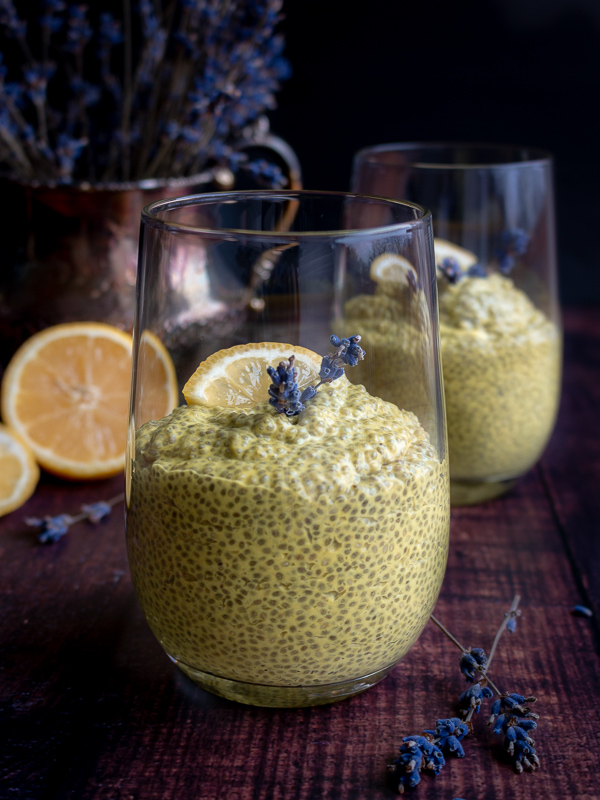 Lemon and Lavender
Spring has sprung and we are going all out with EVERYTHING Lemon and Lavender. After being cooped up all winter in snow, sleet and generally downright miserable weather for the last 5 months, we have severe spring fever. We are ready to lighten and brighten up our menu.
Lemon and lavender are just the ingredients to awaken your senses. The fresh bright aroma of the lemons and relaxing lavender is that perfect bite of spring. Be sure to check out our delicious Honey Candied Meyer Lemon Slices and our Icebox Lavender Lemon Angel Food Cake. In addition, our Lemon Lavender Goat Cheese Spread is the perfect starter for any spring or summer gathering.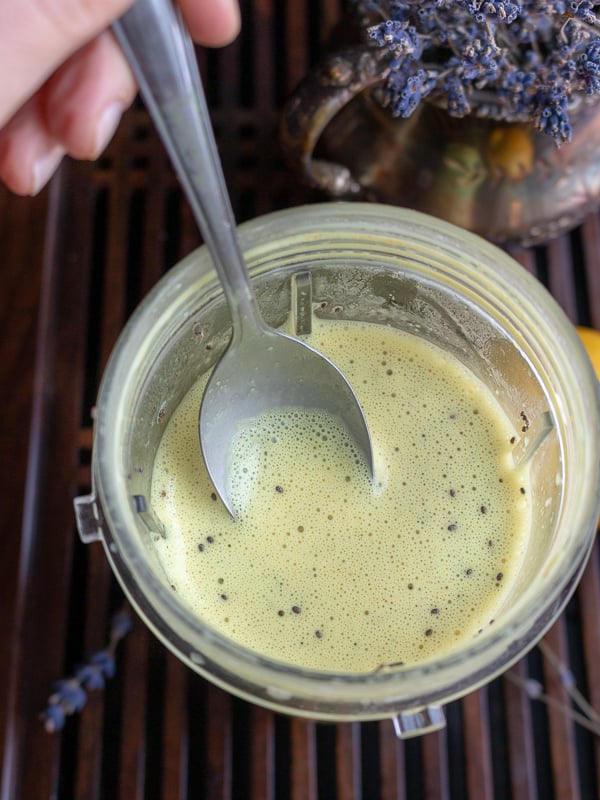 Dairy – Free
Are you lactose intolerant? When we have milk, ice-cream, yogurt or some cheeses we end up looking like we are about 7 months pregnant and feel so uncomfortable. We have found that if we just use a delicious dairy alternative, we feel great.
One of our favorite go to dairy-free products are almond milk and oat milk. Have you tried oat milk yet? Oat milk is delicious in this recipe. Feel free to use coconut milk, almond milk, soy milk or regular milk if you are not dairy sensitive in this recipe. They all work well.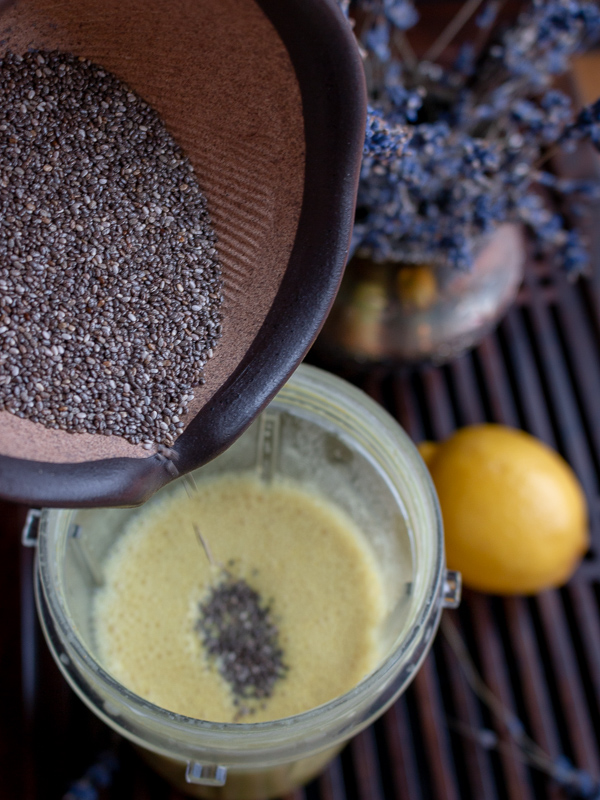 Ratio of Chia Seeds to Liquid
The amount of chia seeds you use really depends on how thick you like it and how long you are willing to wait to let it gel. We like our Lemony Lavender Chia Seed Pudding quite thick. Our chia seed to liquid ratio is about 2 cups of liquid to ⅔ cups of chia seeds to make 2 servings of pudding.
If you like your chia seed pudding a little looser, then reduce the amount of chia seeds by ¼ cup. Our Lemony Lavender Chia Seed Puddings were ready to eat after 2 hours of refrigeration time. However, they are thick and delicious after sitting overnight in the refrigerator.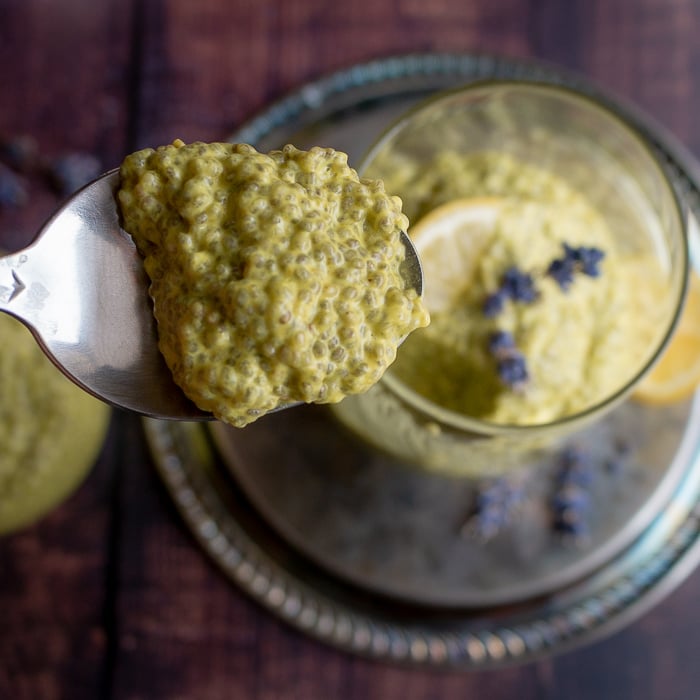 Warming Anti-Inflammatory Turmeric
Not only does the ground turmeric powder give your Lemon Lavender Chia Pudding a beautiful golden glow, it warms you up. According to Traditional Chinese Medicine (TCM), lemons are considered a cooling food. The balance between the heaty turmeric and cooling lemon are pleasing.
Lemons are very good for people that have a heaty disposition and have issues with their liver and liver fire. You can learn about meal plans for stagnant liver qi in our Love Your Liver article with self care tips.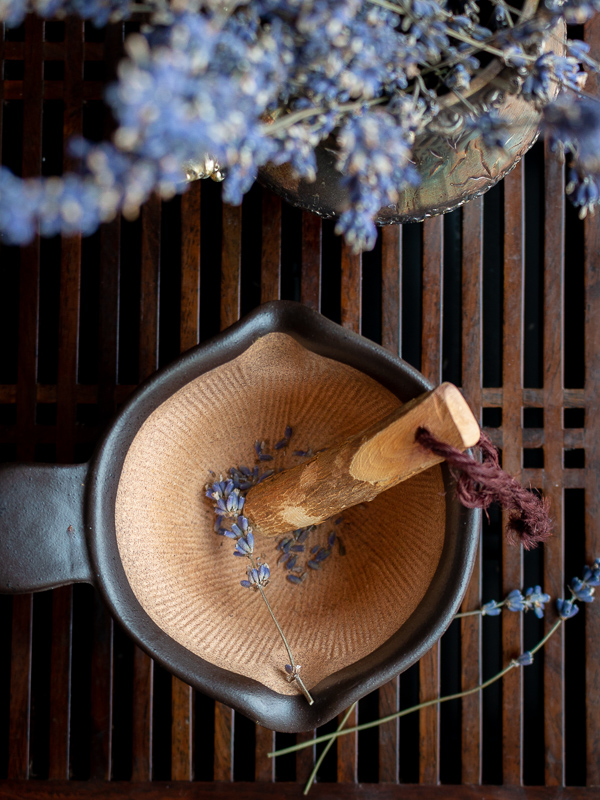 Reduce Stress with Lavender
A little dried lavender or lavender essential oil is way cheaper than a day in therapy… LOL. Really, life just sometimes gets out of hand. We are pulled in a million directions and have so much responsibility. It been tough keeping up.
Do you know the first thing to suffer is your health? We are certain you are working extra hours, taking extra time with your kids and sick and aging parents. What about yourself? When is the last time you have done something just for yourself? Ha! I bet you can't even remember.
A little dried lavender or lavender oil in your Lemon Chia Pudding is the perfect stress buster. In addition, the fresh burst of lemons is just what you need to brighten your day.
Did You Like Our Recipe? Leave a ⭐⭐⭐⭐⭐ rating and/or a review in the comments section below. Your feedback is always appreciated! Follow us for more delicious recipes on Pinterest, Instagram, Twitter and Facebook! Don't forget to sign up for our email list for more free recipes.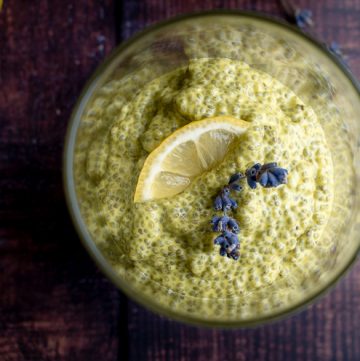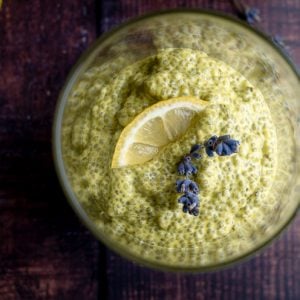 Lemony Lavender Chia Seed Pudding
Lemony Lavender Chia Seed Pudding is an easy make ahead breakfast packed with anti-inflammatory turmeric, fresh zesty lemon and calming aromatic lavender for one creamy and delicious bite. (Dairy-free and Gluten-free)
Print
Pin
Rate
Ingredients
2

cups

Almond milk

(or dairy-free or dairy of choice)

⅔

cup

Chia seeds


1

teaspoon

Turmeric

dried ground

2

tablespoon

Lemon zest

(zest from 2 lemons)


2

tablespoon

Lemon juice


1

teaspoon

Culinary dried lavender


ground (or 4 drops culinary lavender essential oils)

2

tablespoon

Honey

to 4 tablespoon or to your desired sweetness (to make vegan we used 3-4 pureed dates to sweeten)
Instructions
Add 2 cups of oat milk, ⅔ cups chia seeds, 1 teaspoon of ground turmeric, 2 tablespoons lemon zest, 2 tablespoons of fresh lemon juice, 1 teaspoon of dried ground culinary lavender(or 4 drops of culinary grade lavender essential oils) and mix well. We put ours in a container with a lid and shook it well.

Place your Lemony Lavender Chia Seed Pudding in the refrigerator for at least 2 hours or overnight and enjoy. Best enjoyed within 3 days of preparation. Garnish with fresh lemon slices and lavender sprigs if desired.
Notes
Feel free to exchange almond milk with dairy-free or dairy of choice.
We like our chia seed pudding thick. If you prefer to have a looser chia seed pudding, reduce chia seeds by ¼ cup.
If you do not have culinary dried lavender or kitchen grade lavender essential oils, just omit this item. The fresh lemon flavor and aroma will brighten your day.
Chia seeds are high in fiber. Remember when calculating net carbs you need to minus the fiber from the recipe. If you want to reduce the carbs, exchange the honey with stevia or sugar alternative of choice.
Nutrition
Serving:
1
g
|
Calories:
385
kcal
|
Carbohydrates:
45
g
|
Protein:
11
g
|
Fat:
21
g
|
Saturated Fat:
2
g
|
Sodium:
336
mg
|
Potassium:
256
mg
|
Fiber:
21
g
|
Sugar:
18
g
|
Vitamin A:
31
IU
|
Vitamin C:
14
mg
|
Calcium:
671
mg
|
Iron:
5
mg