Slow Roasted Pork Tortillas with homemade gluten-free barbecue sauce, colorful cabbage slaw in a tortilla for a fun and delicious idea for any gathering.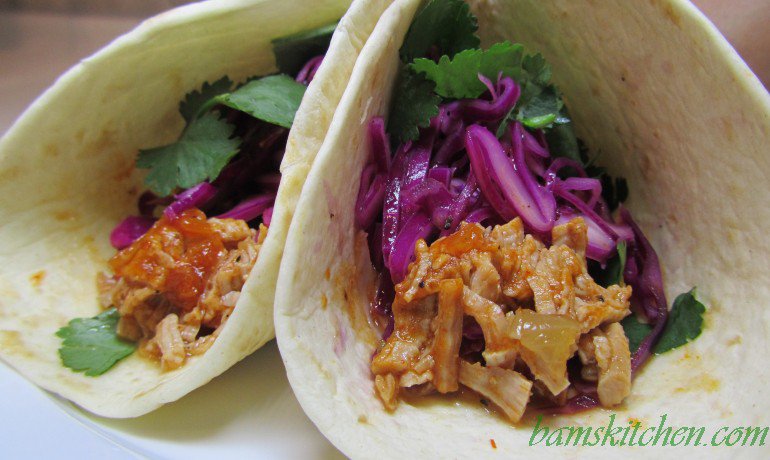 Are you ready for the weekend?
I have a real bad case of the Tuesdays and need something delicious to look forward to get me over to the weekend. Delicious slow roasted pork tenderloins with caramelized onions, spices, that are fall apart tender are the perfect cure for a bad case of the Mondays, Tuesdays, Wednesdays or even the Thursdays.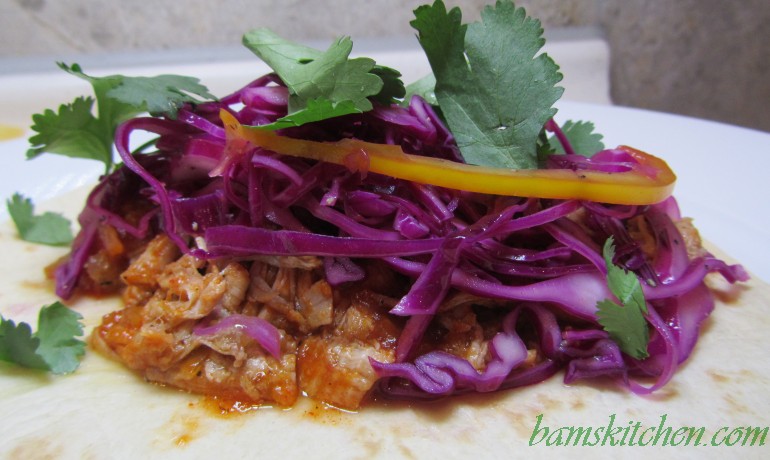 Slow Roasted Pork Tortillas is the perfect Recipe for a Gathering
I served my my make ahead slow roasted pork tortillas with homemade gluten-free barbecue sauce, colorful cabbage slaw in a tortilla and garnished with chopped cilantro. Now just add some friends, margaritas and fiesta music and we are ready for a fun gathering.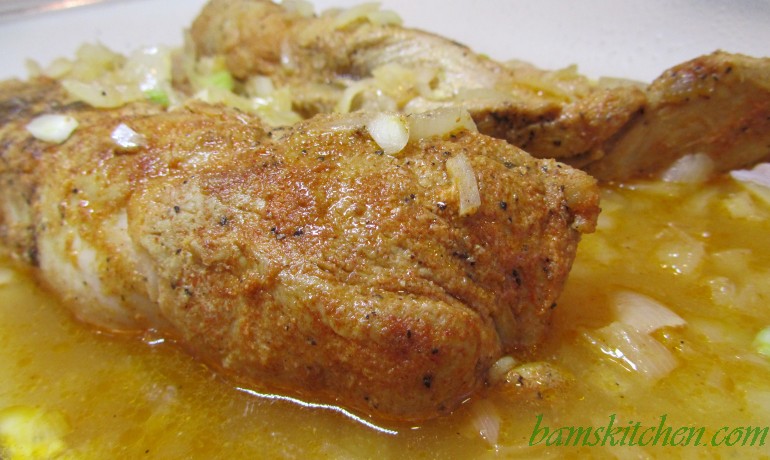 Time to Reconnect
Spring is the time of the year when you actually might see your neighbors again after being snowed in for the last 8 months. Here in Asia, we are no longer threatened by typhoons and the rain seems to be subsiding. It is spring clean up time and people are in their yards doing that whole home improvement thing, working on their plants and gardening or taking their dogs or kids out for a walk. A great opportunity to reconnect with neighbors and friends after a long winter hibernation and host a super easy gathering.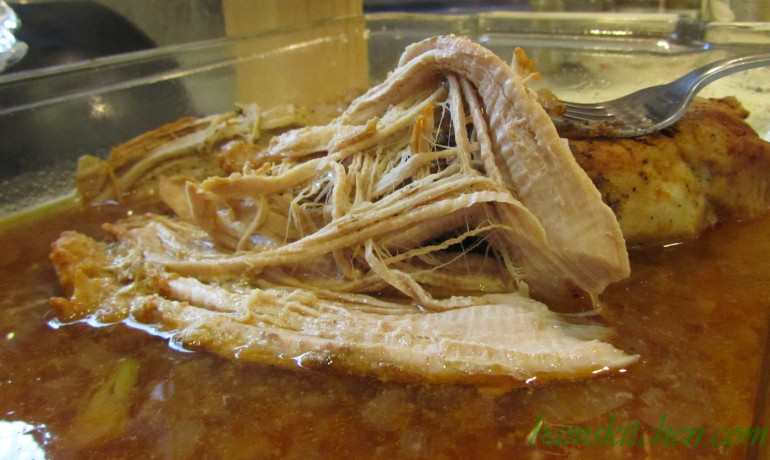 Meal Planning just got Easier
I love this slow roasted pork tortillas dish as you can make everything in advance and enjoy your guests. As everything is done in advance, all you have to make at the last-minute are the mojitos, margaritas, or maybe a tropical Shirley temple for the kids. However, my favorite reason is that these slow roasted pork tortillas are finger licking good and have bright and beautiful colors. I actually think the flavors are even better the next day after the flavors have mingled.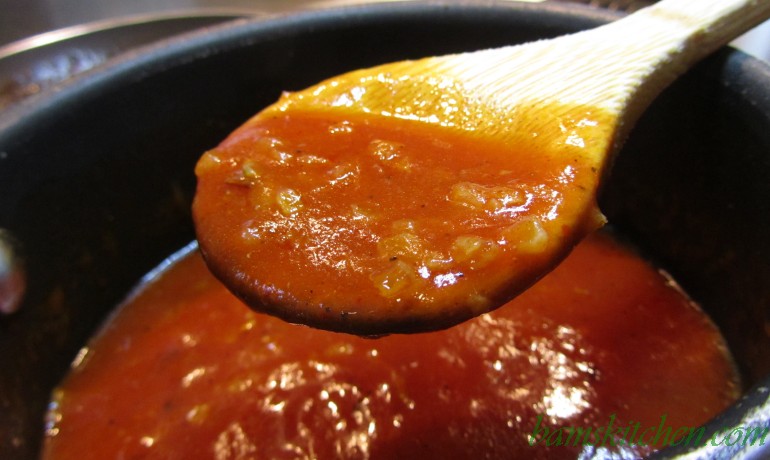 Everything From Scratch
I know many of you might panic when you take a look at the length of the ingredient list. Please don't panic as this dish is really simple. Please note that this recipe is for a full and complete meal including the pull apart pork, cabbage slaw and BBQ sauce and all the garnishes. In addition I have to make everything from scratch, even the ketchup, as I can't find a lot of gluten-free products in Hong Kong.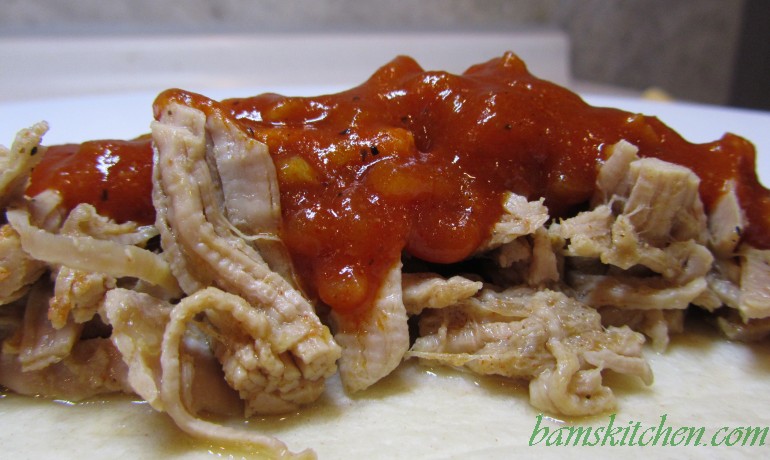 Dietary Issues are no Problem
You can easily adapt the recipe to accommodate food allergies or dietary requirements. For example I substituted gluten-free chicken broth for the beer. I make my BBQ sauce diabetic friendly and gluten-free and the other people don't even notice or care.
I leave everything separately so that people can decide what they want on their tortilla. I do not even mix in the BBQ sauce into the pork this way maybe guests do not want make a tortilla but instead make a beautiful coleslaw salad with pull apart pork for a great low carb meal. I have gluten-free corn wraps, flour tortillas and even hard tacos for the teenagers.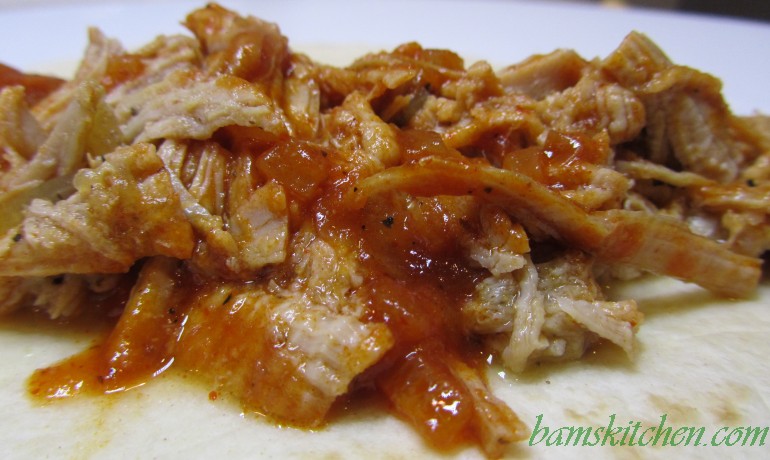 Guests Can Help Themselves
Making your own plates keeps the mood light, fun and easy to adapt for any dietary need. Last minute announcement that there is a vegetarian in the group? No worries, just heat up some black beans with some tex mex spices and you're in business. I like to bring everything out in little bowls into the middle of the table and let everyone make their own tortilla and just have fun.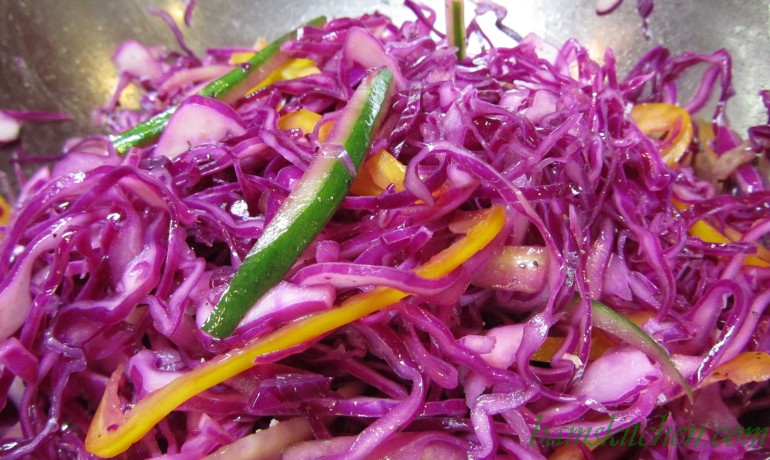 Tex Mex Party
I think having a theme for a gathering always sets the stage for a perfect evening. Todays theme is Tex Mex and all the fun that comes to your mind when you imagine the flavors and festivities of this cuisine. I am not one of those overly fussy hosts that have the perfectly pressed linen napkins, silver spoons and fine China plates (actually I do not even own any of these things) As a matter of fact, the more casual the better, especially when hosting guests for the first time.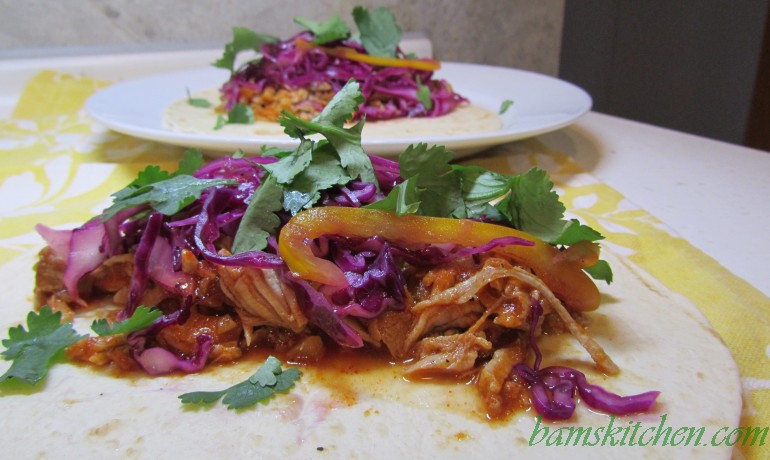 Making your Guests Feel comfortable
I want my guests to feel comfortable, like family. After all they are not coming to a restaurant, they are coming to my home. If we wanted fine linen napkins and butlers waiting on you hand and foot then go to that 3 star Michelin restaurant.
I want my guests to feel happy, relaxed, and enjoy some delicious easy meals together. I think some of the worst experience I have had when I have gone to other homes for a gathering is that I don't see the cook or hostess almost all evening as he/ she is trapped in the kitchen and won't allow me to at least lend them a hand.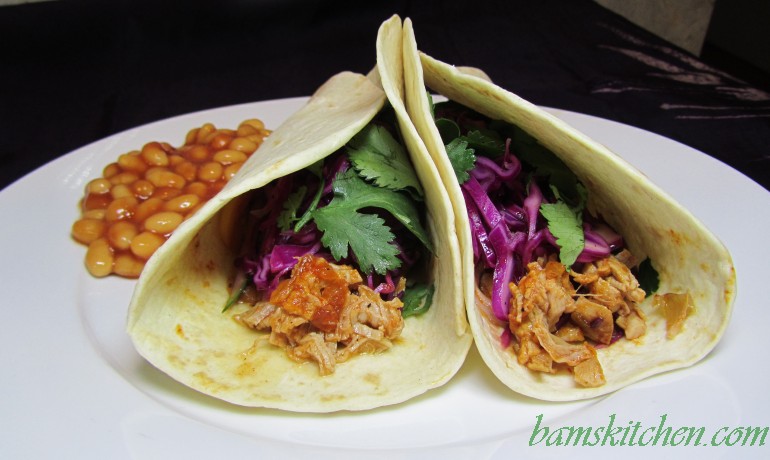 While the overwhelmed host is buzzing to the kitchen, we try to socialize with younger children and very shy husband who has never met us before. There are periods of long uncomfortable pauses in the conversation. The kids whom I have never met before start getting antsy so I head off to find some board games and play legos with the kids while the 2 strangers, the husbands who have never met each other, drink lots of wine in hope that this uncomfortable situation will pass soon.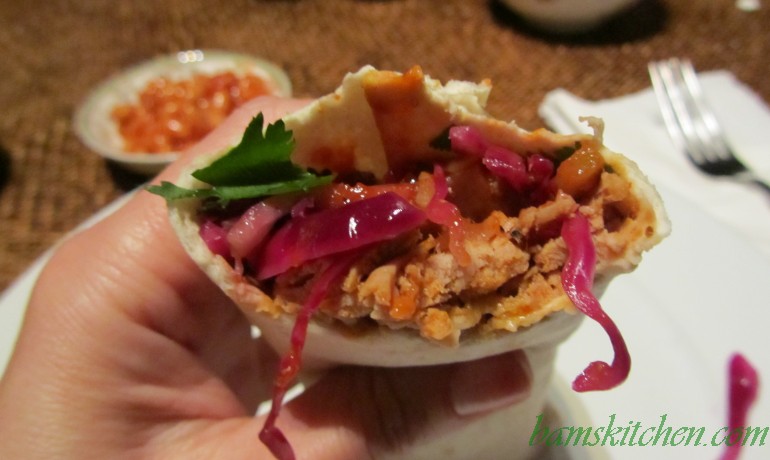 Invite Your Guest into the Kitchen
I always try to make dishes that can be made ahead or at least some of them. However on some special occasions, depending on my guests, I might decide to serve Asian food, last-minute Italian dishes or any type of menu in which I need to make several dishes that need to be prepared at the last-minute. My motto is, "If I have to spend the time in the kitchen preparing last-minute dishes, so do all my guests." Oh my word, do we have fun!
I chop everything, prepare all the ingredients before their arrival. I make sure they have a drink in hand, apron on, and I put them right to work in Kitchen. I also have some little stools in my kitchen if they just want to chat, watch and of course catch a few photos. Little did my guests know they were going to be cooking their own meal, with me guiding them along the way. This is a great way to build friendships.
I have had total strangers cook their own meal and then take several photos before helping me bring it out to the main table. (wink wink... I wonder where they learned this?) Cooking should be fun and the host should feel comfortable cooking in front of others while socializing for this method to work.
If not, stick to plan A and make something like my slow roasted pork tortillas or any main dish that you can prepare in advance of your guests arrival and enjoy your gathering.
More Delicious Tex Mex Recipe Ideas
Shrimp Burritos with Creamy Poblano Sauce
Cheesy Roasted Poblano Peppers
How to Make the BEST Turkey Taco Lettuce Wraps
Chicken Enchiladas with Fire Roasted Poblano Peppers
Hungry For More? Subscribe to our Newsletter and follow along on Facebook, You Tube, Instagram, and Pinterest for all the latest updates.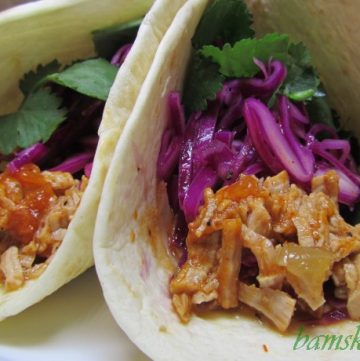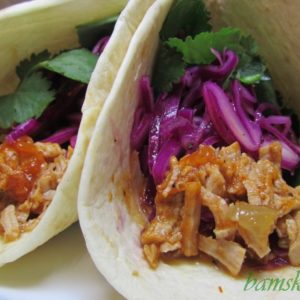 Slow Roasted Pork Tortillas
Slow roasted pork with caramelized onions, herbs served with homemade barbecue sauce, colorful cabbage slaw in a tortilla and garnished with chopped cilantro.
Print
Pin
Rate
Ingredients
Slow Roasted Pork
2

pounds

pork tenderloin

about 2 tenderloins

1

teaspoon

paprika

dried ground

1.5

tablespoon

chili powder

dried ground (½ tablespoon for dry rub and 1 tablespoon for BBQ sauce)

1

teaspoon

cajun seasoning

(optional if you don't like the heat)

1.5

teaspoon

cumin

1 teaspoon for dry rub and ½ teaspoon for cabbage salad

1

teaspoon

garlic powder

salt and pepper

to taste

2

tablespoon

olive oil

(1 tablespoon to brown the pork and one tablespoon for the BBQ sauce)

1.5

onions


(1 onion for roasted pork and ½ onion for BBQ sauce)

12

oz

beer

(if gluten free substitute with 12 ounces of gluten free chicken broth)

Homemade BBQ Sauce (Skip this step if using Store Bought)
2

cloves

garlic


peeled and minced

6

oz

tomato paste


(you can substitute with gluten free ketchup but then don't add water and may need less sugar)

1

cups

water


¼

cup

apple vinegar


¼

cup

sugar or sugar alternative


to ½ cup (sugar alternatives, agave, honey, stevia, coconut sugar or whatever you diet allows and you prefer) If you like your BBQ zesty then add less sugar if you like it sweeter then add more.

½

teaspoon

lemon zest


1

teaspoon

paprika


dried ground

½

teaspoon

cayenne pepper


dried ground or to heat level desired.

2

tablespoon

molasses


hold for low carb/diabetics

2

tablespoon

tamari (soy) sauce

Cabbage Slaw
6

cups

cabbage


thinly sliced (purple or green)

1

bell pepper


thinly sliced

1

cucumber

medium sized Jerusalem cucumber sliced thinly

¼

cup

rice vinegar


¾

cup

olive oil


2

tablespoon

sugar


or sugar alternative or to taste

salt and black pepper


to taste

cilantro


garnish optional - roughly chopped
Tortillas and Toppings
16

flour tortillas


(soft corn or gluten free tortillas)

15

oz

black beans

mixed with a little cumin and cajun seasoning (optional garnish)

cheese

cheddar or Cotija Cheese (optional garnish)
Instructions
Preheat the oven to 300 degrees F or 148 degrees C.

Wash and pat dry your pork tenderloins. In a small bowl combine paprika, ½ tablespoon chili powder, cajun seasonings, 1 teaspoon cumin, garlic powder and salt and pepper. Spread the dry rub all over your pork tenderloins on all sides. (I put my pork tenderloins in a zip lock bag with the seasoning and shook the bag) If you want to let the flavors to have a chance to mingle you can pop this in the refrigerator at this point up to 24 hours in advance. If pressed on time, just proceed on to step 3 immediately.

Place a little olive oil in a pan or dutch oven and let it get hot. Sear the pork tenderloin on all sides just to get some color and flavor. Remove pork tenderloins and set aside.

Place 1 chopped onion in the pan (reserve part of onion for the BBQ sauce) that you seared the pork in and cook until slightly softened. Add beer (or gluten free chicken broth). Scrape the bottom of the pan to loosen all the tasty bit on the bottom of the pan.

If using a dutch oven, put the pork in with the juices directly in the pan and cover with the lid. If you are like me and not have a dutch oven, but really hoping Santa Claus brings one for Christmas one day, relocate your pork and all those delicious juices into an oven proof dish. Pop it in the oven, covered, for about 3-4 hours. During the last hour of cooking remove the cover and baste the pork with those tasty juices. The cook time will vary depending on the size of the tenderloin. The general rule of thumb is that it will take 1 – 1 ½ hours for every pound of meat. The pork is cooked when it shreds easily with a fork. (You can also cook in the slow cooker before you head off to work pop it in the slow cooker and put on low heat and when you get home it will be perfectly done.) Keep warm.

Make the barbecue sauce: In a small pot place a little olive oil, the rest of the onions and garlic and saute until caramelized. Add tomato paste, water, vinegar, sugar alternative, lemon zest, paprika, cayenne, molasses, tamari and salt and pepper to taste. If you are not gluten intolerant, you can swap out the tomato paste and water out for 1.5 cups of ketchup. If you are diabetic, hold the molasses. Cook over low heat over 15 minutes just until thick and delicious. Taste test. If you like it more zesty add more vinegar or lemon juice. If you like it sweeter, than add more sugar. Remove from heat and set aside or place in the refrigerator until your guests arrive. (This can be made up to a week in advance)


Make the cabbage Slaw: Place the shredded purple cabbage (can use green cabbage), sliced peppers, cucumbers, ¼ cup rice vinegar, ¾ cup olive oil, 2 tablespoons sugar alternative, ½ teaspoon cumin, salt and pepper to taste and mix well. Set aside in refrigerator. (This can be made up to 12 hours in advance)

Prepare for your guests:

a) Prepare the garnishes: chop the cilantro, shred your cheeses and mix your black beans and place in little serving bowls (All optional)

b) Reheat your BBQ sauce and place in a serving dish.

c) Place your tortillas in the oven on a baking tray to heat up for about 5-10 minutes on 375 degrees or just until warm.

d) Shred your pork with 2 forks into bite sized pieces. Place on a serving dish.

e) Place your cabbage slaw in a serving dish.

f) Greet your guests with a majito , corona, margarita or virgin fruity Shirley temple for the kids and have fun.

g) Demonstrate to your guest how to create their own personalized Slow roasted pork tortilla. Have them choose a tortilla of preference, put on a little pulled pork, top off with BBQ sauce, cabbage slaw, cilantro and any other topping they wish.
Notes
The Nutritional reading are based on 2 slow roasted pork tortillas per person with all of the toppings.
Nutrition
Serving:
1
g
|
Calories:
647
kcal
|
Carbohydrates:
55
g
|
Protein:
32
g
|
Fat:
32
g
|
Saturated Fat:
6
g
|
Cholesterol:
74
mg
|
Sodium:
934
mg
|
Potassium:
1112
mg
|
Fiber:
5
g
|
Sugar:
19
g
|
Vitamin A:
1735
IU
|
Vitamin C:
46
mg
|
Calcium:
131
mg
|
Iron:
5
mg