Shake and Bake Cheesy Stuffed Pork Chops are thick bone in pork chops stuffed with brown rice, spinach, bacon and melty cheese and then dipped in seasoned panko breadcrumbs and baked to perfection.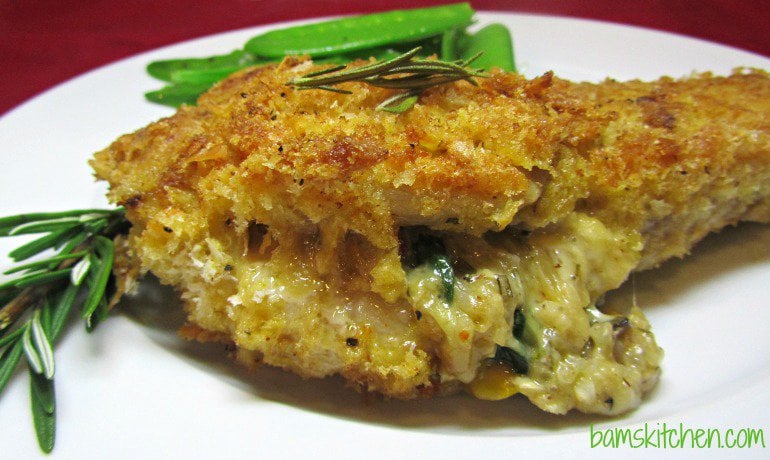 "It's Shake and Bake and we helped." Who remembers that commercial?
I did not use shake and bake and nor did I get any help from the teenagers but this is one delicious lip smacking meal.
Jump to: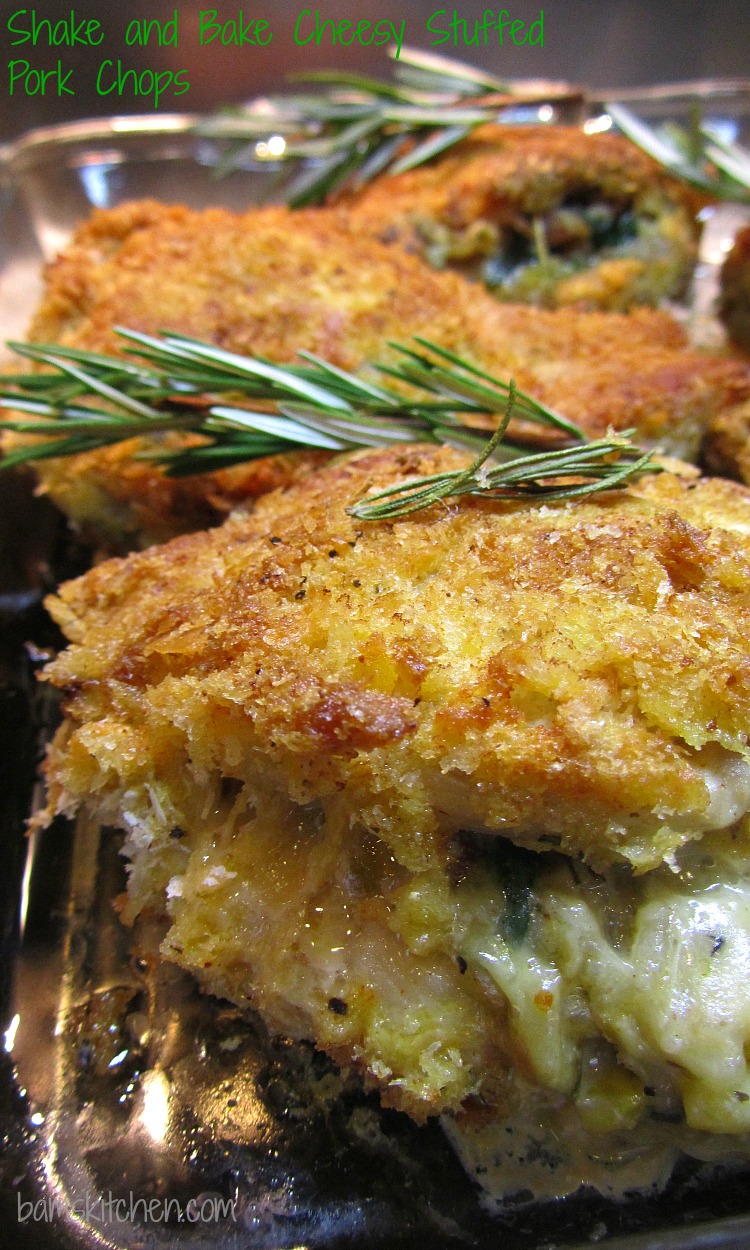 Gluten-Free and Dairy Free Options
I, the gluten free and lactose free girl, made my stuffed pork chop with a delightful rice, mushroom and vegetable stuffing without cheese and I did not use any panko breading but instead made a mushroom shallot wine sauce that made this dish divine.
In addition, I did not bake my gluten free pork chop but instead cooked it on top of the stove with a little bit of olive oil over low heat, for about 12 minutes, and set aside to keep warm. Then, I removed the pork chop from the pan, added a few chopped shallots and sautéed until tender and then deglazed the pan with a little wine to get all those lovely tasty bits off the bottom of the pan.
Then, I spooned over the gluten free and lactose free stuffed pork chop with a little of the shallot wine sauce. Oh my... my... my... this dish was just gorgeous. If you are in the mood for a little pork, be sure to try our finger licking good Air Fryer Ribs (Chinese Style Garlic Ribs), Rosemary Herbed Pork Chops with Shallot Wine Sauce or our Thai Sweet Chili Pork Tenderloin. I did not miss for one second the crispy panko bread crumbs or the oozy gooey cheesy stuffing that my teenagers were raving about in their Shake and Bake Cheesy Stuffed Pork Chops.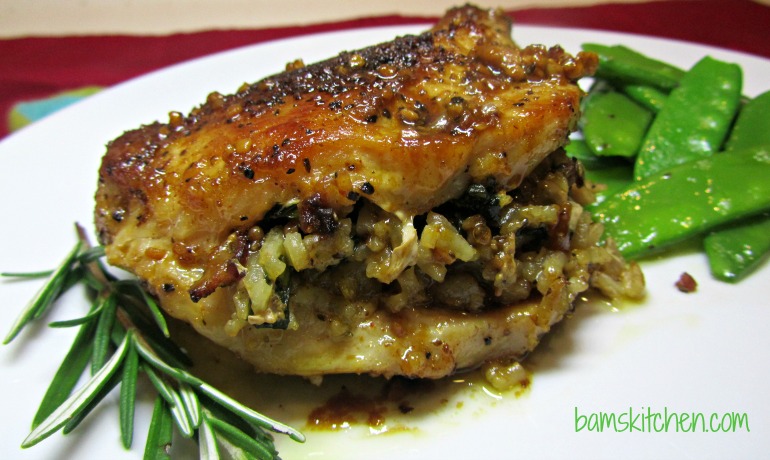 Food intolerance and picky Easters
As you know dealing with food intolerances and picky teenagers in the same household can be quite the challenge. However, I found a way to make the same meal for all of us and make everyone happy.
For my picky teenagers, I swapped out mozzarella cheese for the feta cheese and they were happy campers. For the other adults, I used feta cheese in the stuffing as this really make a nice combination with the spinach but if you want a real melty cheese then adding in a little mozzarella cheese is perfect.
Inspiration in the Refrigerator
Once again, you do not have to use the exact ingredients as I did to make this easy meal. Take a look inside of your refrigerator to get some inspiration. Maybe you want to swap out the vegetables for a little broccoli or swiss chard instead. Go for it.
Maybe you want to try a little gruyere cheese instead of feta or mozzarella, by all means use what you like and have on hand. If you do no like rosemary, then try using some fresh basil or thyme instead.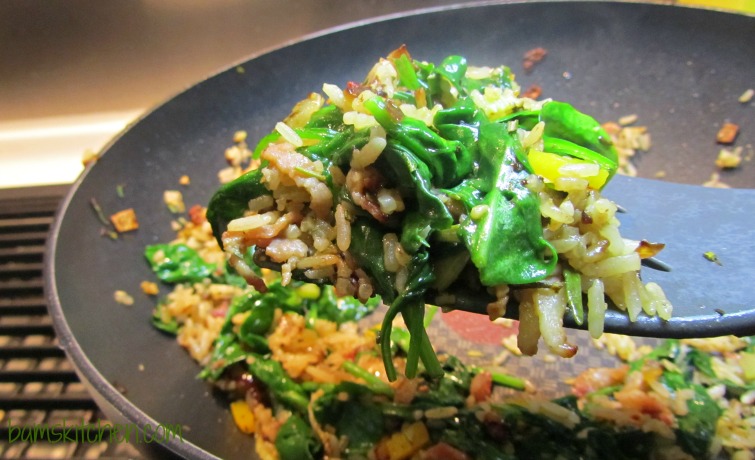 Cooking Hacks
The only suggestion is to help to ensure that your pork chops are moist and delicious is not to overcook them. Many people think that they have to cook pork past the incinerate mark to make sure that even the most conservative cook will be happy that the pork well done.
This is the very reason why your family members are going to be pulling out the hot sauce , ketchup, HP sauce to try to bring some moisture and life back into the dish or just give up and feed the pork to the dog under the table. Really it will be okay.
According to the new U.S. Department of Agriculture (USDA) guidelines, pork chops, roasts and tenderloins can be safely cooked to medium rare at a final internal cooked temperature of 145 degrees Fahrenheit as measured by a food thermometer, followed by a three-minute rest time. However, since we have a "stuffed pork chop" we are going to take that to 155 degrees F.
Use a Meat Thermometer
First pan frying them on the stove top gives the panko bread crumbs a very delicious crunch and golden color. Only a couple of minutes on each side just to give them color. . Please use a thermometer to check your pork chops. Do not let them go over 155 degrees F.
Once you remove your Shake and Bake Cheesy Stuffed Pork Chops and leave them set covered with aluminum for about 5 minutes, then the temperature will continue to rise.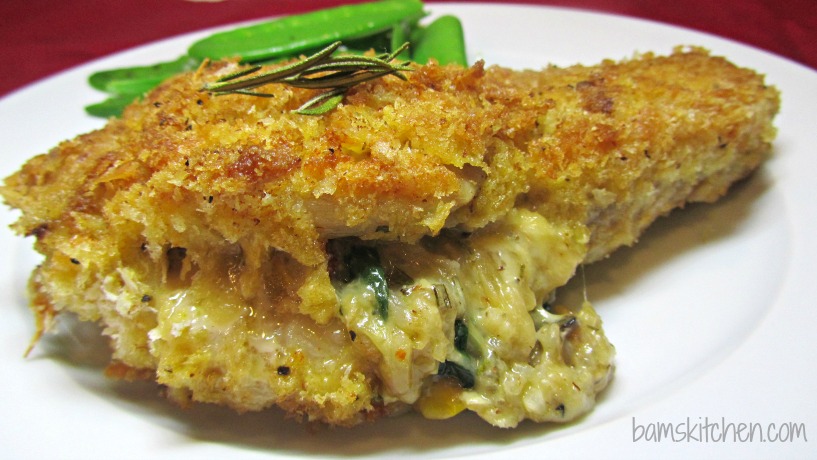 More Delicious Pork Recipes
Hungry For More? Subscribe to our Newsletter and follow along on Facebook, You Tube, Instagram, and Pinterest for all the latest updates.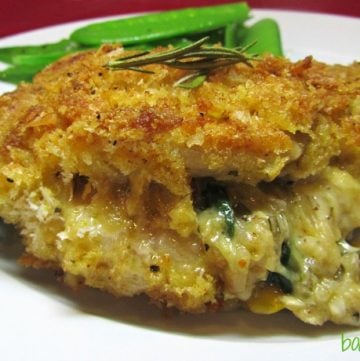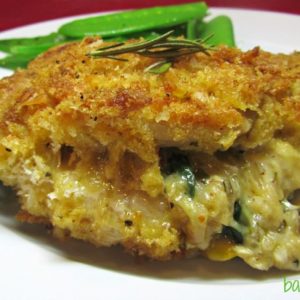 Shake and Bake Cheesy Stuffed Pork Chops
Thick bone in pork chops stuffed with brown rice, fresh spinach, bacon and melty cheese and then dipped in seasoned pank0 breadcrumbs and baked to perfection.
Print
Pin
Rate
Ingredients
3

slices

bacon


diced

1

onion


peeled and chopped

2

stalks

celery


chopped

2

cloves

garlic - 2 cloves minced

peeled and minced

2

teaspoon

rosemary


fresh copped or 1 teaspoon dried.

2

cups

brown rice

cooked (you can use white rice, wild rice, red rice basmati or whatever kind you like)

2

cups

spinach


fresh

1

teaspoon

herbs de Provence

salt and pepper


to taste

¾

cup

mozzarella cheese


shredded (I used feta cheese for the adults)

4

pork chops


4 thick cut with bone left in
Shake and Bake Crust
1

egg -


beaten

1.5

cups

panko bread crumbs


1

teaspoon

herbs de Provence

salt and pepper


to taste

2

tablespoon

olive oil
Instructions
Preheat oven to 375 degree F. or 190 C.

In a medium frying pan or wok, cook the bacon, celery and onion together until slightly golden and aromatic. (There is no need to add oil because of the bacon but if your bacon is really lean you may need to add a tablespoon of olive oil.) Add the garlic and rosemary and fry one minute until aromatic. Then add your cooked rice and stir to coat well. Add your spinach and stir and cook for about 1 minute just until wilted. Add salt and pepper to taste. Remove from burner and add cheese. Set aside.

Cut your center cut pork chops lengthwise to create a large pocket. Be careful not to puncture the pork chop all the way through. Season pork chop both sides and in the pocket with salt and pepper. Stuff each of the pork chops with the cheesy rice mixture. Close edges with tooth picks.

Make your shake and bake panko bread crumb mixture: On a plate mix panko bread crumbs, herbs de provence, garlic powder and slat and pepper and set aside.

Dip each stuffed pork chip into the beaten egg on both sides. Then dip each stuffed pork chop into your homemade shake and bake panko bread crumb mixture. Shake off excess.

In a frying pan, add olive oil and fry stuffed shake and baked pork chops over medium heat on both sides just a minute or two until slightly golden brown. Transfer pork chops to a greased baking sheet and bake uncovered for about 15-20 minutes or the internal temperature is about 155 degrees. Remove stuffed pork chops from oven and let rest for about 5 minutes under aluminum foil. Remove toothpicks.

Serve Shake and Bake Cheesy Stuffed Pork Chops with a side of veggie and a nice tossed salad. Enjoy!
Nutrition
Serving:
1
g
|
Calories:
658
kcal
|
Carbohydrates:
49
g
|
Protein:
44
g
|
Fat:
31
g
|
Saturated Fat:
10
g
|
Cholesterol:
158
mg
|
Sodium:
516
mg
|
Potassium:
877
mg
|
Fiber:
4
g
|
Sugar:
3
g
|
Vitamin A:
1698
IU
|
Vitamin C:
7
mg
|
Calcium:
213
mg
|
Iron:
4
mg