Spicy Sichuan Hot Pot is made with a delicious Chinese spicy broth that simmers away while your guests can cook their own thin slices of meats, green vegetables, noodles and anything they desire. Fun interactive communal dinner idea! (We even included a mild broth for those that do not like it spicy.)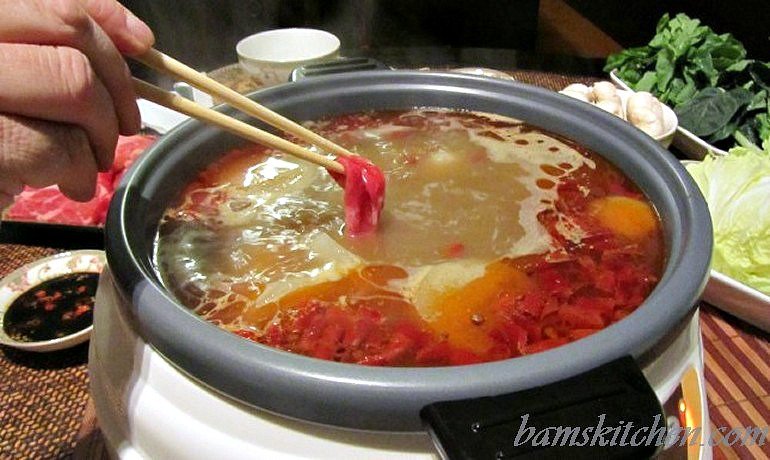 History of the Spicy Sichuan Hot Pot
It is said that Spicy Sichuan Hot Pot originated from Mongolia where the Mongol warriors used their helmets to cook food when they moved from one place to another. Ingenious!!! The cooking method was then spread to China, and wider to other countries.
As the hot-pot dish spread to other parts of the country, it picked up local ingredients and embellishments. In the Southern part of China, seafood and vegetables are the main ingredients for hot-pot. In the winter seasons, the people liked to eat food that instantly warms their bodies and lifts their spirits.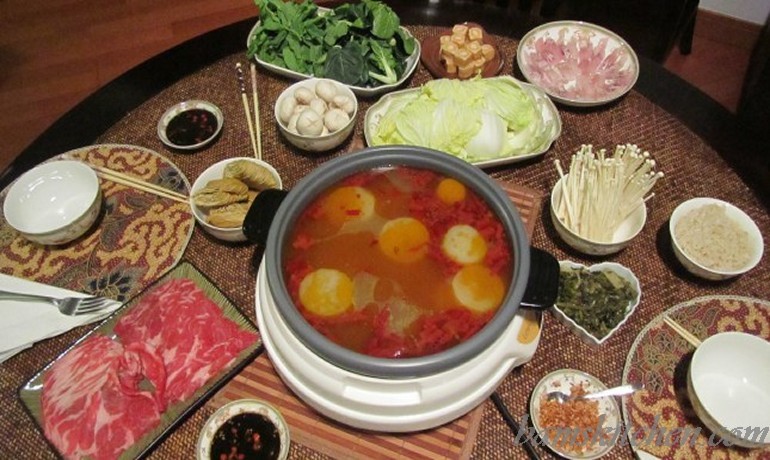 In China hot-pot is called Huǒ Guō 火锅 , which literally translates to Fire Pot. It is sometimes also referred to as Chinese Fondue or Steamboat. Many different cultures in Asia have a different type of hot-pot. For example, in Japan have a version called Shabu Shabu, Thailand has Suki hotpot, Malaysia and Singapore have a steamboat and Vietnam has a hotpot called ẩu canh chua. This is just to name a few, but there are many more types of hotpots from other countries and regions.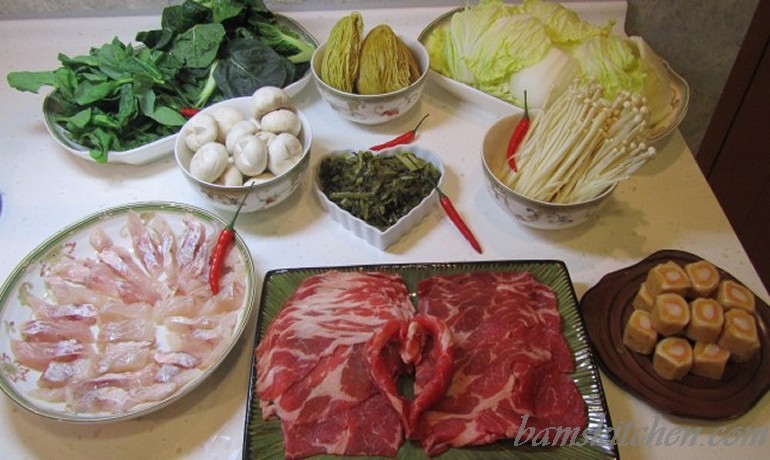 Communal Feast
All of these types of hot pots have different ingredients, dipping sauces, vegetables, fish, dumplings and meats that are cooked. However, the one common theme of all hot pots is that is a beautiful way for families and friends to sit around a steaming pot of yummy pot of goodness; cooking, chatting and enjoying their time together. This is a fun weekend meal for the family.( Please note to be careful and supervise young children) However, it is very romantic to share your hot-pot with your significant other. You can cook for each other, feed each other and if you decide to enjoy a spicy broth you can really heat up your night.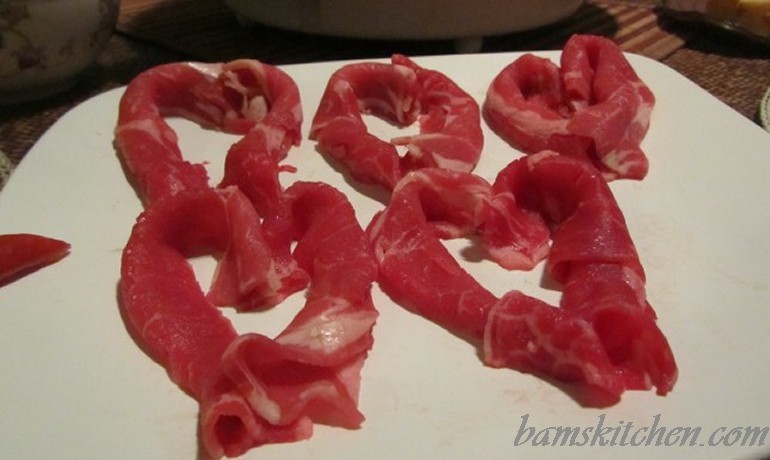 How to set up for a hot pot feast?
A hot-pot meal features a pot on a portable burner that is used to simmer seasoned broth in the center of the table. Raw vegetables, sliced meats, seafood and noodles are prepared and set around the pot. Each of the dinner guests is required to be their own cook. Meats and vegetables are placed individually into the hot broth by using chopstick until the desired doneness. The cooked foods are then placed into their own bowl and guests can dip them in the prepared sauce before eating. If you would like to try some similar nourishing recipes that you cook at the table be sure to try our Sukiyaki Beef Udon and our Simple Spicy Thai Hot Pot.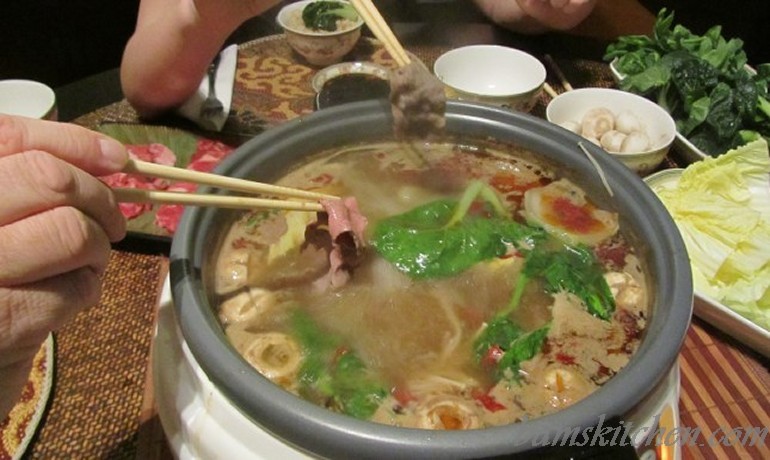 Mild and Spicy Hotpot
Hot pot is a heart healthy meal as it consists mainly of vegetables, lean meats and fish. This week it has been very damp and cool in Hong Kong and I wanted something to heat our family up from the inside out. There are so many potential flavorings that can be added to the broth but we decided on making two different kinds. We made both a mild chicken and Chinese herb broth and also a "numb and spicy," ("ma la," 麻辣) broth to make everyone in our family happy. Here is everything you need to know to enjoy a fun evening with family and friends around a Chinese Hot Pot.
Spicy Sichuan Hot Pot is Tongue Numbing
Made with Sichuan chili peppers, chili oil, chili bean sauce and Sichuan peppercorns along with some aromatics for a clean out your sinuses kind of enjoyment. LOL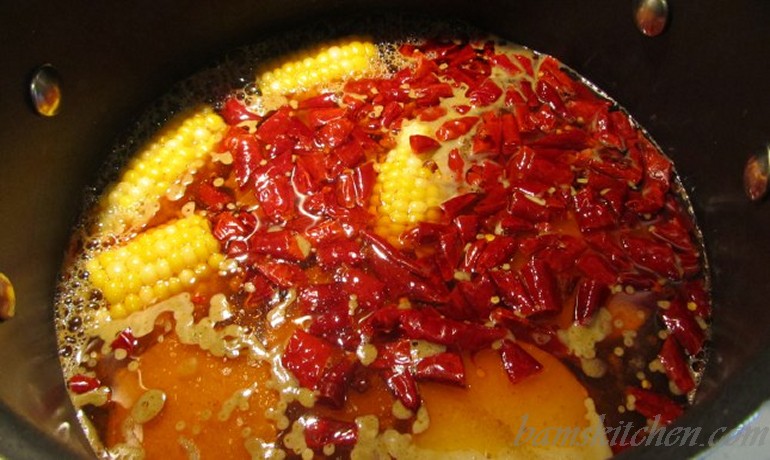 Hot Pot Soup Base (Mild and Flavorful)
Delicate broth with ginger, goji berries, mushrooms, sesame oil, star anise and loads of vegetables for a delicious and heart warming experience.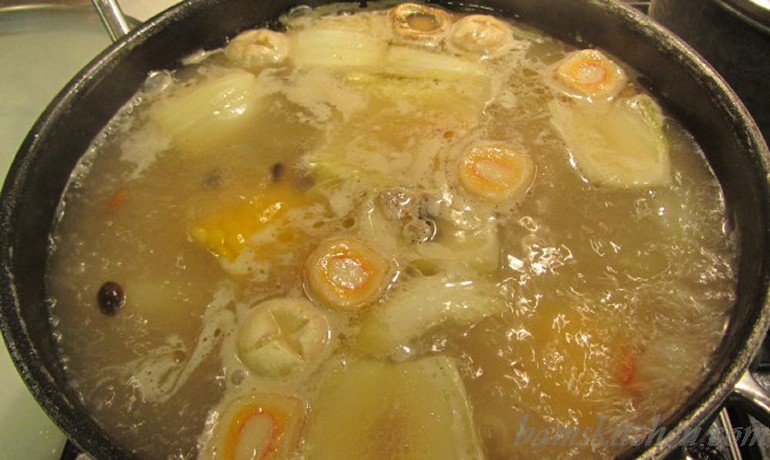 Dipping Sauces and Condiments for Hot Pot
Chopped bird chilies and soy sauce for dipping (Place in small dish and serve on side for dipping)
Chopped garlic fried golden brown (place in small dish and serve on side as a condiment)
Chinese picked vegetables (place in small dish and serve on side as small palate cleanser)
More Delicious Soups and Hot Pots Recipes
Five Spiced Beef Diakon Noodle Soup
Hungry For More? Subscribe to our Newsletter and follow along on Facebook, You Tube, Instagram, and Pinterest for all the latest updates.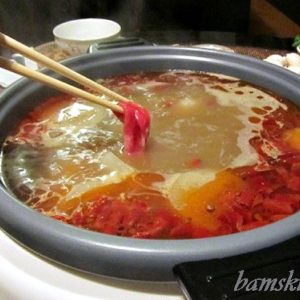 Spicy Sichuan Hot Pot
Spicy Sichuan Hot Pot is made with a delicious Chinese spicy broth that simmers away while your guests can cook their own thin slices of meats, green vegetables, noodles and anything they desire. Fun interactive communal dinner idea!
Print
Pin
Rate
Ingredients
Ingredient Ideas to cook in Hot Pot
1

diakon radish


peeled and cut into wedges

4

corn on cob


husks removed and cut in half

8

oz

mushrooms


we used enoki - optional

2

cups

baby bok choy


washed and prepped - optional

2

cups

spinach


2

cups

napa cabbage


cut into cubes - optional

fish balls


optional

12

ox

beef


thin sliced

1

pound

white fish


fillets, bones and skin removed and sliced thin

6

ox

tofu


firm cut into cubes - optional

8

oz

rice noodles

pre-soaked in warm water until pliable or can use dried shrimp noodles - optional
Spicy Sichuan Broth (For those that like it really spicy)
8

cup

Chicken broth


hot (gluten-free)

2

tbsp

Sichuan peppercorns


or to taste

8

Sichuan dried peppers

chopped or to taste

3

whole

star anise


1

tbsp

chili bean sauce


1

tbsp

chili oil


or to taste

2

inch

ginger


knob peeled and sliced

1/3

cup

orange zest

cut off zest off one orange

5

dried mushrooms

we used shiitake

4

spring onions


chopped
Mild Hot Pot Broth (Optional for those that do not like spicy foods)
8

cups

chicken broth

gluten free

1

diakon radish

peeled and chopped

1/3

cup

goji berries


also known as wolf berries

3

garlic

peeled and bashed

3

star anise

whole

2

tbsp

sesame oil -

4

spring onions

chopped

salt and white pepper


to taste
Dipping Sauce Ideas
Chopped bird chilies and soy sauce

optional

Chopped garlic fried golden brown

optional

Chinese picked vegetables

serves as a palate cleanser - optional
Instructions
Determine if your guests would like the hot and spicy or mild broth (I made one of each)

If you decide to make one spicy and one mild, get out 2 large cooking pots and place both on the stove burners. In one pot, place all of the ingredients for the Hot Pot Soup Base Spicy, stir, put lid on and bring to boil. In the other pot, place all of the ingredients for the Hot Pot Soup Base Mild, stir, put lid on and bring to boil. Then reduce heat to simmer. (If you decide to make only one type of broth this whole procedure can be done at the dining room table in the electric or gas hot-pot and you can skip step number 6)

Place the chopped diakon radish and the cut corn into the boiling Hot Pot soup stocks. Cook about 30 minutes or until the diakon radish is fork tender and the flavors have a chance to mingle.

Plate up all of your uncooked thinly slices meats, fish on to separate serving plates. Also plate up all of your raw vegetables and other items such as noodles to prepare for the guests to cook at the dining room table.

Prepare your dipping sauces and condiments and place on dining room table.

Transfer your Hot Pot Soup Base Spicy or mild version from your pot on the stove to your hot pot at the dining room table. (Be careful- very hot) Turn on your electric or gas hot-pot and return temperature up to a slight boil. (If you decide to make only one type of broth this whole procedure can be done at the dining room table on the electric or gas hot-pot)

Make sure the hot-pot broth is boiling and with your cooking chopsticks start with either your meats or fish and dip into hot broth and swish back and forth until cooked. Then start adding some vegetables and have each person cook and grab from the hot-pot their finished cooked product.

Provide small bowls for the cooked delights and enjoy dipping your cooked meats, fish and vegetables in the dipping sauces and condiments.

When all of the guests have finished cooking the meat, fish, vegetables, add the noodles as the last step and cook until al dente. (I like to save a few mushrooms as this really makes the broth really savory.)

Enjoy a wonderful heart healthy bowl of hot pot with family and friends.
Notes
Please be careful if you have young children participating in this family feast. Please cook for them and place on their plates.
The first item of business is to determine what kind of hot pot will your family and friends enjoy. Do they like it spicy or mild? There are many dual hot pots on the market so that you can cook spicy (la da) on one side and mild (bu la da) on the other side. We are hoping Santa brings us one soon. Wink wink. Otherwise, if you want one of each will have to cook it in two separate pots.
You can add anything your little heart desires to your hot pot. However, some of our family favorites are the diakon radish, corn on the cob, thin beef, Chinese green vegetables and mushrooms.
If you want to keep this recipe low carb, just skip the corn and the noodles.
If you want to keep this recipe gluten-free, you will not be able to add the Chili bean sauce as we have not been able to find this item gluten-free as of yet.
Cook your hard vegetables first, like your diakon and corn on the cob. Then the rest of the items such as thin meats, fish and vegetables all cook very quickly in a matter of seconds in the broth.
You can make a very simple dipping sauce of soy sauce or tamari if you need it gluten free and a little chili or sesame oil. We love fried garlic. After you cook your items in the hot pot, you can dip into your dipping sauce and enjoy.
Sometimes, during the cooking process, your broth level will get a little low and start to concentrate. Add some boiling water from your hot kettle and you are back in business.
You will need to skim your broth. Yes, just like mom used to do when she made soup. When you first add your broth ingredients you will need to skim the top.
Nutrition
Serving:
8
g
|
Calories:
261
kcal
|
Carbohydrates:
40
g
|
Protein:
17
g
|
Fat:
5
g
|
Saturated Fat:
1
g
|
Cholesterol:
29
mg
|
Sodium:
987
mg
|
Potassium:
810
mg
|
Fiber:
4
g
|
Sugar:
5
g
|
Vitamin A:
2182
IU
|
Vitamin C:
56
mg
|
Calcium:
103
mg
|
Iron:
2
mg