Easy Beef Phở with Oodles of Noodles is made with tender sukiyaki beef in a flavorful aromatic broth of onions, garlic, star anise, cinnamon, ginger and chili with rice noodles and oodles of fresh herbs and toppings. This is the perfect healthy soup for those in between seasons.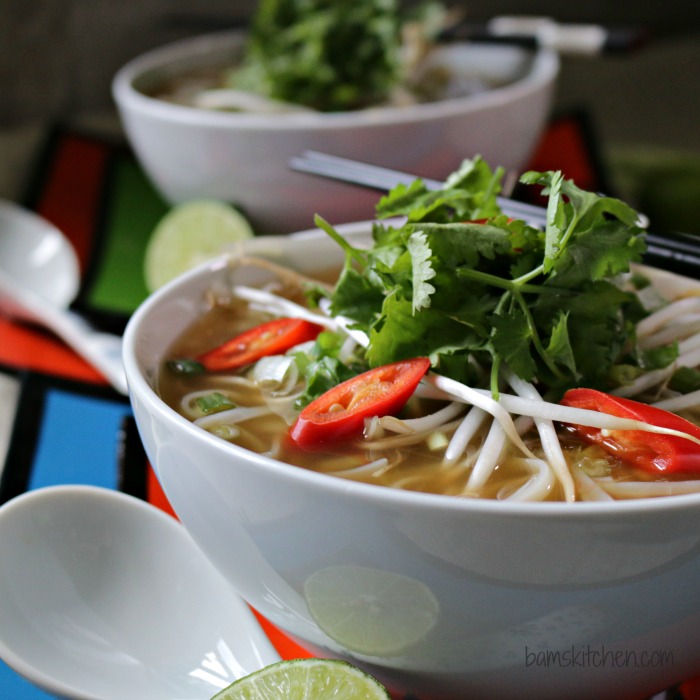 My youngest son has started school this week and the crazy schedules and homework drama are well underway. Not only are my kids hungry when they get home from school but waiting for dinner to be ready (and all the photography to be completed...smiling...) is just not going to happen.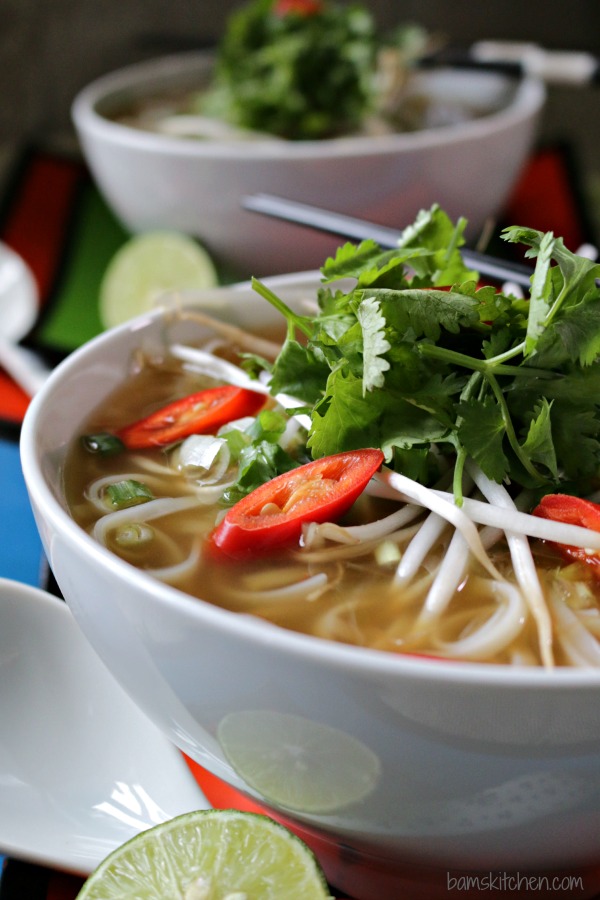 History of Beef Phở
You need something fast, easy, healthy and delicious. This fast and easy Beef Phở is the perfect meal for those on the go. Beef Phở was originated in Northern Vietnam during the early part of the 20th century. Rice noodle and spices were imported from China. It is believed that phở is derived from pot au feu, a French soup. Vietnamese cooks blended the Chinese, French and local herbs to make a dish that is uniquely Vietnamese. Many of the flavors and additions to the soup have changed many times over the years. However, all I know is that it is super delicious and I think I could eat this at least once a week.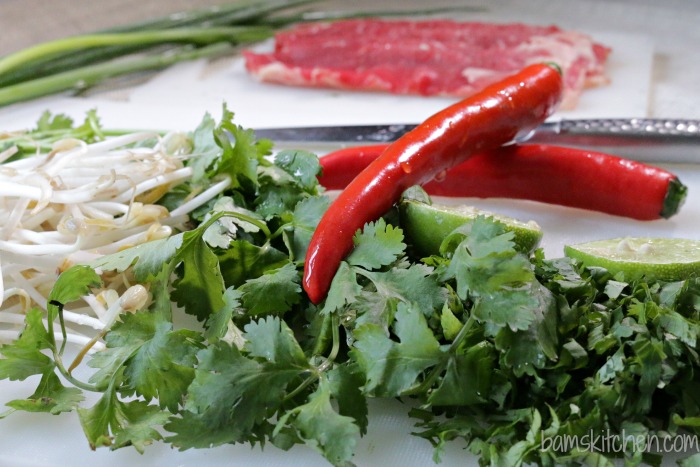 Why you are going to love Easy Beef Phở with Oodles of Noodles
Beef Phở is that perfect soup or dish for those in between seasons. My family, living back in the States, have been telling me they are having a really cool summers in Michigan. As a matter of fact, they need to start wearing a sweatshirt in the evenings as it is so chilly. However, during the day it is sunny and warm and wearing shorts. When summer turns into fall, you need a dish that does not require slaving over a hot stove all day but you want something warm and comforting and beef Phở is sure to tick all the boxes. If you are looking for a fresh appetizer to go with this delicious soup, be sure to try our Summer Rolls with Chili - Lime Dipping Sauce.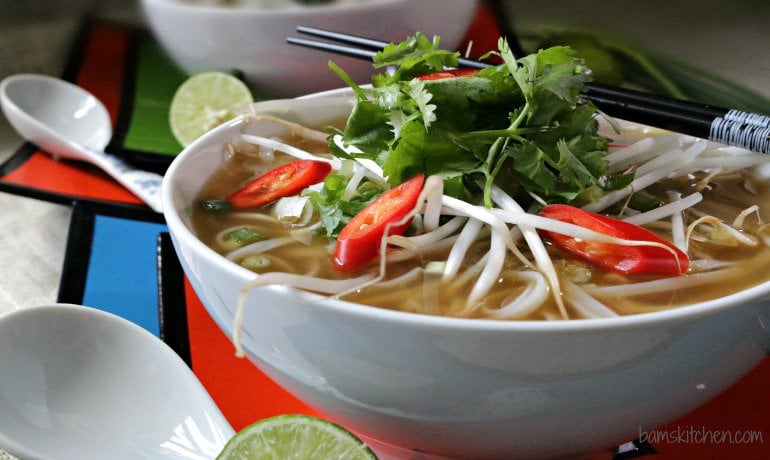 I began looking on-line for a beef Phở recipe that does not require the day long rendering of a beef bones and spices. I found a delightful recipe by Louise Pickford , I of course had to make a few changes as I never have all of the ingredients on hand but she did a perfect job of balancing the flavors in less than 30 minutes. If you want to cut down your dinner prep to 10 minutes then you can most certainly can. Just steep the broth in the slow cooker on low while you are at work and then when you come home all you need to do is soften the noodles and prepare the toppings.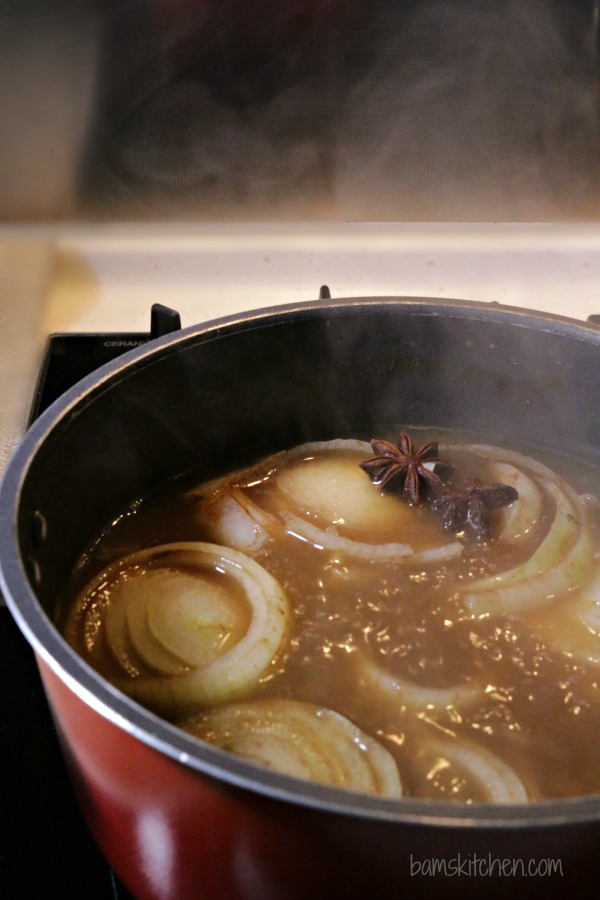 I love all of those fresh herbs. I used cilantro, mung beans and spring onions to garnish but really you can use anything you wish. Maybe you want to garnish with a few fresh heirloom tomatoes, garlic chives or even radishes from the garden, who says it needs to be traditional? It just needs to be fresh and delicious.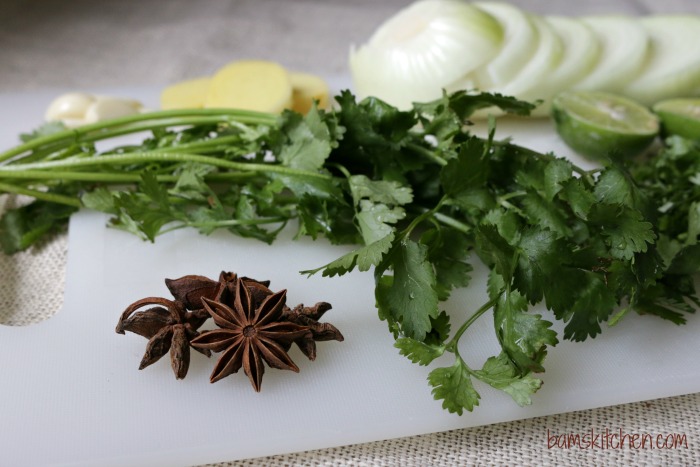 The other day, I went to my Chinese' friends home and she made many delicious dishes but one in particular was outstanding was her Chinese vegetable soup. She added winter squash and mushrooms and at the last-minute put in some fresh tomatoes and coriander roots and oh my goodness it was so delicious. Beef Phở really is a blending of the cultures. I added some Malaysian sweet cherry tomatoes to mine as a garnish and the beef and tomato and spices was really like a match made in heaven. The yin with the yang. The cold with the hot. (I am sorry I did not get a photo of my mine as I wanted to eat it whilst it was still hot)
The most important part of the whole process is to eat the dish whilst it is still hot. You pour the hot broth over the raw beef and the broth cooks the thinly sliced sukiyaki beef in your bowl.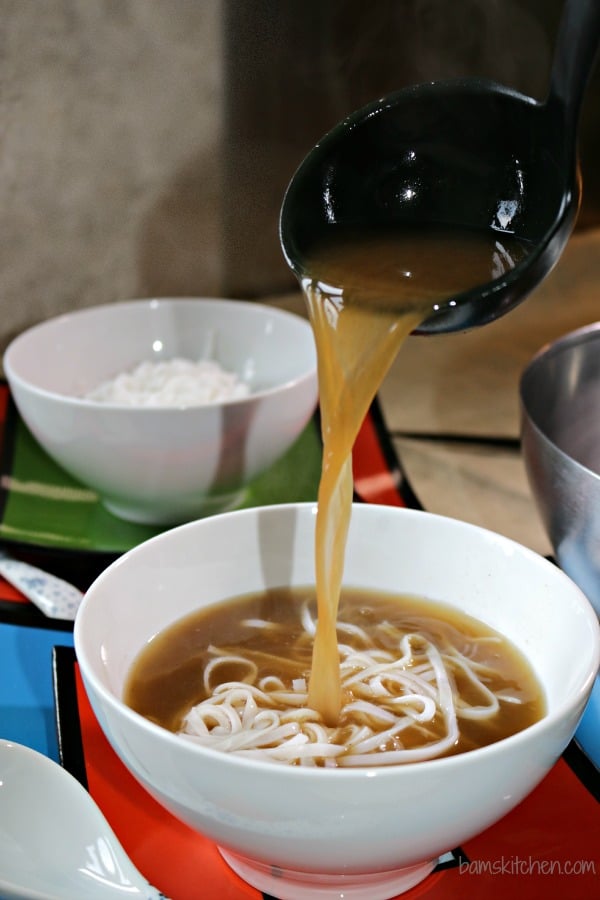 This week in Hong Kong it has been humid, hot, cool and wet. At this very moment on this damp evening, I am sweaty but still cold. How can this even be humanly possible? All of those huge variations in climate and with the kids back at school sharing all their cold germs you need something therapeutic in your kitchen to keep everyone in the household happy and healthy. The warming spices such as the ginger, chilis and cinnamon warm you from the inside out and the cooling herbs such as the cilantro, mung beans and mint toppings make it all well-balanced for your yin and yang.
Beef Phở is prepared in stages. You first create to the broth with the spices. While that is simmering you can prepare the rice noodles, beef and chop and prepare all the garnishes.
When the kids come home from school starving, all you need to do is have them wash their hands (with soap..wink wink... I have boys). By the time they come back to the dinner table, their beef will be cooked in their soup and a bowl of healthy deliciousness awaits them.
More Delicious Soup Recipes
Suan La Tang (Hot and Sour Soup)
Creamy Thai Sweet Potato Chicken Soup
Hungry For More? Subscribe to our Newsletter and follow along on Facebook, You Tube, Instagram, and Pinterest for all the latest updates.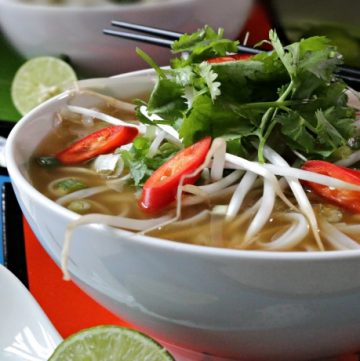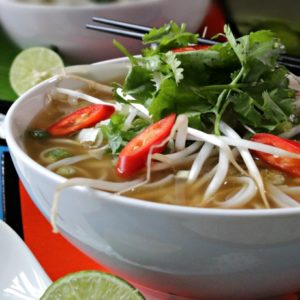 Easy Beef Phở with Oodles of Noodles
Tender sukiyaki beef in a flavorful aromatic broth of onions, garlic, star anise, cinnamon, ginger and chili with rice noodles and oodles of fresh herbs and toppings is the perfect healthy soup for those in between seasons.
Print
Pin
Rate
Ingredients
8

cups

beef broth

½

cup

onion

4

whole

star anise

if you cannot find can substitute with 1 teaspoon 5 spiced powder

1.5

inches

ginger

(peeled and sliced)

2

twills

cinnamon

or 1 tsp ground

3

cloves

garlic - 3 cloves

(bashed on counter to release flavour)

2

tbsp

brown sugar

(or to taste-can use sugar substitute of choice if diabetic)

⅓

cup

fish sauce

or to taste

250

grams

rice noodles

(or 1-2 of the rice noodle loops)

1

pound

sukiyaki beef

you can use other cuts of tender beef and cut very thin against the grain of the meat.

1

cup

bean sprouts

also known as mung bean sprouts

½

cup

cilantro

roughly chopped (can also use mint, basil, etc)

⅓

cup

green onions

sliced

2

chili peppers

garnish (optional)

⅓

tomato

chopped fresh (optional)

1

lime

cut into quarters
Instructions
Put your beef broth, onion, star anise, ginger, cinnamon, garlic, brown sugar and fish sauce in a large soup pot. Bring to a boil, turn down heat, cover and simmer for 20 minutes. (Make sure it is covered so you do not loose all that delicious broth due to evaporation) Taste and adjust seasoning.

Place rice noodles in a bowl, cover noodles with boiling water just enough to cover. Soak noodles for about 2-8 minutes depending on the size and manufacturer of noodles. Noodles should be cooked just until tender, al dente. Rice noodles with cool water and drain and set aside. (I made this dish with brown rice noodles the other day and it was also delicious)

Cut your sukiyaki beef strips into 4 sections horizontally. (If you are unable to find sukiyaki beef then use a tender cut of beef such as a filet mignon or if that is not in your budget try eye round, flank, bottom roast, london broil, just remember to cut the beef super thin and against the grain.) Just a quick hint: freeze your beef just until it is slightly firm and then it is much easier to cut super thin.

Wash and prepare your bean sprouts, cilantro (mint, basil) green onions, chili peppers, (tomato) and lime and set aside. Just a quick hint: If you wash your bean sprouts and keep them in a tupperware full of water and store in the refrigerator they will last much longer. I change my water every day. Beans sprouts normally live in water so if you keep them water they will stay fresher longer)

Assembly:

Bring your beef broth back up to a boil. Divide the beef among 4 bowls and lay out on the bottom of the bowl. Next lay a handful of cooked/soaked rice noodles into each bowl. (You may have some left over noodles it just depends on the size of your bowls) Carefully ladle your steeping hot beef pho broth into each bowl covering the beef and noodles completely. Garnish your beef pho with bean sprouts (Mung Beans), cilantro, (Mint,basil) green onion, chili peppers or even tomatoes on top. Squeeze a little lime juice on top. Stir to allow the beef to evenly cook in the soup bowl with the hot broth and enjoy.
Notes
Use Gluten Free beef Broth to keep this recipe gluten free. Delicious with beef bone broth as well. Can make the aromatic broth in advance up to 3 days in advance and store in the refrigerator.
Nutrition
Serving:
1
g
|
Calories:
560
kcal
|
Carbohydrates:
67
g
|
Protein:
33
g
|
Fat:
18
g
|
Saturated Fat:
8
g
|
Cholesterol:
69
mg
|
Sodium:
3484
mg
|
Potassium:
806
mg
|
Fiber:
3
g
|
Sugar:
9
g
|
Vitamin A:
387
IU
|
Vitamin C:
14
mg
|
Calcium:
92
mg
|
Iron:
4
mg