Curried Tuna Salad Roll Ups are a super easy appetizer or lunch idea made with zippy curry tuna salad with Japanese Daikon pickles rolled up in a gluten-free tortilla.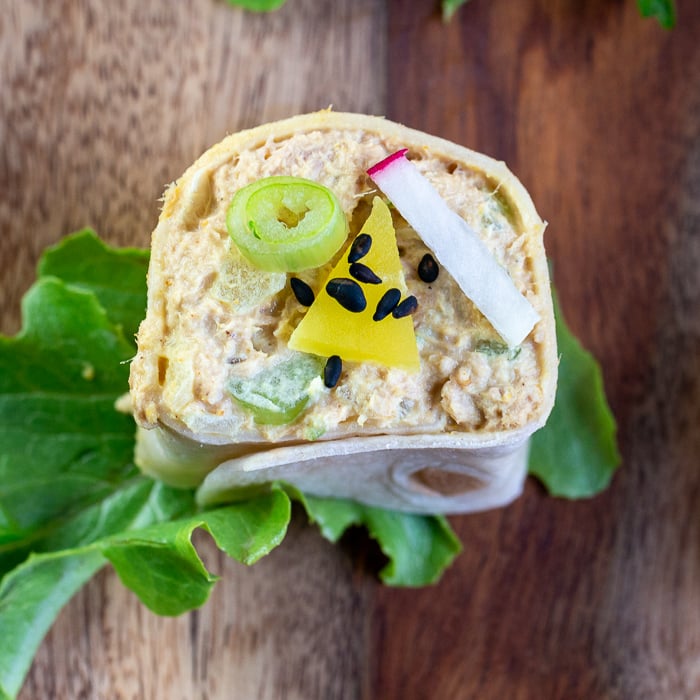 7 Reason to Love this Recipe!
Are you tired of the usual sandwiches for lunches?
Do you have last minute guests stopping by in 30 minutes?
Got the midnight munchies?
Did you forget to unthaw something for dinner?
Need a budget friendly lunch or snack idea?
Want something gluten-free?
With mostly pantry ingredients and a few fresh ingredients, you can have this quick and easy recipe ready to serve in about 20 minutes or less. You are going to love Curried Tuna Salad Roll Ups because they are creamy from the Kewpie Japanese mayo, crunchy from the celery, spicy from the curry and zippy and slightly sweet from the pickled daikon. However, the best part is that you can eat it with your fingers in this convenient little pinwheel bite.
Jump to:
Have you ever visited Japan?
The subtle flavors of mayo, tuna and curry are very familiar taste. It is comforting like your favorite cozy sweater or well-worn shoes. There is nothing wild and crazy about this recipe, but we are certain it will be one of your favorites you will put into circulation soon. If you like these flavors you may want to check out our Super Easy Crab Salad as it is bursting with a zippy curry mayo sauce.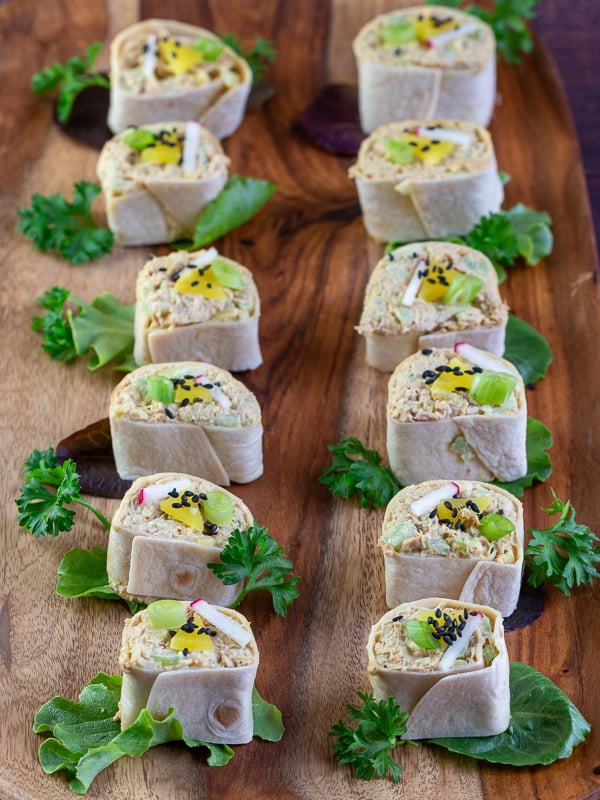 Ingredients and Substitution Ideas
Mayonnaise
Raise your hand if you have ever tried Kewpie Mayonnaise? We first tried this mayo after moving to Japan and we have never changed back to anything else. Kewpie is that good. It has just the right bit of acid, creaminess and sweetness that make the perfect bite.
However, you know you can use whatever mayonnaise you have on hand or prefer. If you find yourself with extra Kewpie mayo be sure to try our Sesame Burdock Root Salad , Tuna Mayo Rice Balls or Wasabi Mayo Crab Onigirazu.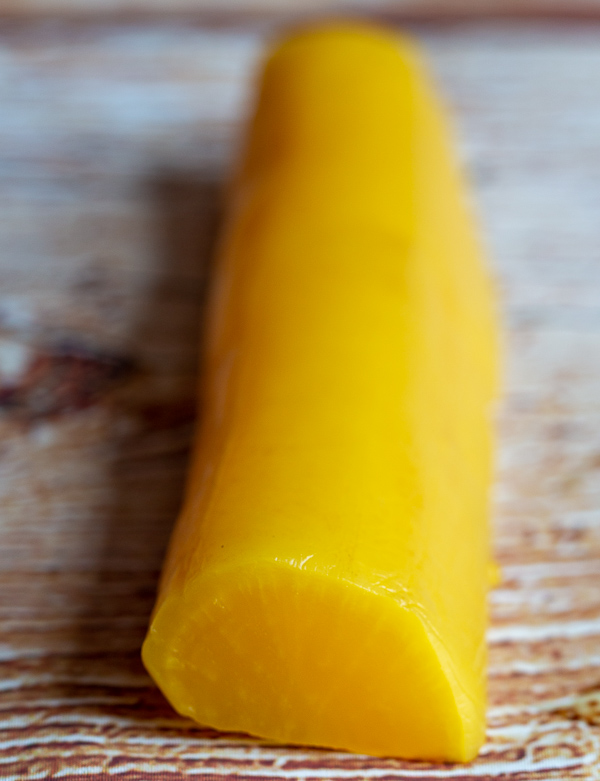 Pickles
Have you ever tried pickled daikon (takuan)? You have no idea what you are missing out on. Daikon is a large white radish, much milder than the traditional red small round radishes we have in the west.
The daikon pickle is lightly sweet, sour and savory. Daikon are dried and then brined for a long time in salt, kombu, rice bran which brings them to this bright yellow color. You can find pickled daikon in Japanese, Korean or other Asian Markets.
However, you can substitute with hot dog dill pickle relish. Any relish that is slightly sweet, sour and savory will be delicious in this Curried Tuna Salad Roll Ups recipe.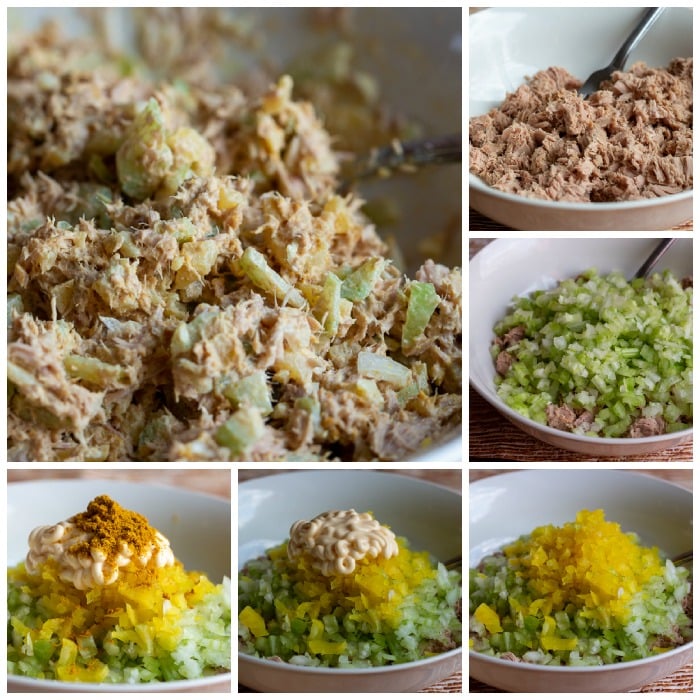 Canned Tuna or Salmon
We used canned tuna in water for this Curried Tuna Salad Roll Ups recipe. However, you could also use canned salmon too. The most important step for this recipe is making sure that ALL of the water is drained and SQUEEZED out of the tuna fish.
Please note we have capitalized on the word squeeze all the water out. This is an important step as you don't want your roll ups to get soggy. In addition, you will want to use canned tuna in water and not oil.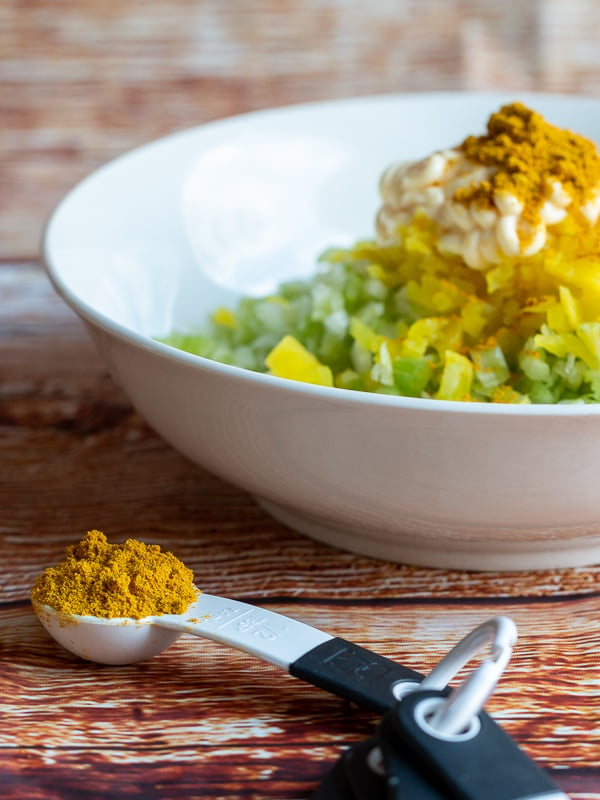 Curry it Up!
We used a mild yellow curry powder. We happen to have a mild curry powder from the Indian provisions store but any mild yellow curry you like will work well here. Notice the word mild and not medium. Generally speaking, Japanese recipes that have curry are quite mild in flavor and never too spicy.
Wrap it Up!
Do you have a gluten-allergy or need to go low carb? Today there are so many delicious tortilla wrap options out there. There is something for everyone. We used gluten-free wraps for me and low carb for the boys. You could even use dried nori (seaweed) sheets just like in a vegetarian sushi bake for a delicious low carb and gluten free wrap option.
When choosing a tortilla wrap, pick a soft wrap that easily flexes and large so it can hold enough of the ingredients. Just like with our Mediterranean Veggie Wraps, it is always helpful to microwave your wraps for just a few seconds to make them more pliable before rolling up.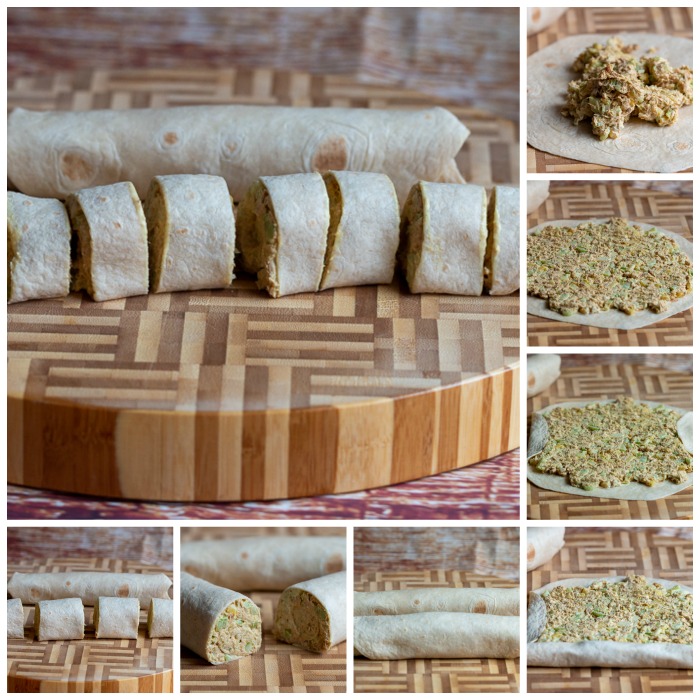 Step By Step Roll it up…
After you place a thin layer of Curried Tuna Salad on your tortilla, fold in both sides and start to roll up keeping it tight. The tighter the roll the prettier the rolls. Once rolled, cut in half. Then cut each half in half and then each half in another 2 slices for a total of 8 slices in each wrap. We used a burrito sized wrap so it will be dependent on how large or small your tortilla wraps are. If you are making these for lunches, just leave whole and place in a plastic wrap to keep the roll tightly rolled for its journey to work or school.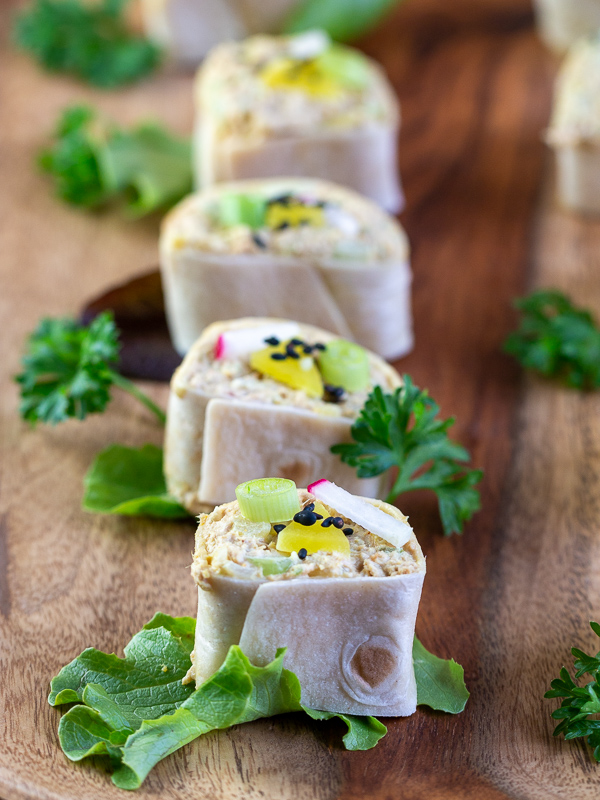 Make it pretty…
If you are serving your Curried Tuna Salad Roll Ups to guest for a snack or lunch, decorate as desired. We sprinkled on a few black sesame seeds, cut up a few daikon pickles and added a sprinkle of chopped green onions.
These make for a fun and easy appetizer to pass. You can also make these the night before or several hours before and store in the refrigerator in a sealed container up to 24 hours. However this Curried Tuna Salad Roll Ups recipe is best consumed within 24 hours .
More Rolled Recipes you may Enjoy...
Skinny Spaghetti Squash Roll Ups
Summer Rolls with Chili Lime Dipping Sauce
Savory Baked Brie in Puff Pastry
Thai Firecracker Shrimp Party Appetizer
Hungry For More? Subscribe to our Newsletter and follow along on Facebook, You Tube, Instagram, and Pinterest for all the latest updates.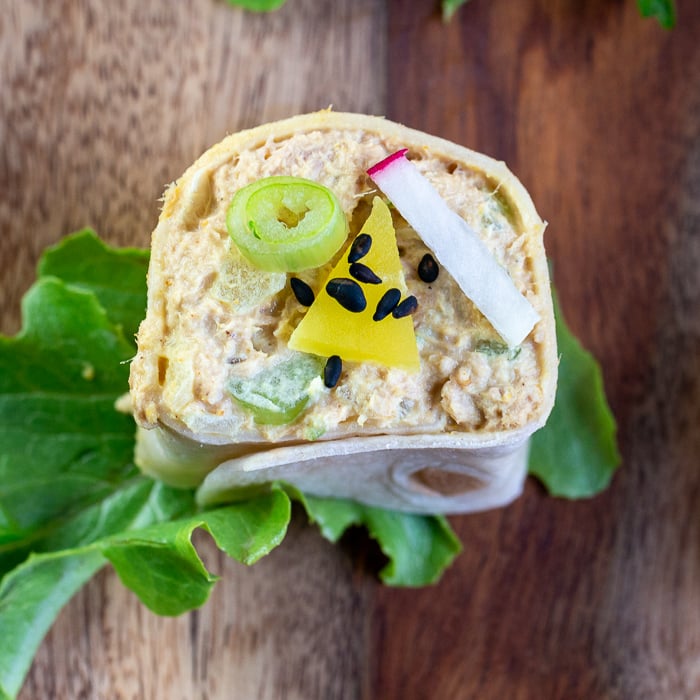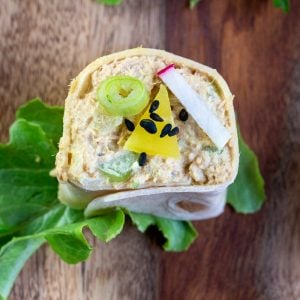 Curried Tuna Roll Ups
Curried Tuna Salad Roll Ups are a super easy appetizer or lunch idea made with zippy curry tuna salad with Japanese Diakon pickles rolled up in a gluten-free tortilla.
Print
Pin
Rate
Ingredients
10

oz

tuna fish

canned in water

2

stalks

celery

finely chopped

2

tablespoon

onion

chopped

⅓

cup

pickled diakon radish

chopped

⅓

cup

mayonnaise

(we used Kewpie)

2

teaspoon

curry powder

salt and pepper

to taste

2-3

flour tortillas

medium sized (can use gluten-free, low carb or regular wraps)

Black sesame seeds, diakon pickles, green onions, radishes

garnish - all optional
Instructions
Drain and then squeeze the tuna out with your hands. The goal is to remove as much moisture as possible, so the tortilla stays dry. Do not use tuna in oil but instead use tuna in water.

Put your drained tuna in a medium bowl and add your chopped celery, onion, pickled daikon, mayonnaise, curry powder and salt and pepper to taste.Stir well

Place a tortilla on your cutting board. Lay flat. Spread approximately ⅓ of the tuna mixture on the wrap and then spread it to about 1 cm to the edge.

Fold each side of the tortilla in and roll up tightly.

Cut Curried tuna salad roll ups once in the middle. Then, cut each half into 4 sections for a total of 8 slices. See photos above for details.

Garnish with black sesame seeds, daikon pickles, green onions, radishes or whatever your little heart desires. We set each curried tuna salad roll up on salad leaf to serve.

Enjoy! Can be served immediately or refrigerated in a sealed container for up to 24 hours.
Notes
It's really important to make sure that you use tuna in water and not oil and that you squeeze your tuna out dry. This helps keep the

tortilla dry.
If you do not have or cannot find daikon pickles, substitute with dill pickle relish or other sweet/sour pickles.
We used kewpie mayonnaise, but you can use any brand of mayonnaise that you personally like.
Chop your celery and onion finely so that your wraps are easy to wrap. We like our curried tuna salad roll ups only mildly spicy, so we used 2 teaspoons of curry powder. Feel free to reduce or increase to obtain your desired level of spiciness.
We used gluten-free tortilla wraps for our gluten-free friends and low carb tortillas for the carb conscious friends. The most important thing is to make sure your tortillas are fresh and pliable. You can pop them in the microwave for 10 to 20 seconds to soften them up if needed. We used medium sized burrito tortillas.
The amount of tuna salad needed will be dependent on how large your tortillas are. You will be able to make at least 2 tortillas. Any extra tuna salad is delicious in sandwiches, with crackers, in a lettuce wrap or a dollop in an avocado.
Nutrition
Serving:
1
g
|
Calories:
60
kcal
|
Carbohydrates:
2
g
|
Protein:
4
g
|
Fat:
4
g
|
Saturated Fat:
1
g
|
Cholesterol:
8
mg
|
Sodium:
129
mg
|
Potassium:
57
mg
|
Fiber:
1
g
|
Sugar:
1
g
|
Vitamin A:
38
IU
|
Vitamin C:
1
mg
|
Calcium:
11
mg
|
Iron:
1
mg