Camote Bihon (Sweet Potato Noodles) is delicious gluten-free recipe from the Philippines with stir fried vegetables, mushrooms, beef and a light aromatic sauce.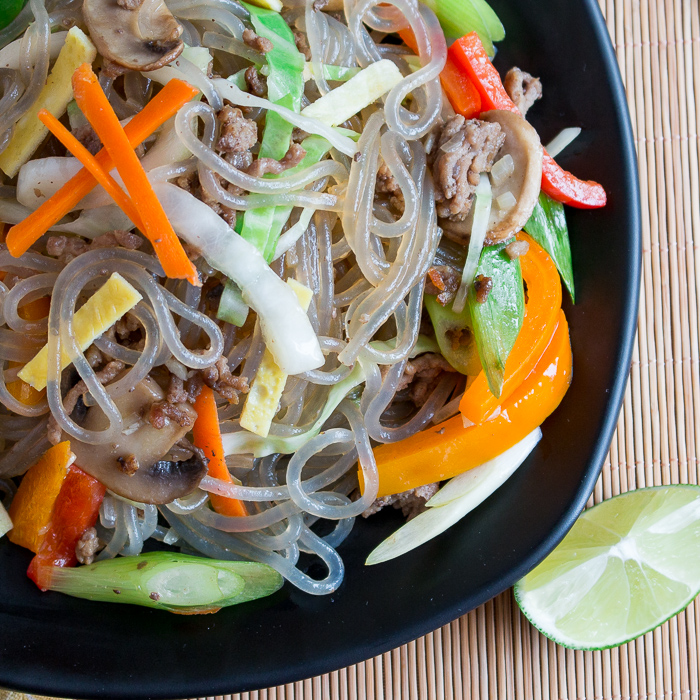 You are just going to love this delicious Camote Bihon (Sweet Potato Noodle) recipe as it is healthy, gluten-free, pack filled with colorful crunchy vegetables and this super simple sauce that keeps you going back for seconds. Who wants thirds? Or Maybe fourths?
slurping Deliciousness
gluten-free
dairy free
easy sauce
packed with rainbow veggies
fun to eat
kid friendly
adult friendly
vegan options available
Why you need Sweet Potato Noodles in Your Life
These addictive sweet potato noodles that are going to blow your mind. Have you ever tried Camote Bihon (Sweet Potato Noodles)? Sweet potato noodles are a type of cellophane noodles made with sweet potato starch and water. You can find them at most Asian Markets, Whole Foods even on Amazon. These noodles have this addictive slurping quality and bite that makes your mouth want more. Who wants to try some?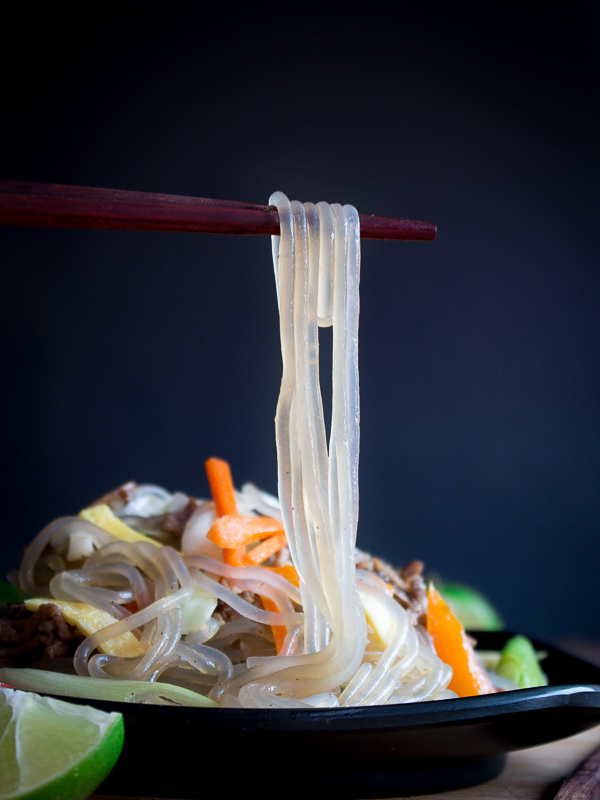 Sweet potato noodles are glassy, tender, chewy, but light and filling at the same time and so easy to slurp down. They have a delicate sweet flavor all on their own but really pick up any flavors you put in with the noodles.
We used Korean clear noodles made from sweet potato starch. In Korea, these little noodle snacks are the main ingredient in japchae dish with similar vegetables but of course with some added chilis, garlic and a little sugar.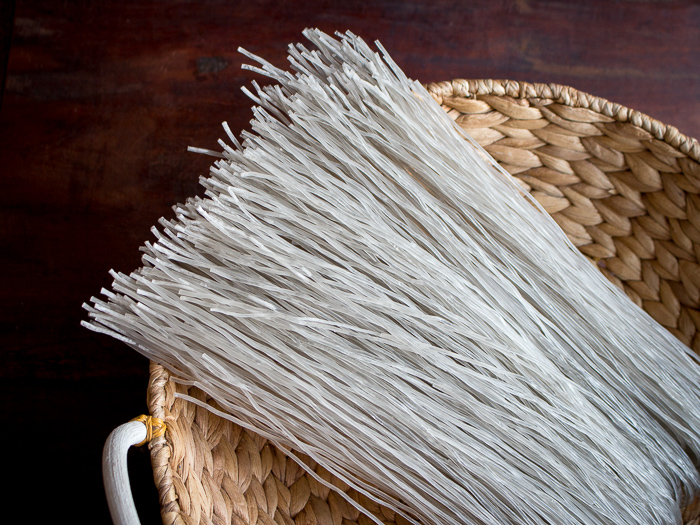 How to Prepare Sweet Potato Noodles
When you cook sweet potato noodles, they go from this gray white color to translucent. They only take 5-7 minutes to cook. Alternatively, you can soak in warm water for 20 minutes and then rinse with cold water.
We invite you to #NoodlesWithoutBorders...
We are very excited to share with you that we are collaborating with All That's Jas to bring to you a delicious noodle recipes from around the world once every month. How awesome is that! We cannot wait to try All That's Jas special noodle recipe! Pop on over to see the amazing Greek Pastitsio Pasta Casserole noodle dish she has prepared today.
If you make one of our noodle dishes or a noodle recipe of your own, please make sure you use the #NoodlesWithoutBorders hash tag on instagram. We love to see what you are making in your kitchen. Noodles are fantastic and every country has a recipe to celebrate the delicious slurpable noodle. What is your favorite noodle dish? Please leave us a comment below, if you have any special international noodle recipe requests.
Special Guest: Shirley Vilan
This special Camote Bihon noodle recipe is brought to you by our very special guest, Shirley Villan. We have made this recipe many times over the last several years and have refined it a bit and added a few new photos to share with you. This recipe was first posted on October 5, 2014.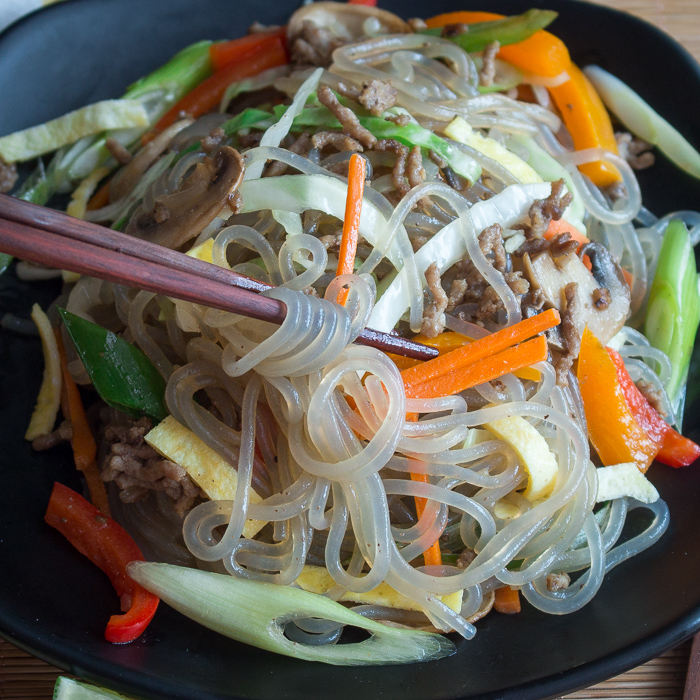 Have you tried HWC Magazines other Noodle Recipes?
Camote Bihon is traditionally be made with two different type of noodles such a vermicelli and also a rice noodle or a sweet potato noodle. If you are looking for more delicious noodle recipes be sure to try our Spicy Beef and Longevity Noodles , Easy Beef Pho with Oodles of Noodles or our Shrimp Tempura Udon Noodles.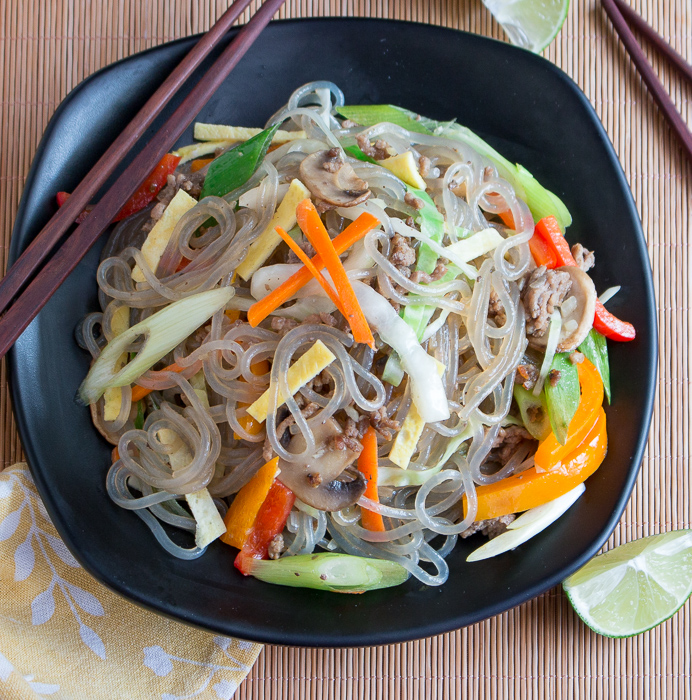 Cook Once - Eat Twice
We should probably warn you now that you should probably make more than you think you need as this dish is really tasty and so easy to make. Camote Bihon is delicious hot, room temperature or even cold. It is a perfect idea for lunch boxes for the kids or adults.
Longevity Noodles
Camote Bihon would mostly be served around a special occasion in the Philippines like for your birthday, festival, Christmas or New Years. They believe that you should not cut the long noodles as it symbolizes longevity. However, if you are not serving your noodles for a birthday or at New Years, you might want to cut the noodles after you soak to make them a little easier to eat.
Make it just the way you like it
The fun part about this dish is you can add any protein or veggies you like. Our only suggestion is to keep the vegetables colorful like the rainbow. We used ground beef as that is what we happen to have on hand at the moment but in the Philippines it is more common to use pork or shrimps. However, chicken, tofu and egg are also delicious added in the noodles as well.
Eat the Rainbow!
Do you love eating the rainbow? We cut up fresh carrots, tri-colored peppers, mushrooms, cabbage and all sorts of vegetables. You are striving for is that little addictive crunch of the veggies along with the camote bihon sweet potato noodles.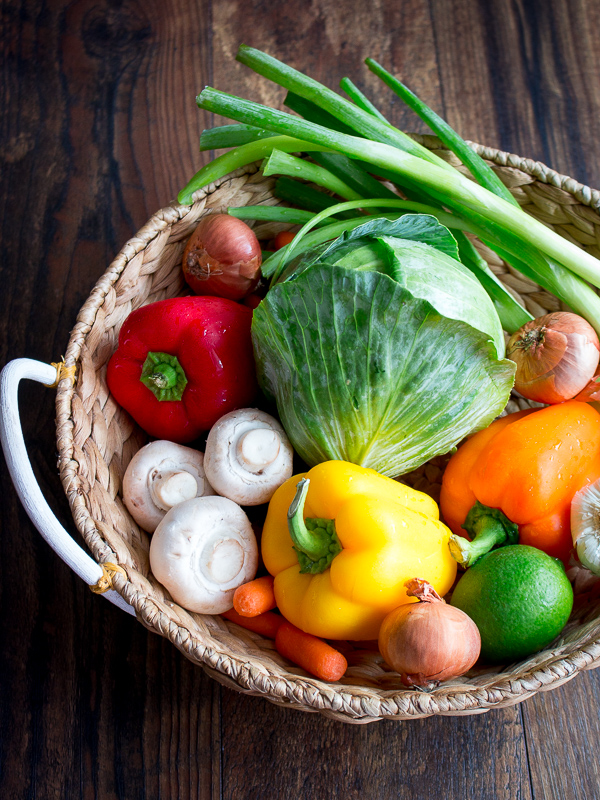 Please cut your vegetables in a thin julian cut and keep them all in a uniform size.. so it is easier to eat.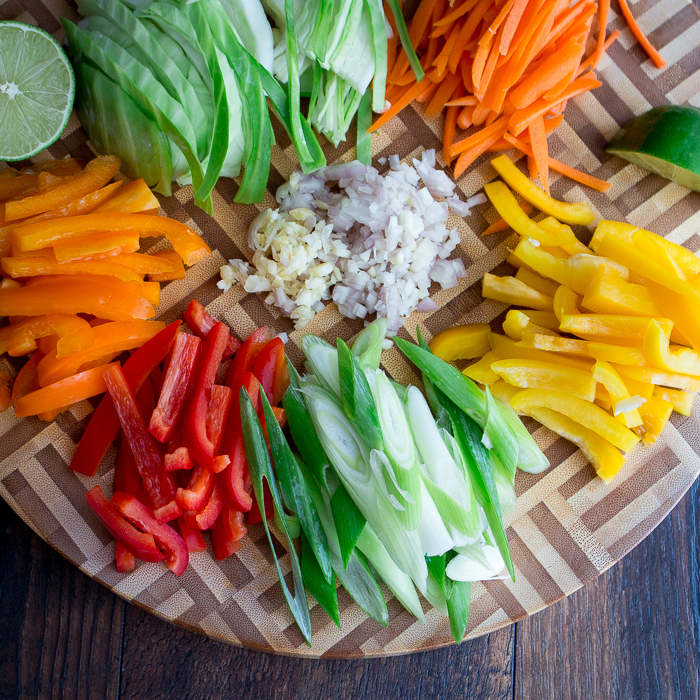 The sauce is so simple. Are you ready? Three little ingredients; oyster sauce, vegetable bouillon broth and fresh lime juice. We used gluten free oyster sauce by Lee Kum Lee in the green bottle. If you cannot find gluten free oyster sauce, you can substitute with tamari sauce if you need to keep gluten free.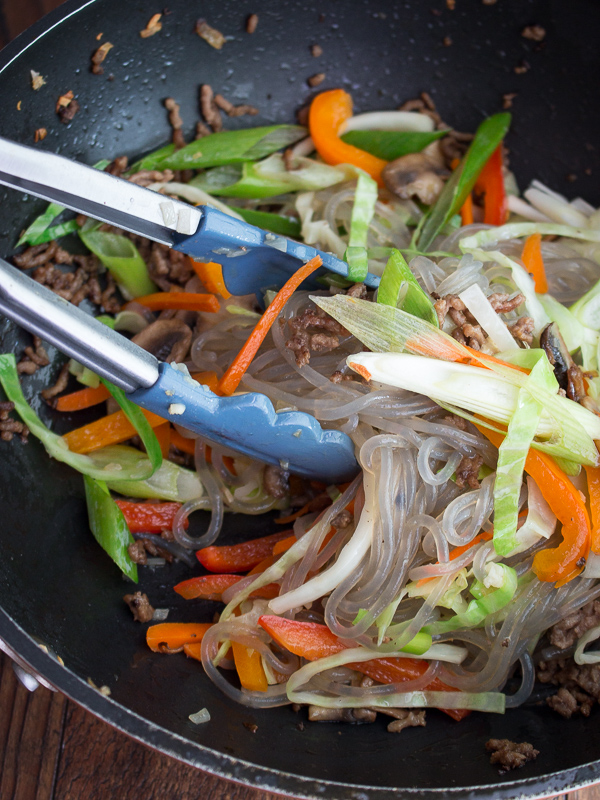 To make this recipe vegan, swap the oyster sauce with tamari sauce, swap the ground beef with tofu and hold the egg, How could that be any more easier? The fresh squeezed lime juice drizzled over the Camote Bihon (Sweet Potato Noodles) really takes this dish over the top.
Wishing everyone a super week! Ingat ka (Take Care)!
Hungry For More? Subscribe to our Newsletter and follow along on Facebook, You Tube, Instagram, and Pinterest for all the latest updates.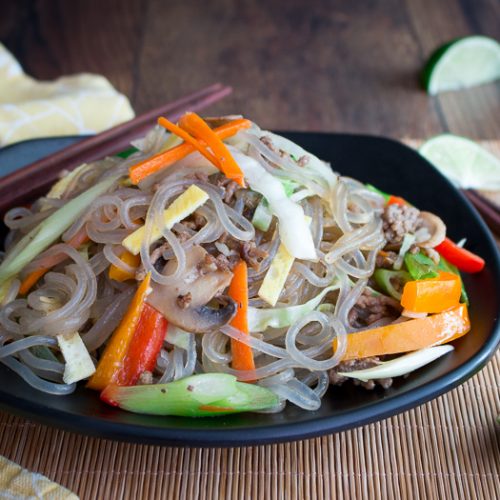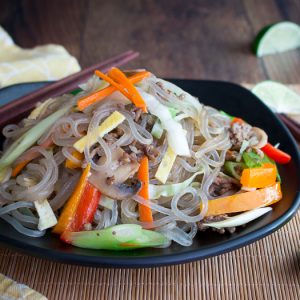 Camote Bihon (Sweet Potato Noodles)
Camote Bihon (Sweet Potato Noodles) is delicious recipe from the Philippines with stir fried vegetables, mushrooms, beef and a little light aromatic sauce
Print
Pin
Rate
Ingredients
250

grams

Sweet Potato Starch Noodles


(dang myun) (½ package)

½

pound

ground beef


(Can exchange with pork, shrimp, chicken, tofu or whatever your little heart desires)

2

tablespoon

oil

salt and pepper


to taste

8

ounces

mushrooms


sliced

3

cloves

garlic


finely minced

1

onion

small minced


1

carrot


julienne sliced

½

red bell pepper


julienne sliced

½

yellow bell pepper


julienne sliced

½

orange bell pepper


julienne sliced

8

ounces

cabbage


thinly sliced

1

teaspoon

vegetable bouillon


gluten free

1

cup

water


2

teaspoon

sesame oil


4

tablespoon

oyster sauce


gluten free

2

green onions


sliced on a diagonal

1

egg


optional

4

tbs

lime juice

or juice from 2 limes
Instructions
Boil potato starch noodles for about 5 - 7 minutes or until firm aldente. (You can also soak noodles in warm water for 10-20 minutes until firm aldente) Drain, rinse with cool water and drain again. (we do not like to add extra oil to the noodles as these noodles will loosen right back up if you run them back under cool water before stir frying) If you are not serving these at a birthday or New Years celebration, you may consider cutting your noodles in half with cooking scissors. They are really long and easier to eat when a bit shorter. Set aside.

In a wok or frying pan, add 1 tablespoon of oil and fry ground beef or protein of choice and season with salt and pepper and stir fry until cooked. Drain any extra oil and set aside.

In a small frying pan add a little oil and mushrooms, season with salt and pepper and cook until softened and fragrant. Set aside.

If you would like to add egg, beat an egg and grease a small skillet with a little spray oil and pour the beaten eggs into pan. Cook over low medium heat for 2 minutes and flip over. Remove from the pan and slice into thin strips about the same size as your julian vegetables. (optional)

In your wok/frying pan add a little oil, garlic, onions and carrots. Stir fry for one minute. Add 1 tablespoon of water to the carrots and a lid and steam carrots for about 1-2 minutes until aldente. Add red, yellow and orange bell pepper and stir fry for 2 minutes. Add the cabbage and season well with salt and pepper and stir fry for 1-2 minutes. (You want your vegetables to have a nice crunch and they will also be cooked again with the final dish, so a little crunch is good) Feel free to use any vegetables your heart desires. Just be sure to cut them in all similar sized julian slices and also cook the hard vegetable first and then add the softer vegetables last to the wok. Remove the vegetables from the wok and set aside.

Dissolve vegetable bouillon in warm water. Stir and set aside.

Unless you have a restaurant sized wok, you are going to want to perform the next step in 2 different sessions. Your goal is to stir fry not too steam and that is exactly what happens when you overfill your wok with too many ingredients at a time.

PERFORM THIS STEP TWICE (2 servings each) Add 1 teaspoon sesame oil, ½ cooked ground beef and ½ cooked rinsed sweet potato noodles to your wok. (if your sweet potato noodles have tried to stick together, go ahead and run them back under the cool water inside a colander and shake well and they will loosen right back up.) Add ½ cup of the vegetable bouillon water, 2 tablespoons oyster sauce, ½ of the green onions and stir fry fro 1-2 minutes or until the water is evaporated. Toss in the sliced egg. Repeat process with the other half of ingredients.

Serve delicious Camote Bihon into 4 bowls and sprinkle with fresh lime juice just upon serving. Enjoy! Sarap!
Notes
If you are unable to find gluten free oyster sauce then you can exchange with tamari sauce. Feel free to substitute ground beef with ground pork, shrimp, tofu or any protein you desire. We used sweet potato noodles as we love these delicious noodles and they are gluten free but bihon is traditionally prepared with two types of noodles like vermicelli and a rice noodle. Use whatever kind of noodle you prefer. Fresh lime makes this dish extra delicious!
julienne slice is just a fancy way of saying sliced long and thin. The goal is to have all your ingredients roughly the same size so it is easier to eat.
Nutrition
Serving:
1
g
|
Calories:
530
kcal
|
Carbohydrates:
70
g
|
Protein:
15
g
|
Fat:
22
g
|
Saturated Fat:
6
g
|
Cholesterol:
81
mg
|
Sodium:
581
mg
|
Potassium:
681
mg
|
Fiber:
5
g
|
Sugar:
7
g
|
Vitamin A:
3684
IU
|
Vitamin C:
96
mg
|
Calcium:
77
mg
|
Iron:
2
mg