Asian Meatball Lollipops are a fun appetizer to serve for all of your gatherings made with pork and a hoisin dipping sauce.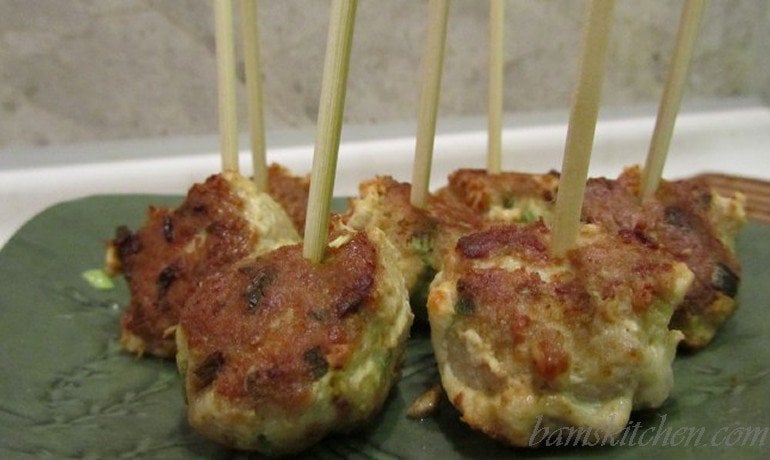 Why you are going to love Asian Meatball Lollipops
I had all the ingredients to make jiaozi- Chinese dumplings but none of the gumption or time to fuss in the kitchen today. Plan "B" Asian Meatball Lollipops made with the same yummy ingredients as the inside of the jiaozi but with a killer zippy dipping sauce. The wrapper of the jiaozi is the just transportation tool to get it gracefully from the plate to my mouth, but the inside of the dumpling is really where all the flavor is. Well that is the goal at least. How proficient are you in your use of chopsticks? Our family, and even our teenagers, have it down to a science and actually prefer chopsticks to fork in knives in most situations. However the dumpling is a slippery little fellow. I wonder how a needle or bamboo skewer would work to secure a grasp on one of these tasty little Asian meatballs...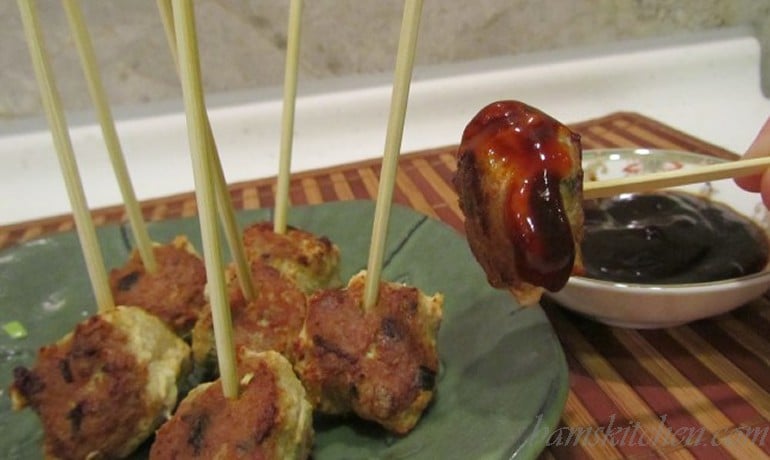 Traditional Chinese Medicine
My mind these days is really on everything to do with needles? You may ask why? I have starting taking acupuncture course at the HKU and have starting looking at life and medicine in a very different way. For those of you that have not heard of acupuncture before, according to Cheng Xinnong in the book of Chinese Acupuncture and Moxibustion," It is a complex branch of ancient Chinese medicine that is based on principles developed in China over the past 2000 years. The foundation in which these principles are set is that there is a subtle life energy, called Qi, circulating though all parts of the body via energy channels, called meridians.
These meridians connect our head, torso, arms, hands, legs, feet, and all internal organs. According to Chinese medical theory, pain and illness results when the smooth, cyclical flow of Qi in the meridians becomes blocked or unbalanced. An acupuncturist uses acupuncture needles to stimulate specific points along the meridians. This stimulation helps restore balance and the smooth flow of Qi so all parts of the body can work together in harmony as intended. This harmony allows the body to repair itself and maintain health".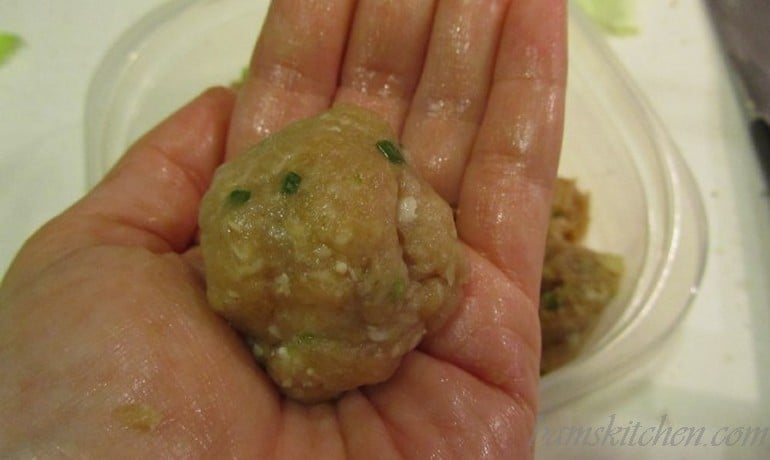 So now you may ask, what exactly does acupuncture have to do with my Asian Meatball Lollipops? Well everything! My husband is deeply concerned that I will want to use him as a pin cushion to practice my new acupuncture techniques. Instead, I told him no fear as I will use my trusty bamboo skewers (instead of acupuncture needles) and use the very tasty Asian meatballs as my obedient clients. So far so good, the meatballs gave me no complaints during their therapy and as a matter of fact they looked quite tasty after their treatment.
Moms are always multi-tasking so studying while cooking is just one way we stay ahead of the game. The use of the bamboo skewers is a great method of getting these little delectable Asian Meatball Lollipops from my plate to my mouth and is a decorative way to serve them to the crowds.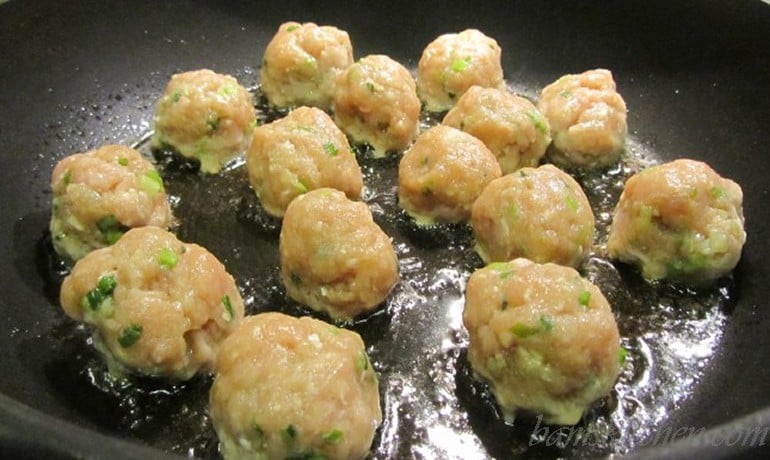 More Asian appetizer Recipes
10 Fun and Easy Chinese New Year Recipes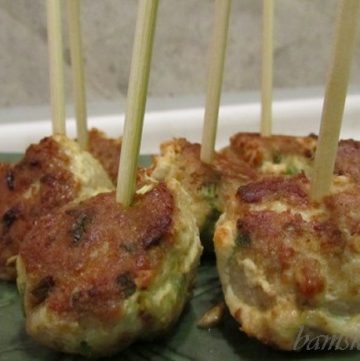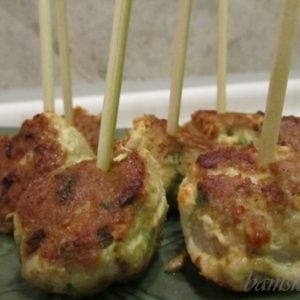 Asian Meatball Lollipops
Asian Meatball Lollipops are a fun appetizer to serve for all of your gatherings made with pork and a hoisin dipping sauce.
Print
Pin
Rate
Ingredients
ground pork - 1 pound

green onions - ½ cup chopped

ginger - 1 teaspoon minced

sesame oil - 2 tablespoon

rice vinegar - 2 tablespoons

white pepper - ½ teaspoon

tamari (soy) sauce - 2 tablespoons

egg - 1 beaten


cooking oil - 2 tablespoons

bamboo skewers - optional
Hoisin Dipping Sauce
olive oil - 1 tablespoon

garlic- 1 clove minced

ginger - 1 teaspoon grated

hoisin dipping sauce - 6 tablespoons


tamari (soy) sauce - 1 tablespoon

water - 2 tablespoons

sesame oil - 1 teaspoon

spicy garlic chili paste - ½ teaspoon

Instructions
Assemble hoisin dipping sauce. Place oil into pan and heat up and add garlic and ginger and cook until aromatic and the rest of ingredients and mix well. Turn off heat and allow to cool, set aside or refrigerate until needed.

In a medium bowl combine all the ingredients for Asian meatballs; pork, scallions, garlic ginger, sesame oil, rice vinegar, white pepper, soy sauce, egg and salt and mix well.

Take about a tablespoon of pork mixture and roll into a small round meatball. Continue with the rest of the pork mixture and set aside.

In medium bring cooking oil to medium heat and add the meatballs. Cook meatballs until golden brown on all sides. (alternatively you can bake the meatballs at 350 degrees F for about 20-30 minutes)

Place meatballs on a serving platter with hoisin and Thai sweet chili sauces on side. Place a bamboo skewer in each meatball for easy eating. Enjoy!
Nutrition
Serving:
4
g
|
Calories:
244
kcal
|
Carbohydrates:
2.5
g
|
Protein:
31.5
g
|
Fat:
10.9
g
|
Cholesterol:
83
mg
|
Sodium:
526
mg
|
Potassium:
558
mg
|
Fiber:
0.6
g
|
Sugar:
0.5
g