Spaghetti and Meatballs with Grandma's Sauce is a timeless classic recipe passed on for generations with some gluten-free and egg free options.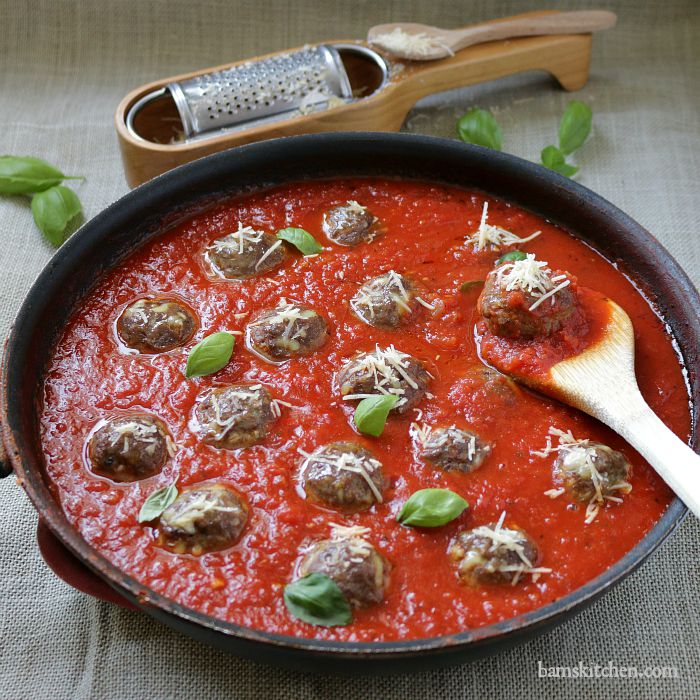 A recipe that is past on from generation to generation is a timeless treasure.
It all starts out with an onion studded with cloves sautéing in a pan...and then the magic begins.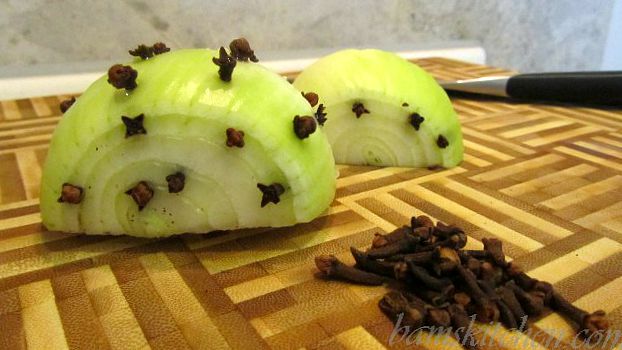 Why you are going to love Spaghetti and Meatballs with Grandma's Sauce
I have already started cooking the homemade tomato sauce and meatballs and the wonderful aroma coming from my kitchen is out of this world. The lovely savory fragrance has even stirred the teenagers from their rooms to find out the status on when dinner will be ready.
Believe it or not we never ever had jarred tomato sauce throughout my childhood. Tomato Basil special sauce was alway made from scratch and had that all day slow cooked delicious flavors.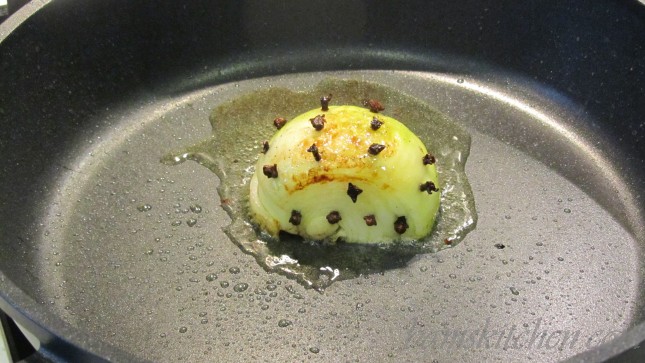 History of Italian Meatballs
Spaghetti with tomato sauce and meatballs on the side, is a dish from Italy. These dishes have been around since the 1800's in Italy. However, In Italy, they usually never serve spaghetti with the meatballs together but as separate dishes.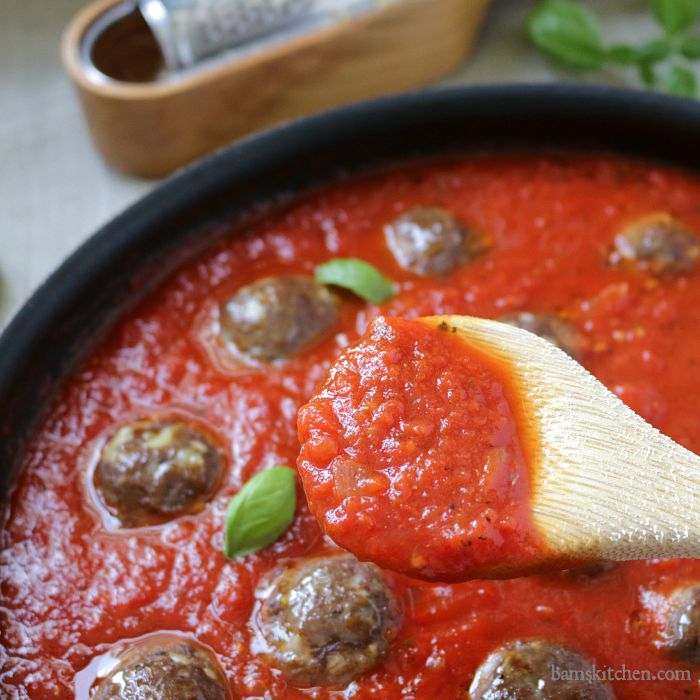 Spaghetti and Meatballs together is an American Tradition
Serving both the spaghetti along with the meatballs only occurred after this dish was brought to America and to suite to the needs of the local residents in the Italian restaurants. In Italy, they generally serve many courses as part of the meal.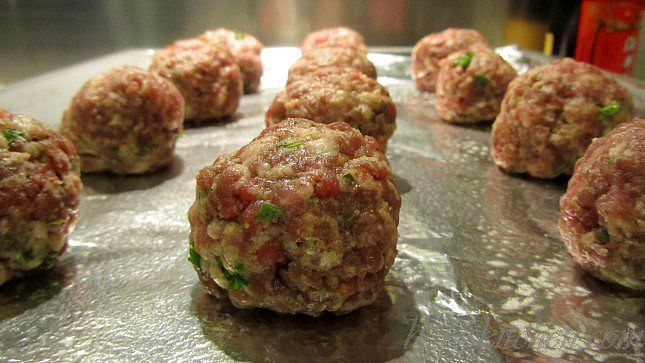 Meal courses in Italy
The Italian appetizer (Antipasto) serves cold cuts and other small regional items.
The first course (Primo) usually serves a soup or the pasta.
The second course or main course (Secondo) is usually meat poultry or fish.
The side dishes (Contorni) such as a vegetable or salad.
Dessert (Dolce) is served at the end of the meal and usually is fruit or cheese and you may also be offered an espresso coffee and/or a digestive.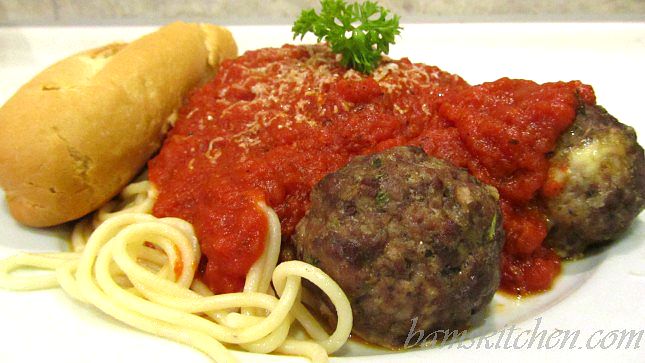 I tribute the recipe, "Spaghetti and Meatballs with Grandma's Sauce" to my loving, patient and enduring mom.
More Delicious Grandma Italian Recipes
Best Italian Stuffed Artichokes
Homemade Tagliatelle Pasta with Zucchini Blossoms
Tuscan Slow Cooked Braised Beef in Wine Sauce
How to Roast Mini Sweet Peppers
Hungry For More? Subscribe to our Newsletter and follow along on Facebook, You Tube, Instagram, and Pinterest for all the latest updates.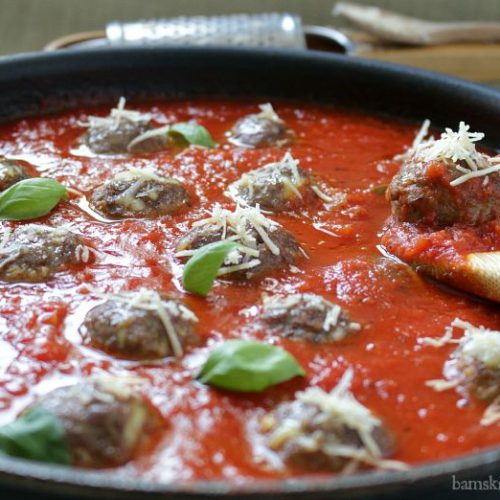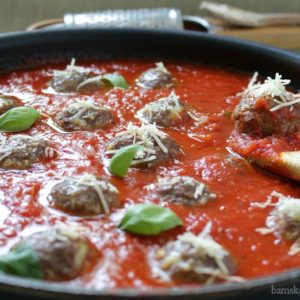 Spaghetti and Meatballs with Grandma's Sauce
Spaghetti and Meatballs with Grandma's Sauce is a timeless classic recipe passed on for generations with some gluten-free and egg free options.
Print
Pin
Rate
Ingredients
Grandma's Tomato Sauce (makes about 4 cups)
3

tablespoon

olive oil


4

cloves

garlic


peeled and sliced

1

onion


medium peeled and cut in half.

12-15

whole

cloves


to stud the onion with.

56

oz

canned tomatoes


crushed tin tomatoes) (My kids dislike chunky tomato sauce so I blend one half of tomatoes in blender before adding to sauce)

6

oz

tomato paste


½

cup

red wine


1

teaspoon

sugar


or sugar alternative this helps to neutralize the acidity taste in the tomatoes.

1

teaspoon

Italian herb seasoning


(or can use dried basil, dried thyme and dried oregano mix)

salt and pepper


to taste

6

basil

fresh or 1 teaspoon dried basil

hot pepper flakes

Dash of hot pepper flakes (optional)- gives it a little sparkle
Grandma's Homemade Meatballs: (Makes about 12-15 meatballs)
½

pound

ground veal


½

pound

ground pork


½

pound

ground beef


1.25

cups

breadcrumbs

( I used gluten-free breadcrumbs)


3

cloves

garlic


peeled and chopped or 1 teaspoon dried garlic powder.

¾

cup

chicken broth


or enough to wet the breadcrumbs (gluten free)

2

tablespoon

parsley


fresh chopped

1

teaspoon

basil


dried

½

cup

parmesan cheese


grated

1

egg


(or if egg allergies like me then exchange with 2 tablespoons of soft tofu)

1

cup

mozzarella cheese


1 inch cubes (optional if you want your meatballs stuffed)

oil spray


1

pound

spaghetti

cooked aldente (I used gluten free but can use whole grain or regular)
Instructions
Make Grandmas Sauce:

Place the pointed end of the 12-15 cloves and pierce into peeled whole onion so that you have a

"studded onion".

Next put 3 tablespoons of olive oil in a large sauce pan on medium heat and then place whole clove studded onion in oil and brown over medium meat for about 5 minutes until the flavors are infused into the oil. Remove whole onion. Add garlic and sauté for 1 minute until golden brown. Then add crushed tomatoes, tomato paste, red wine, sugar, salt, pepper and basil. Turn down the heat to low simmer and cook nice and slow for about and hour. If sauce consistency is too thick then add more wine or water and if sauce is too thin then add more paste to suite your preference. Taste and adjust seasoning as desired. Set Aside.

Made Grandma's Homemade Meatballs: Preheat oven to 350 F (176 C). Place the ground meats, both breadcrumbs, parsley, Parmesan, salt, pepper, nutmeg, egg (or tofu if egg allergies), and ¾ cup chicken broth in a bowl. Combine very lightly with a fork. Using your hands, lightly form the mixture into 2-inch meatballs. You will have 14 to 16 meatballs. (My youngest teenager came up with this great idea to stuff each meatball in the center with a cube of mozzarella before baking and it is delicious) Lightly spray a baking sheet and place meatballs a few inches apart and bake in oven for about 7 minutes just until they are slightly golden on the outside but still pink in the middle. Place the meatballs in the grandma sauce over a simmer and cook them the rest of the way in the sauce about another 7-8 minutes until they are cooked through and deliciously tender.

Cook spaghetti noodles in boiling water until adente and serve with Grandma's homemade tomato sauce and meatballs and grate parmesean cheese on top and serve with crusty bread. Enjoy!
Notes
Don't throw away your clove studded onion. Remove the cloves and add to any of your next favorite dishes that need a chopped onion.
Nutrition
Serving:
1
g
|
Calories:
531
kcal
|
Carbohydrates:
52
g
|
Protein:
28
g
|
Fat:
23
g
|
Saturated Fat:
8
g
|
Cholesterol:
88
mg
|
Sodium:
807
mg
|
Potassium:
1204
mg
|
Fiber:
7
g
|
Sugar:
14
g
|
Vitamin A:
929
IU
|
Vitamin C:
28
mg
|
Calcium:
220
mg
|
Iron:
6
mg