55 MUST TRY Cozy Crockpot Slow Cooker Instant Pot Recipes are life changing, time saving, healthy and mouthwatering.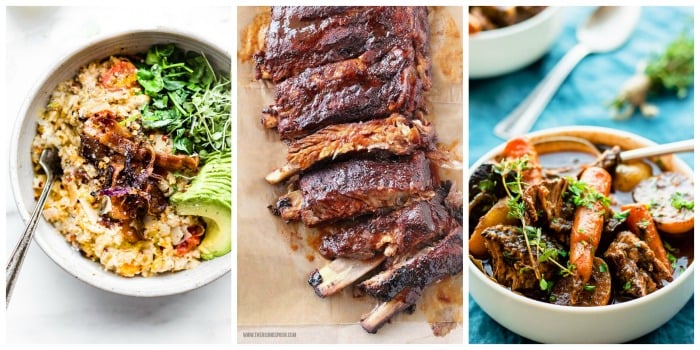 Healthy World Cuisine has aligned with several other talented food bloggers to bring to you an epic list of the best 55 MUST TRY Cozy Crockpot Slow Cooker Instant Pot Recipes. We have something for everyone; poultry, beef, pork, vegetarian and vegan recipes.
The one thing all these devices (crockpot, slow cooker & instant pot) have in common is that they will make your life so much easier. You can be cooking while you are at work or running errands and then come home to a hot and delicious meal. You can free up your oven and stovetop to do other things. You can cook dinners and freeze them for a rainy day.
How many of you have been on your way home from work to only realize that everything is still frozen solid and that dinner will not be coming any time soon??? Been there – Done that!
You need some quick and easy recipes that you can throw together before you head out the door. Go and dust off that device or go get yourself one as these recipes are brilliant. You don't want to miss out on these recipes.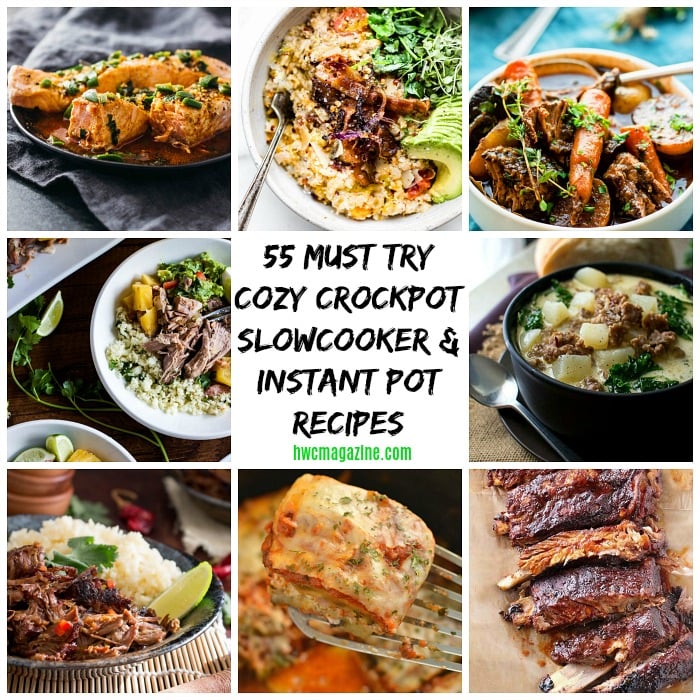 How many of you own a crockpot, slow cooker or Instant Pot?
Which one do you like better and why?
Do you know what the difference is between a crockpot, slow cooker and an instant pot is? Crock-Pot is a brand name. A crockpot has a stoneware pot that is surrounded by a heating element, whereas a slow cooker is typically a metal pot that sits on top of a heated surface. They both use moist heat to cook food over an extended period of time and work lovely for tenderizing meats. They usually have just a couple of buttons like the on button, high and low settings and cooking time.
An Instant Pot is a brand name for a programable pressure cooker. This device can perform 7-8 different functions. It's an all in one device. These devices are decorated in buttons as they can be programmed to do many things. You might need to hold on to the directions for this one.
Pressure cooker
Slow cooker
Rice cooker
Sauté
Steamer
Warmer
Yogurt maker
Egg cooker
Sterilizer
These 55 MUST TRY Cozy Crockpot Slow Cooker Instant Pot Recipes will keep you going through the next several months. We always crave slow cooked meals in the cooler winter months to keep us cozy and warm. However, using your crockpot, slow cooker or instant in the heat of the summer is also brilliant so you can stay cool and comfortable.
Are you ready for some delicious dinner ideas? Hold your hat as this recipe list is EPIC!
55 MUST TRY Cozy Crockpot Slow Cooker Instant Pot Recipes
Slow Cooker/ Crockpot Recipes
POULTRY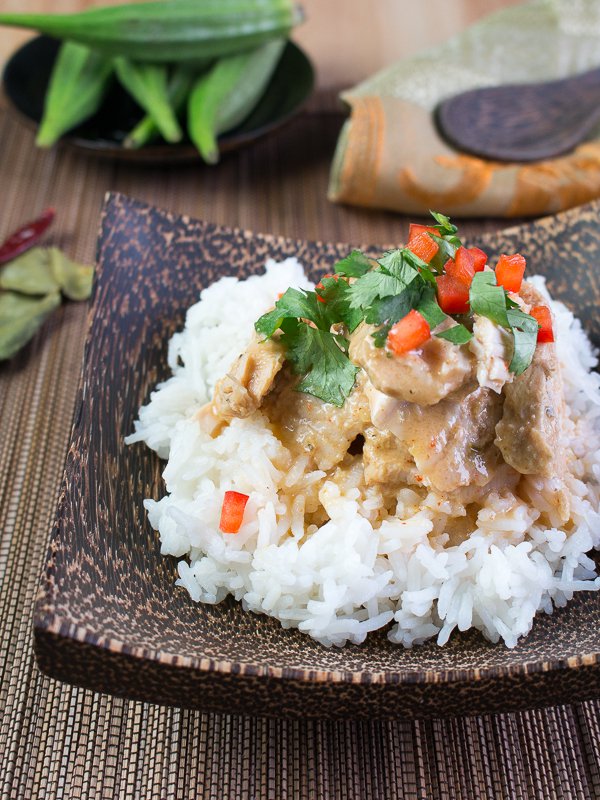 Crockpot Thai Turkey Tenderloin – Healthy World Cuisine (photo above)
Whole 30 Slow Cooker Chicken Thighs – Mom Foodie
Slow Cooker Moroccan Chicken – Dash of Jazz
Healthy Instant Pot Butter Chicken – Carmy – Run, Eat, Travel
21 Day Fix Zuppa Toscana – Confessions of a Fit Foodie
Healthy Crockpot BBQ Chicken – Skinnyfitalicious
Low Carb Crockpot Lasagna – Skinnyfitalicious
Slow Cooker BBQ Chicken – Strength and Sunshine
Chicken Wild Rice Soup – Stacey Homemaker
Slow Cooker Fesenjan Chicken (Gluten-free & Paleo) – Strength and Sunshine
Creamy Salsa Chicken (Low Carb and TMH S) – Joy Filled Eats
Slow Cooker Pumpkin Turkey Chili – Paleo Scaleo
Whole Chicken Slow Cooker Recipe – Thrifty Northwest Mom
Slow Cooker White Chicken Chili – Diabetes Strong
Slow Cooker Honey Garlic Chicken – Mama Loves Food – cover shot
BEEF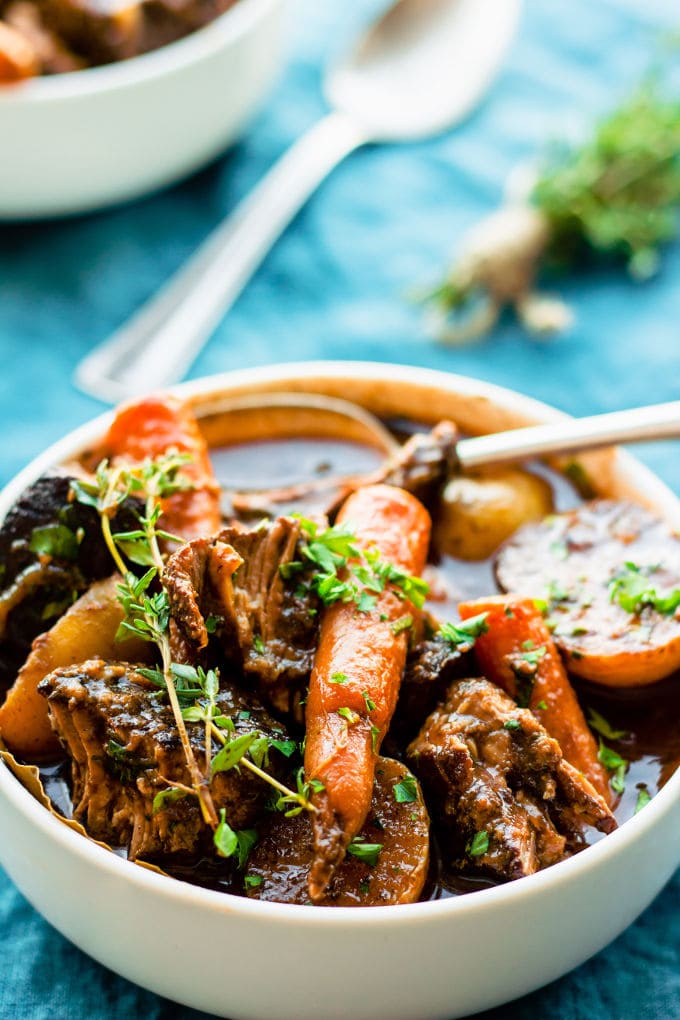 Slow Cooker Gluten Free Beef Bourguignon (Beef Burgundy) – One Clever Chef – (photo above)
Slow Cooker Italian Beef and Cabbage – Darcie's Dish
Perfect Crockpot Marinara Sauce with Meat Recipe – Fancy's Shanty
Quick Easy 5 Ingredient Slow Cooker Pot Roast – Fearless Dining
Slow Cooker Pot Roast with Onion Soup Mix – The Rising Spoon
Copycat Chipotle Barbacoa Slow Cooker (Low Carb and Paleo) – Wholesome Yum
Slow cooker Meatballs with Balsamic Reduction – Make Mend Grow
Slow Cooker Beef Rendang Curry – Healthy World Cuisine
Easiest Slow Cooker Meatballs – Simply Fresh Dinners
PORK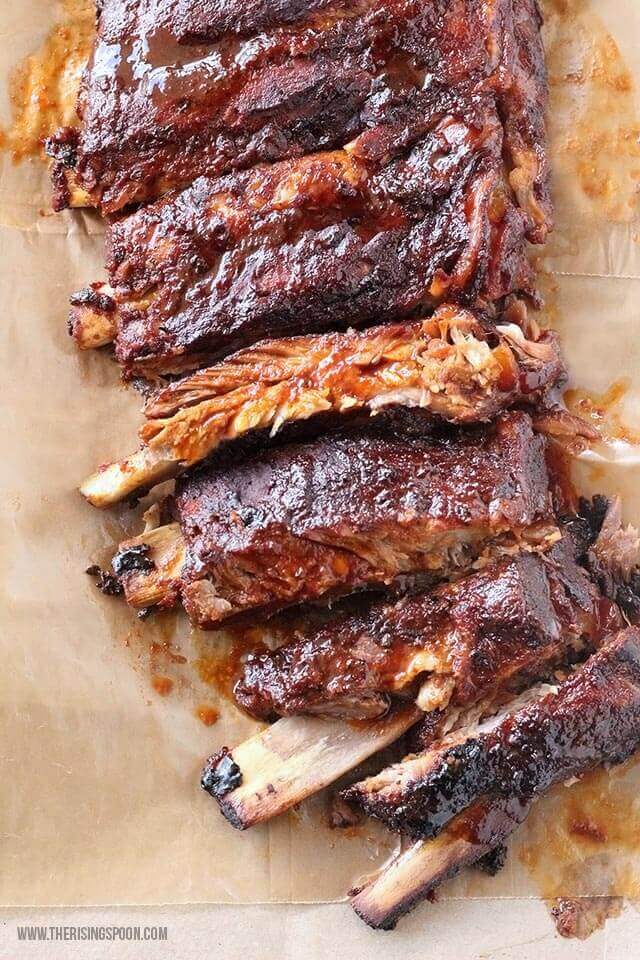 Crock Pot BBQ Ribs – The Rising Spoon (photo above)
Slow Cooker Pulled Pork – Food Meanderings
Slow Cooker Pork Tacos – Every Day Maven
Low Carb Smoky BBQ Spare Ribs – My PCOS Kitchen
Slow Cooker Pineapple Pulled Pork with Cauliflower Rice Guacamole – Pass Me Some Tasty
Crock Pot Pork Ribs Killer Barbecue Sauce – Beauty and The Foodie
Slow Cooker Cabbage and Kielbasa – Brooklyn Farm Girl
Savory Slow Cooker Oatmeal – Cotter Crunch
Slow Cooker Zuppa Toscana – The Chunky Chef
VEGETARIAN/VEGAN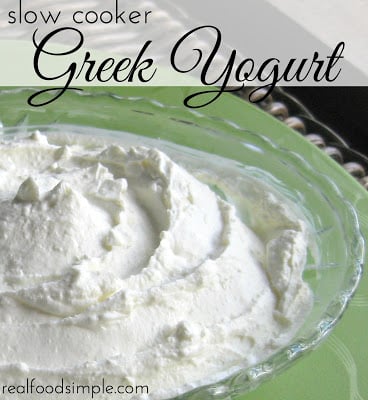 Homemade Greek Crockpot Yogurt – Suzy and Co. (photo above)
21 Day Fix Broccoli Cheese Soup – The Foodie and the Fix
Slow Cooker Chili Farmer's Market Recipe – Geeks Who Eat
Vegetarian Crockpot Chili Bulgur Wheat Recipe – Thrifty Jinxy
Crockpot Baked Potatoes– Melanie Cooks
Minestrone Soup Recipe Slow Cooker Copycat Recipe – Thrifty Northwest Mom
Slow Cooker Apple Cinnamon Oatmeal – All She Cooks
Can you believe it? We are only half way done! Hold your hat and pin this recipe round up as you are going to need it on those busy crazy days.
INSTANT POT/ PRESSURE COOKER RECIPES
CHICKEN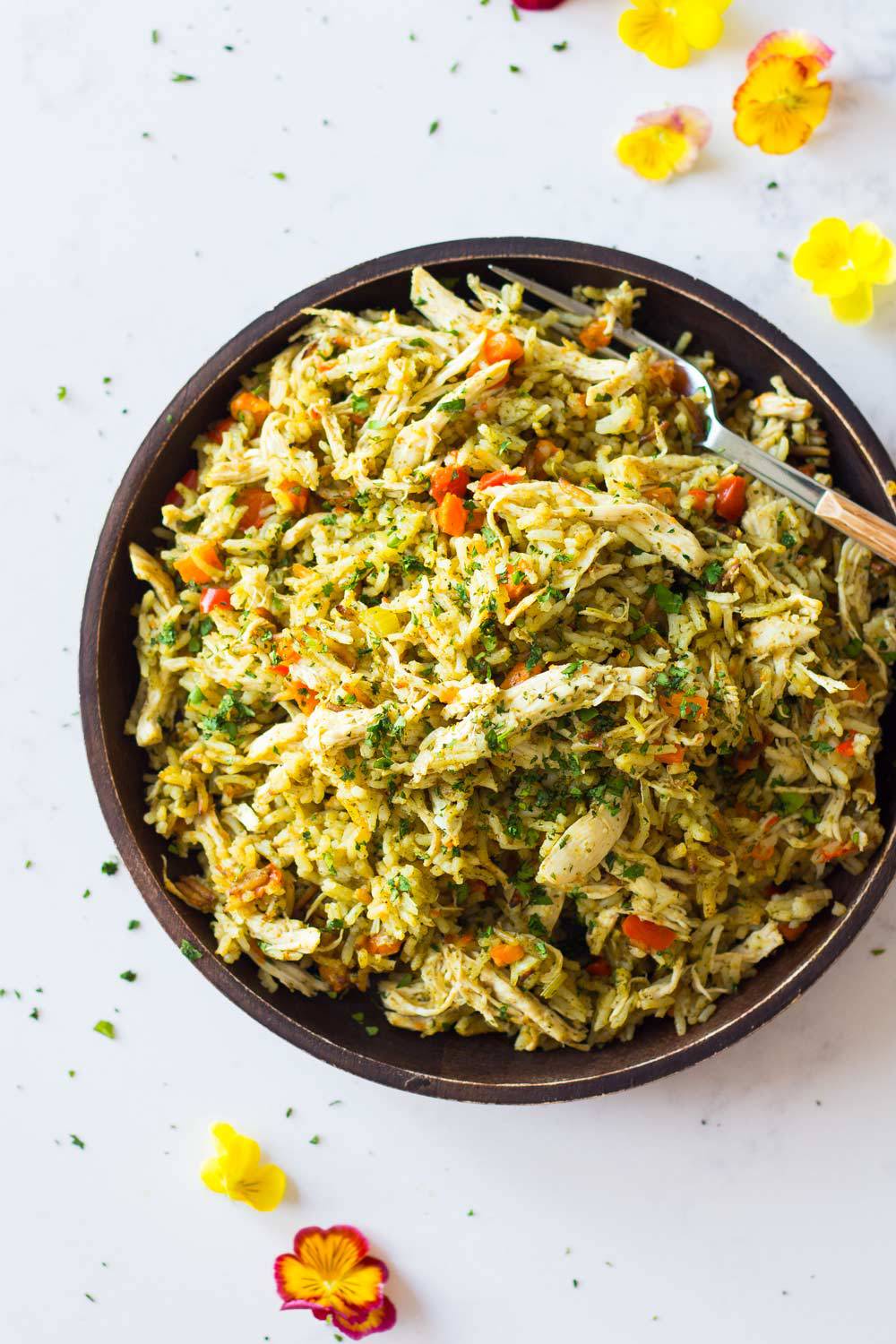 Instant Pot Chicken and Rice – Green Healthy Cooking (photo above)
BEEF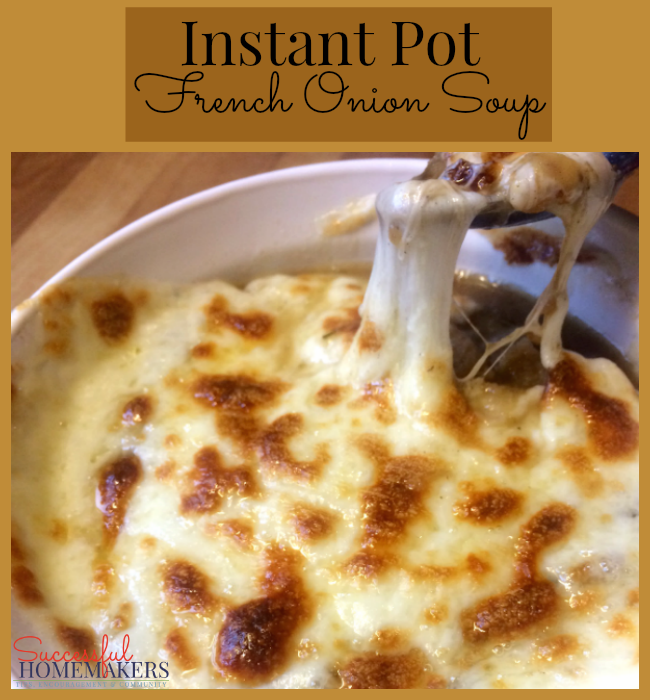 Instant Pot Shredded Beef Taco Soup – This Vivacious Life
Instant Pot French Onion Soup – Successful Homemakers (photo above)
Instant Pot Mississippi Pot Roast – Wonderfully Made and Dearly Loved
PORK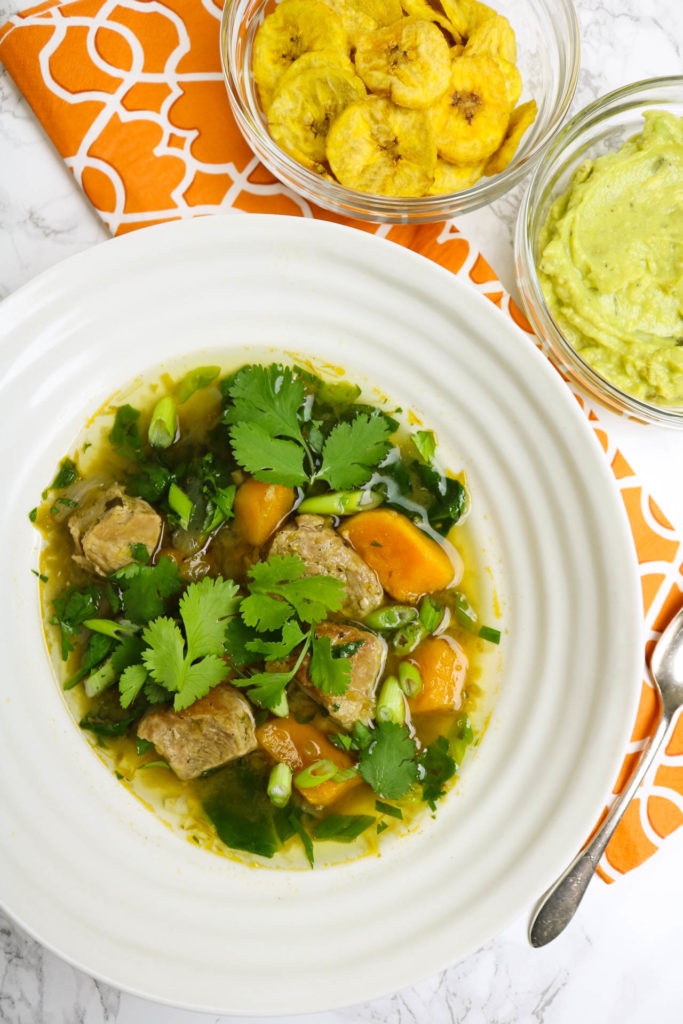 Instant Pot Tomatillo Pork Soup – From Pasta to Paleo (photo above)
VEGETARIAN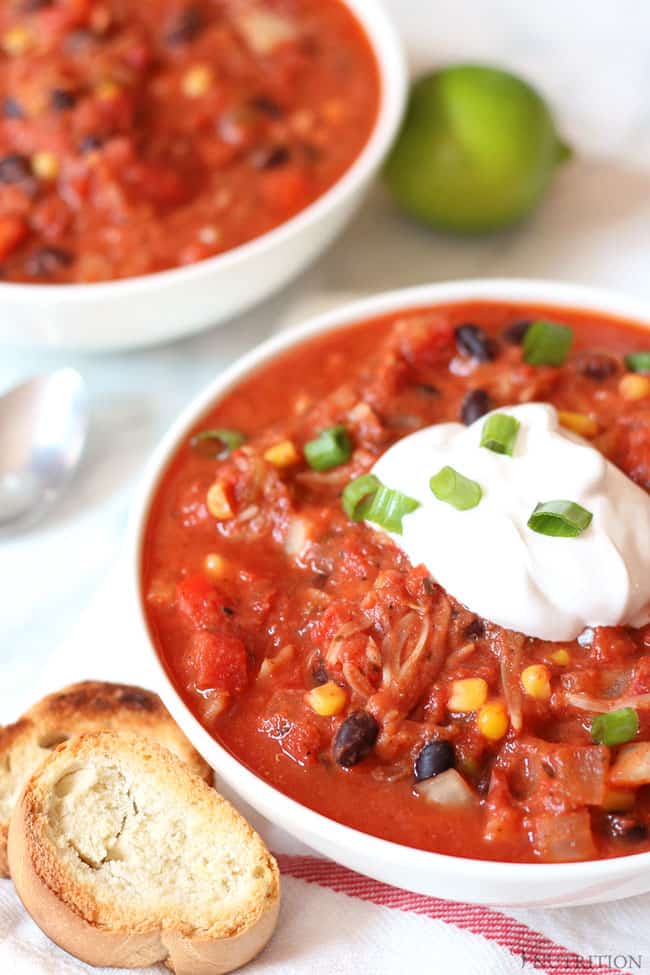 Easy Instant Pot Black Beans – My Gluten Free Miami
Instant Pot Leftover Vegetable Soup – Garden in the Kitchen
Keto Cauliflower Soup Instant Pot – Recipes for Instant Pot
Jackfruit Chili – VNutrition and Wellness (photo above)
Carrot Soup Instant Pot Recipe – Nut Free Wok
Butternut Squash and Apple Soup Instant Pot Recipe Whole 30 Compliant – The Mama Maven
Copycat Starbucks Egg Bites Recipe – My Crazy Good Life
Coconut Low Carb Porridge Instant Pot– Low Carb Yum
FISH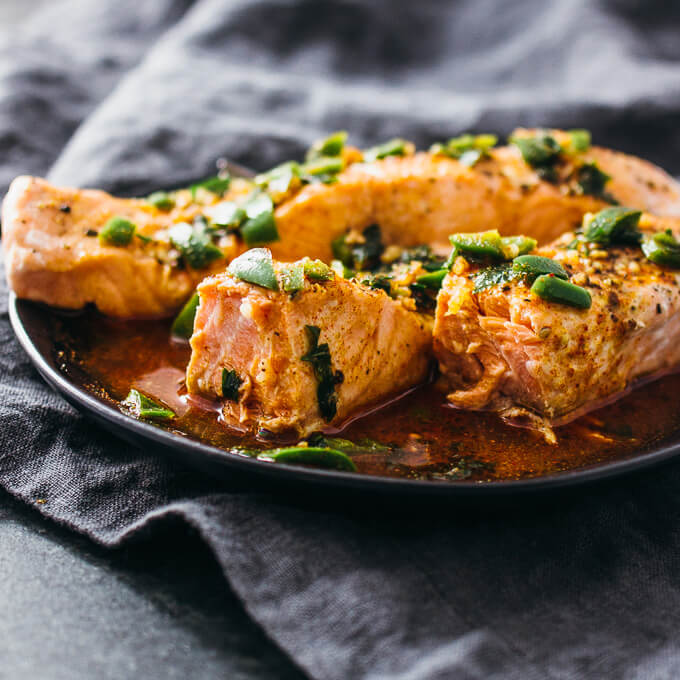 Instant Pot Salmon with Chili Lime Sauce – Savory Tooth (photo above)
Crockpot and Instant Pot Family Favorites from Healthy World Cuisine
Crockpot Thai Turkey Tenderloin
Instant Pot Italian Sausage Tortellini Soup
Crazy Easy Italian Slow Cooker Pot Roast
Slow Cooker Beef Rendang Curry
Hungry For More? Subscribe to our Newsletter and follow along on Facebook, You Tube, Instagram, and Pinterest for all the latest updates.