Negima Yakitori with Grilled Portobella is a delicious Japanese recipe with grilled chicken and Welsh onions (negi -ネギ) on yakitori sticks with melt in your mouth baby Portobello mushrooms.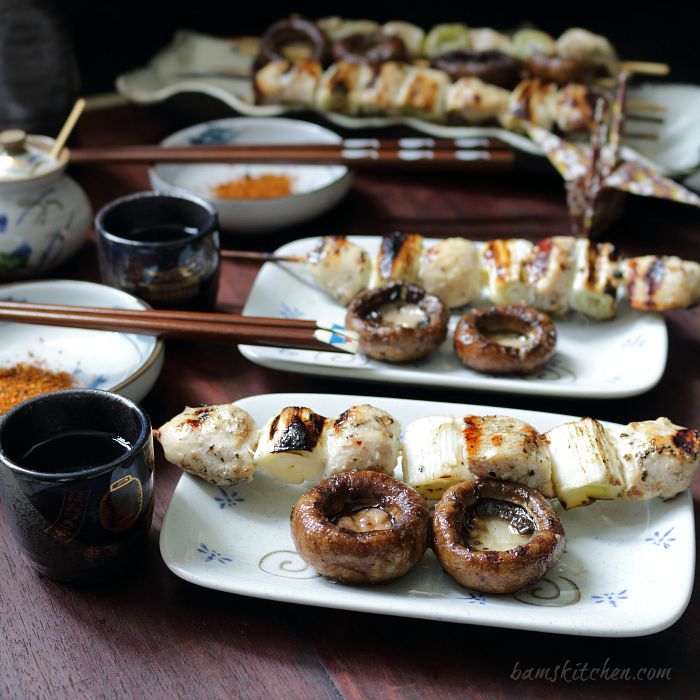 Why you are going to love Negima Yakitori with Grilled Portobella
I have to warn you right now that these little Negima Yakitori with Grilled Portobello treats are completely additive but very healthy so it is okay if you want to have a few extra skewers of these delicious morsels. My mouth is just watering thinking about eating these mushrooms, insanely delicious! One bite and you will be hooked forever.
You are going to love this fun and unique twist of yakitori with you in mind. This recipe uses the chicken (toriniku) seasoned in salt (shio) style vs the tare style which is basted in sauce on the BBQ. Negima Yakitori with grilled Portobella mushrooms are low carb, gluten-free, diabetic friendly, cardiac friendly, perfect for a gathering, a fun snack or even as a whole meal with a couple little side dishes. If you love the idea of chicken grilled on a stick, be sure to try our Green Chicken Kabab.
What could be better than grilled meat on a stick!
Yakitori is simply grilled chicken on a stick and Negima are these delicious long Welsh onions in Japanese (Nihongo). Negima Yakitori is grilled chicken and alternating Welsh onions on a bamboo stick. Do you think they have square chickens in Japan? How else do they get their chicken pieces into perfectly symmetrical square pieces? LOL...
Oh how I miss Japan and especially this time of the year I get especially home sick. The changing colors on the gingko trees (gingko nuts are also delicious grilled on a stick), the school children all dressed up identical with their uniforms and back packs (randoseru), Shrimp Tempura Udon Noodles... I miss it all.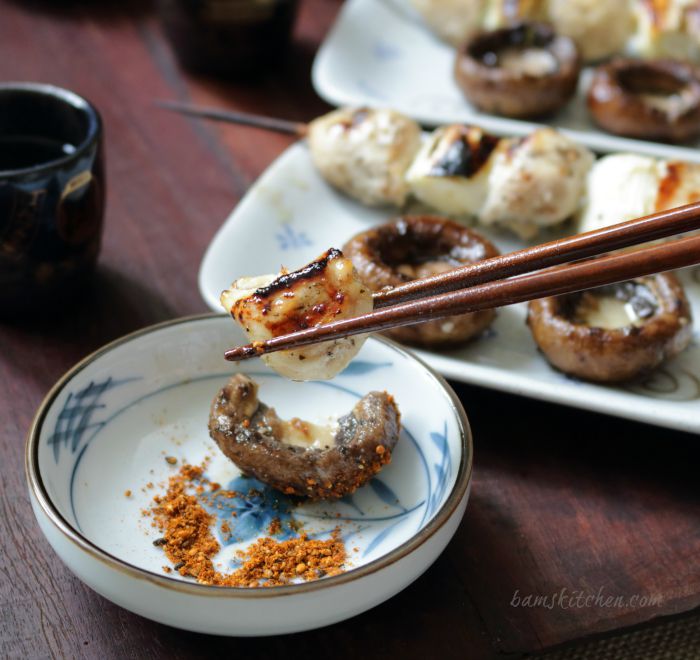 Seriously these delicious Negima Yakitori with Grilled Portobella must get on your grilling list before the snow flies. Well, if it does happen to snow in your neck of the woods these negima yakitori and grilled baby Portobello mushrooms are just as delicious in the oven using the broiler function. Yes, you bet! I have been there, done that! Opps just when you think you have enough gas for the grill, poof, empty. Don't sweat it just move the party inside.
Have you ever tried Yakitori?
Yakitori (焼き鳥/やきとり/ヤキトリ) is a Japanese style of grilled skewered chicken. In Japan, it is traditionally taken as a sort of light snack with sake, beer and many friends in a very lively atmosphere. Traditionally, it can also include many other items such as mushrooms, green peppers (shishitō), scallions. It also may include chicken hearts, livers, cartilages and other questionable edible items. However, have no fear, I have teenage boys so everything prepared and cooked here is kid friendly. ( After all, I heard that chicken and duck tongues are high in cholesterol, that is my story and I am sticking to it.)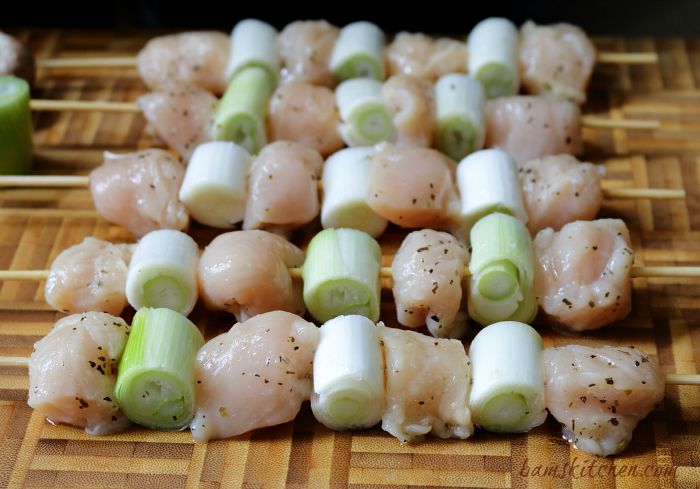 Our Favorite Yakitori Restaurant in Yokohama, Japan
Our family lived in Yokohama, Japan and our favorite Yakitori restaurant is "Griller et vin Toriromeo". This restaurant it is walking distance from the Ischikawacho station. Get there early as it has only seating for 7 people and you smell the delicious grilled chicken wafting from the vents. This one man show creates the most mouth-watering grilled Japanese mushrooms, they are to die for !!! Every time, I visited his restaurant he would share with me his recipes, marinades and secrets for Yakitori.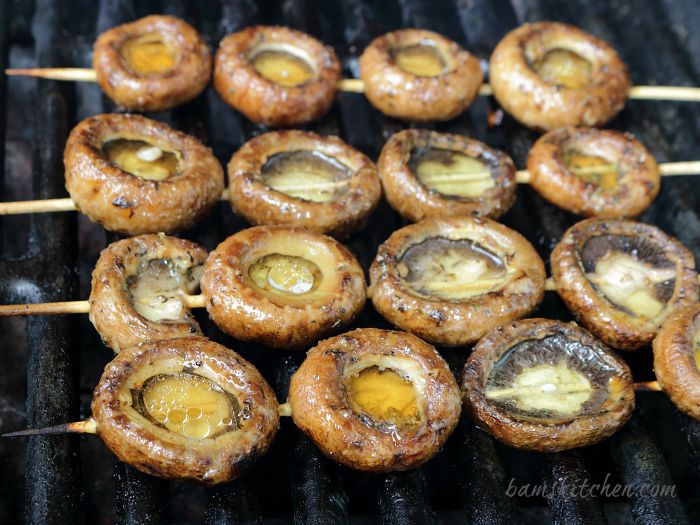 Special Marinade
Traditionally, yakitori is not marinated but just grilled plain and then seasoned with a little salt and Japanese dry pepper shichimi (7 flavor chili powder) on the side or sometimes has a Yakitori sauce that is slathered on during the cooking process. This one man show at Griller et vin Toriromeo showed me everything I needed to know to make the most delectable yakitori. Trust me I have my fair share of it and hands down his technique for his special marinade and then spritzing with a little white wine (mirin) during cooking is far healthier and delicious way of enjoying yakitori.
NO Sashimi style chicken for us please!
Usually yakitori is made with chicken thighs (or other mystery parts... hmmm) and not chicken breast but you can make it with what ever suits your fancy. One thing that may shock some of you is that Japanese serves chicken raw or sometimes just slightly charred, almost sashimi style. Japan does not have the salmonella and others things that we have in the Western world. However, when you are cooking these delicious treats at home, unless you are living and obtaining your chickens from special farmers in Japan, you need to grill your chicken until the juices run clear and are no longer pink.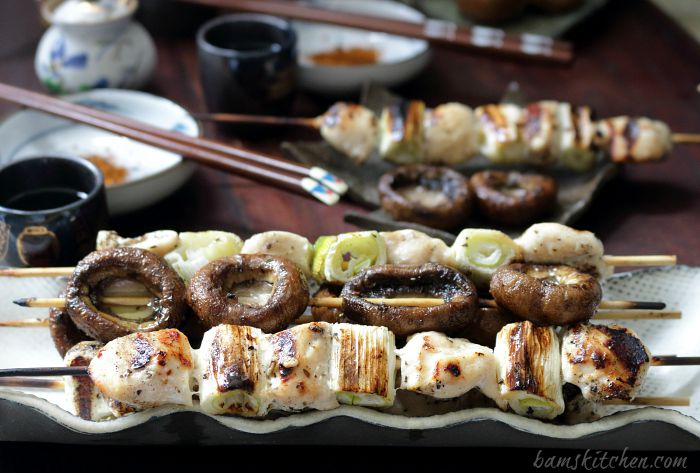 How to grill Negima Yakitori with Grilled Portobella
If you were living in Japan and wanted to cook Yakitori at home you would grill it on one of these cute little gas grills. You would buy your little bamboo skewers sticks from the HakuYen store (100 yen/$1.00 US dollar) store and off you would go... l have growing boys living at home and I am most certain I am not fussing with miniature bamboo sticks and a little dainty gas BBQ that looks like something from a little Miss Suzie Baker oven, I had to pull out the big guns with a full-sized grill.
Negima Yakitori with grilled Portobello mushrooms was our very first post on August 10, 2011 and we had about 10 readers, my mom, dad, sisters and a couple of close friends. Today we have just a "few" more. I started up Healthy World Cuisine (HWC) as a way to keep track of all the recipes that my family enjoys and as an electronic cookbook for my boys. In addition, a very important part of HWC is you, my dear readers and followers. Your support is dearly appreciated.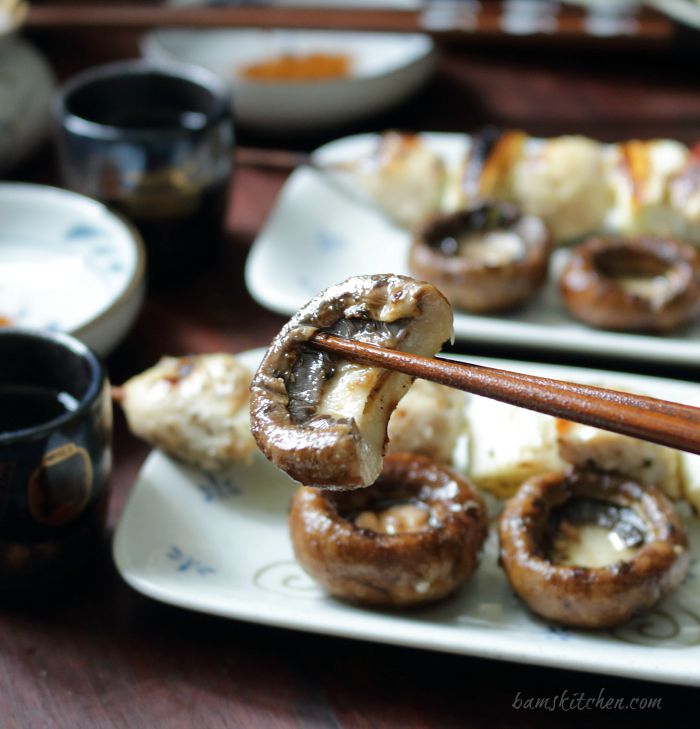 Thank you for your support over the years and your friendships. You guys are awesome!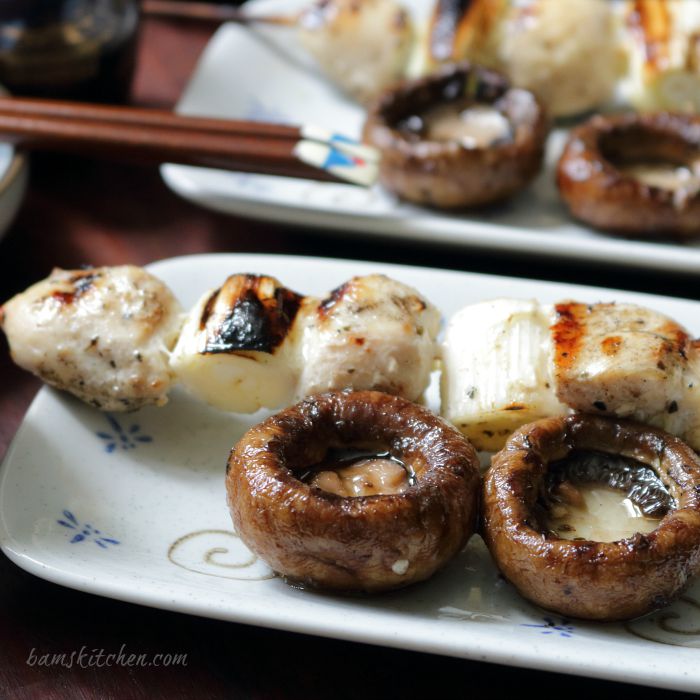 More Delicious Japanese Appetizers and Treats
Jenga Japanese Sweet Potato Fries
Tuna Mayo Rice Balls (Onigiri)
Hungry For More? Subscribe to our Newsletter and follow along on Facebook, You Tube, Instagram, and Pinterest for all the latest updates.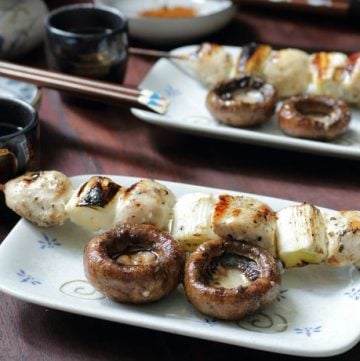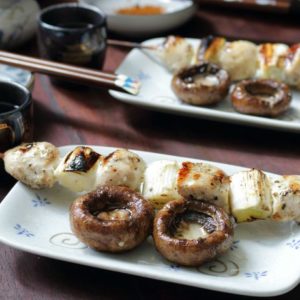 Negima Yakitori with Grilled Portobella
Tender and juicy Japanese grilled chicken and Welsh onions (negi -ネギ) on yakitori sticks with melt in your mouth baby portobello mushrooms that will have you singing... "So Desu ne..!"
Print
Pin
Rate
Ingredients
12

oz

chicken breasts

(cut up in to equal square uniform cubes (can use thigh meat, etc)


4

Japanese long onion

(negi ねぎ) cut into 1 inch sections (can exchange with baby leeks)


4

oz

portobello


(or button mushrooms)- stems removed and brushed clean

¼

cup

olive oil

(may need a little extra for the mushrooms as they soak up the oil)


1

teaspoon

garlic powder


(dried ground)

1

teaspoon

basil

(dried)


¼

teaspoon

white pepper


4

bay leaves


¼

cup

mirin

Japanese cooking wine (or can exchange with white wine or cooking sherry)

salt


to taste

12

bamboo skewers


depending of their size

Japanese pepper shichimi

to taste - optional
Instructions
Soak bamboo skewers in water (prevents the skewers from burning)- at least 30 minutes.

Marinate

: Get a plastic containers with lid or a plastic bag and place the chicken, Japanese long onion (negi ねぎ) and mushrooms inside .

(Sometimes, I like to marinate them chicken and the onions separately from the mushrooms as the mushrooms like to soak up all of the oil but you can do it all together if you wish).

Add the olive oil, garlic powder, basil, white pepper, bay leaves You may need more oil on mushrooms as they marinade. Marinate for at least 30m minutes of up to overnight.

Pre-heat grill

:You can use a traditional Yakitori grill as pictured below or any regular grill you have available. (If you have teenage boys like I do , trust me you want a bigger grilling surface)

Place your meats and vegetables on the skewers. Put your marinated mushrooms on the grill. If the mushrooms are very dry just brush with a little extra oil before putting on the grill. I like to alternate and place a chicken cube, a Japanese scallion and then another chicken cube on the skewers.

Pour yourself a little sake, beer or Umeshu (Japanese plum liquor) to enhance the grilling experience.

Start grilling the skewers on medium heat and occasionally turn and spritz with mirin or white wine. Grill for about 3 minutes per side or total about 6 minutes or until the chicken juices run clear. The mushrooms take a little less time to cook (about 4 mins) and I do not turn them but instead leave them with the underside face up so all the delicious juices stay in the mushroom. Salt to taste whilst grilling.


Serve Negima Yakitori with Grilled Portobella hot with Japanese dry pepper shichimi if you wish for a little zest. Enjoy Yakitori as a light snack with some sake, beers or umeshu (plum wine) with friends and family. Or as a full complete meal with some white rice and edamame on the side.
Notes
(Hint: If you have teenage boys make sure you stash some of the delicious skewers for yourself before you take them out to the main table or you will be left high and dry as these treats go fast)
Nutrition
Serving:
1
g
|
Calories:
257
kcal
|
Carbohydrates:
10
g
|
Protein:
19
g
|
Fat:
16
g
|
Saturated Fat:
2
g
|
Cholesterol:
54
mg
|
Sodium:
218
mg
|
Potassium:
456
mg
|
Fiber:
1
g
|
Sugar:
5
g
|
Vitamin A:
292
IU
|
Vitamin C:
3
mg
|
Calcium:
14
mg
|
Iron:
1
mg