Super Crispy Falafel Bites are a high protein vegan snack or main and star of a Middle Eastern Feast.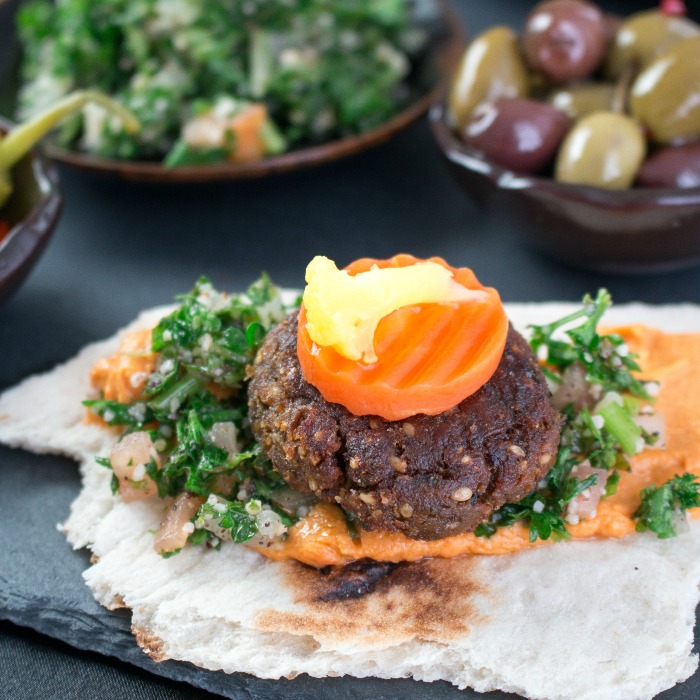 You are just going to love that first bite into that super crispy exterior and tender interior falafel and spices to make your taste buds tantalized.
Our super crispy falafel bites are gluten-free, vegan, dairy-free and egg-free. The falafel bites are made with garbanzo (chick peas). Garbanzo beans are rich in protein and high in fiber and that prevents that huge spike in glucose after meals.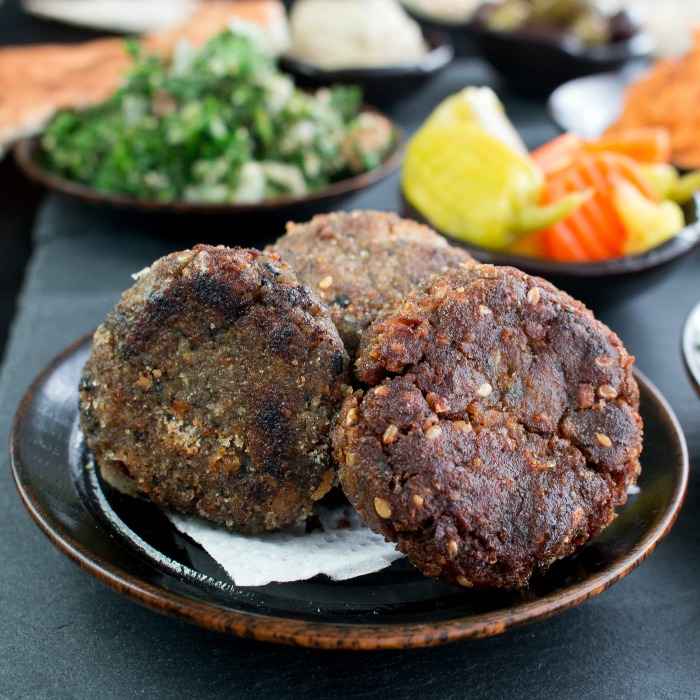 Middle Eastern Feast
These super crispy falafel bites were the perfect addition to our delicious Middle Eastern Feast. Stay Tuned to HWC Magazine (Healthy World Cuisine) as over the next 4 posts you are going to learn how to make everything you need to make this delicious vegan Middle Eastern Feast. Check out this spread! We have also made Traditional Baba Ghanoush, Middle Eastern Rice and Lentils (Mujadara), Better than Store Bought Red Pepper Hummus, Easy Tabbouleh Lebanese Salad, roasted vegetables, fresh vegetables, pita breads and pickled vegetables.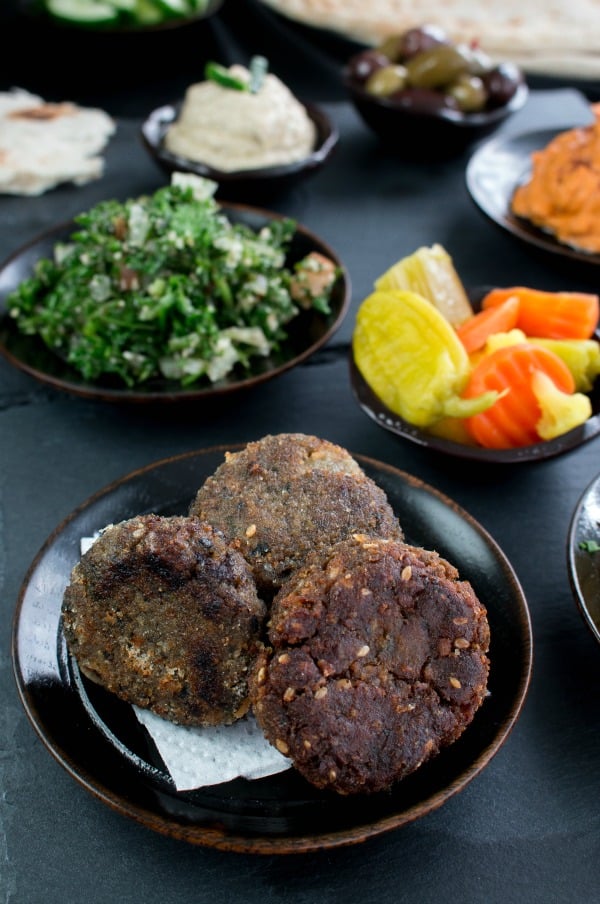 Fun Interactive Dinner Idea
It is not required, but having pita bread bigger than your head to share with family and friends is the best. It makes for a fun and interactive dinner idea. Pita breads and Middle Eastern flat breads are the perfect transport tool to get this delicious falafel from your serving dish into your mouth. Check out one of our favorite ways to serve the falafel. We tear off part of a pita bread and slather on some red pepper hummus and then top with a falafel, fresh and pickled vegetables and inhale!
What is your favorite way to eat falafel?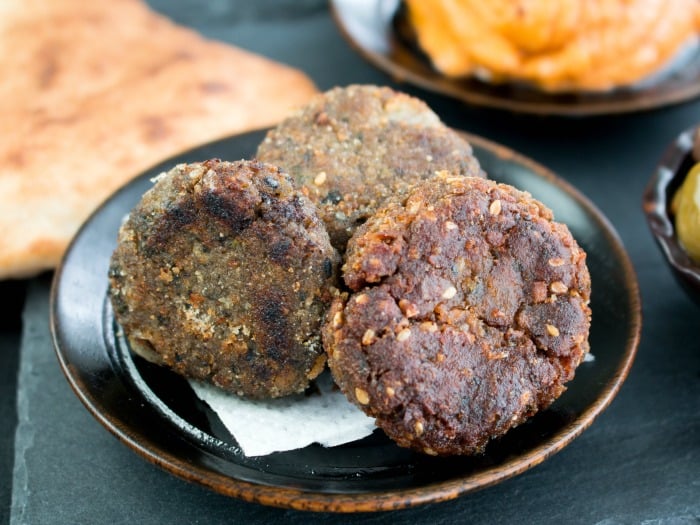 Tips for Making Super Crispy Falafel Bites
We made our falafel with garbanzo beans (Chickpeas) in a can and dried them super good before adding them to our food processor. Keeping this dish dry is the secret to the crispiness of this dish. I know that many of the recipes call for soaked garbanzo dried beans and lots of hassle but we wanted to 30 minute or less version.
Another secret to the crispiness is dunking the prepared falafels in gluten-free dried homemade bread crumbs just before frying. The breadcrumbs give it a nice exterior crunch.
Traditional falafels have sesame seeds in the mix and that adds that toasty flavor and another dimension of texture. While we are on the topic of sesame seeds do you know that seeds, nuts and nut oils can go rancid? They can and do, especially in humid climates.
Do you know how you know when your seeds, nuts or nut oil have gone rancid?
They smell bad. Seeds and nuts smell odd and rancid as the oils start to break down. Sesame seeds should smell toasty and deliciously earthy. Always smell your seeds, nuts or nut oils before using them.
White sesame seeds can turn slightly gray in humid climates.
Sesame seeds should taste nutty and earthy and if they are bitter then they may have gone bad.
Some ways that can help preserve your sesame seeds longer is to place them in the refrigerator or freezer. If storing them in your pantry, be certain that they are in a sealed container and that no moisture can get in. The lesson here is always smells your sesame seeds before you use them.
A fun way to enjoy Meatless Mondays is with a quick and easy Super Crispy Falafel Bites. We like to make the falafel in the food processor in advance and then just take out a few to fry at at time. These Super Crispy Falafel bites are great for work lunches and picnics.
More fun Interactive Meal Ideas
Join our HWC Magazine Foodie Community! Subscribe to our Newsletter and follow along on Facebook, You Tube, Instagram, and Pinterest for all the latest updates.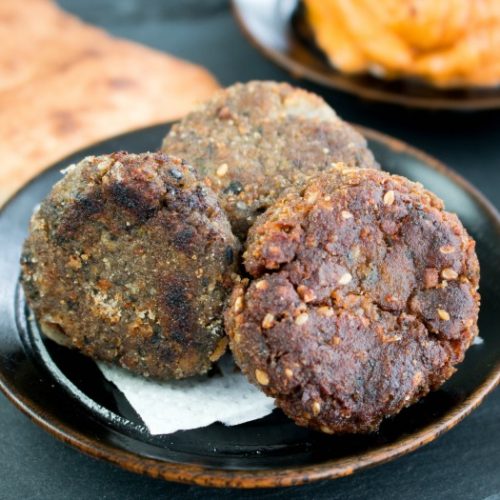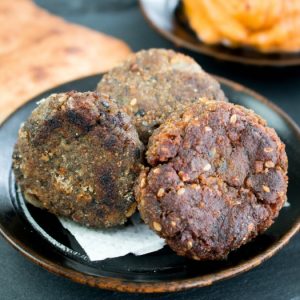 Super Crispy Falafel Bites
Super Crispy Falafel Bites are a high protein vegan snack or main and star of a Middle Eastern Feast.
Print
Pin
Rate
Ingredients
15

oz

garbanzo beans

( chickpeas) rinsed, drained and dried with paper towels.

1

onion


small peeled and chopped

3

cloves

garlics


peeled

¾

cup

cilantro

(coriander fresh) roughly chopped-You can use both leaves and stems and even roots. Waste not want not.


2

tablespoon

white sesame seeds


toasted

2

teaspoon

cumin


dried ground

salt and pepper


to taste

1

teaspoon

zatar spice


dried ground (optional)

1

teaspoon

coriander seeds


dried ground

3.5

tablespoon

cornstarch


¾

cup

breadcrumbs


gluten-free dried

4

tablespoon

olive oil
Instructions
Add canned dried garbanzo beans, onion, garlic, fresh cilantro, sesame seeds, cumin, salt and pepper, zatar spice, ground coriander seeds to the food processor and blend until smooth. Add cornstarch and mix until well blended.

Chill mixture in the refrigerator for at least up 1 hour or up to 24 hours.

Place 1 heaping tablespoon of falafel mixture in your hands and form into a miniature round ½ inch thick patty. Makes about 12-14.

Coat the falafel patties in the gluten free dried bread crumbs

Place olive oil in a large frying pan and turn on to medium heat. Fry the falafels for about 3-4 minutes on each side until crispy. Drain falafel on a paper towel and Lightly season with salt.

Enjoy!
Notes
You can form your falafel bites up to 24 hours before your guests arrive and then fry up when the arrive or just before arriving.
Nutrition
Serving:
1
g
|
Calories:
148
kcal
|
Carbohydrates:
18
g
|
Protein:
4
g
|
Fat:
7
g
|
Saturated Fat:
1
g
|
Sodium:
54
mg
|
Potassium:
147
mg
|
Fiber:
3
g
|
Sugar:
3
g
|
Vitamin A:
81
IU
|
Vitamin C:
1
mg
|
Calcium:
49
mg
|
Iron:
2
mg