I know it is a just a little "HOT" outside this week. It is so humid in Hong Kong you could literally cut the air with a knife.
You step outside, after being in the aircon all day, and the heavy damp hot air just takes your breath away. Typhoons, humidity and rain are all hitting Asia this week. I hope my dear friends around the world are okay and sending positive thoughts your way to those that have been hit by these storms.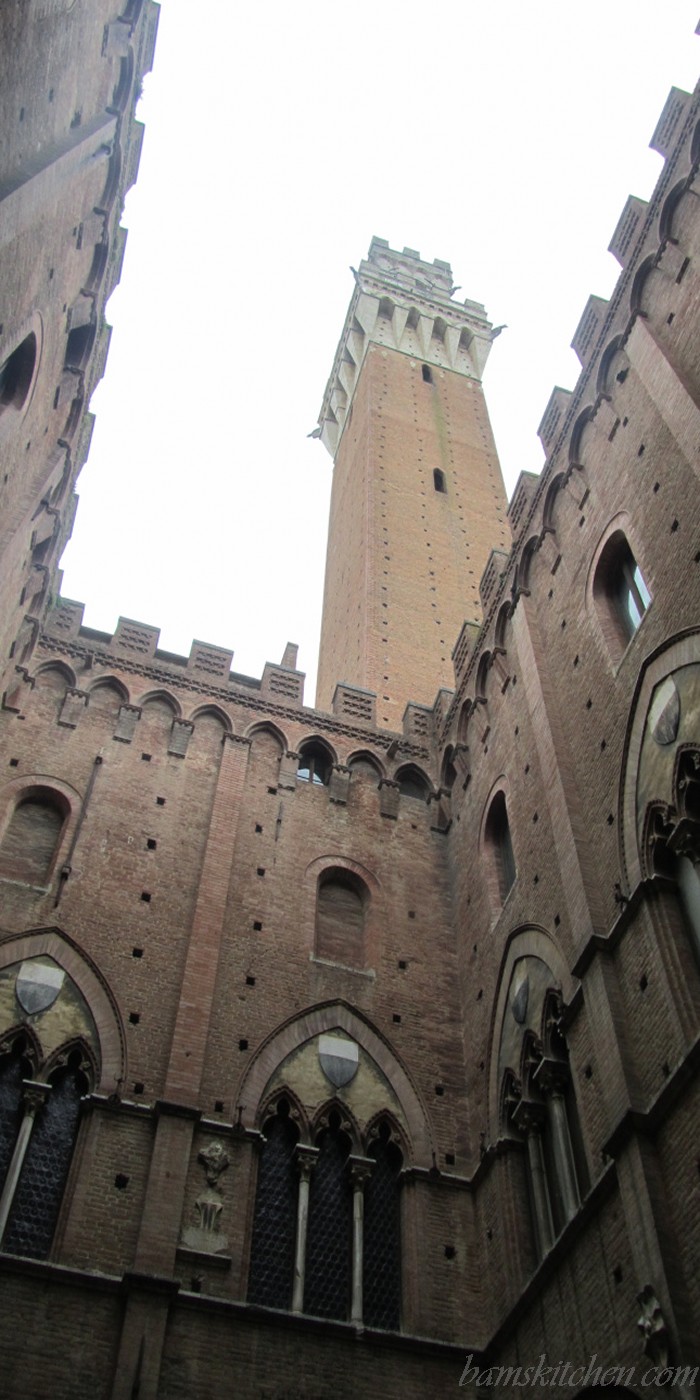 Why fight it when mother nature refuses to cooperate. Just shut the windows, turn on the aircon or your fans and let's get cooking.
While visiting Italy, I ate this lovely homestyle Tuscan bread soup called Ribollita (3 times, I loved it so much). Ribollita means twice boiled in Italian as it originated as a peasant dish to use up maybe minestrone or vegetable soup from the previous day.
I have tasted many different variations to this Tuscan soup but it pretty much has these main ingredients; leftover bread, cannelloni beans, assorted root vegetables, cavolo nero (black kale), cabbage, celery, and onions. Many people have different variations such as the addition of tomatoes, zucchini, swiss chard, or really any other vegetables as this is great chance for you to clean out your refrigerator (Cleaning? You might as well as what else are you left to do on those dog days of summer that are too hot and steamy to even go outside). You can add any vegetable that your little heart desires to this soup. The sky is the limit. Please come follow along to Siena, Italy with me to find out the little secrets to this delicious Tuscan Bread Soup called Ribollita.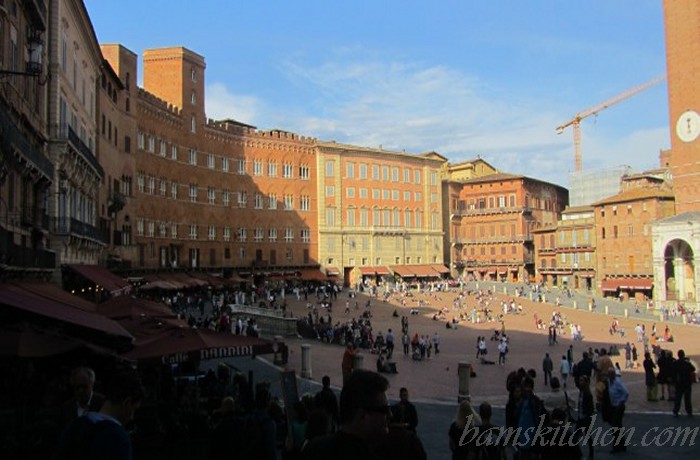 I know that many recipes have the addition of Parmesan cheese to this Tuscan bread soup but the chef at a lovely little restaurant in Siena said it would be sinful for me to add cheese to his soup. Instead, he suggested that I drizzle a healthy dose of olive oil on top. (Woo Hoo! Another opportunity to drizzle fresh EVOO on a dish, I was all about that!) His Tuscan bread soup was very rich and flavorful, even without the addition of parmesan.
Do you know how some dishes taste even better the second day? This is one of these dishes. All the flavors mingle together and it has such a hearty vegetable broth that you will not even miss the meat. The cannelloni beans are packed with protein so this is a fantastic dish for vegetarians and non-vegetarians alike.
The recipe I will share with you is formulated from taste testing 3 versions of ribollita in Italy. (Once in a restaurant in Radda, once in Siena and once in Florence. The soup in Siena was the best.) Mr. Anonymous is very patient as I swirl and swizzle my soup and dissect it of many of its contents to determine what ingredients lie inside. The other patrons in the restaurant are now looking at me with a bit of interest, but how else could I ever re-engineer this lovely Tuscan bread soup in Healthy World Cuisine.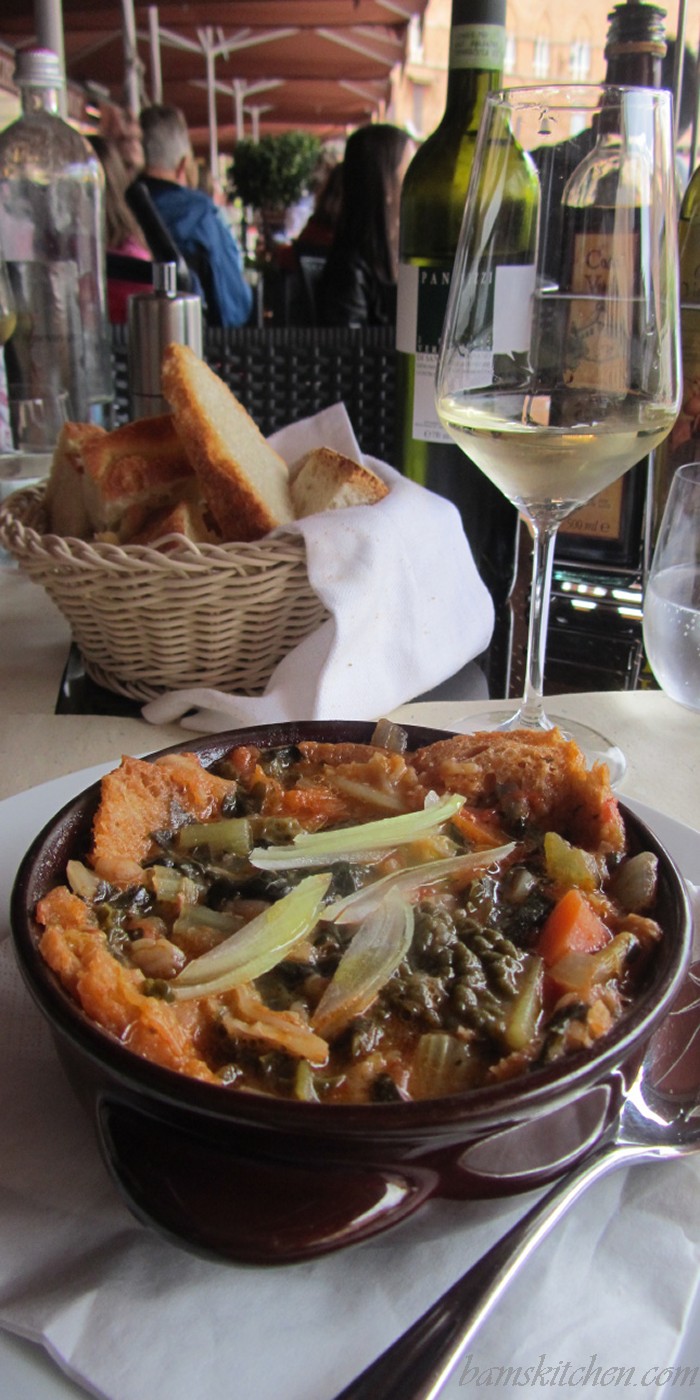 Ribollita Re-Engineered
Serves 4 adults or 2 hungry teenagers
(All measurements are approximations or more like a dash of this and dash of that)
300 grams (approx. 10.6 ounces) of cannellini (white beans)
2 quarts of water
1 onion sliced
2 cloves of garlic minced (I could not really be sure if it had this in it or not but everything is better with garlic!)
1 head of black leaf kale (also known as cavolo nero) chopped
¼ a head of Savoy cabbage
2 cups of chopped swiss chard
2 potatoes chopped
2 carrots chopped
2 zucchini chopped
2 celery stalks chopped
2 peeled chopped plum tomatoes (I think they were canned)
EVOO (the really good extra virgin olive oil)
salt and pepper to taste
one thick slice of stale Tuscan bread for each bowl of soup.
Step 1: Pre-soak the cannelloni beans for about 8 hours. Drain and rinse beans.
Step 2: Boil cannelloni beans in about two quarts of very lightly salted water for 10 minutes then and then simmer for 1-2 hours or until fork tender. (Or alternatively you could use a pressure cooker if you have one- I do not) Do NOT drain the water as you need this to make your soup stock. (or use canned pre-cooked beans to save time)
Bean cooking hint: Adding salt to the cooking water can toughen some beans so you might want to go very easy on the salt, or leave it out entirely.
Step 3: In another large pot, drizzle a little EVOO and sauté the sliced onions and garlic in olive oil until they are a golden color. Then add the black kale, swiss chard, cabbage, potatoes, carrots, celery and add a little salt and pepper and saute for a few minutes until slightly tender. Add tomatoes, salt and pepper and cook for a few minutes.
Step 4: Take out half the beans and puree. Leave the remaining beans whole. Add the pureed beans and whole beans in their cooking water and add to the vegetable pot.
Step 5: Simmer soup slowly and enjoy a glass of wine or 2 to allow the soup to cook for an hour or two or until nice and thick and savory. (Season along the way)
Step 6: Find yourself 4 large rustic earthen ware Tuscan dishes. Place one slice of Tuscan bread in each bowl. Ladle Ribollita soup into the bowl. Drizzle with Ribollita with EVOO and pinch of salt and pepper to taste.
Step 7: Pour yourself another glass of wine and enjoy a delicious bowl of Ribollita Re-Engineered.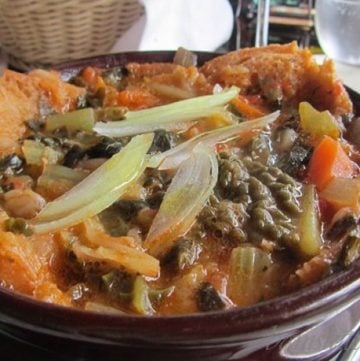 Ingredients
cannellini (white beans) -

onion -

garlic -

kale -

swiss chard -

potato -

Carrot -

zucchini -

celery -

plum tomatoes -

tuscan bread -
Nutrition