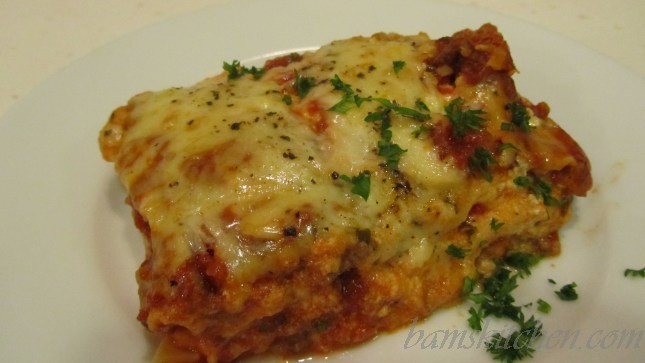 Lazy Day Lasagna is a one dish wonder that from start to finish has everything you need to put a smile on your face.
Lasagna is one of those perfect comfort dishes. It has the creamy blend of the 3 cheeses, tomato zing of the sauce, and the heartiness of the meat packed all in one lovely little 9 x 11 dish. It is on my win-win list because you only need to dirty one pan and one baking dish to make this Italian delight. In addition, because this dish is so filling and tasty you will have leftovers and this dish freezes wonderfully. Lasagna is also a great make a head dish for potlucks and gatherings. However, I think my favorite reason to make this dish is that after you put the lasagna in the oven, you have a one full hour of downtime to get other things done. (I'm all about multi-tasking)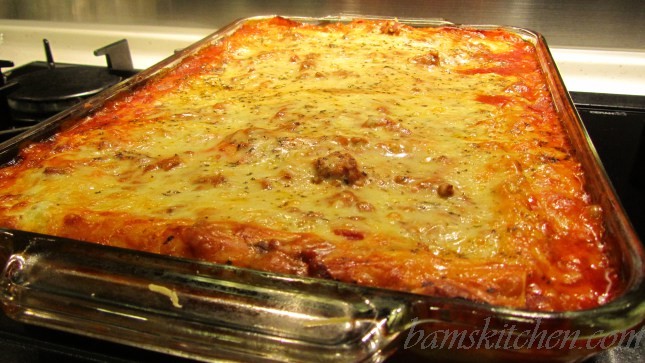 I remember my mom slaving in the kitchen all day long to make her signature tomato sauce and even the lasagna noodles from scratch. It was all day process, delicious but painful. Back in the day, we had to boil the lasagna noodles first. Why did we even do that? I think over the years we have realized that with a few short cuts you can have an equally wonderful meal on the table and no one is the wiser. Did you know that you can have this dish prepped and cooked in 1 hour and 15 minutes and you will have enough leftovers to freeze for another lazy day meal?
Every day someone views the picture of "Bam's Studded Onion" the first step in creating Grandma's homemade tomato sauce so here it is again for your viewing pleasure.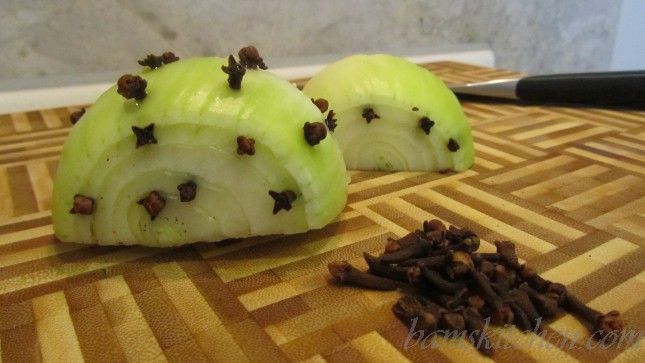 Here are some secrets to my mom's homemade baked lasagna with some of my built-in shortcuts for busy people...
1) Don't bother cooking the lasagna noodles first. Just increase lasagna cooking time in oven with aluminum foil over top to cook noodles.
2) Always prepare extra "Grandma's Homemade Tomato Sauce" and keep in freezer for special occasions just like this one. (If too busy or tired just use some really good canned sauce and baby it up with your own spices- I promise I will not report you to the authorities) Here is the link Spaghetti and Meatballs with Grandma's Sauce
3) Make a large portion or double up on lasagna recipe for another lazy day as keeps great in freezer inside a freezer safe container. (Please use within 3 months)
Lazy Day Lasagna (Serves 12 adults or 6 hungry teenagers)
olive oil
1 pound ground beef
4 cups of Grandma's homemade Tomato Sauce- see link for details Spaghetti and Meatballs with Grandma's Sauce (Or if low on time canned spaghetti sauce)
1 package dried lasagna noodles
16 ounces ricotta cheese
1 cup grated parmesan cheese
1 pound of grated mozzarella cheese
1 egg beaten
2 tablespoons chopped fresh parsley
salt and pepper to taste
¼ teaspoon red pepper flakes (optional my kids like spicy things and this adds a little punch to the dish)
½ teaspoon of dried basil
Step 1: Preheat oven to 200 degrees Celsius (392 F).
Step 2: Add olive oil to pan and add ground beef and cook until browned.
Step 3: Add Grandmas Homemade Tomato Sauce to browned beef and mix well. Set Aside. Spaghetti and Meatballs with Grandma's Sauce
Step 4: In a separate medium bowl combine the cheese mixture; ricotta cheese, parmesan cheese, 1 cup of mozzarella cheese, beaten egg, salt and pepper, red pepper flakes and chopped parsley. Set aside.
Step 3: Start the assembly line process. Place one cup of grandmas homemade tomato sauce on bottom of 9 x 11 pan.
Step 4: Place one layer of uncooked lasagna noodles on top of sauce across the bottom of 9 x 11 pan.
Step 5: Spread ⅓ of cheese mixture on top of dried lasagna noodles.
Step 6: Pour ⅓ of Grandma's homemade sauce over the top of the cheese mixture. Repeat process with the lasagna, cheese and sauce layers for a total of 3 layers.
Step 7: Top entire dish with the remaining grated mozzarella cheese and sprinkle with dried basil leaves.
Step 8: Cover dish with aluminum foil tightly and place into the oven. Cook with the aluminum foil for 45 minutes then for the last 15 minutes remove the aluminum foil and let the top of dish get golden brown.
Step 9: Remove lasagna from oven and let rest for 10 to 15 minutes before cutting into squares. (If your teenagers will wait that long) Serve with crunchy garlic bread and a crisp tossed salad. Please visit a fellow food blogger who is a very sweet little cook at http://theaccidentalcook.net/2011/10/24/garlic-bread-the-perfect-side-to-a-perfect-pan-of-lasagna/ for some awesome garlic bread.
Step 6: Permette di mangiare (Lets Eat!)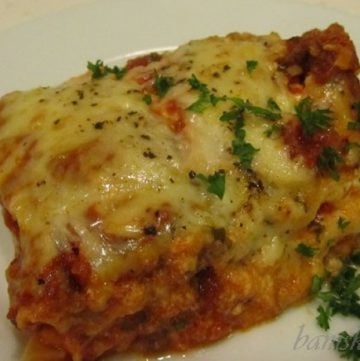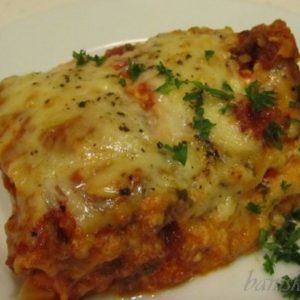 Ingredients
lasagna noodles -

ricotta cheese -

egg -

parmesan cheese -

mozzarella cheese -

grandmas homemade tomato sauce -

dried chili flakes -

parsley -

basil -
Nutrition