Dazzling Donuts are a yeast based sugar glazed donut perfect for dunking in your morning coffee or a grab and go breakfast.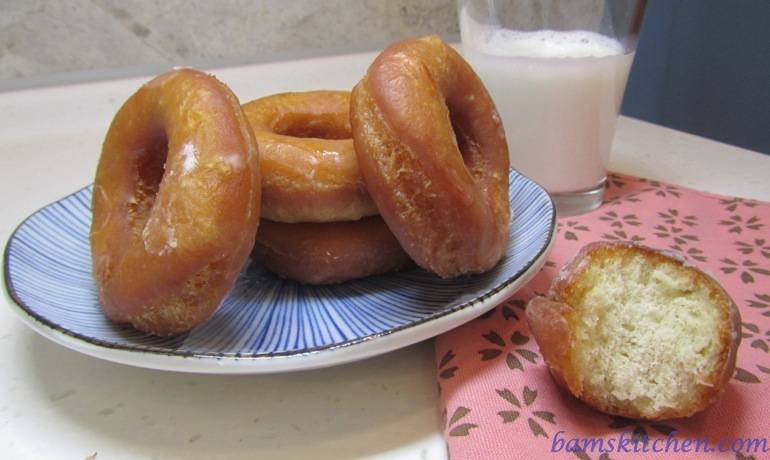 This is my favorite time of the year! Do you remember that Staples' commercial of the parents skipping because the kids are going back to school? I am not only skipping, I am doing a jig!
All kidding set aside, I love the thought of having a routine again. However, before the mad plunge into hours of homework, papers and projects and exams we had to one last fun summer fling.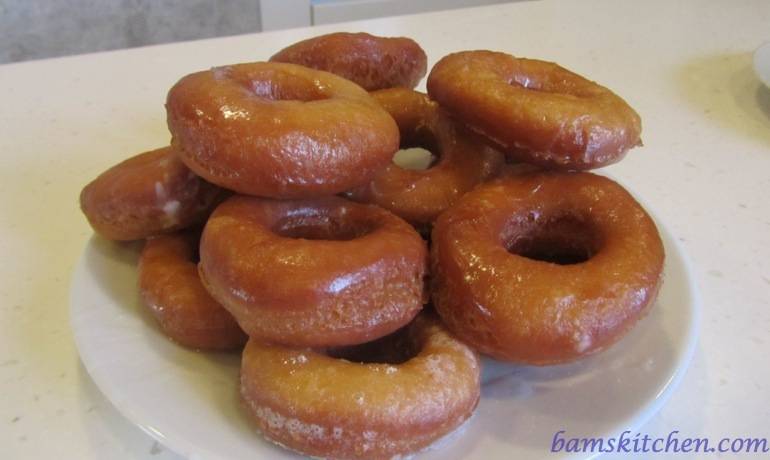 My boys and I made some delicious and dazzling donuts and I must admit it was the perfect rainy day activity to do with your kids before they start back to school.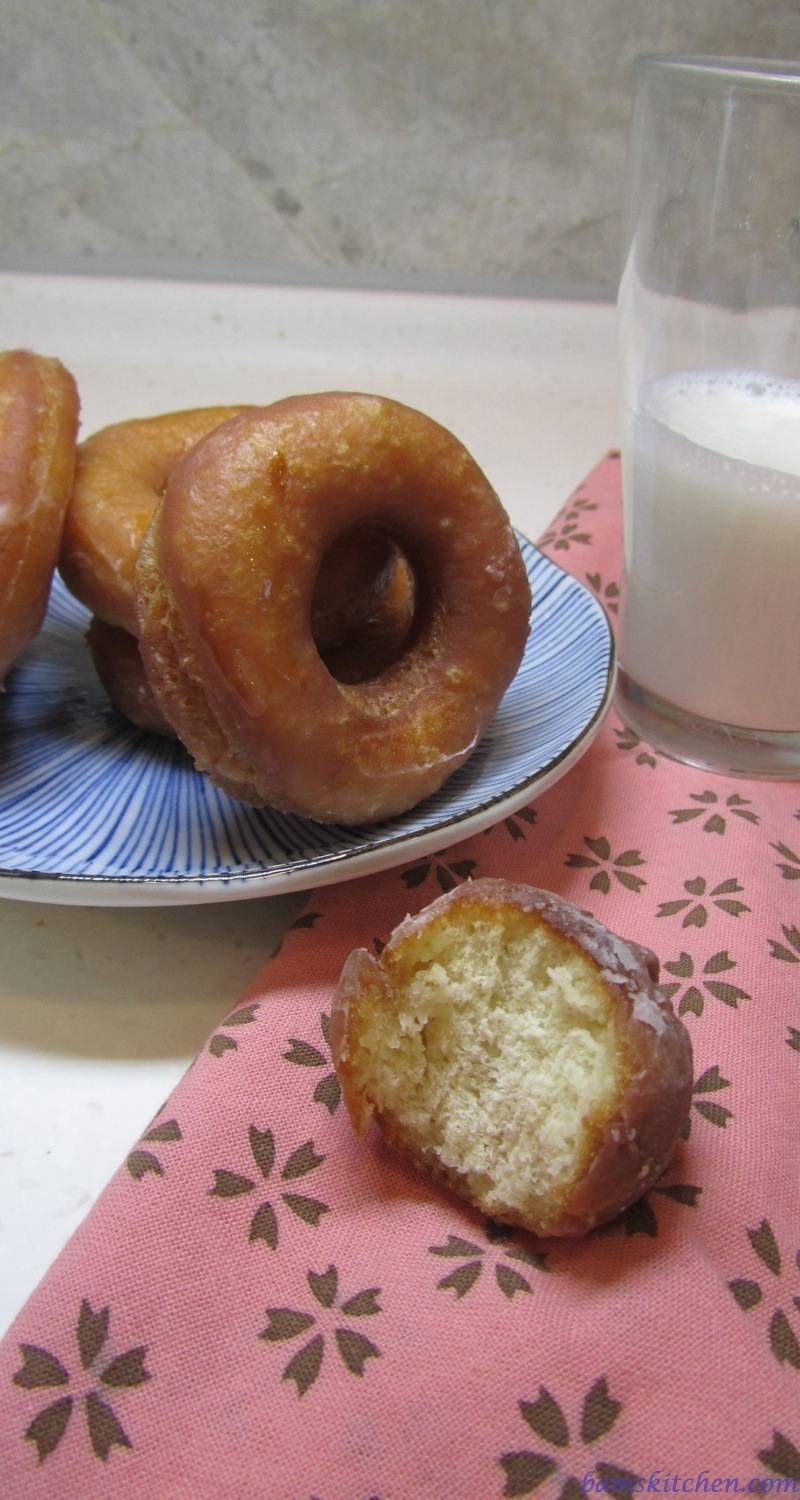 Why you are going to love Dazzling Donuts
Dazzling Donuts taste just like store-bought Duncan Donuts. Soft and chewy with a delicate vanilla icing to really sink your teeth into. I have to admit that a little grease and sugar on a rare day is quite nice. Please note that you will not find this recipe under the diabetic friendly, cardiac friendly or gluten-free recipe section of Healthy World Cuisine. However, ever once in a blue moon making dazzling donuts with your kids, sharing some smiles, laughs and a little flour throwing might be just what the doctor ordered! Dazzling donuts taste perfect with a cup of milk for the kids and maybe a cup of coffee/tea for the parents (big kids)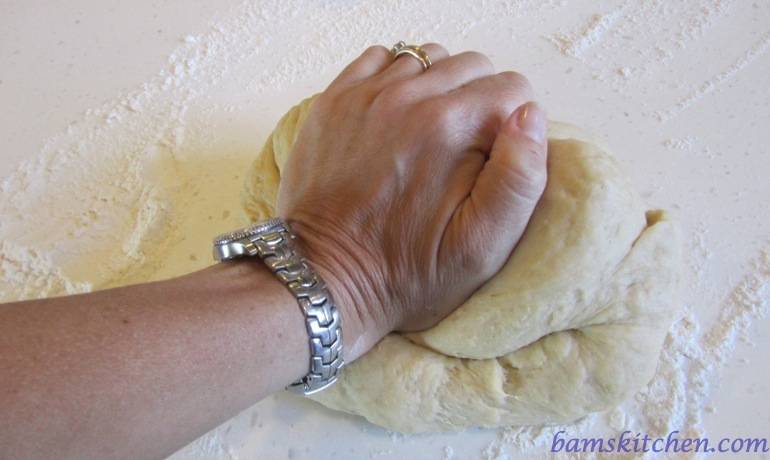 Grease and sugar make my coronaries scream. However, from a teenagers perspective, it is just what the doctor ordered. My teenagers had a list of things they wanted to make before they go back to the books. A couple of weeks ago we made Twisted Dogs, https://www.hwcmagazine.com/appetizers/twisted-dogs/,and this week we made dazzling donuts.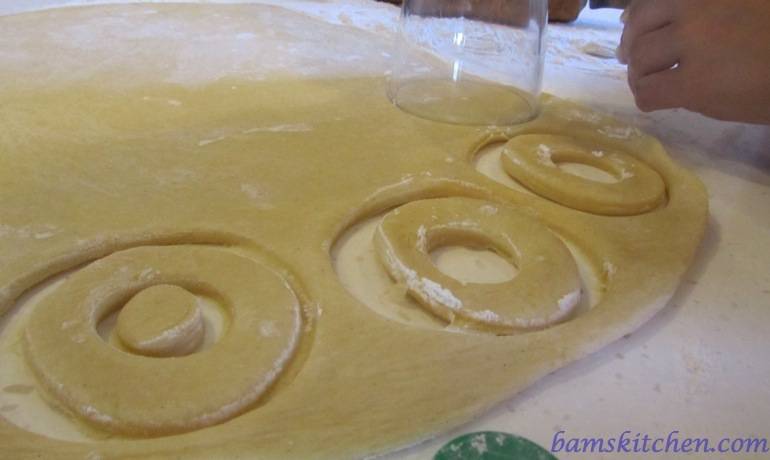 Kneading Dough is Therapeutic
My youngest son said he loves making breads as he loves the therapeutic feeling of kneading the dough. There is nothing more relaxing than watching the yeast bubble in the water, mixing the flour in the wet ingredients with your bare hands and then kneading the dough until it becomes soft and pliable. You could pay a lot of money on massages, herbal therapy and talk therapy to cure your woes or just make some donuts with your kids.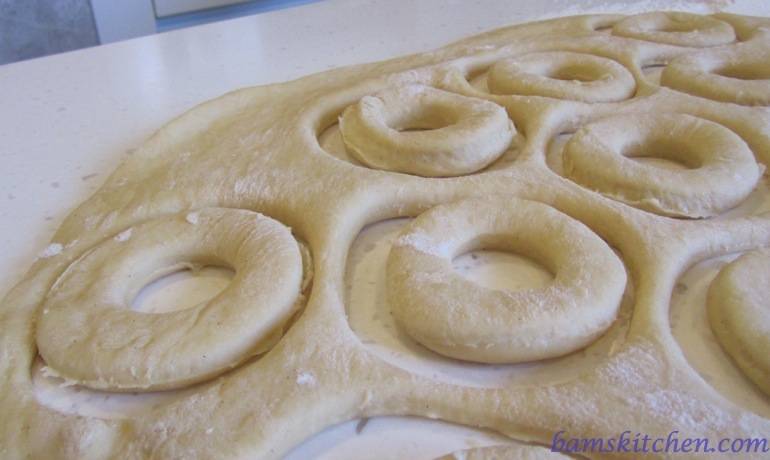 Believe it or not I have never made donuts, so this was a fun challenge for both of us. I learned quite a bit along the way. I loosely followed the yeast donut recipe from Alton Brown. I learned that when you instruct your teenager to scald the milk in pan you should stick around so they don't let the milk boil and overflow. I learned that my son really enjoys kneading the dough and working with his hands and has a very creative side. I also learned that this recipe was supposed to make something like 24 donuts but I never counted 24 donuts. Hmm maybe that is because they were disappearing before I had a chance to count them out. If you would prefer a baked donut recipe, be sure to try our Baked Match Lemon Glazed Donuts.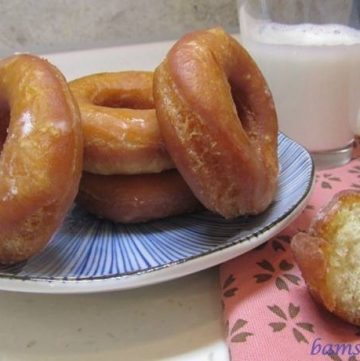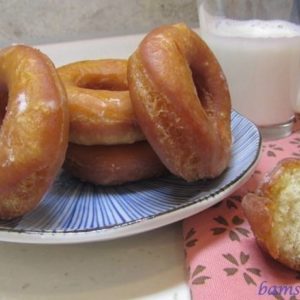 Dazzling Donuts
Dazzling Donuts taste just like store bought Duncan Donuts. Soft and chewy with a delicate vanilla icing to really sink your teeth into.
Print
Pin
Rate
Ingredients
¾

cup

milk

scalded or milk alternative

⅓

cup

sugar

(reserve 1 teaspoon to dissolve the yeast)

⅓

cup

butter

¼

teaspoon

salt

¼

cup

water

(95-105F degrees)

1

package

yeast

dry

4-4.5

cups

flour

pre-sifted all purpose

2

eggs

beaten room temperature

½

teaspoon

nutmeg

1

teaspoon

vanilla

oil for frying

deep enough to submerge your donuts in the pot you own.

Sugar Glaze
2

cups

powdered sugar

1

teaspoon

vanilla

6

tablespoon

milk

or dairy alternative
Instructions
Scald milk in pan over low heat (be careful to not let it overflow as that would be very messy) and add sugar (keep 1 teaspoon of sugar aside for the yeast mixture) butter and salt, stir and and allow to cool. Set aside.

In a bowl combine luke warm water, yeast, and sugar and let sit for at least 5 minutes or until the yeast starts to work and bubbles are appearing.

Add the sifted flour, nutmeg, eggs, milk mixture and yeast mixture and mix thoroughly. (If you have a dough hook on your mixture that would work fabulous, or just mix by hand or with a fork, slowly until it is all incorporated.) Start out by adding the flour a little at a time. I used about 4 and ¼ cups flour until the dough began to come together well. It just depends on the humidity and type of flour you are using. Bring the flour to a ball. Knead the flour for about 3 minutes just until worked through. (Do not over knead as then your dough will be tough) Make the dough into a ball and place in a well greased bowl with plastic wrap over it and allow it to double in size. The rising process should take about 30-45 minutes in a warm place.

Flour your clean counter and roll out dough about ½ inch (about the thickness for cutout cookies). I used a glass cup for the circle and a bottle top for the hole. (If you actually have a donut cutter, that would be great but not needed). Repeat with the rest of the dough until you have cut out all the dough. Save the hole as these a great fried up too.

Place a tea cloth over your donuts and allow them rise for the second time until they double in size about 30-40 minutes.

Heat your cooking oil in a pan until it gets up to about 375 F or until your wooden chopsticks start to bubble. I suggest you start out with just one donut or donut hole to check for temperature. If it is too hot it will burn/brown on the outside before the inside has a chance to cook. If the oil is not hot enough it will just absorb al the oil and be very greasy.

While you are waiting for the oil to get to the right temperature, make the donut glaze. In a medium bowl combine 2 cups of powdered sugar, milk and vanilla. Stir until smooth. Set aside.

Deep fry the donuts a few at a time until golden brown and reove from oil to set on a paper towel to drain. While the donuts are still warm, dunk the donuts into the donut glaze bath. (If you prefer, make a mixture of sugar and cinnomen and dip the donut into the sugar mixture on all side. Repeat with the remaining donuts.

Serve donuts with milk, coffee/tea or a delightful glass of cider. Enjoy!
Notes
Best if eaten in 24 hours but can keep in the refrigerator in a sealed container for 3 days.
Nutrition
Serving:
1
g
|
Calories:
162
kcal
|
Carbohydrates:
29
g
|
Protein:
3
g
|
Fat:
4
g
|
Saturated Fat:
2
g
|
Cholesterol:
22
mg
|
Sodium:
58
mg
|
Potassium:
45
mg
|
Fiber:
1
g
|
Sugar:
13
g
|
Vitamin A:
117
IU
|
Calcium:
19
mg
|
Iron:
1
mg