Copy Cat PF Chang's Chicken Lettuce Wraps are a delicious appetizer to share at all of your gatherings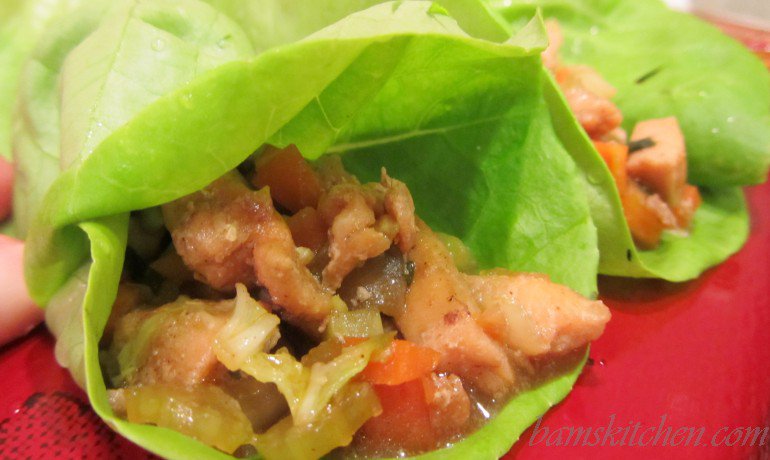 Why You are going to love these chicken lettuce wraps
These little PF Chang copy cat chicken lettuce wraps are packed with flavor and crunchy vegetables. We love the addition of chopped water chestnuts but it is not required. The dipping sauce is super addictive and you are going to want to make extra as our family loves to slather this on everything.
The weekend is finally here and fun finger food is on the menu! In Asia we enjoy little appetizers such as dim sum but this can be very labor intensive. So over the course of this weekend, I will highlight a couple of very yummy and easy Asian Small Bites that can be made in 30 minutes or less. Less time in the kitchen and more time for autumn fun. In addition, these Lettuce Wraps are great little nibbles for tailgating at football games.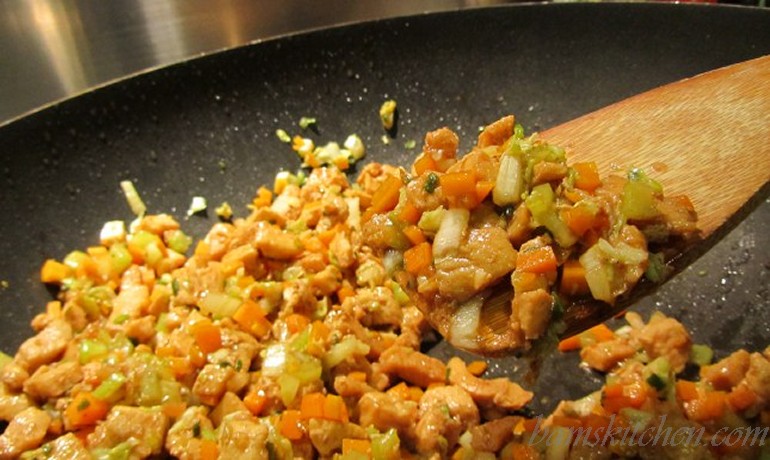 Have you ever eaten at a PF Chang's restaurant? Here is my version of their tasty chicken lettuce wraps. PF Chang's is definitely not a traditional Chinese restaurant by any means. However it is a fun and tasty alternative in the States when you have a craving for some inexpensive Asian fusion foods in a fun atmosphere.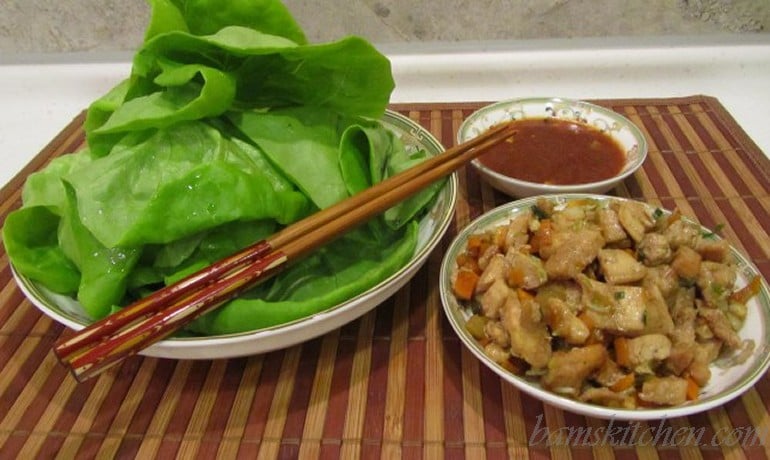 This weekend, let's make your home a fun and hip place to hang out with family and friends and make some tasty Asian fusion foods together. Asian meatballs with dips and 5 spice fried rice crisps make a lovely addition to this .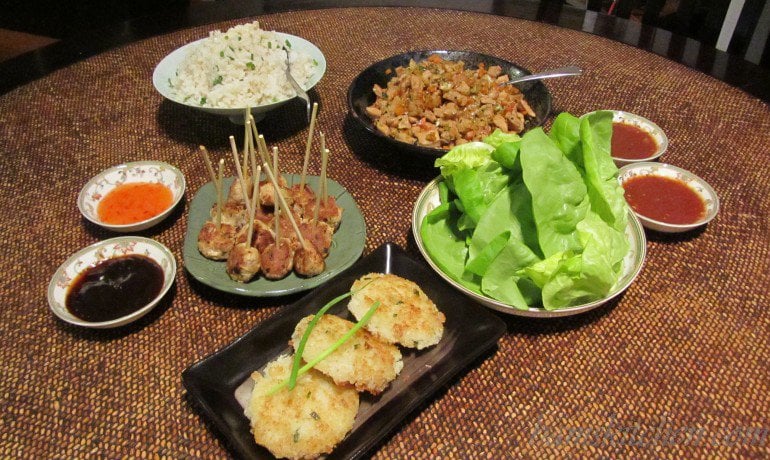 More tasty Asian appetizers
Negima Yakitori with Grilled Portabella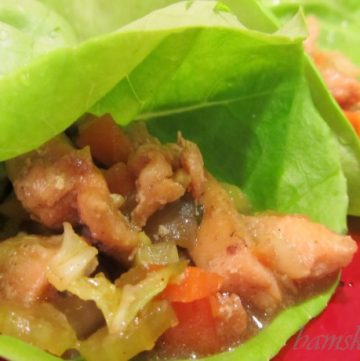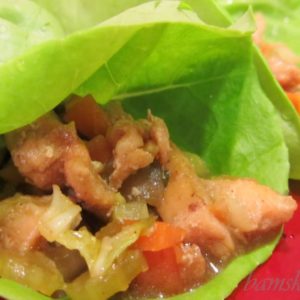 Asian Fusion Small Bites: Chicken Lettuce Wraps
Copy Cat PF Chang's Chicken Lettuce Wraps are a delicious appetizer to share at all of your gatherings with lip smacking chicken, vegetables and Asian sauce
Print
Pin
Rate
Ingredients
Chicken Lettuce Wraps
lettuce 8-12 leaves


chicken breasts 12 ounces

tamari (soy) sauce - 2 tablespoons

sugar or sugar alternative - 2 tablespoons

rice vinegar - ½ teaspoon

hoisin dipping sauce - 1 teaspoon (hold if gluten free)

onion - ½ chopped small

garlic - 2 cloves minced


carrots - 2 medium chopped

celery 2 stalks chopped

water chestnuts - 1 cup chopped (optional)
DIPPING SAUCE
¼ cup sugar (or low glycemic sugar alternative)

½ cup water

2 tablespoons soy sauce (tamari sauce for gluten free)

2 tablespoons rice wine vinegar

2 tablespoons ketchup (low glycemic)

1 tablespoon lemon juice

1 teaspoon sesame oil

1 tablespoon hot Chinese mustard (or Dijon mustard)

1 clove finely chopped garlic

1- 2 teaspoons garlic red chile paste
Instructions
In a small bowl combine ingredients for stir fry sauce; soy sauce, brown sugar, rice vinegar and hoisin sauce and set aside.

In a small bowl combine ingredients for dipping sauce; sugar, water, soy sauce, rice wine vinegar, ketchup, lemon juice, sesame oil, hot mustard, garlic and garlic red chili paste and set aside.

Wash and remove core from the lettuce leaves and let dry completely

Place olive oil in wok or pan and heat up and then add garlic and onions and cook until aromatic.

Add chopped carrots, celery and water chestnuts and keep the wok moving.

Add chopped chicken and cook until color turns and then add the stir fry sauce and keep the wok moving. 3-5 minutes total for cooking time.

Remove chicken stir fry from wok and place on serving plate along side of lettuce and dipping sauce. Let your family and guests make their own tasty lettuce wrap creations.
Nutrition
Serving:
1
g
|
Calories:
435
kcal
|
Carbohydrates:
9.2
g
|
Protein:
72.5
g
|
Fat:
9.7
g
|
Cholesterol:
215
mg
|
Sodium:
684
mg
|
Potassium:
1472
mg
|
Fiber:
1.6
g
|
Sugar:
5.2
g