Matcha Soba Salad with Norimaki Mochi is made with Cold matcha (green tea) soba noodles tossed with fresh crunchy vegetables, a light and flavorful sesame dressing and topped off with a crisp and chewy norimaki mochi is the perfect way to greet spring.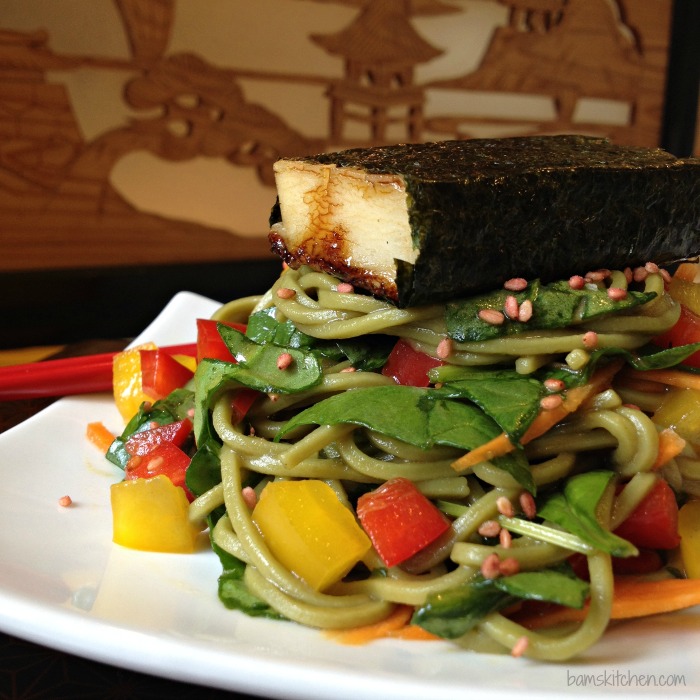 We made this little gem of a Matcha Soba Salad with Norimaki Mochi while foraging through my pantry on Good Friday looking for a meal that was to fill my belly as well as my soul.
When we lived in Japan, one of my favorite to celebrate the arrival of spring and summer was with homemade cold soba noodles with a mentsuyu dipping sauce and usually a side of sizzling hot tempura of vegetables and shrimp. There is nothing better on hot and steamy day in Asia.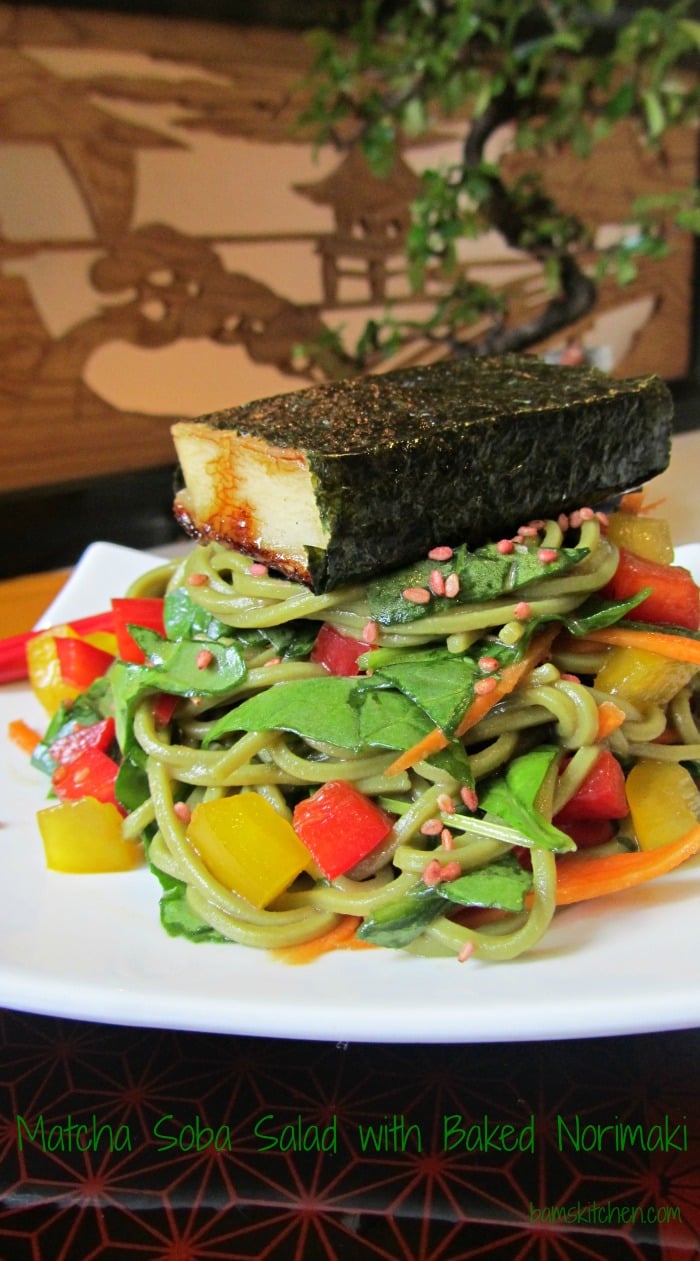 Asia's Heat and its close Brother Humidity
Trust me it gets hot in Asia! Japan is not the hottest place in Asia but after the tragic incident of the tsunami incident there is a rule to keep the air conditioners set at very high temperature. When you get lots of people crammed on the trains or in office buildings, it gets steamy hot. They even have relaxed their suits only dress codes to drop the tie and suit coats so that people are not dripping wet while at work. Then there is always someone who has to break the fashion code like this girl here.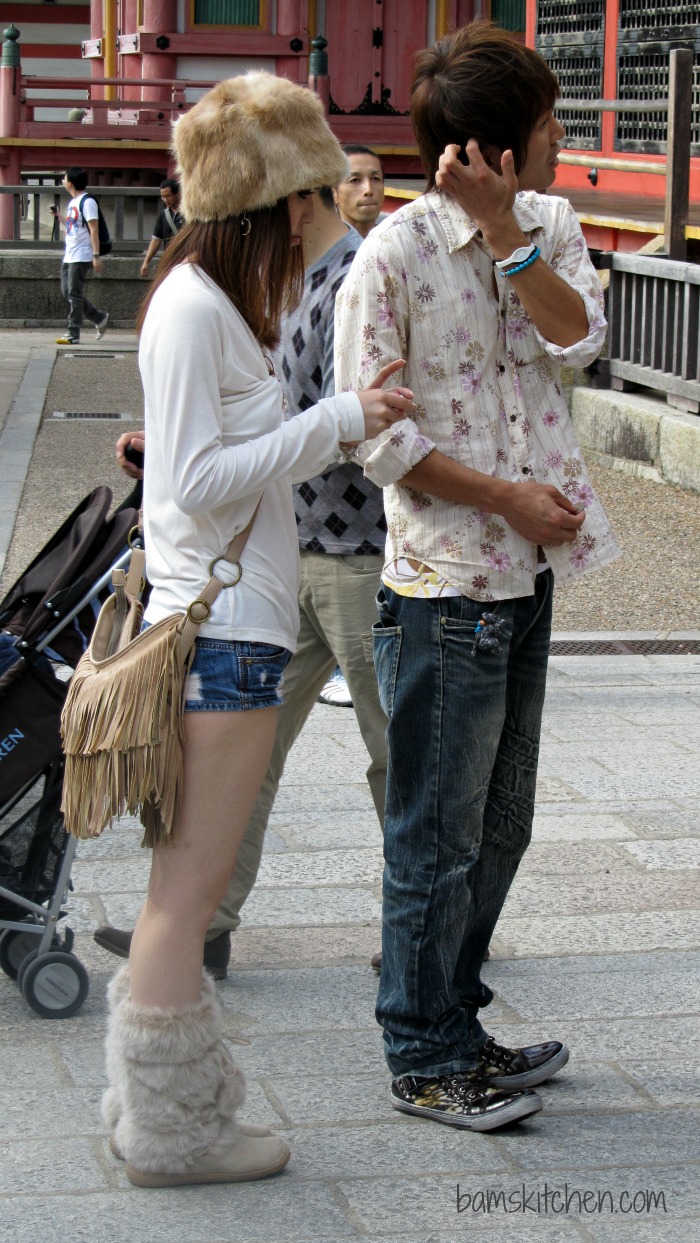 Hand fans to wave yourself with are big in Japan and even here in Hong Kong and all around Asia. Heck, I have one in each colour and I also am not afraid to admit that I hover under umbrellas to shelter myself from the sweltering heat while melting and waiting for the bus on the hot and steamy pavement.. After all of that, you crave something cool and refreshing. (Check out out the photo closely to the right. Do you see the "Do not Photo" sign? I was never one for silly rules... after all I still can't read the kanji only the katakana and hiragana so realistically it could say really anything...like don't bring your cameras inside the shop?... LOL)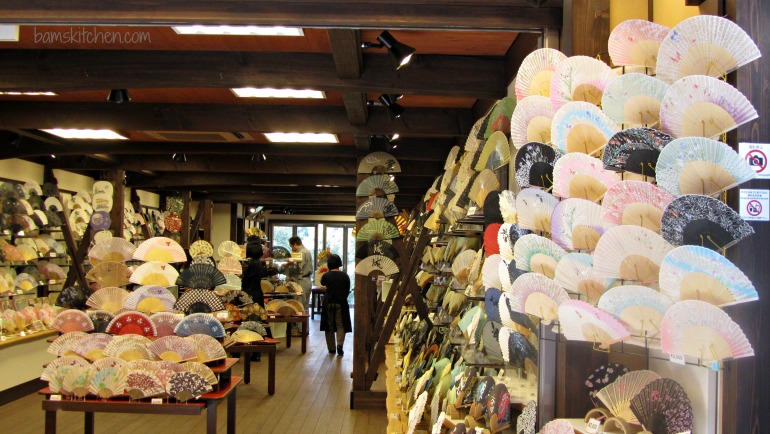 Not all Soba Noodles are Gluten-Free
There are just some recipes that are magical and I just love the idea of the cool and refreshing soba noodles with the piping hot tempura. However, I am the gluten-free girl now and it is a good thing that soba noodles also known as buckwheat noodles are gluten-free.
Of course, you need to double-check and read the back of the package to make sure that there are no added ingredients. As only the really good soba noodles are 100 percent buckwheat and some of the less expensive soba noodles are made with a combination of wheat and buckwheat flour. Oh and good luck with reading the kangi, katakana and hiragana on the back of the package...let me know how that goes for you..., and to all of my Japanese friends, you do not count!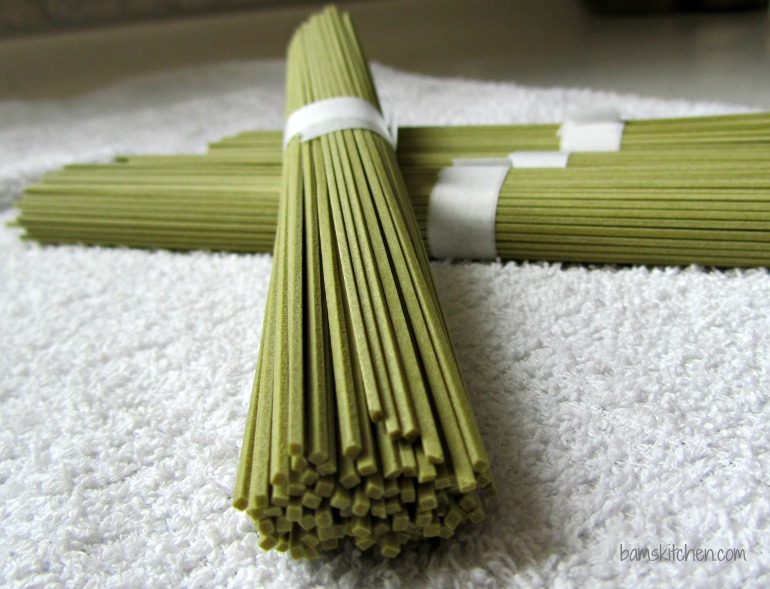 Soba (そば) means buckwheat in Japanese. Even though buckwheat has the word "wheat" in it is actually not wheat or even a grain at all. Buckwheat is derived from the seeds of a flowering plant. The triangular seeds also known as buckwheat groats, are made into flour and can be used in make soba noodles. So this is all a very good thing if you are going gluten-free.
I had tons of salad fixings in my refrigerator and lots of fresh spinach and tri-colored peppers so I decided I wanted to make a colorful salad with my matcha soba. If you love soba, be sure to try our Soba Noodle Salad with Yuzu Dressing .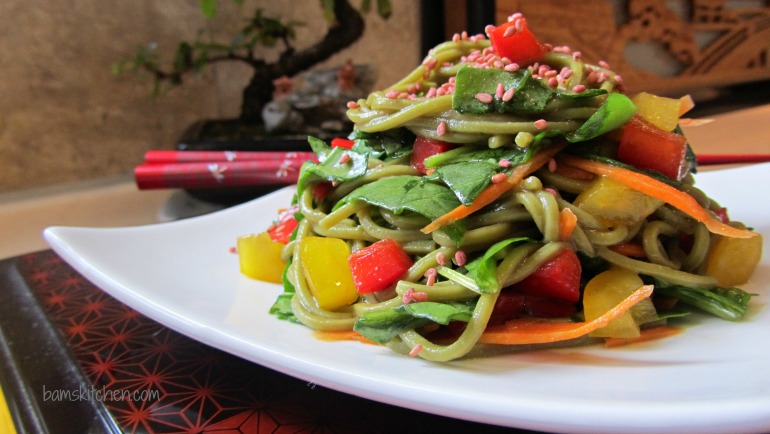 However, I did not have any dashi in the house to make a traditional dressing so I created this modified salad dressing that was super delicious. I mixed sesame oil, honey, tamari sauce, grated diakon and I needed something a little tart so I added a little tamarind juice and it was sublime.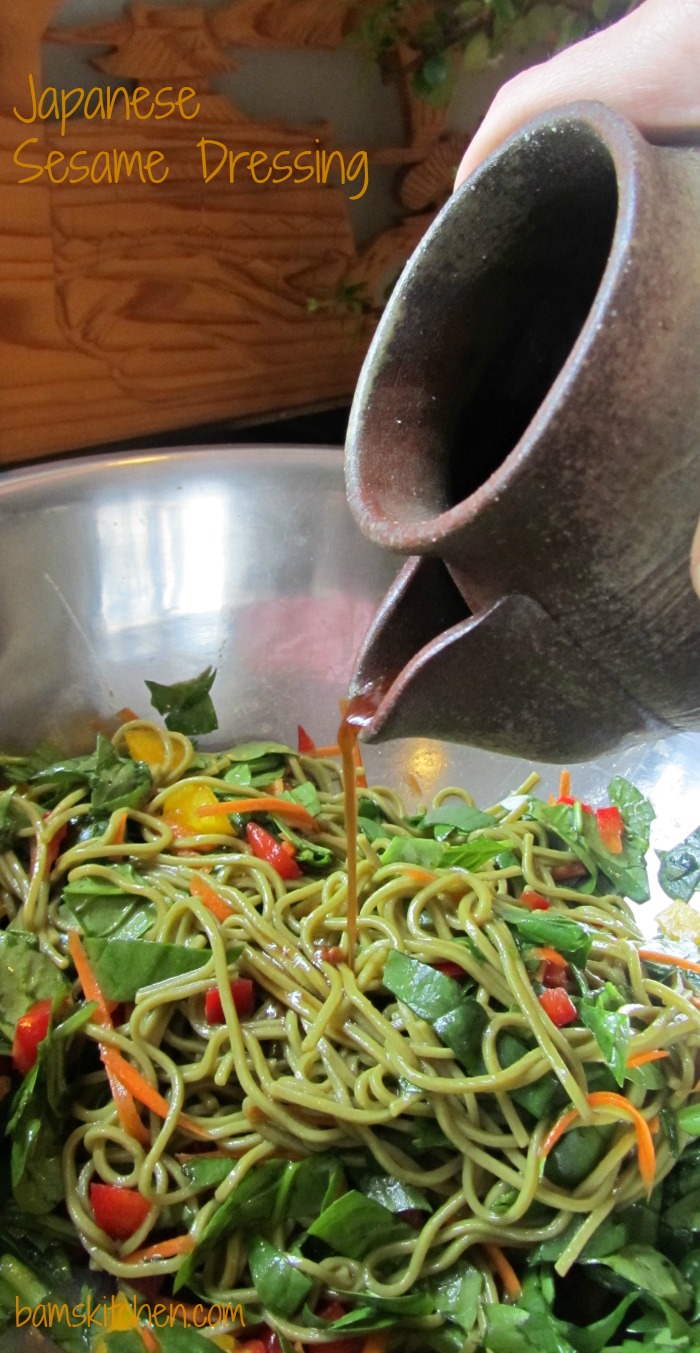 As a healthier option instead of deep-fried tempura, I made norimaki mochi. I just skipped the step of adding the sweet sakura glaze for a lovely sweet and savory salad topper. Baked norimaki are served warm out of the oven and are chewy and slightly sweet, savory and a perfect blend of flavors that brings together all my memories of living in Japan.
What is Norimaki Mochi?
Norimaki mochi is made from a special type of pounded rice called mochi. Mochi is made from a kind of rice called Mochigome. Have you ever seen blocks of white mochi sold in the Asian food stores? Mochigome is much stickier compared to the normal shortgrained rice in Japan. Mochigome is steamed and then pounded while it's hot and this pounding increases viscosity and the soft glutinous mass becomes smooth and elastic and in factories they shape into blocks and let harden. In Japan there are festivals surrounding the event of the old fashion method of pounding the steamed mochigome with a mallet and hammer.
Mochi can be enjoyed baked, grilled or fried but you cannot eat it raw or otherwise you would break your teeth as it is very hard. However, something very magical happens when the mochi blocks are baked, grilled or fried as they become hot, soft and chewy on the inside and on the outside the mochi block becomes slightly toasty and crispy. It is kind of hard to describe, but do you know what happens to a marshmallow when you toast it? Mochi is not as light as a marshmallow but it a happy culinary eating experience. I glaze my mochi blocks with a little soy and brown sugar glaze and when it gets soft and slightly golden remove from oven and wrap in a nori leaf and this dish is called norimaki mochi. Nori means seaweed. Maki means to roll and mochi is pounded rice. I hope you can try this dish sometime soon.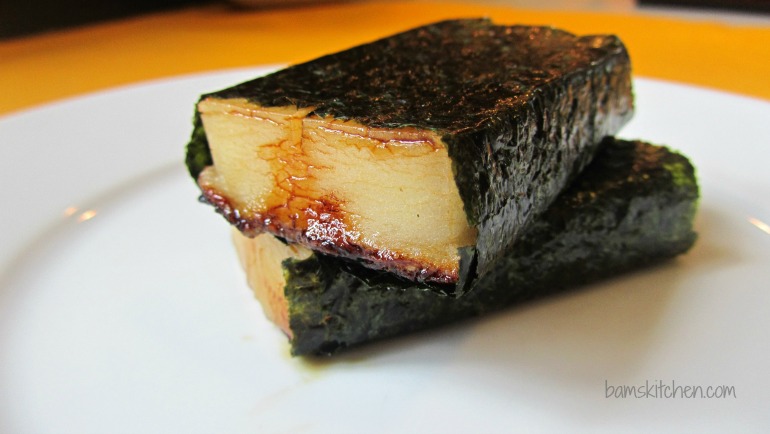 Ingredient exchanges for your Matcha Soba Salad with Norimaki Mochi
You can make your salad with any vegetables you have in your crisper. The sky is the limit. I also topped my Matcha Soba Salad with Norimaki Mochi with sakura toasted sesame seeds but you could also swap out with plain toasted white or black sesame seeds. There are many different kinds of soba noodles.
There are plain soba, sakura flavoured soba or even cha (green tea/matcha) soba like I used. The salad is great all on its own and my boys loved it as a part of their bento boxed lunches for school. Matcha soba salad can be made 24 hours in advance and is a great dish to bring to functions you have going on this spring/summer.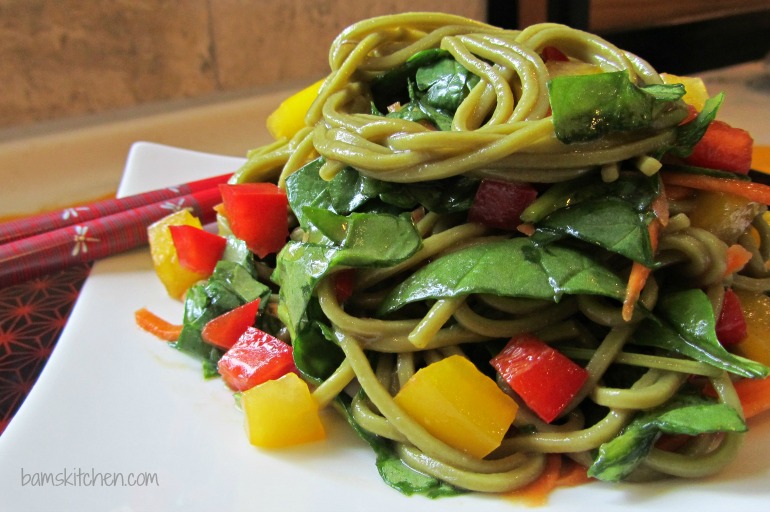 You can find the mochi blocks to make Norimaki in any Asian food market that carries Japanese products. I absolutely love norimaki but it is not essential to make this matcha soba salad. If you are diabetic, then just swap out the honey for a sugar alternative of your choice and swap out more the soba with more of the delicious crunchy vegetables and exchange to norimaki with cut thin slices of nori leaves (dried seaweed).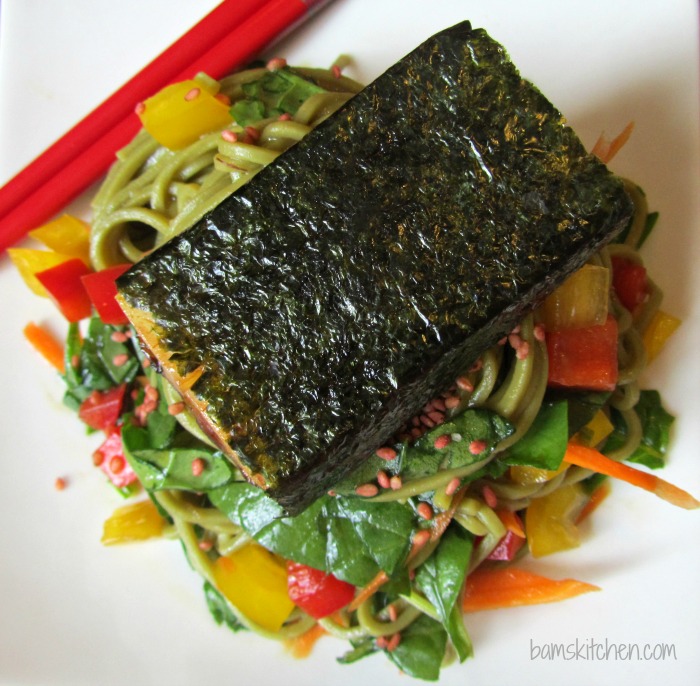 More Delicious Asian Salads
Vietnamese Shrimp Vermicelli Salad
Layered High Sesame Asian Salad
Hungry For More? Subscribe to our Newsletter and follow along on Facebook, You Tube, Instagram, and Pinterest for all the latest updates.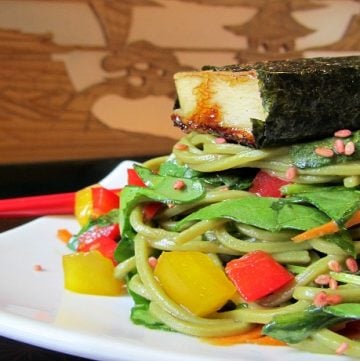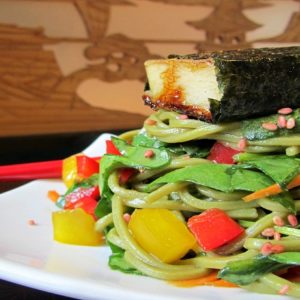 Matcha Soba Salad with Norimaki Mochi
Cold matcha (green tea) soba noodles tossed with fresh crunchy vegetables, a light and flavorful sesame dressing and topped off with a crisp and chewy norimaki is the perfect way to greet spring.
Print
Pin
Rate
Ingredients
66

grams

soba noodles


(100% buckwheat) (1 section of the noodles of a 200 gram package) We used matcha soba

1

cup

spinach


fresh chopped

¼

cup

Carrot


julienne slices or use a grater

¼

cup

red bell pepper


diced

¼

cup

yellow bell pepper

Sesame Dressing
2

tablespoon

sesame oil


2

teaspoon

honey


or maple syrup to keep vegan

¼

cup

soy sauce


or tamari to keep gluten-free

2

tablespoon

daikon radish


grated

¼

cup

tamarind


or to taste (Soak tamarind paste in hot water)

2

teaspoon

sesame seeds

garnish - optional
Norimaki
3

blocks

Kirimochi (切り餅)


1

sheet

dried nori leaves

cut into (2.5 inches x 7.5 inches or 6 cm x 16 cm) or just to fit your kirimochi

¼

cup

soy sauce


or tamari to keep gluten-free

2

tablespoon

brown sugar

or sugar alternative of choice
Instructions
Boil the soba noodles according to the package instructions... Start out by boiling your water and then drop in the soba noodles. Then drop the temperature down from a boil to a simmer and cook for about 5-7 minutes or until aldente. There is no need to salt the water. Drain the noodles in a strainer in the sink and let the cool water gentle run over your noodles for a minute or two, wash the soba noodles so they from any remaining starch residue and until the noodles are cool..drain well (Reserve some of the pasta water to drink,if you like, as it is full of vitamins and minerals or discard)

In a large bowl add the cooked and cooled soba noodles, chopped spinach, chopped red and yellow bell peppers, carrots or really any vegetables you fancy and have in your crisper.

Preheat oven to 190 Celsius or 375 F to make your norimaki.

Make your Japanese sesame dressing for your Matcha soba salad: Add sesame oil, honey, tamari (soy) sauce, grated diakon and tamarind juice. Taste and adjust seasoning as desired. If you want it more salty add more tamari sauce, it you want it more spicy add more diakon radish, if you want it more sour add more tamarind. (You can also use lemon, rice vinegar, limes or yuzu instead of tamarind for the sparkle in the dressing.)

Add your Japanese sesame dressing to the matcha soba salad and toss lightly. Divide your Matcha soba salad between 3 plates and garnish with sesame seeds.

Make your norimaki. Make the tamari (soy sauce) glaze: add tamari (soy sauce) to a small pan and add brown sugar and cook over low medium heat until it is a nice and thick glaze about 5 minutes. Set aside.

Place the Kirimochi (切り餅) blocks on a pre-greased baking sheet. Slather the tamari brown sugar glaze on each Kirimochi (切り餅) and bake for about 10 minutes or until firm on the outside and chewy on the inside. Don't cook too long or it will end up in a pool of mochi (completely melted). The goal is you want the edges to be crispy but the inside to be tender. If you do not have an oven, you can also pan fry or grill instead.

Trim your nori (dried seaweed) into 3 long strips the same width as your mochi. (Alternatively you can buy the thin pre-cut strips of nori). Immediately wrap the warm mochi in nori. Place a delicious hot out of the oven norimaki on each plate of cool matcha soba salads.
Notes
Nutrition calculations are for the Matcha soba salad only.
Remember if you need to keep this recipe gluten-free you need to find a soba brand that is 100% buckwheat and use tamari sauce instead of soy sauce.
Feel free to exchange lemon juice for the tamirand juice.
The matcha soba salad can be made up to 24 hours in advance. Just right before serving, make your normaki and garnish with sesame seeds.
To make vegan, be sure to exchange maple syrup for the honey in the dressing recipe.
Nutrition
Serving:
1
g
|
Calories:
206
kcal
|
Carbohydrates:
25
g
|
Protein:
6
g
|
Fat:
10
g
|
Saturated Fat:
1
g
|
Sodium:
1273
mg
|
Potassium:
262
mg
|
Fiber:
1
g
|
Sugar:
6
g
|
Vitamin A:
3133
IU
|
Vitamin C:
44
mg
|
Calcium:
38
mg
|
Iron:
2
mg