Learning How to Cut a Fresh Pineapple in under 5 minutes is going to pave your way to discovering many delicious tropical recipes like our Hawaiian Luau Rice, Tropical Maja Blanca and Tutti Fruitti Kale Salad and Citrus Honey Dressing just to name a few.
Jump to:
Learn How to Cut a Fresh Pineapple
Choose a ripe and juicy pineapple (read more about this below)
Gather a cutting board and a heavy-duty sharp knife
Cut the top off the pineapple and set aside (maybe for some of your recipes or gatherings you can use the top of the pineapple for a fun table scape decoration)
If the bottom of your pineapple is uneven or not flat, cut that off now.
Place the pineapple upright on the cutting board and trim off the pineapple scales. Turn your pineapple and continue to cut off all of the scales, keeping as much of the fresh pineapple as possible to reduce waste.
Next, trim the eyes on the edges of your pineapple with a sharp knife.
Hold your pineapple upright and carefully cut into 4 segments downward.
Use your knife to remove the core from the 4 segments.
Next, decide how you would like to cut your pineapple. If you want to grill your pineapple slices, you may want to cut them in long slices. On the other hand, if you are making a recipe calling for chunks, you may want to cut each of the 4 segments into 3 long slices and then cut each long slice into chunks.
For our Hawaiian Luau Rice recipe, we first lay the flat side down of each of the 4 segments. Then, we slice into thin slices. Next, we turn the pineapple slices the other way and then make thin slices.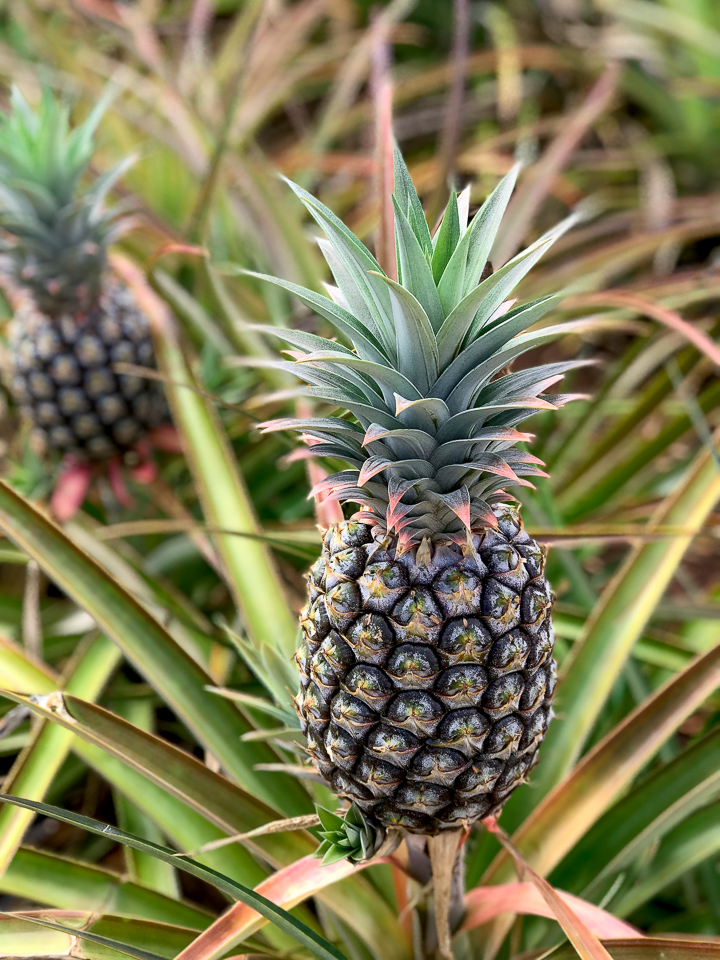 How to Choose a Ripe and Juicy Pineapple?
A ripe and juicy pineapple with smell like a sweet and delicious pineapple when you sniff the bottom of the pineapple. Did you know that a pineapple stops ripening as soon as it is picked? Pineapples can get softer and the color changes after it is picked but it is only a sweet as the day it was harvested. If the pineapple smells fermented or like vinegar or alcohol, then it might have gone bad. A heavier pineapple is a good indicator of a juicy pineapple.
Also, if you attempt to remove a leaf from the top it may give way to allow you pull it out but not a definitive indication of ripeness. The color of the pineapple is not the deciding factor on ripeness. Pineapples can be green or golden or a mixture of both. Fragrant sweet smell with no evidence of mold on your pineapple is the best indicator of pineapple ripeness.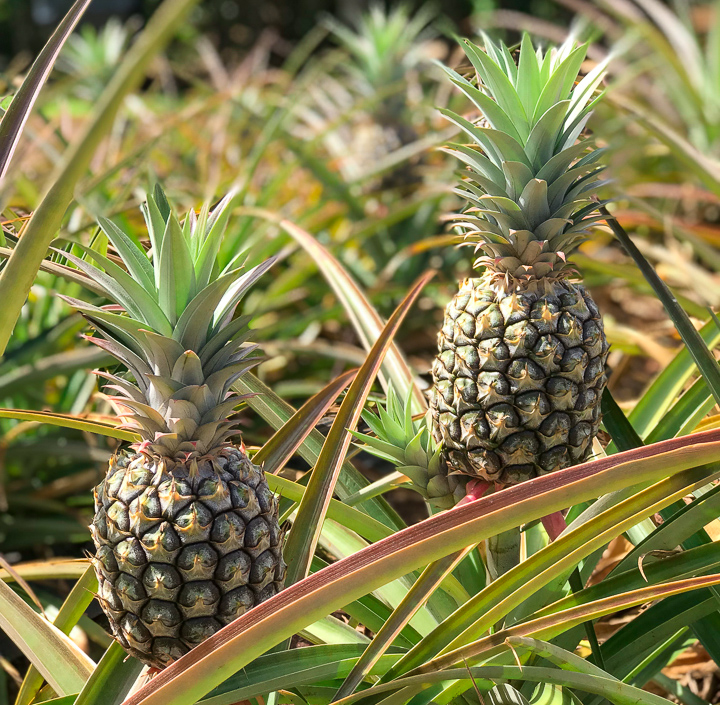 How to Store a Pineapple
You can store an uncut pineapple at room temperature for 1-2 days and can be kept longer whole and unpeeled in the refrigerator for 3-5 days. Peeled and sliced or chopped pineapple can be stored in a sealed container in the refrigerator for up to 3 days. However, you can freeze cut and peeled pineapple in a freezer safe sealed container or freezer bag up to 3-5 months. They are delicious addition to smoothies like our Ginger Citrus Dragon Fruit Smoothie .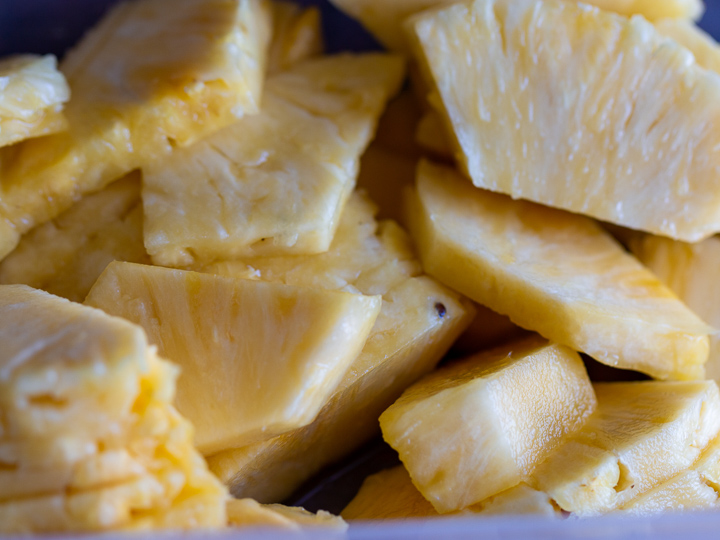 What do Pineapple Cravings Mean?
Seriously, what is going on? We have been craving pineapple from the moment this pandemic hit. Crazy odd craving, don't you think! So we did a little investigation on this odd pineapple craving. According to the National Institution of Health - NIH, "Based on the results of the study, it can be concluded that canned pineapple consumption can lower the incidence of viral and bacterial infections and further increase the production of granulocytes"
So, there you go folks! Our body is telling us to protect ourselves. Bring on the Pineapple! Learning how to cut a fresh pineapple is not only delicious, its is good for your health. Whether fresh or canned this delicious tropical fruit is one of our favorites.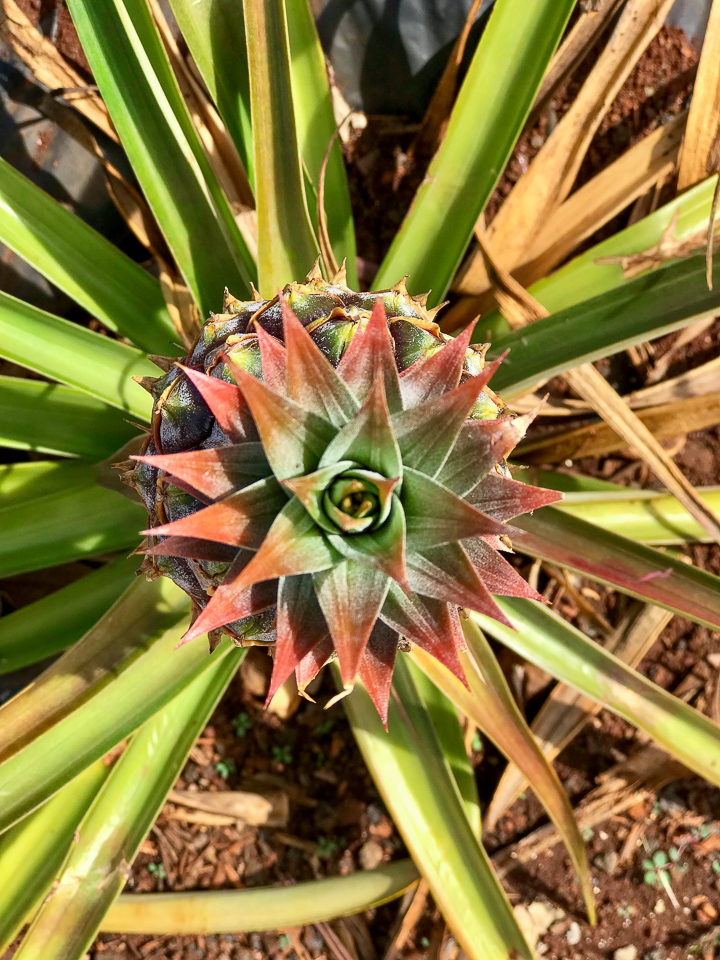 Pineapple as a Tenderizer
Did you know that pineapple contains and enzyme called Bromelain. According to studies, this enzyme Bromelian helps break down proteins and collagen and can help tenderize meat.
Have you ever noticed sometimes when you eat too much fresh pineapple your tongue tingles. Not only is the Bromelian in pineapple good for tenderizing your steak, it also tenderizes your tongue. However, do not worry as this enzyme, bromelian is eliminated in your digestive track. We really enjoyed this article Properties and Therapeutic Application of Bromelain: A Review in the NIH regarding all the health properties of pineapple's Bromelain and you may too.
Different Ways to Enjoy Pineapple
Do you love eating fresh pineapple slices ? We do too! However, you are going to want to learn how to cut a fresh pineapple so you can enjoy it in many delicious recipes.