The Moon Festival is full of many legendary stories. One legend says that Chang Er flew to the moon, where she has lived ever since. You might see her dancing on the moon during the Moon Festival. The Moon Festival is also an occasion for family reunions. When the full moon rises, families get together to watch the full moon, eat moon cakes, and sing moon poems. In addition, this is a potential time to see some of the biggest and largest moon views, so I will be ready with my telescope.
September 12th, 2011 is the official holiday on the calendar this year. However, the custom of giving mooncakes as gifts has been in full swing for a couple of weeks now.  The MTR (train) stations are lined with picture and advertisements of all the different kinds of mooncakes. Entire public buses have been decorated as mooncakes to advertise about the best type of mooncakes. Vendors are pushing leaflets at you to urge that their mooncake is the best in town. This is "MOONCAKE MANIA". So what is all this mania about? What is the best type of mooncake?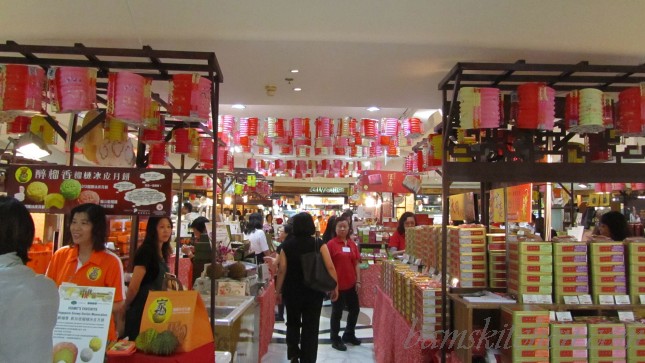 A group of my very dear friends have gathered this week at my home to take the "Mooncake Mania Test". As a couple of friends from Shanghai and a couple of friends from Korea we had a representation of the tastes of mid-autumn festival treats from both China and Korea. Many other Asian countries also celebrate a type of Mid-autumn festival as well such as Japan, Korea, Vietnam, etc. In Korea, an analogous harvest festival is known as Chuseok (추석), celebrated on the same day as the Chinese Moon festival but with emphasis on ancestral worship and the visiting of ancestral family homes and graves. Instead of Chinese-style moon cakes, Koreans prepare and consume songpyeon (송편), a crescent-shaped rice cake steamed upon pine needles, in addition to a morning feast ritual as part of the ancestral worship ceremony. So of course, we were so privileged to try lovely mooncakes and treats from both China and Korea. A special thank you to my dear friends Lynn, Anna ,Yi and Yoonsun for making this possible.
Did you know there are even frozen durian flavored mooncakes? There are so many different kinds of fillings inside of mooncakes such lotus bean paste, black bean paste, chocolate, cream , berry, ice cream, nuts, savory fillings, and the list goes on and on.  If I tried to list them out you would be sleeping on your keyboard, so instead I will just share with you a few of the Chinese moon cakes and Korea treats we tested yesterday.
1) Lotus Seed Paste with Single or Double Egg Moon Cake is the most traditional type of moon cake. When you cut into these cake they have a whole egg or two inside.