Mooncake Mania causes an extra hustle and bustle in the streets of Hong Kong this week as everyone is preparing for the Chinese Mid-Autumn Festival. There is a fun festive feeling in the air and there are mooncakes- EVERYWHERE.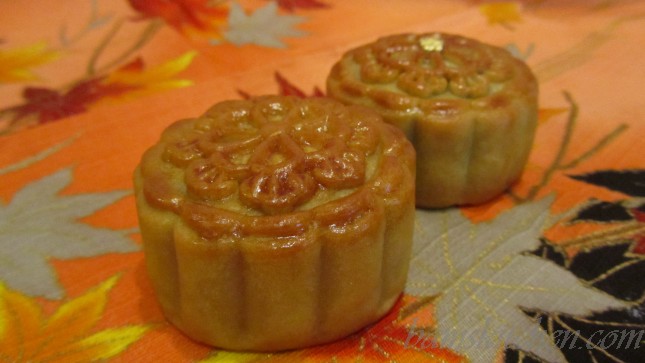 China's Mid-Autumn Festival
Mid - Autumn Festival is traditionally celebrated on the fifteenth day of the eighth lunisolar month, which is in either in September or October. In ancient times, the emperors had the tradition of worshiping the Sun in spring, and the Moon in autumn. Celebrations has continued ever since and more customs for marking this occasion have been formed.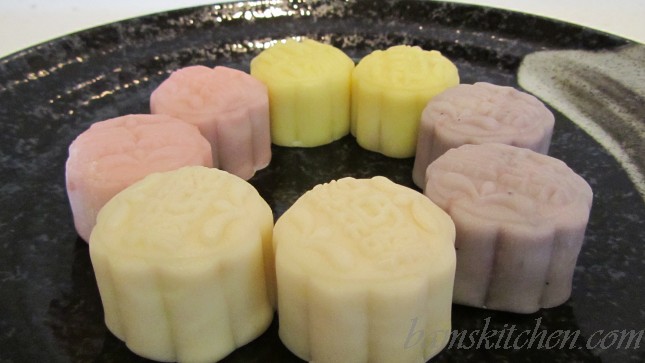 History of the Moon Festival
The Moon Festival is full of many legendary stories. One legend says that Chang Er flew to the moon, where she has lived ever since. You might see her dancing on the moon during the Moon Festival. The Moon Festival is also an occasion for family reunions. When the full moon rises, families get together to watch the full moon, eat moon cakes, and sing moon poems. In addition, this is a potential time to see some of the biggest and largest moon views, so I will be ready with my telescope.
Join the Mooncake Mania
The custom of giving mooncakes as gifts has been in full swing for a couple of weeks now. The MTR (train) stations are lined with picture and advertisements of all the different kinds of mooncakes. Entire public buses have been decorated as mooncakes to advertise about the best type of mooncakes. Vendors are pushing leaflets at you to urge that their mooncake is the best in town. This is "MOONCAKE MANIA". So what is all this mania about? What is the best type of mooncake?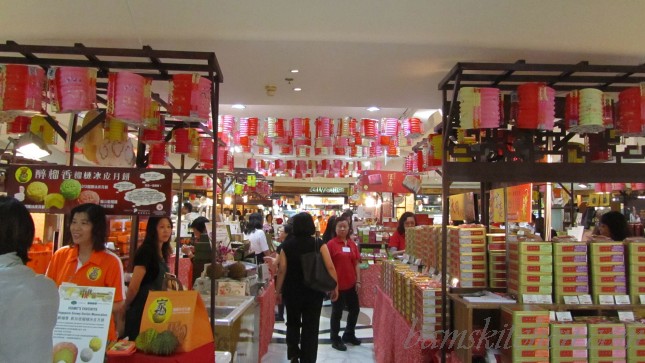 Enjoying Mooncakes from around Asia
A group of my very dear friends have gathered this week at my home to take the "Mooncake Mania Test". As a couple of friends from Shanghai and a couple of friends from Korea we had a representation of the tastes of mid-autumn festival treats from both China and Korea. Many other Asian countries also celebrate a type of Mid-autumn festival as well such as Japan, Korea, Vietnam, etc. The Mooncake Mania vibes are not isolated to just China but all over Asia and beyond.
Korean Harvest Festival
In Korea, an analogous harvest festival is known as Chuseok (추석), celebrated on the same day as the Chinese Moon festival but with emphasis on ancestral worship and the visiting of ancestral family homes and graves. Instead of Chinese-style moon cakes, Koreans prepare and consume songpyeon (송편), a crescent-shaped rice cake steamed upon pine needles, in addition to a morning feast ritual as part of the ancestral worship ceremony. So of course, we were so privileged to try lovely mooncakes and treats from both China and Korea. A special thank you to my dear friends Lynn, Anna ,Yi and Yoonsun for making this possible.
Types of Fillings inside the Mooncakes
Did you know there are even frozen durian flavored mooncakes? There are so many different kinds of fillings inside of mooncakes such lotus bean paste, black bean paste, chocolate, cream , berry, ice cream, nuts, savory fillings, and the list goes on and on. If I tried to list them out you would be sleeping on your keyboard, so instead I will just share with you a few of the Chinese moon cakes and Korea treats we tested yesterday.
8 Basic type of Mooncakes to Enjoy
These are literally thousands of different types of mooncakes out there. People celebrate this mooncake mania with double yolk mooncakes, snowy mooncakes and mooncake styles different depending on what region you are from. There are way too many to list them all but here are some of our favorites.
1) Lotus Seed Paste with Single or Double Egg Moon Cake is the most traditional type of moon cake. When you cut into these cake they have a whole egg or two inside.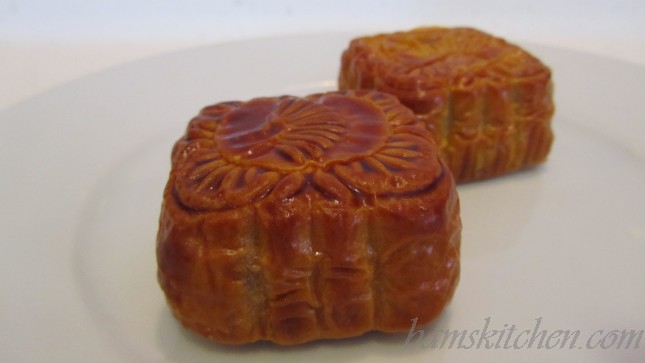 2) Suzhou Mooncakes -These little flaky crusts wonders are delightful and are stuffed with black bean paste.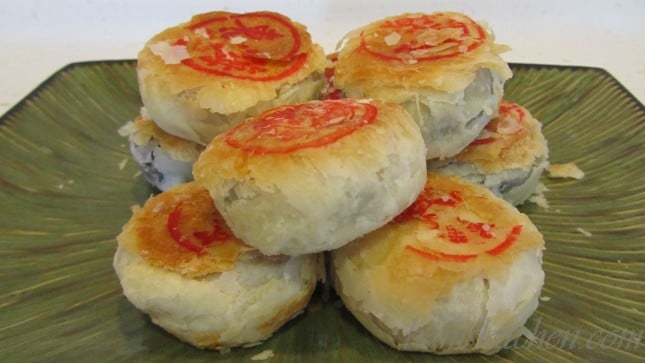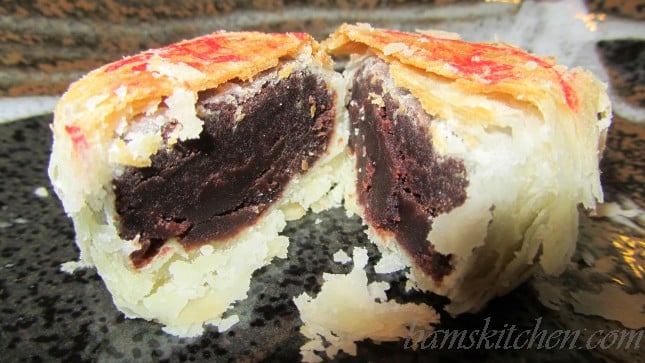 3) Five Nut Mooncake- These mooncakes are very hearty and heavy with lots of nuts, lightly sweet taste of candied winter melon. Just a small slice is all you need.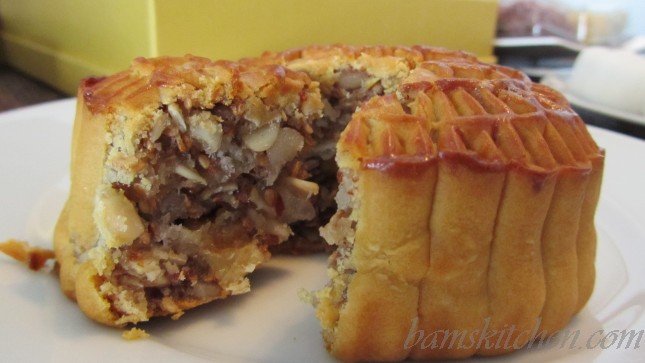 4) Snowy Mooncakes have a lighter softer crust and a creamy inside with many different flavors to choose from like cream, berry, strawberry, banana, etc. Snowy mooncakes need to remain refrigerated until eaten unlike the traditional mooncakes. These mini snowy mooncakes are smooth and delightful and it is hard to stop at just one.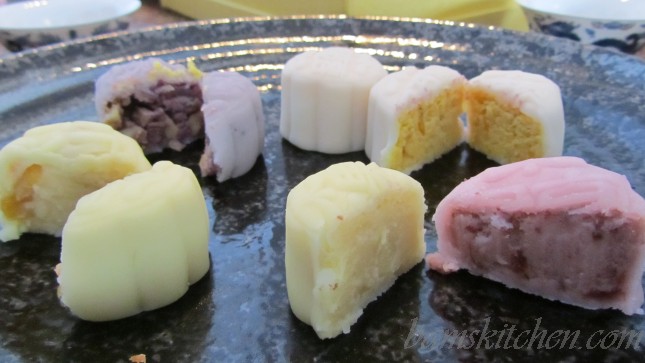 6) Frozen mooncakes- mango, cream and chocolate flavors. Nontraditional mooncakes that have a light crust and a smooth and creamy center. These are addictive as they are cold and creamy.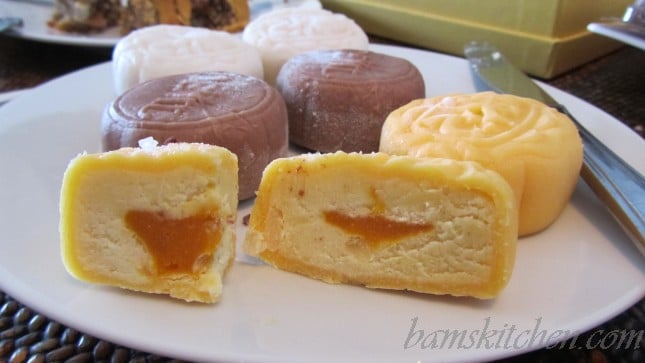 7) Korean Sweet rice cakes with chestnut filling in green tea rice cake, white sesame seeds with cherry blossom rice cake and black sesame in sweet rice cake. These little wonders are chewy and lightly sweet like Japanese mochi. I have a definite sweet tooth for Korean sweet rice cakes. Kamsa Hamneda my dear Anna!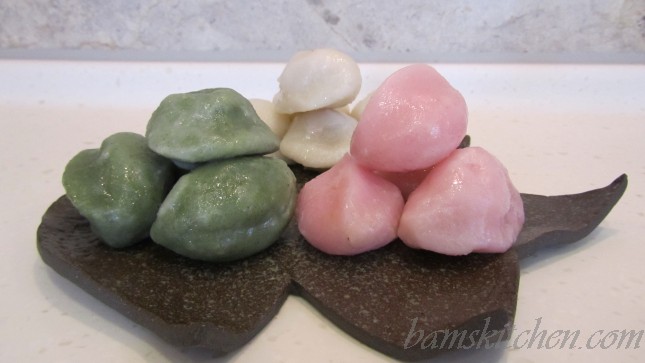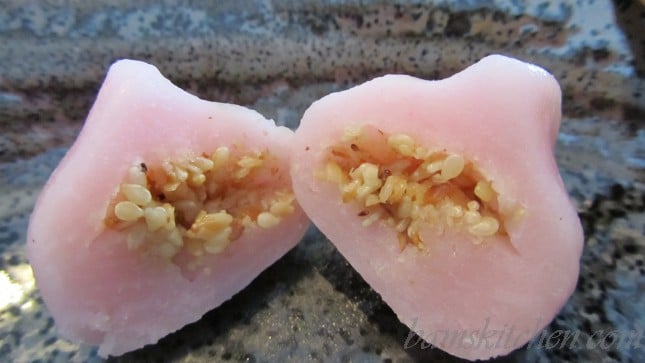 8) Assorted Korean sweet treats: The one of the furthest left is a light and crunchy, the one in the middle is heavy and dense and very rich and slightly sweet, and the one on the right is light and crunch with a drizzle of sweet syrup. Yum Yum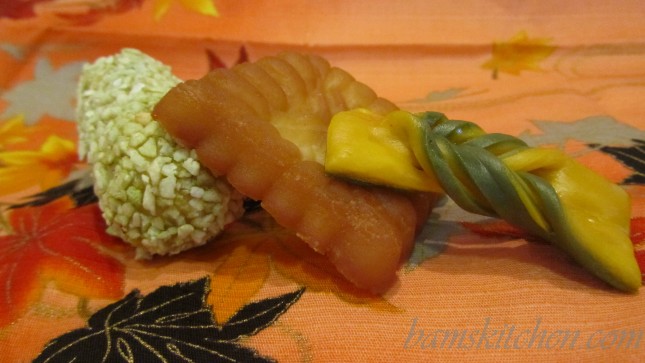 So what is the census? What is your favorite kind of Chinese moon cake or Korean Mid-Autumn's Festival treats? Enjoy a safe and happy Mid-Autumn Festival! Are you ready to join the Mooncake Mania?
Delicious Mooncake Recipes for you to try at home
Would you like to learn how to make your own mooncakes? We have 2 versions a snowy mooncake if you have access to an Asian Market and a Western version that you can get all the supplies you need at a local market.
Over the Moon for Snowy Mooncakes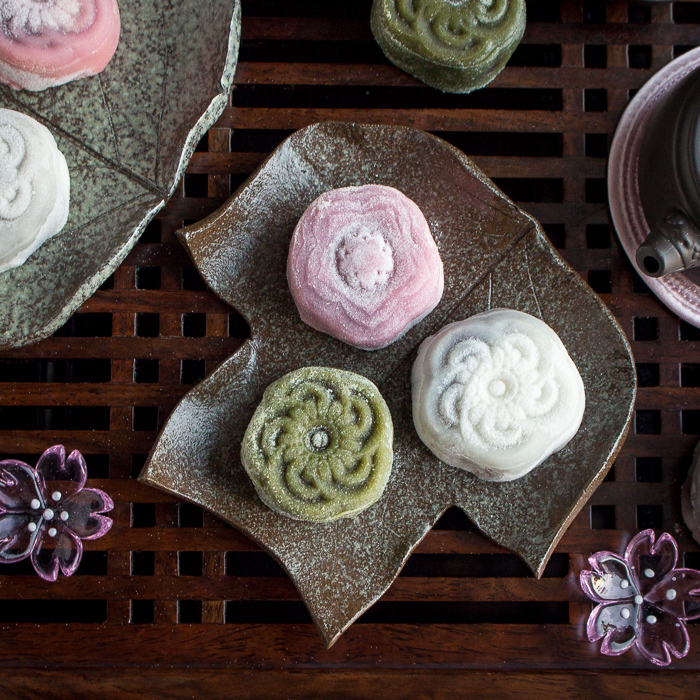 Apple Pecan Springroll Mooncakes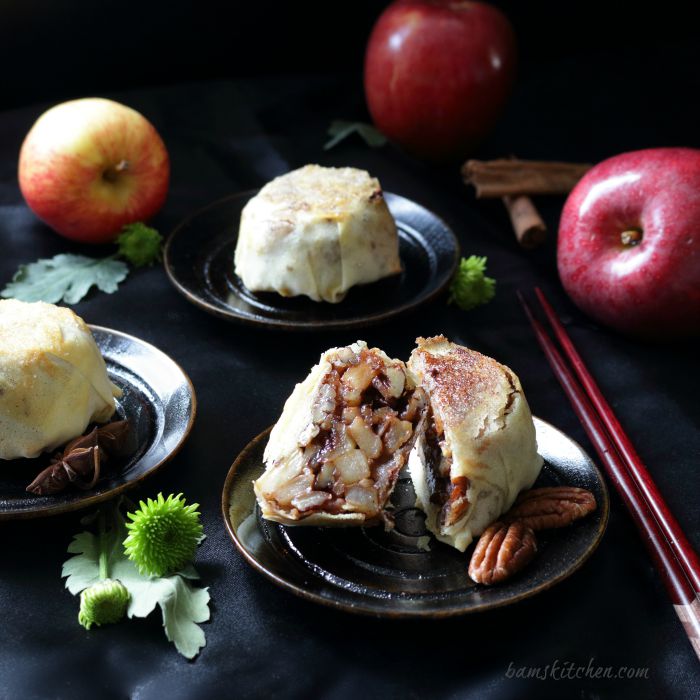 Apple Pie Pot Stickers are not mooncakes but a delicious alternative way to to enjoy the Harvest festival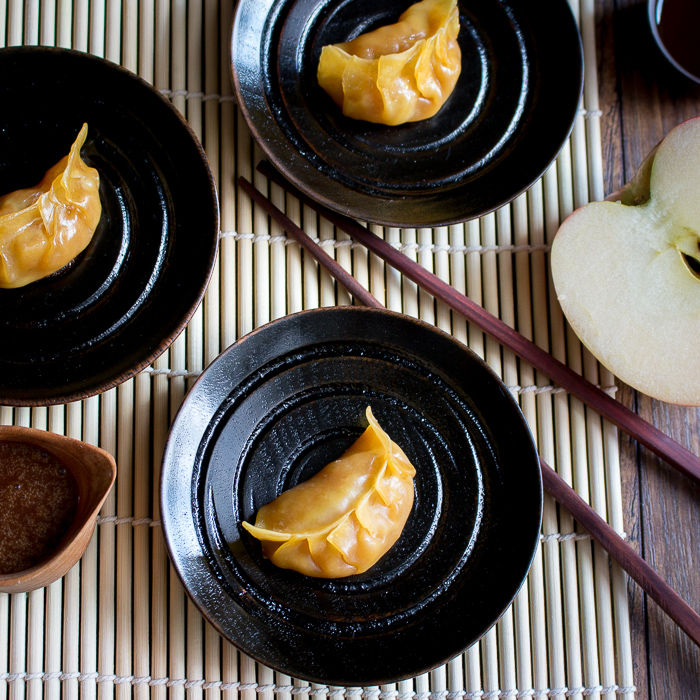 Hungry For More? Subscribe to our Newsletter and follow along on Facebook, You Tube, Instagram, and Pinterest for all the latest updates.