Lemon Lavender Goat Cheese Spread is fast and easy crowd pleasing summer appetizer that is delicious dipped into veggies, crackers or toasted crostini. LOW CARB and GUT FRIENDLY!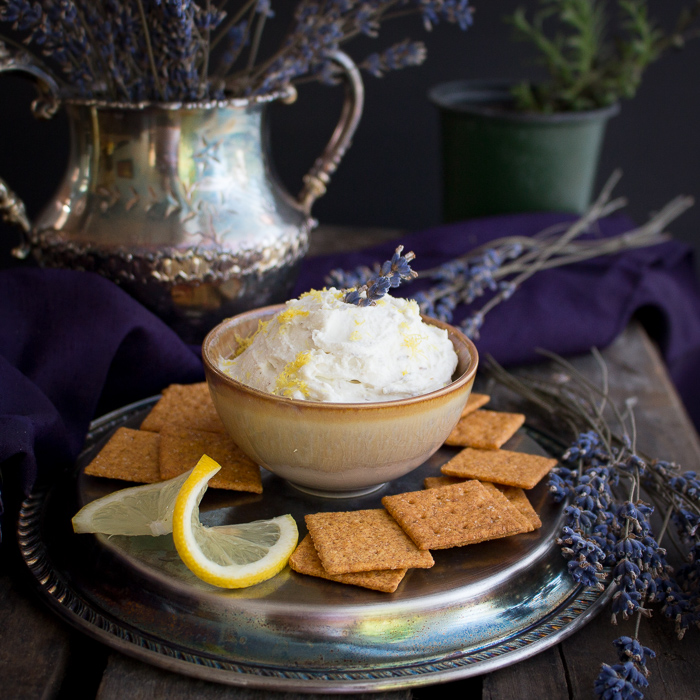 Lemon Lavender Goat Cheese Spread is a fabulous summertime treat. It is sure to be the star of any cheeseboard or appetizers along with a crisp refreshing white wine. With just a handful of ingredients this is sure to be a crowd pleaser.
Fresh
Summertime
Aromatic
Super Easy Appetizer
Crowd Pleaser
Gut friendly
Tranquil/Calming
Fabulous with a glass of crisp white wine
Your summertime entertaining just got easier. We made this delicious Lemon Lavender Goat Cheese Spread and cut up vegetables in under 15 minutes. We never even broke a sweat because there is no oven or stove top required just a food processer.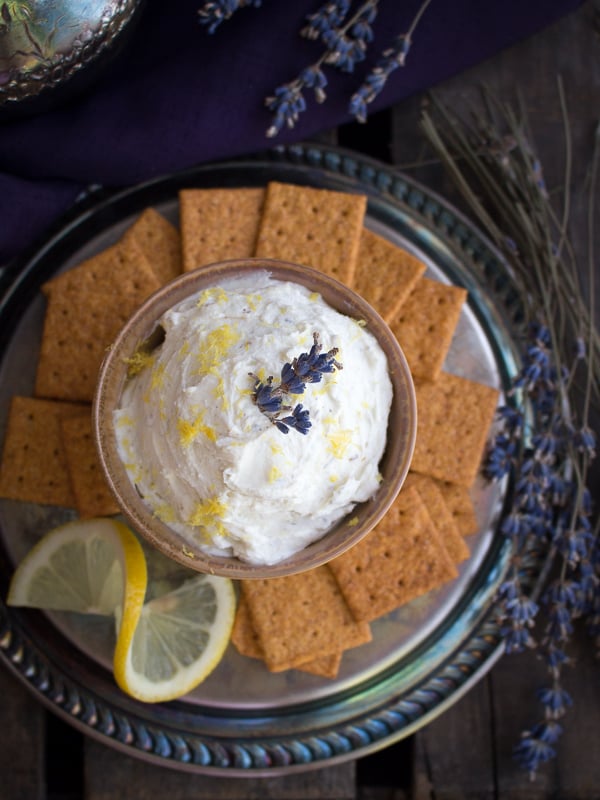 We are super excited to share this post with you today because we could mark off one of our items on our life bucket list – visiting a lavender farm.
Have you ever been to a lavender farm? If this is one of your dreams, lavender blooms from late June to mid- August. We took a long leisurely ride to upper Michigan and toured the wineries and Lavender Farms. Harbor View Lavender Farm & Nursery was just gorgeous. It was a bright sunny day and the wind was blowing so slightly to allow the aroma of the lavender to relax and restore.
Did you know that there are two kinds of lavender? There is the regular English Lavender that is extra aromatic and there is the "culinary grade lavender". We harvested a lovely bouquet of culinary grade lavender flowers and paid the nice ladies who then gave some of the proceeds to the Veterans. Win-Win!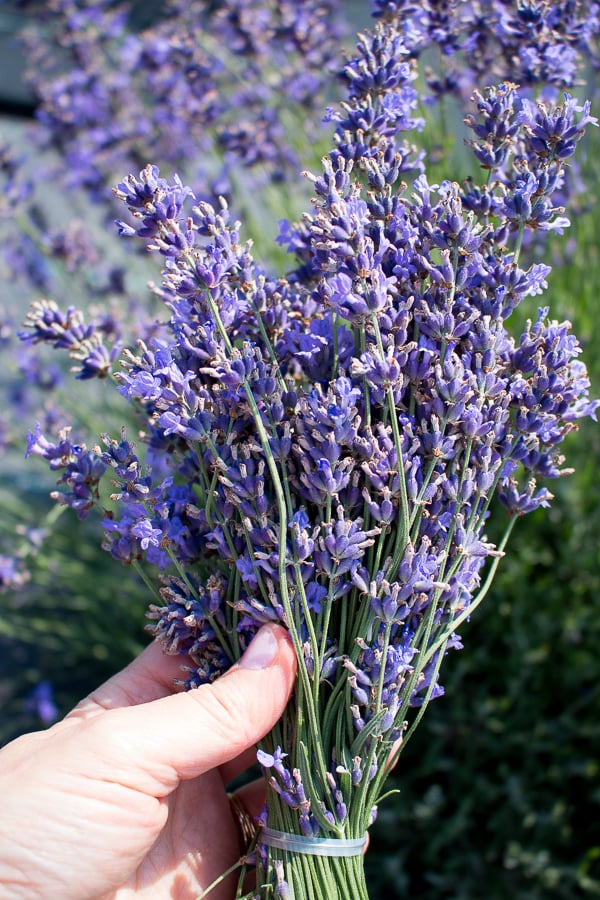 We dried our culinary grade lavender and placed the lavender buds in a mortar and pestle to grind. You could also use a spice/coffee grinder. Super easy – super Delicious. We added a little bit of our dried ground lavender buds to our Lemon Lavender Goat Cheese Spread. Did you know you can make lavender sugar with dried culinary lavender, use in baked good or try as a delicious lavender tea? The recipe ideas are endless.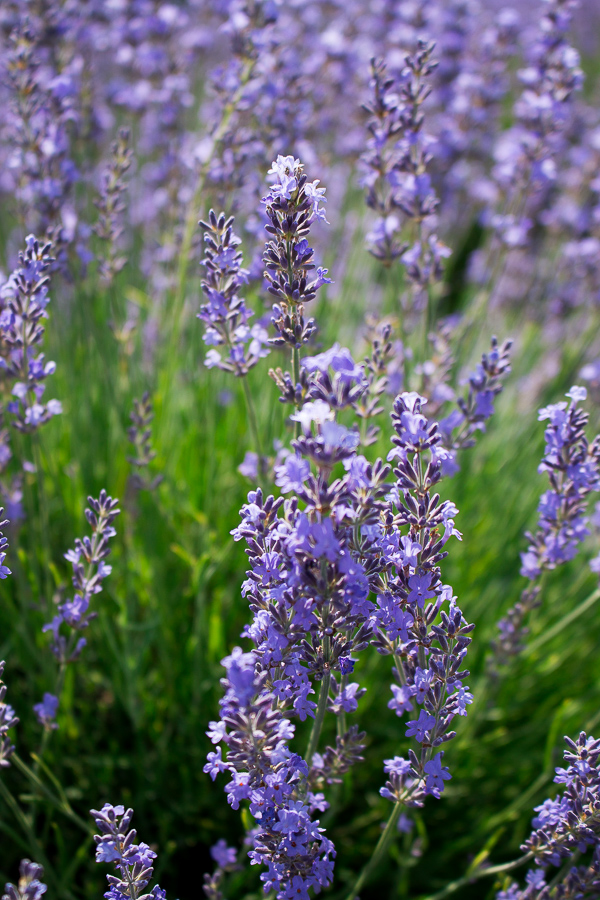 Lavender has many positive health benefits. Lavender may help reduce anxiety and stress. If you brew a little lavender tea before bed it can help with insomnia and restless sleep. Lavender has polyphenols which can help the gut from accumulating bad bacteria in your gut and thus less gas and cramping and this aids in digestion. As lavender can reduce anxiety and stress, this helps promote a normal blood pressure and less stress on your cardiovascular system. One positive health benefit not mentioned by many is just the view and aroma of the lavender gardens. You can just feel your stress melt away.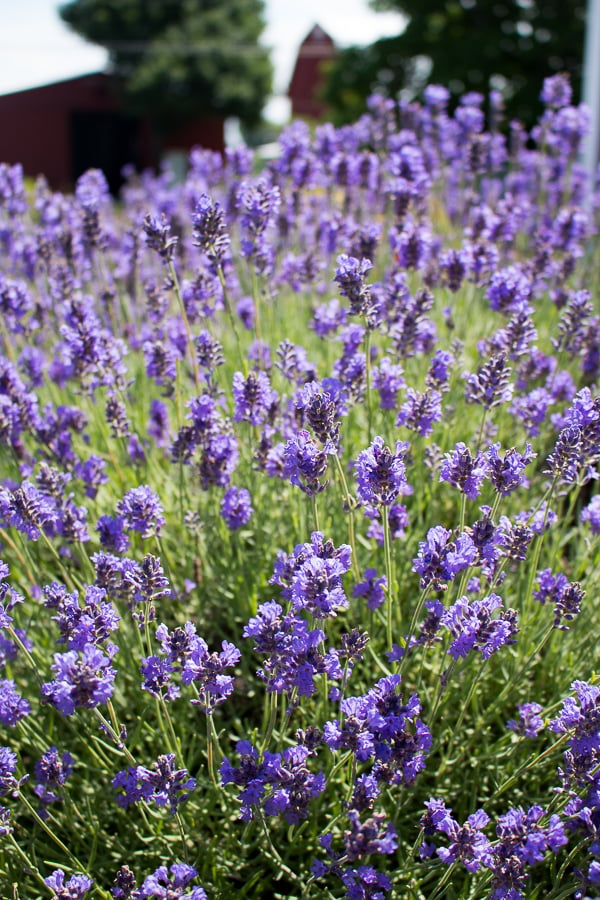 Be sure to try a delicious Lavender Latte from Fox and Briar, Lavender Mojitos from We Are Not Martha. The most important tips are to use culinary grade lavender and to use lavender sparingly as a little goes a long way. We used only used 2 teaspoon of culinary lavender in our Lemon Lavender Goat Cheese Spread. You can always add more lavender to taste.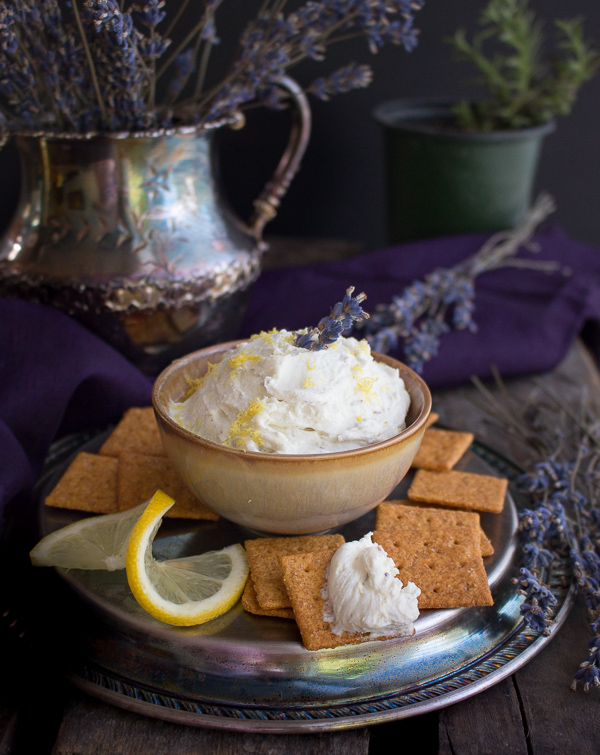 Did you know that some individuals who have a "dairy intolerance" can tolerate goat cheese? The reason being is that goat's milk does have a little less lactose compared to compared to cow's milk. In addition, goat's milk is naturally homogenized and that means that the fat globules are smaller and easier to digest. Whereas, in cow's milk homogenized must occur manually. Cow's milk has larger fat globules and they are more difficult to digest. It is important to note however, that each person is different and you will just have to try it and see how it goes.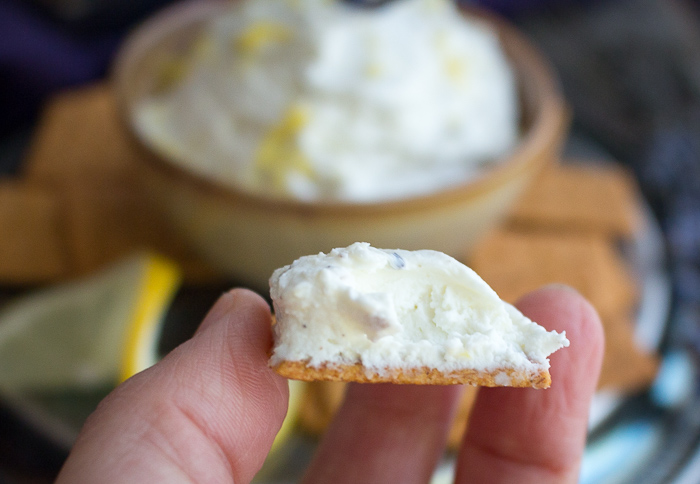 We added plain Kefir (fermented milk) to help make our Lemon Lavender Goat Cheese Spread more spreadable. Kefir is drinkable but is a little thicker than milk. Kefir contains good gut boosting bacteria that helps aid in lactose digestion. We think this might help balance the equation and make it easier for our dairy intolerant friends to enjoy this delicious treat.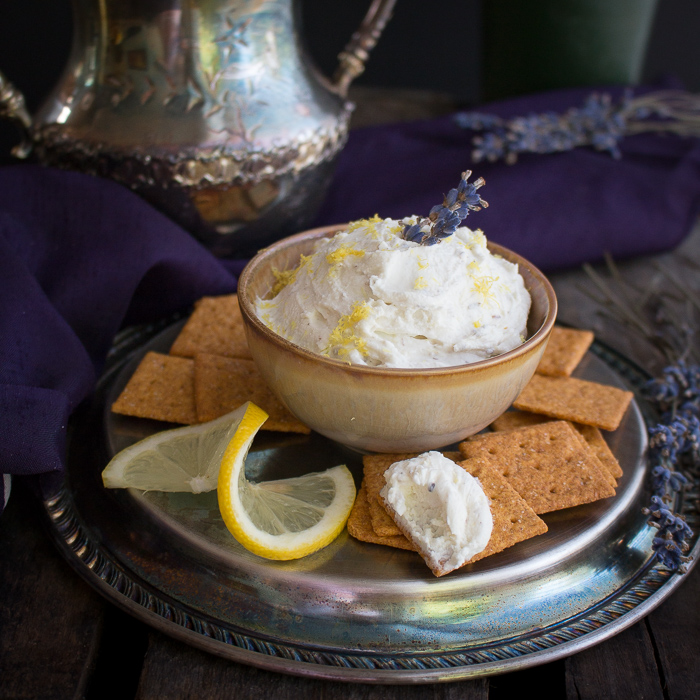 Dairy INTOLERANCE (gas, bloating, diarrhea) is different and is not to be confused with a Dairy ALLERGY (hives, wheezing, trouble breathing, unconsciousness). Dairy intolerance is just an inconvenience but a Dairy allergy can be a true medical emergency. Do NOT try this spread if you have a milk ALLERGY. If you have a dairy allergy, you may wish to try our Dairy - Free Bolognese Polenta Bites, Cherry Ginger Salsa, Stove Top Rosemary Party Nuts or our Thai Curry Turkey Tofu Meatballs.
Wishing everyone a super week.
Please give us a shout out on instagram @hwcmagazine if you try any of our recipes. Subscribe to our Newsletter and follow along on Facebook, You Tube, Instagram, and Pinterest for all the latest updates.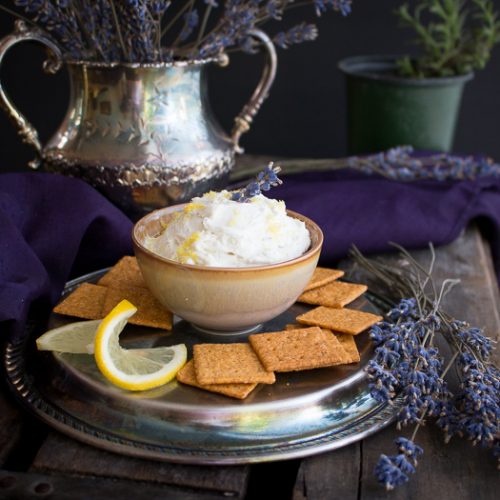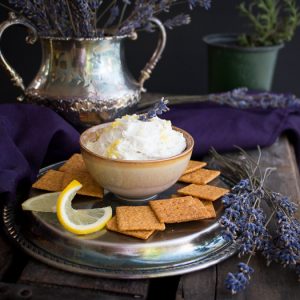 Lemon Lavender Goat Cheese Spread
Lemon Lavender Goat Cheese Spread is fast and easy crowd pleasing summer appetizer that is delicious dipped into veggies, crackers or toasted crostini.
Print
Pin
Rate
Ingredients
2

teaspoon

Culinary grade lavender


dried buds ground (mortar and pestle or spice grinder)

12

oz

Goat cheese


⅓

cup

Kefir


or just enough to be able to blend

1

tablespoon

Lemon zest


¼

teaspoon

Salt


or to taste

Fresh cut vegetables or Crackers to dip


Use veggies to keep low carb- perfect topping over cucumber slices

Sprigs of lavender and grated lemon zest.

(If desired, you can drizzle your lemon lavender Goat Cheese Spread with a little raw honey - skip if diabetic or on a low carb diet)
Instructions
In either a mortar and pestle or spice grinder, grind up culinary grade lavender into a powder. (Make sure you are using culinary grade lavender and not English Lavender.)

In a food processer, add goat cheese, ground lavender buds, kefir, lemon zest, salt and blend until smooth.

Serve with fresh cut vegetables if keeping low carb. Also delicious with crackers and toasted crostini.

If not on a low carb diet, Lemon Lavender Goat Cheese Spread is delicious with a little drizzle of raw honey before spreading on a cracker.
Notes
Delicious with fresh cut veggies. If you are not watching your carbs then try with grilled crostini or crackers.
Nutrition
Serving:
1
g
|
Calories:
96
kcal
|
Carbohydrates:
1
g
|
Protein:
7
g
|
Fat:
7
g
|
Saturated Fat:
5
g
|
Cholesterol:
17
mg
|
Sodium:
188
mg
|
Potassium:
9
mg
|
Fiber:
1
g
|
Sugar:
1
g
|
Vitamin A:
368
IU
|
Vitamin C:
1
mg
|
Calcium:
60
mg
|
Iron:
1
mg