Insanely Delicious Cinnamon Buns with swirls of soft dough oozing with buttery sugar and of course drizzled with nothing else but a rich and delicious cream cheese icing. (Shortcuts using refrigerated pizza or croissant dough)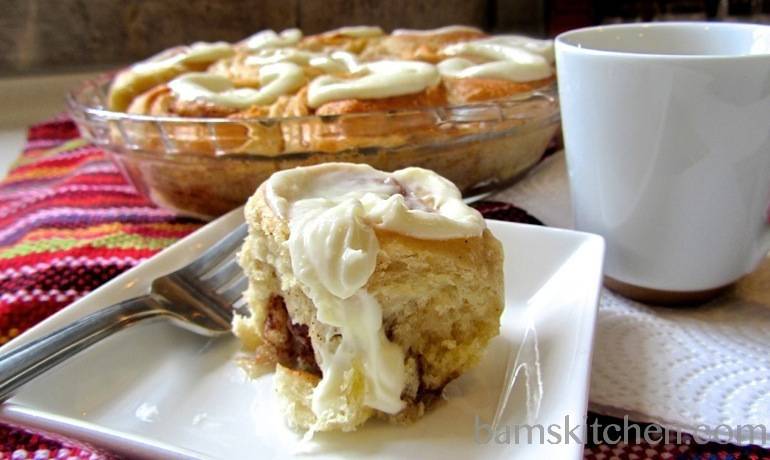 Close the front door and join me for a quick cuppa coffee or tea and some insanely delicious cinnamon buns with us!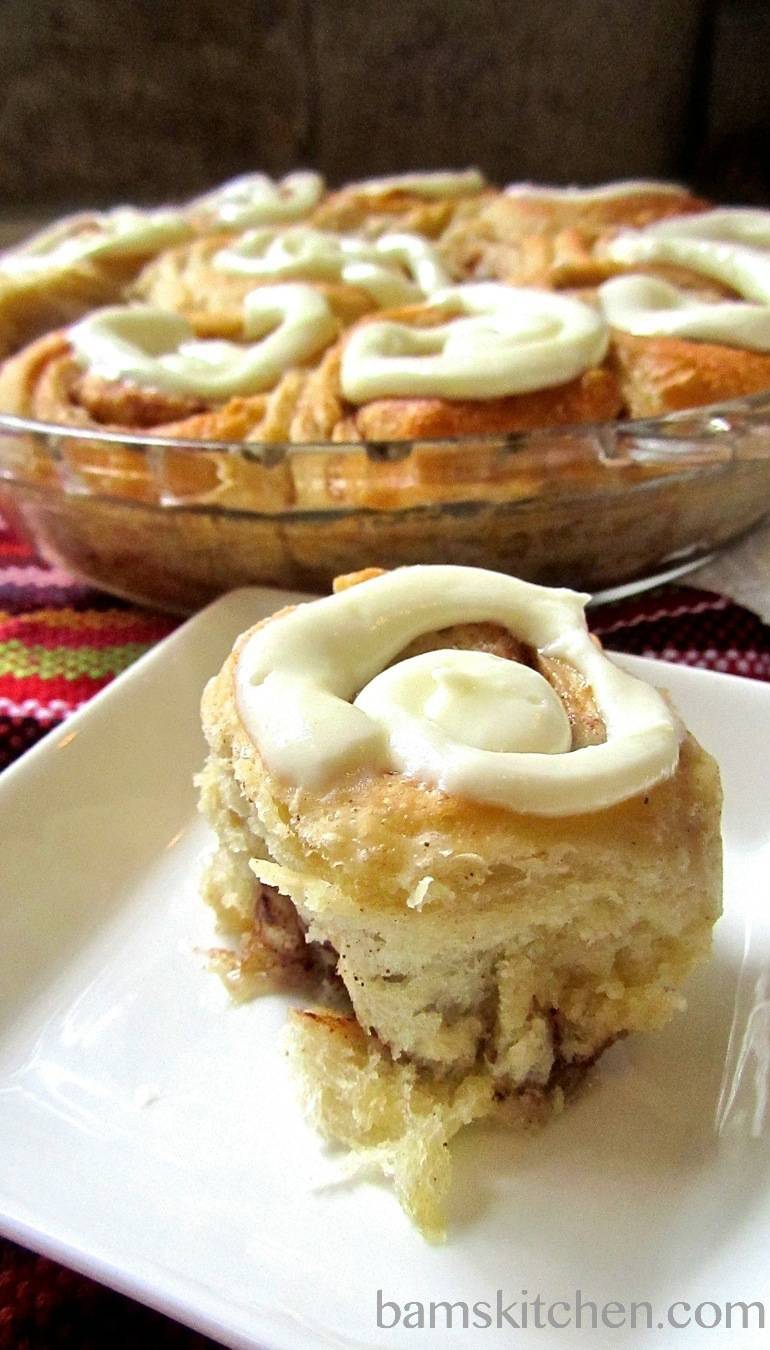 Oh my goodness these are good!
What do you with extra pizza dough? You can make bread sticks, pretzels, or just heck of a lot of pizza but why not think of breakfast in the morning. Yep, you heard me right I used pizza dough to make these delicious cinnamon buns.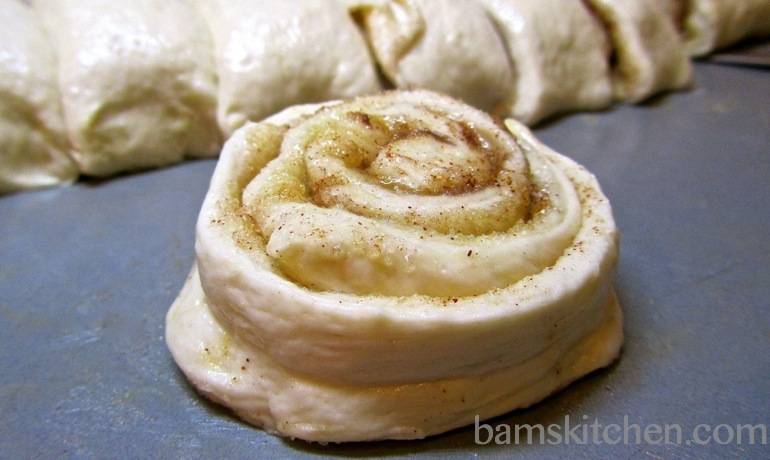 The boys and I made pizza for dinner last night. I started making Bobby Flay's pizza dough recipe when but then I remembered his recipe makes more of a pan style with thick crust. It a great little pizza dough recipe but I prefer more of a thin crust pizza. Waste not want not, so I decided to make breakfast instead.
I hopped on over to Paula Deen's recipe to check for ingredients and cooking times for cinnamon buns. I realized then, I was fresh out of brown sugar so I substituted granulated sugar and cut way down on the amount of sugar as I do not like my sweets too sweet.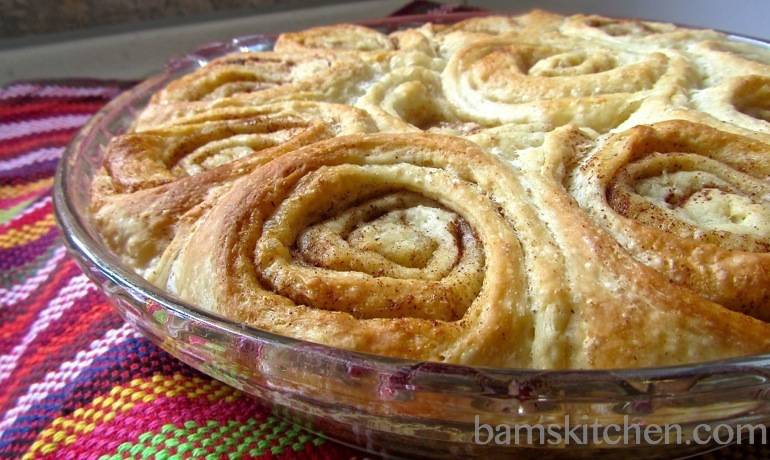 I pulled and rolled and spread my pizza dough on the bottom on a huge baking pan. I drizzled a little butter and sprinkled the sugar and cinnamon and rolled into a tight little roll. I cut the roll just like I do sushi. I first cut it in the middle and then cut each piece in half and then each half in a half again and then following by cutting each half into 4 pieces.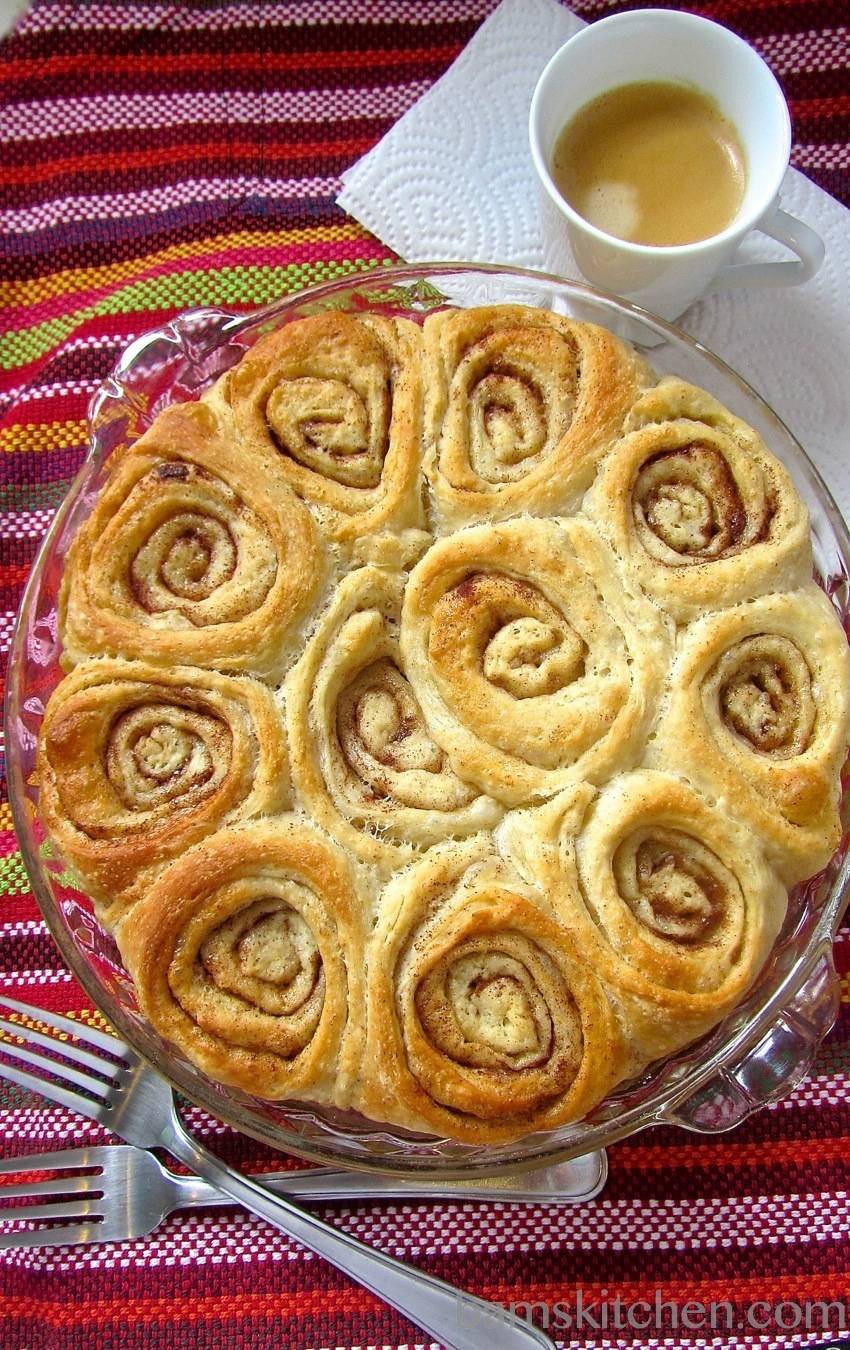 I looked up at the clock. I had started making pizzas for my boys around 6pm and the last came out of the oven at around 8:30pm and there was no way I was going to be baking these delicious cinnamon buns late into the evening so opted to just refrigerate my cinnamon rolls over night. You can just halt the rising process by putting the pre-made cinnamon rolls in the refrigerator overnight with plastic wrap. This is perfect if you are planning on hosting a gathering in the morning. You can do all the prep work the day ahead and just at the last-minute fill up your house with the sweet and buttery smell of cinnamon rolls baking in your oven just before your guests arrive.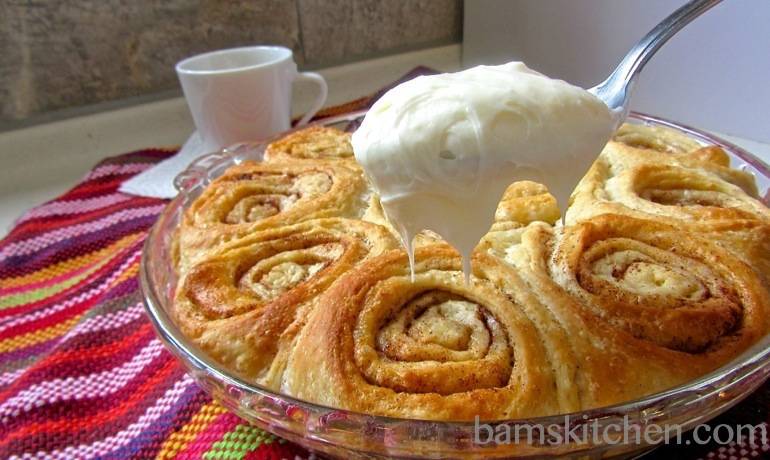 The next day, I grabbed a few things I needed for the market and can you believe they were all out of icing sugar. Plan B, I had a can of white frosting at home that I was saving for a special occasion as this is a hard to find item in Hong Kong. However, I could not think of a better occasion then the celebration of enjoying hot out of the oven insanley delicious cinnamon buns. I whipped in some cream cheese and vanilla and a little cream and it tasted perfect, maybe even better than the ones made with icing sugar.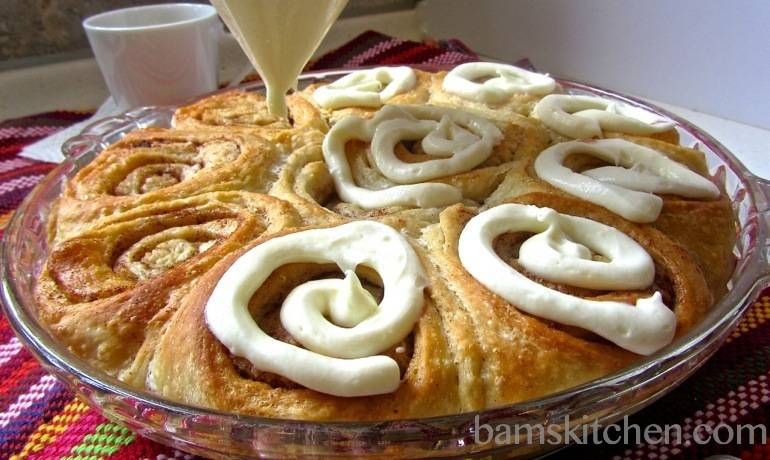 Then this morning, I took the cinnamon rolls out of the refrigerator, removed the plastic wrap and let the cinnamon rolls come to room temperature for about an hour.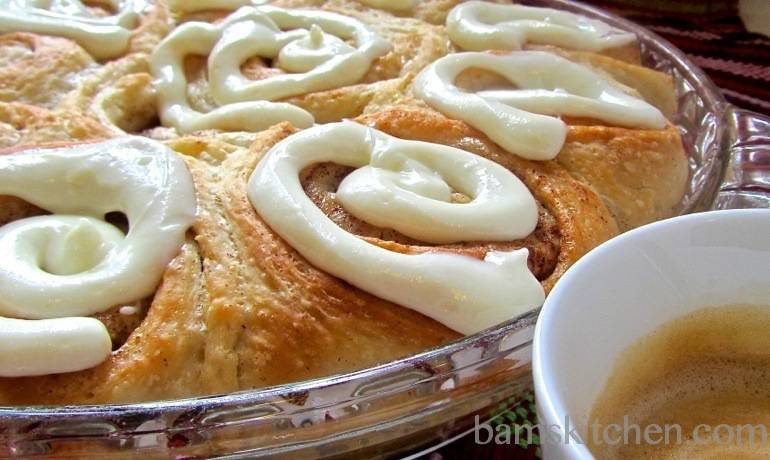 I put my delcious buns in the oven for about 35 minutes until they were golden brown and while they were still warm slathered the rich and delicious cream cheese icing on top.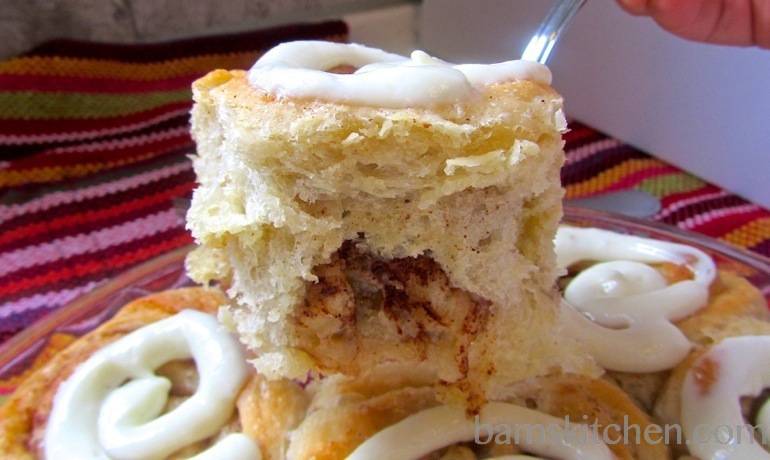 Let me tell you these were the best Bobby Flay pizza failure, don't have all of Paula Deen's ingredients problem, don't have enough time let them rest in the refrigerator overnight insanely delicious cinnamon buns I ever tasted.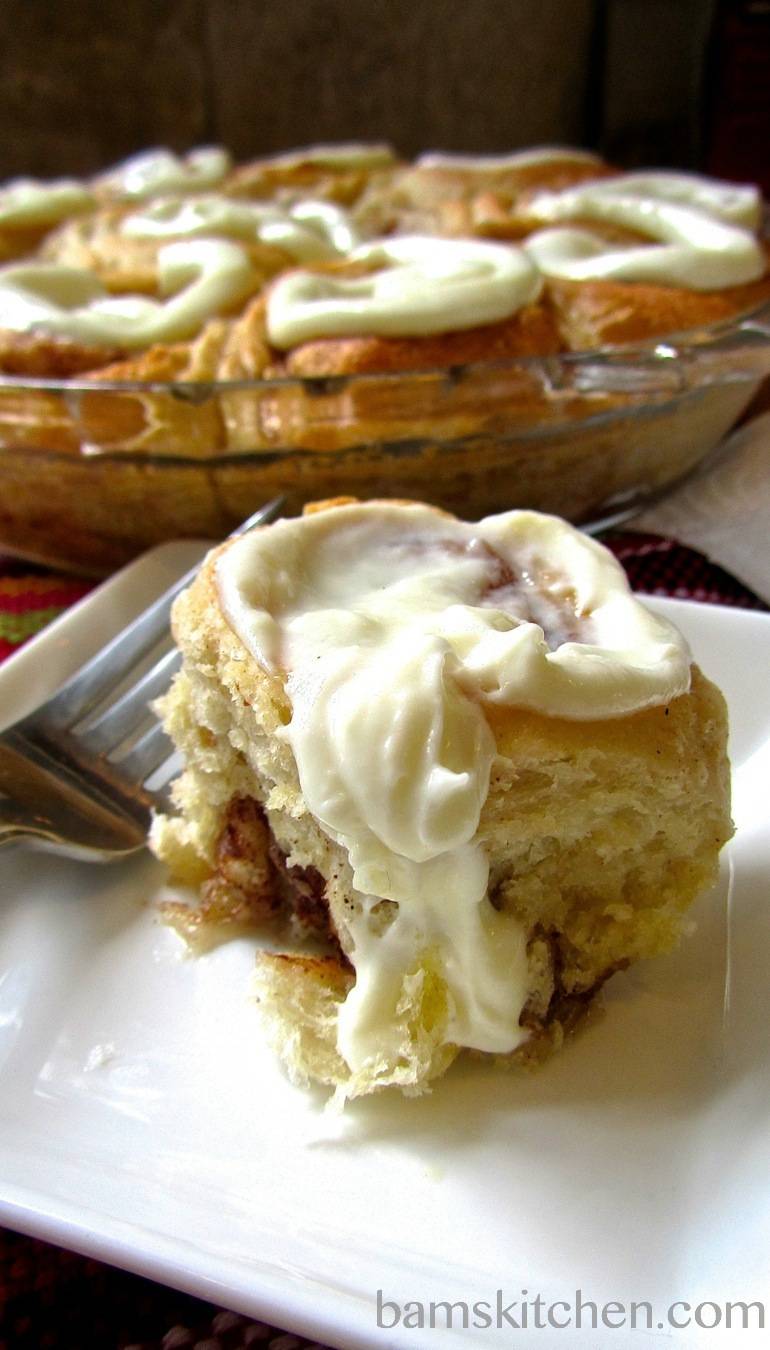 They were chewy, buttery, delicious and love, love, love that cream cheese icing. You may not be able to stop at one and that is a good thing as this recipe makes 18 insanely delicious cinnamon buns. I made a pie tin and another small pan full and they are going fast. The word is out. I have the kettle going, so please come on over and enjoy some cinnamon buns with me. Please rescue me before I finish off that pan.
More Delicious Breakfast and Brunch Recipe Treats
Blackberry Lemon Drop Biscuits
Citrus Crepes with Chocolate Orange Ganache
Hungry For More? Subscribe to our Newsletter and follow along on Facebook, You Tube, Instagram, and Pinterest for all the latest updates.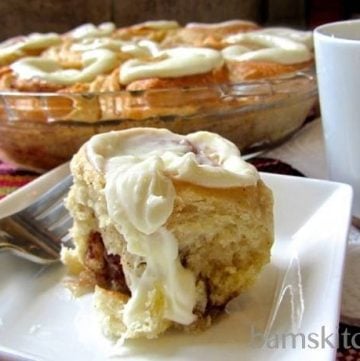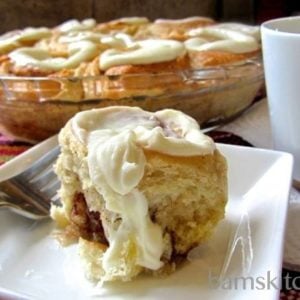 Insanely Delicious Cinnamon Buns
Insanely delicious cinnamon buns with swirls of soft dough oozing with buttery sugar and of course drizzled with nothing else but a rich and delicious cream cheese icing.
Print
Pin
Rate
Ingredients
Cinnamon Buns
8

oz

refrigerated croissant rolls

1 can or refrigerated pizza dough

¼

cup

butter

melted and a little extra to butter the baking pans


5

tablespoon

sugar


(can use brown sugar or sugar alternatives)

2

teaspoon

cinnamon -

Cream Cheese Icing
½

cup

Whipped Vanilla Frosting


canned (can use any brand vanilla frosting or buttercream)

2.5

oz

cream cheese


1

teaspoon

vanilla


3

teaspoon

whipping cream

(can also use milk alternatives like almond milk, etc)
Instructions
Preheat the oven to 350 degrees F

Remove the croissant dough from the can. Press the edges together so that it forms one large rectangle. You can also use refrigerated pizza dough to make these cinnamon buns,


Brush the melted butter over the entire surface of the croissant dough.


Sprinkle the sugar and cinnamon over the buttered croissant dough. (Feel free to use brown sugar or sugar substitute instead) If you like nuts or raisins or any other additions sprinkle it on the dough evenly.


Roll the dough starting at the long side (the 18 inch side) and roll tightly just like you would a sushi roll. If using parchment paper this may assist you to get a tighter roll as you can use this to push and tighten along the way. Do not leave any gaps.

Cut up the cinnamon roll just like you would a sushi roll. First cut the roll in half. Then cut the halves in half and again and then cut those halves into 4 slices so you end up with a total of 8 slices. The goal is to end up with uniform slices so it cooks evenly.


Butter the bottom of your baking pans with a little butter. Place your cut cinnamon buns in the pan and tightly pack, flat side down so you can see the pretty swirls of cinnamon. A round pie tin works well for this. However, this recipe makes so much that I was able to fill one round 9 inch pie pan

Enjoy Tomorrow -If you want to enjoy your delicious cinnamon buns in the morning, cover your pie tins with a little plastic wrap to seal and place in the refrigerator overnight to rest. In the am, take the cinnamon buns out of the refrigerator, remove the plastic wrap and place on the counter for about an hour to rest. If you want to enjoy your cinnamon buns today then skip this step and proceed to step 9.

Bake cinnamon buns for about 20 minutes or until the tops are golden brown and your house smells amazing.


While your cinnamon buns are baking, make the cream cheese icing. In a mixing bowl softened the cream cheese and then add the Pillsberry whipped frosting, vanilla and cream. Mix until well blended. Depending of what type of frosting you are using, you may need to increase the amount of cream to thin the icing.

While your cinnamon buns are still hot from the oven, glaze with the decadent cream cheese frosting.

Get you kettle on and serve these Insanely Delicious Cinnamon Buns with your favorite cup of coffee, tea or hot cocoa. Enjoy!
Notes
Refrigerator Croissant rolls make for a fluffy bun but you can also use refrigerated pizza dough as well.
Nutrition
Serving:
1
g
|
Calories:
293
kcal
|
Carbohydrates:
31
g
|
Protein:
3
g
|
Fat:
18
g
|
Saturated Fat:
10
g
|
Cholesterol:
47
mg
|
Sodium:
238
mg
|
Potassium:
50
mg
|
Fiber:
1
g
|
Sugar:
20
g
|
Vitamin A:
535
IU
|
Calcium:
26
mg
|
Iron:
1
mg