Grilled Chili Lime Okra are crispy, smokey and with just a touch of lime and chilis are the worlds simplest recipe for green veggies on a stick.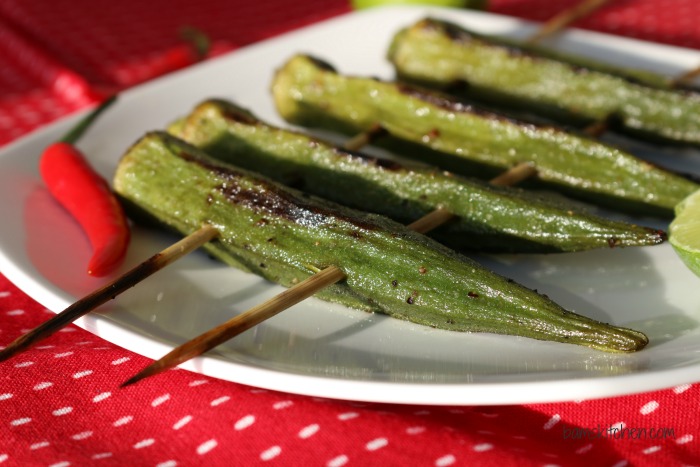 I was looking for a green vegetable to grill with my Japanese Yakitori. Yakitori in Japanese literally means to grill chicken but the term can also mean to grill anything on sticks in general. In the market, I grabbed some mushrooms, Japanese long onions (negi) and some peppers. My husband who was doing a little shopping with me chose a bottle of chilled sake and a couple of packages of okra from the market. I shrugged my shoulders at first to okra? However, I said what the heck lets give it a try.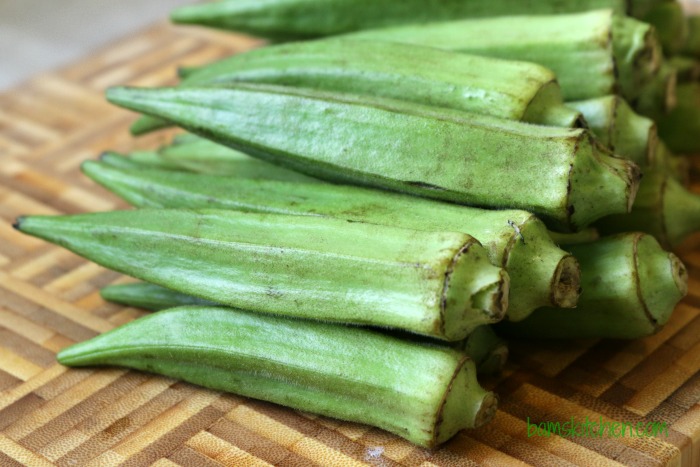 I don't know about you but the only experience I have had with okra is the slimy ones in a pot of jambalaya or in a stew. I quite like the taste of okra but I do not like whole texture issue as it interferes with my dining experience.
Why Grilled Chili Lime Okra is crispier than okra in a stew
Okay, are you ready? Okra is a mucilaginous vegetable. That means it contains this thick gooey substance. Totally appetizing, right? Wrong! This is exactly why most people do not like to eat okra. However, there is a way to prevent this vegetable from creating this slimy texture by the way you prepare your okra.
I was so pleasantly surprised to find out that the grilling the okra is the perfect solution to keeping the okra crisp and firm and delicious. No slime! (bonus) In addition, if you add an acid to the recipe this also minimizes the slime. We added lime juice. This recipe is super easy and just perfect the perfect way to celebrate the grilling season. If you do not have a BBQ grill then a grill pan also works perfectly.
Today in Hong Kong, might be one of those days that you use a grill pan or stir fry your okra instead of grilling. Super Typhoon Rammasun is passing by and sharing a little bit of wind and rain in Hong Kong. Praying for all of those that have lost their lives and their families in the Philippines and praying that it slows down before it makes landfall on to the Hainan Island and China.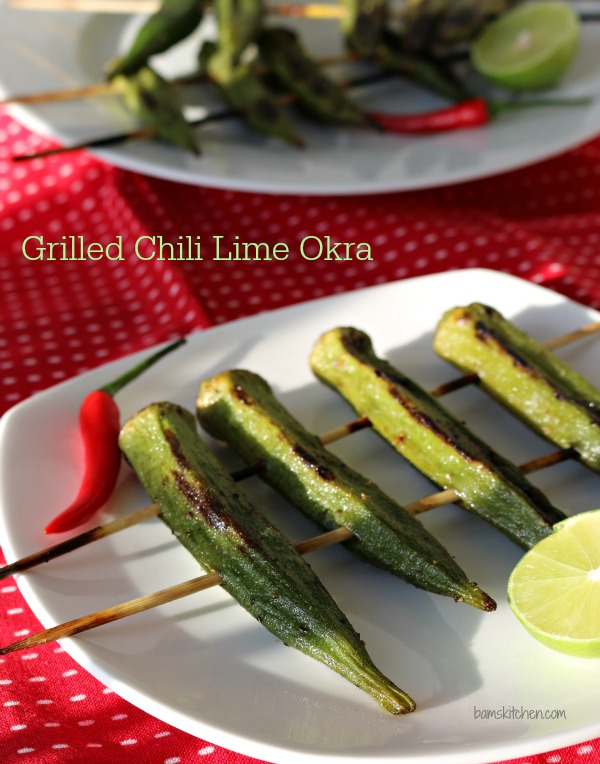 Grilling things on sticks is something that almost every country enjoys. We have a gas grill outside on our very little balcony where I really enjoy taking in our million dollar views.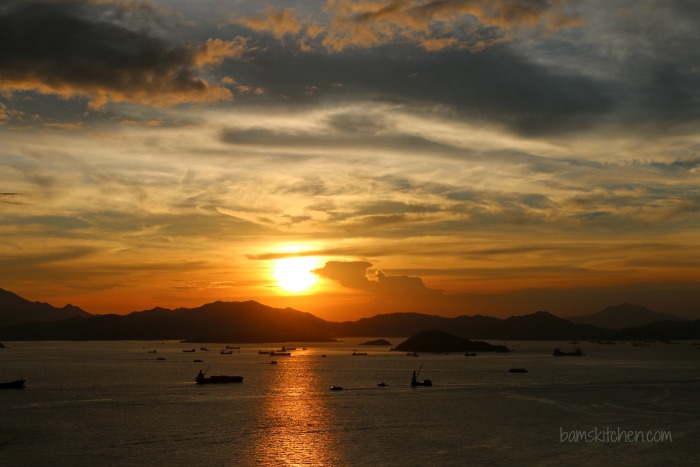 Every day it is really a new stunning scenery. Dinner time usually means I am cooking out just as the sun is setting. With the camera in one hand and a pair of tongs in the other I am a very happy girl.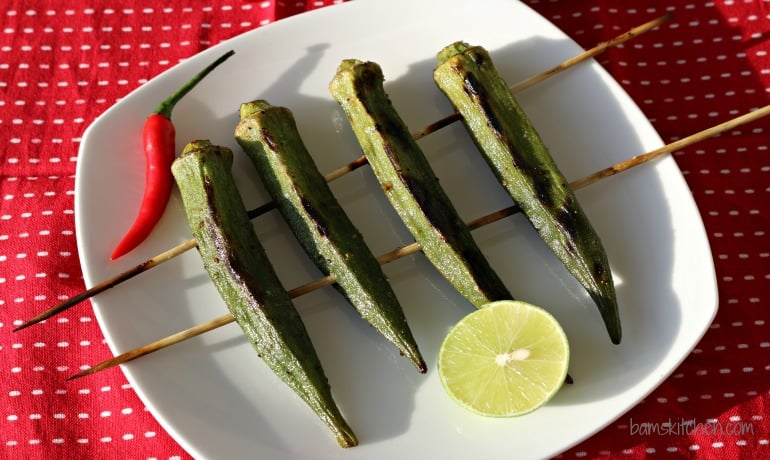 There is something very interesting that happens to vegetables as they taste even sweeter and they take on a little smokey flavour from the BBQ.
More Delicious BBQ and Grilling Recipes
Cajun BBQ Tower of Love - Cajun grilled shrimp stacked with a corn salsa on top of a moist and delicious gluten-free jalapeno corn bread.
Fig and Caramelized Onion BBQ Ribs- finger licking good ribs that take advantage of the sweetness from natural figs and onions
Emerald Chicken Kabobs- Parsley is such an under used fresh herb but it really makes this chicken kabob dish delicious, especially if you marinade the night before.
Peking Glazed Beer Butt Chicken- With a beer in one hand and basting brush in the other, this is a perfect way to enjoy the evening with family and friends.
Best Grilled Asparagus the perfect easy grilling side dish.
I hope you enjoy this fast and easy Grilled Chili Lime Okra as much as our family did. My boys love their food spicy so I added some Thai bird chilis for them, but it is just as delicious without for those that like their food mild like me.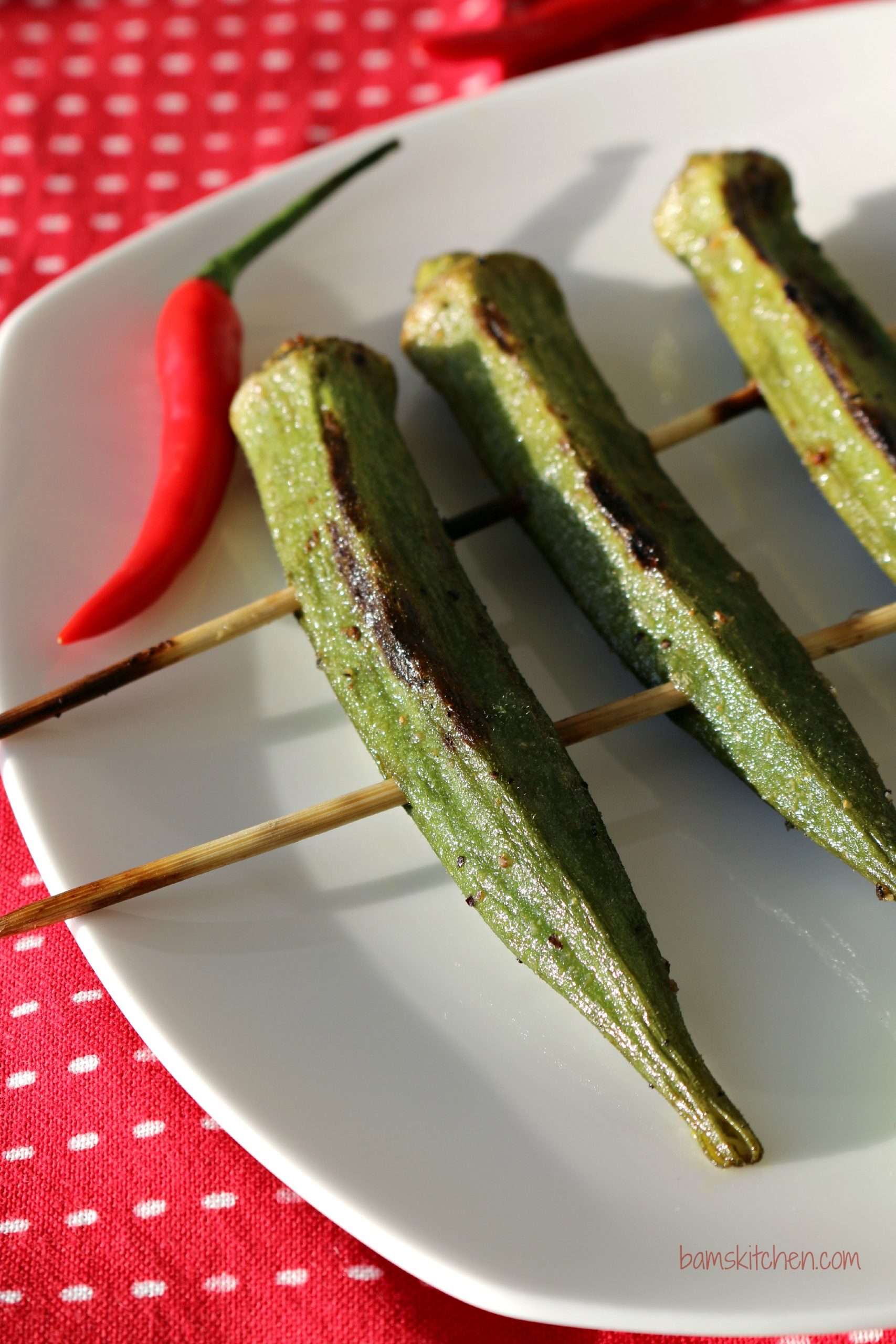 Happy Grilling!
Hungry For More? Subscribe to our Newsletter and follow along on Facebook, You Tube, Instagram, and Pinterest for all the latest updates.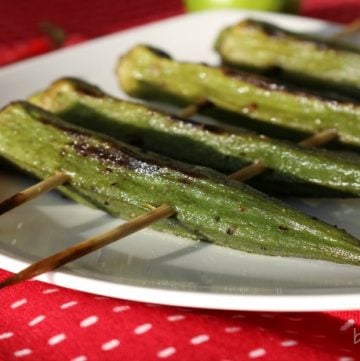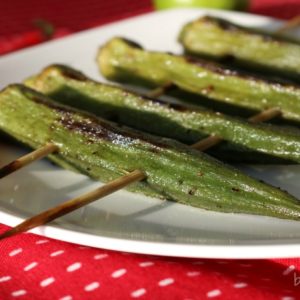 Grilled Chili Lime Okra
Grilled Chili Lime Okra are crispy, smokey and with just a touch of lime and chilis are the worlds simplest recipe for green veggies on a stick.
Print
Pin
Rate
Ingredients
8

wooden skewers


(pre-soaked in water for at least 30 minutes to prevent burning)

12

okra


or about 4 pieces per person

2

tablespoon

olive oil


1

clove

garlic


finely chopped (or ½ teaspoon garlic powder)

salt and pepper


to taste

½

teaspoon

chili powder


or a fresh chili chopped

2

tablespoon

lime juice
Instructions
Pre-soak wooden skewers for at about 30 minutes to prevent burning on the grill. Preheat the BBQ grill.

In a sealable baggie, mix together okra, olive oil, garlic, salt and pepper, chili powder or chili peppers (optional) and mix well.


Place the okra on the wooden skewer. I used two skewers side by side and threaded each okra on in two spots to give it more stability when turning on the grill.

Grill okra for about 2-3 minutes on each side or just until some grill marks are showing on the okra. Remove from Grill. Squeeze fresh lime juice on top of the grilled okra.

Enjoy!
Notes
Do not overcook your okra. The goal is just until you can pierce your knife into the edge of it. It is nice when they are slightly crisp but have taken on the smokey flavor of the grill.
We usually use garlic powder and chili powder, instead of the fresh as it makes it easy for prep and cleaning.
If you have a vegetable grilling grate, then there is no need for the skewers, you can grill your okra directly in the grill in the vegetable grilling grate.
Nutrition
Serving:
1
g
|
Calories:
77
kcal
|
Carbohydrates:
4
g
|
Protein:
1
g
|
Fat:
7
g
|
Saturated Fat:
1
g
|
Sodium:
7
mg
|
Potassium:
108
mg
|
Fiber:
1
g
|
Sugar:
1
g
|
Vitamin A:
332
IU
|
Vitamin C:
11
mg
|
Calcium:
30
mg
|
Iron:
1
mg