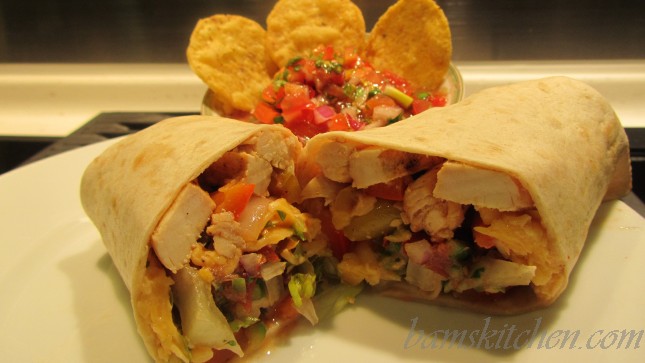 Grilled Chicken Fajitas and Cozumel Salsa. Ole!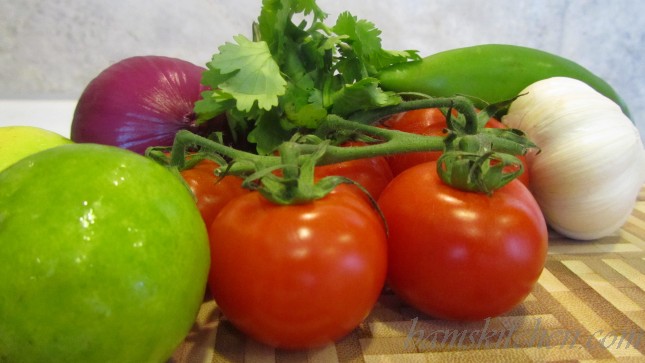 Fajitas are both part of traditional Mexican cuisine and TEX MEX cuisine. This dish is spicy, colorful and comes sizzling to your table on an iron skillet. In addition, because you assemble your own wraps, Grilled Chicken Fajitas are a fun weekend treat for all.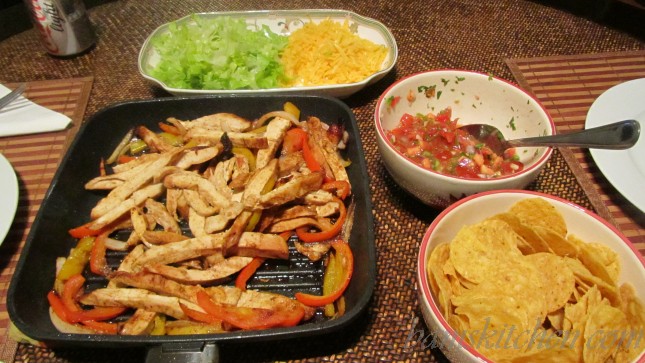 Traditionally "Fajitas" started out as primarily made from skirt steak (very inexpensive parts of the beef) to serve to the hired help on the farms. However, this tasty treat finally expanded out to be served with better cuts of steak, chicken and even shrimp.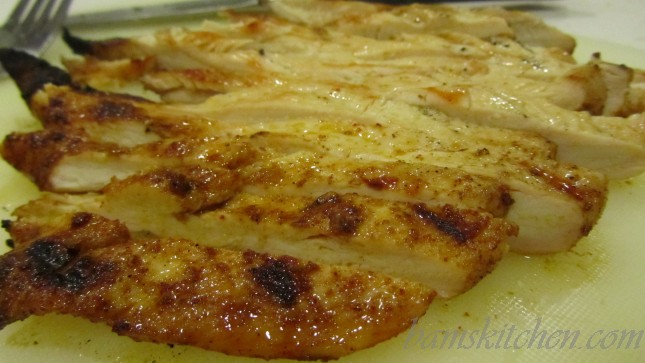 Grilled meats (seafood), peppers and onions on flour tortillas are very delicious but the side additions of cheese, lettuce, guacamole, sour cream and of course "Cozumel Salsa" makes this dish very festive.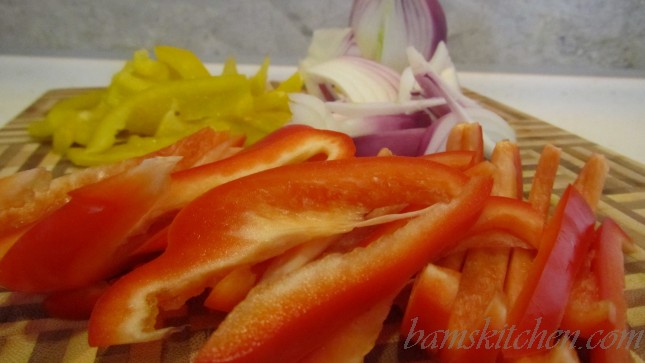 Cozumel Salsa is a recipe that I came upon by taste testing many homemade chips with their fresh salsa and cervezas (beers) at many of restaurant establishments in Cozumel, Mexico. I had to make certain that I had the correct ingredients and also right balance in the dish, so of course there was lots of taste testing on my part. After a week of analysis, we found that this Cozumel Salsa is exactly the same in every restaurant and we nicknamed this Cozumel Salsa (ACME Salsa). It is fresh and delicious and now with all of those garden fresh heirloom tomatoes available- this is the perfect summer dish.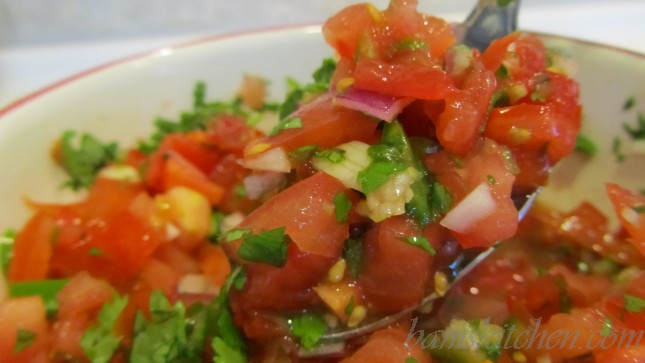 Do you have the blender ready? Get those margaritas flowing so we can make some delicious Grilled Chicken Fajitas and Cozumel Salsa together.
Cozumel Salsa: (Serves 4 adults or 2 hungry teenagers as a snack)
Ingredients:
3 heirloom tomatoes chopped finely (or whatever tomatoes you like and are available)
1 clove garlic chopped finely
¼ of small red onion chopped finely
½ cup chopped cilantro
Finley chopped jalapeno pepper to taste
salt and pepper to taste
juice of one lime
fried tortilla chips to dip
Step 1: Chop all ingredients finely and put in bowl and mix and then add salt and pepper, lime juice to taste. Adjust amount of jalapeno for your liking. (Mild, medium or Hot)
Step 3: Enjoy with Tortilla Chips and Fajitas- recipe to follow
Grilled Chicken Fajitas: (Serves 4 adults or 2 hungry teenagers)
Ingredients:
1 pound (500 grams) chicken breasts (steak or shrimp)
2 cups assorted colored peppers (capsicum) sliced such as red, yellow, orange or green
1 small purple onion sliced
juice of 1 lime
¼ cup olive oil
2 garlic cloves chopped (1 teaspoon garlic powder)
1 teaspoon cumin powder
1 teaspoon chili powder
⅛ teaspoon chili flakes or per taste (optional)
salt and pepper to taste
8 flour tortillas (corn or gluten free if you need)
Step 1: Place the whole chicken breasts on your cutting board and cut length wise in half so that it is thinner and/or place chicken breasts in sealable bag and beat flat.
Step 2: Place chicken breast on sealable bag and place in olive oil, chopped garlic, cumin powder, chili powder, salt and pepper and chili flakes and marinate for about an hour.
Step 3: Cut peppers and onion in lengthwise strips and set aside.
Step 4: Preheat grill and cook chicken about 3-4 minutes on each side until juices run clear and take off grill.
Step 5: Cut Chicken in length wide pieces.
Step 5: In a grill pan, place about one tablespoon olive oil and add onions, green peppers and salt and pepper to taste and grill until vegetables for about 2-3 minutes, add sliced chicken to grill pan and squeeze fresh lime over dish.
Step 6: Bring the sizzling Grilled Chicken Fajitas to the table and set on hot pad and serve on side with tortillas, cheese, chopped lettuce, guacamole, sour cream and the zesty fresh homemade "Cozumel Salsa". OLE! Enjoy!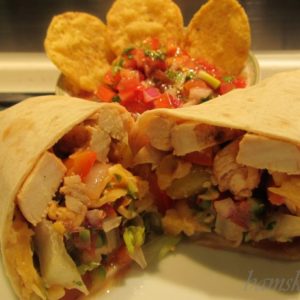 Ingredients
heirloom tomatoes -

garlic -

jalapeno -

onion -

lime juice -

corn tortilla chips -

chicken breasts -

cumin -

red bell pepper -

yellow bell pepper -

green bell peppers -

chili powder -

tortillas soft (corn, flour, gluten free) -
Nutrition