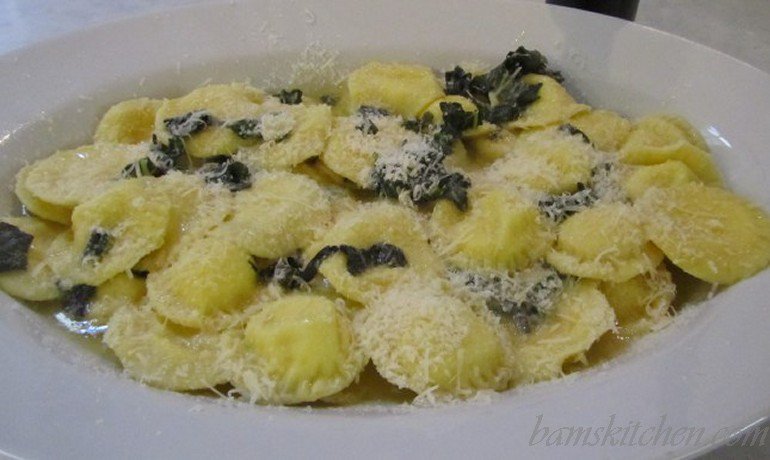 Can you hear the laughter? Can you smell the sage butter sauce? Can you see my dark eyes in the cloud of flour? Can you hear the glasses chiming together to toast a delicious meal?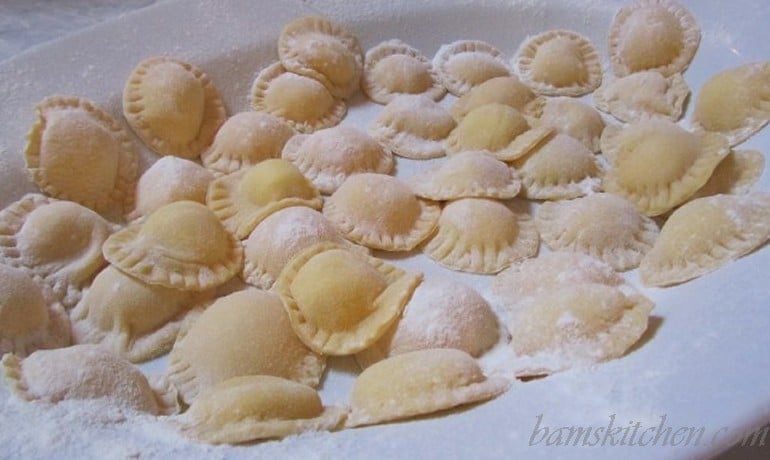 This week I had the privilege to participate in cooking classes at "The Food and Wine Academy of Florence". I met two amazing Italian chefs; Andrea Orlandini and Giuseppe Mazzocchi. We started out our foodie journey with an informative walk and tour through the Italian markets and then settled back to a very convenient location in the heart of Florence to start making some delicious Tuscan cuisine.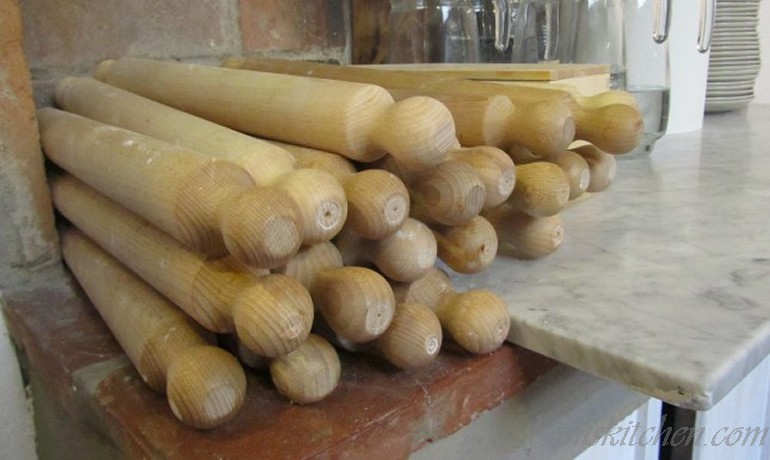 In the past I had always avoided making my own pasta from scratch as I do not own a pasta making machine. However during my cooking lesson, I learned that a pasta machine is not required to make good pasta just a lot of passion, high quality ingredients and some major muscle power.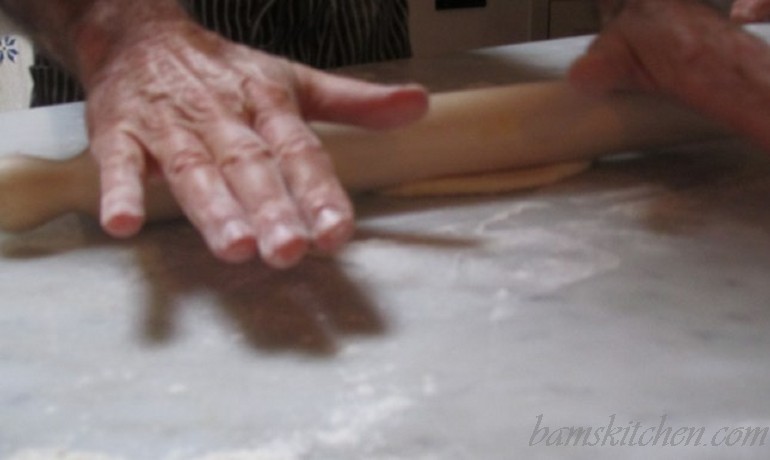 Four little ingredients is all that is required to make good pasta (eggs, flour, salt and olive oil) but the type and quality of ingredients is very important. When walking through the markets, I noticed the size of their farm fresh eggs; they are gigantic compared to Asian or US standards. One large Italian fresh cage free egg is equivalent to about 1.5 large US or Japan fresh eggs. This is important to note as if you are not living in Italy with "ultra sized jumbo eggs" you will need to add more eggs to your recipe to have the proper ratio or egg to flour.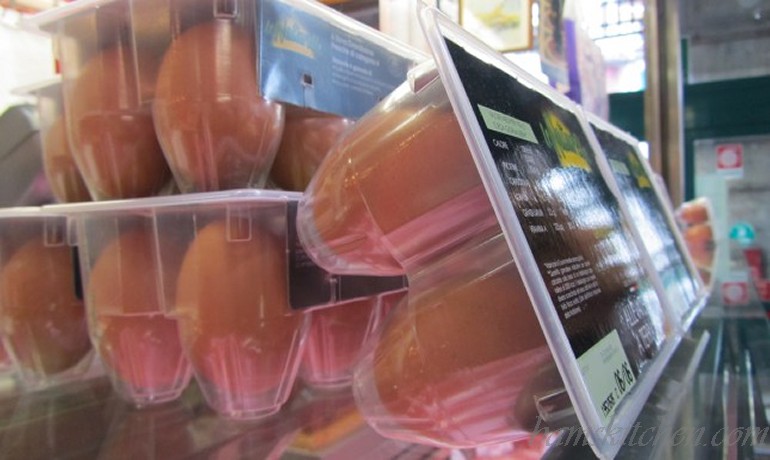 The type of flour that is to be used to make Italian pasta is "00" soft wheat flour. In Italy, flour is classified either as 1, 0, or 00, and refers to how finely ground the flour is and how much of the bran and germ have been removed. Doppio zero is the most highly refined and is talcum-powder soft.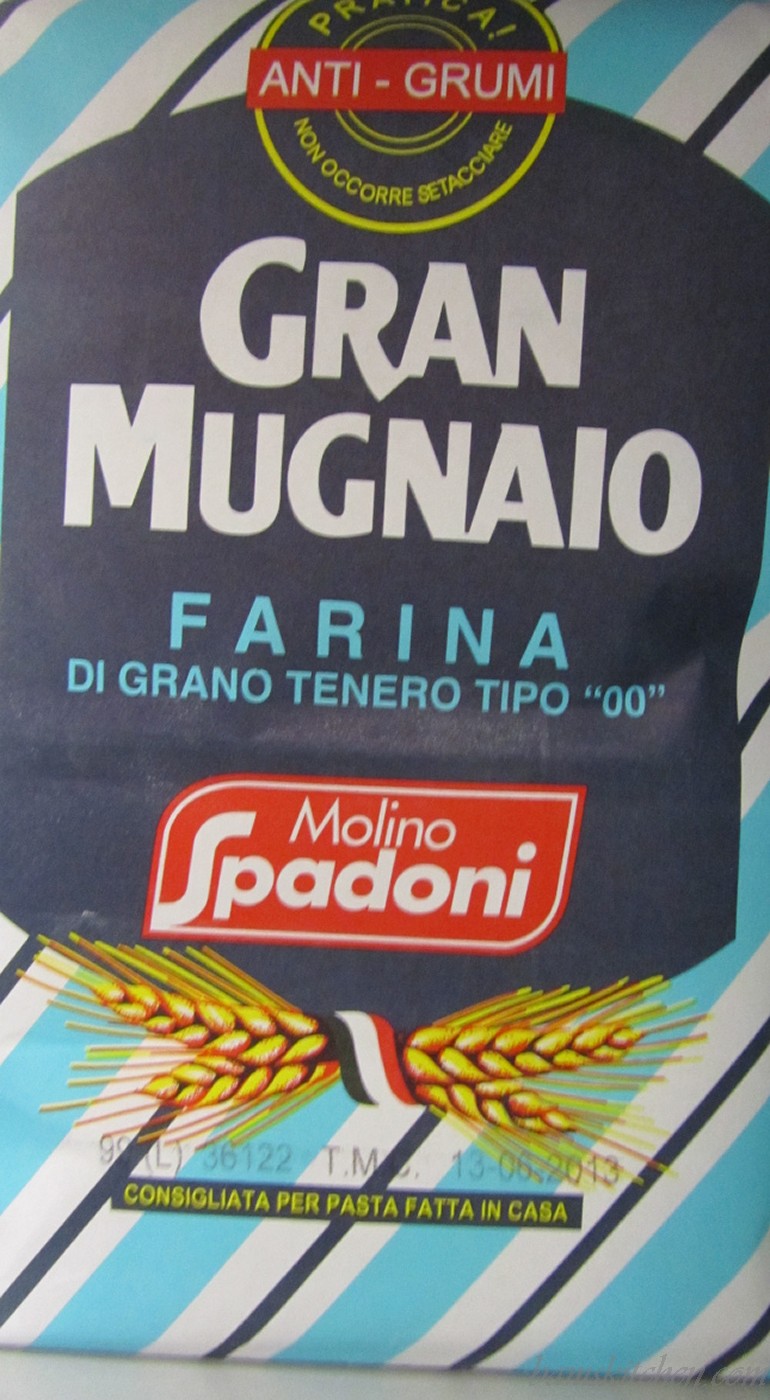 The other big difference between "00" flour and all-purpose flour is how the gluten in each flour behaves. The gluten from durum wheat flour tends to be strong but not very elastic, while the gluten in "00" flour is both strong and elastic. This means that with "00" flour we'll get a nice al dente bite to your pasta. I also did a little research on the cost of "00" flour and it is more costly than that of all-purpose flour but it really does make lovely pasta.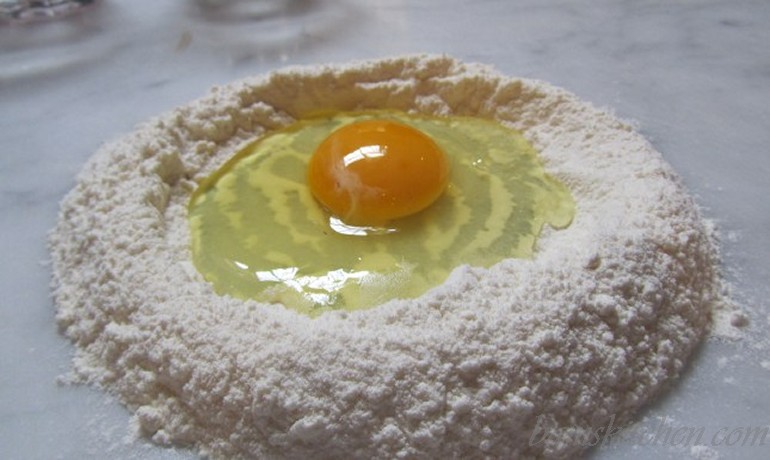 The Food and Wine Academy of Florence is a great place to gather with friends, family or just by yourself to meet some new friends. Our chefs were very informative and detailed oriented. If you are looking for a fun and relaxing day in the heart of the Florence , please visit http://www.florencecookingclasses.com/ for further details. The cooking class was held just a stone's throw away from the beautiful Doumo in Florence.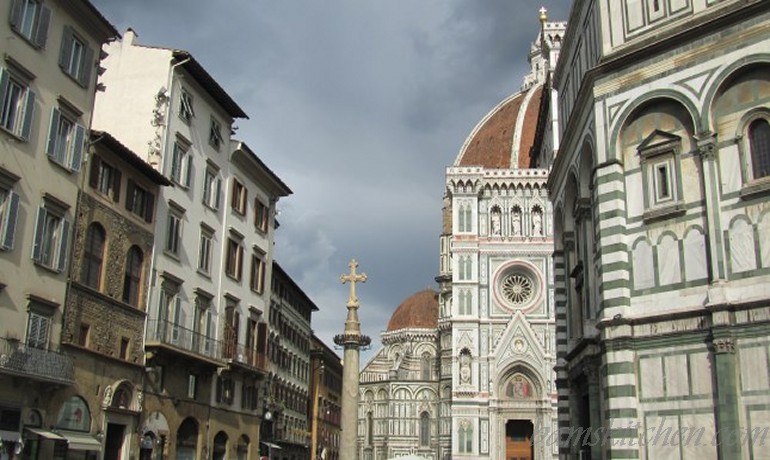 I can share with you the basics techniques of making homemade pasta, but to get the full effect of the knowledge shared, you will need to try it yourself and practice it many times over or book yourself a session with the experts at the Food and Wine Academy of Florence. In order to really understand the process you need to feel the dough for yourself. Making pasta is like an art.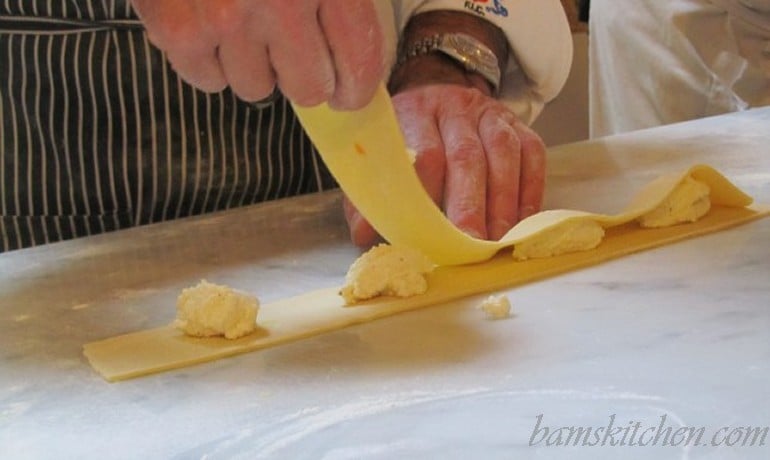 There are many tricks to getting the dough to be perfectly springy and not too hard or too wet. If you add too much flour then your dough will be too hard and it cannot be recovered. If, your dough is too wet then your pasta will be too sticky and too chewy. Your dough consistency has to fall somewhere in between so it springs back perfectly.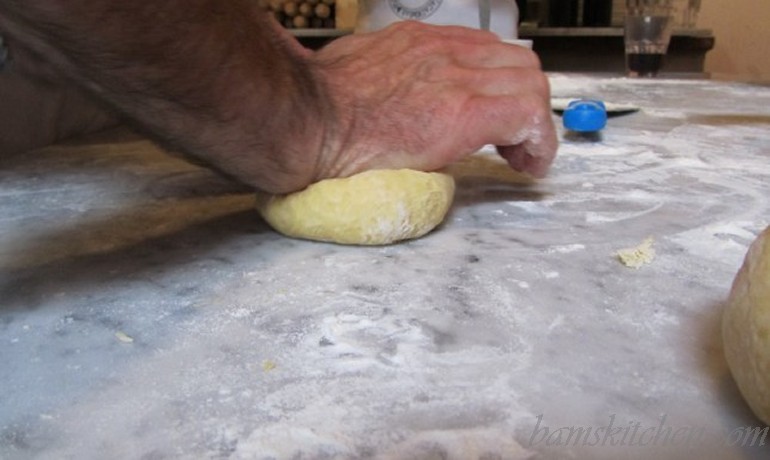 I think making homemade pasta would be a very fun activity to do with our kids during this summer holiday. Don your aprons, pour yourself a glass of wine and let's get cooking....
Florence's Homemade Pasta Ravioli in Sage Butter Sauce
Recipe adapted from Food and Wine Academy Florence
Serve 6 people or 2 hungry teenage boys
Ingredients for Homemade Pasta
300 grams (2 ¼ cups) "00" soft wheat flour (extra flour on the side for rolling out the dough)
3 Fresh Italian jumbo eggs (or 5 large US/Asian sized large eggs)
2 tablespoons of olive oil
1 teaspoon of salt
plastic wrap
Ingredients for Ravioli Stuffing
6 tablespoons of ricotta cheese
6 tablespoons of grated parmesan cheese
2 fresh Italian jumbo sized egg yolks or 3 large US/Asian sized egg yolks
sea salt and fresh cracked pepper to taste
Ingredients for Butter and Sage Sauce
250 grams of unsalted butter
6 fresh chopped sage leaves
6 tablespoons of grated parmesan cheese
fresh cracked pepper
Directions for making the Ravioli Stuffing
Step 1: In a medium bowl add ricotta cheese, grated parmesan cheese, eggs and salt and pepper to taste. Mix well with a spoon and set aside.
Directions for making the Sage Butter Sauce
Step 1: In a small pot place butter and sage and heat up gently over a medium heat.
Step 2: Once the butter is melted, serve the sauce over the ravioli with fresh cracked pepper and parmesan cheese.
Directions for making the Homemade Pasta Ravioli
Step 1: Pour the flour on a large clean marble/ wooden work surface. (needs to be at least 60cm x 60cm)
Step 2: Make a well in the middle of the flour and add eggs, salt and olive oil. With a fork, lightly whisk the eggs while gathering flour from the walls of the well. when most of the ingredients are incorporated continue mixing with your hands.
Step 3: Knead for 10 minutes and if your dough is too soft then add a little flour just a bit of a time so the texture is perfectly springy. Do not add too much flour or your end product will be too hard. Your end products should be smooth and springs back when pushed with your fingers.
Step 4: Wrap dough tightly in plastic wrap and let rest at room temperature for about 15 minutes.
Step 5: Place some flour on your work surface and on your rolling-pin.
Step 6: Make the pasta ball in a circular flat dish by using your hands. Place the flat pasta on your floured platform and roll out evenly until about 3mm thick.
Step 7: Find a cup/container/cookie cutter about 4cm wide. Use this 4cm cup as a guide. Fold the pasta sheet over once so that the 4cm cup guide fits the width. Create 2 strips long at least 4cm wide. Continue cutting the rest of the pasta.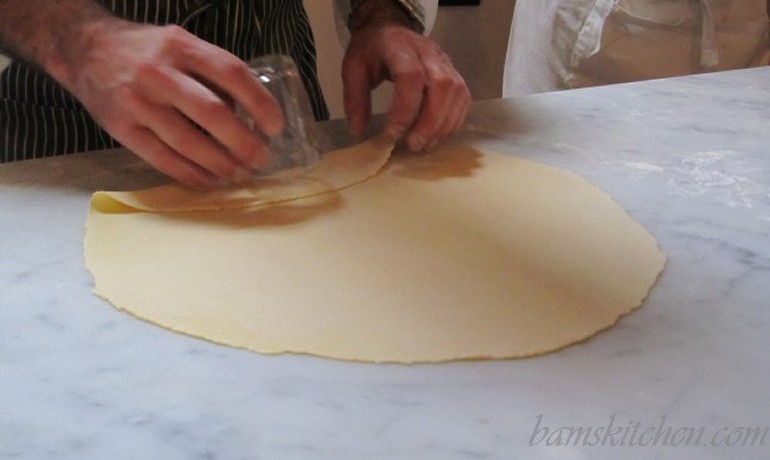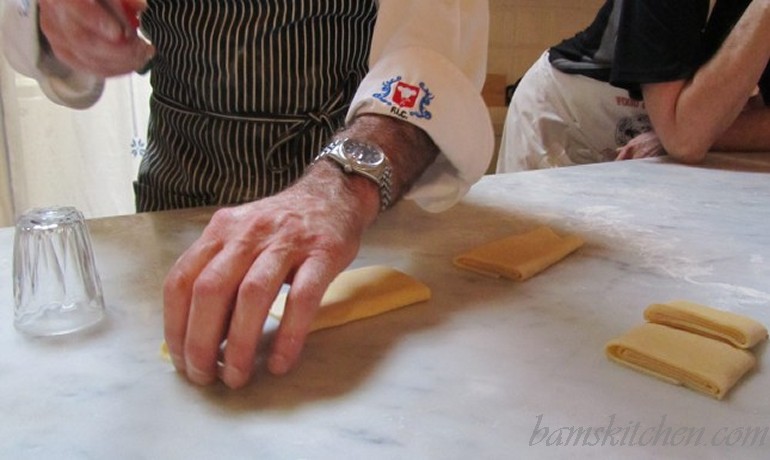 Step 8: Place a small spoonful of ricotta stuffing on the surface and leave about 2cm without stuffing in between and continue like that for the remainder of the strip of pasta.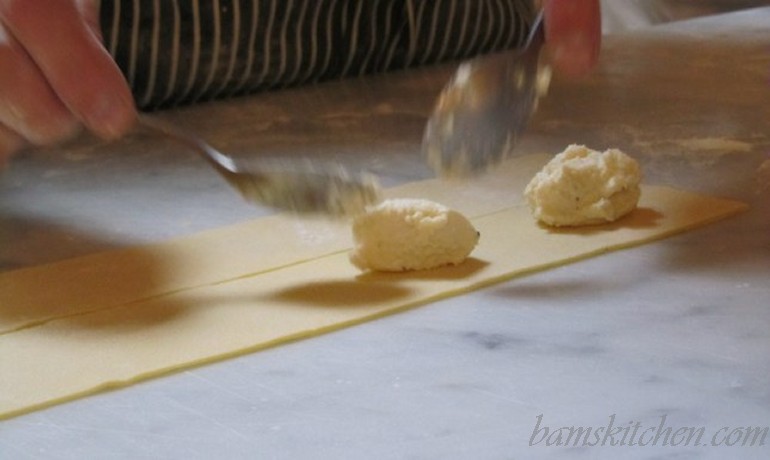 Step 9: Then take the other pasta strip and lay it upon the pasta strip with the ricotta filling on it. Gently place it on top and then use your sides of your hands to remove any air and create well-defined borders around each and every ravioli. Repeat this process for the other pasta strips and filling.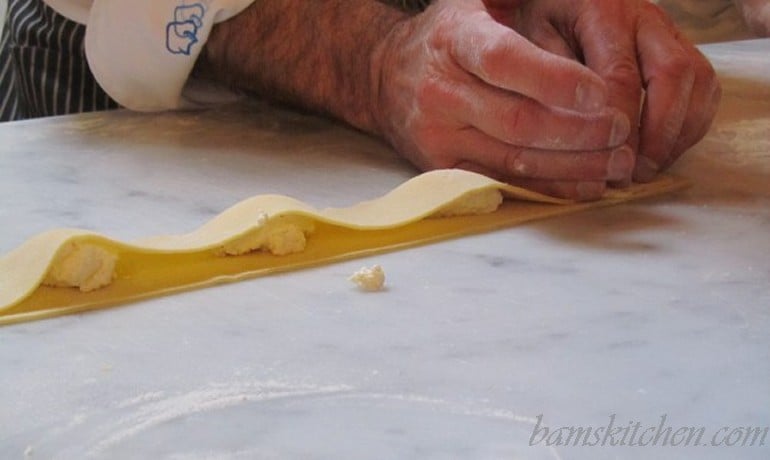 Step 10: Take a circle shaped mould of the same dimension of the ravioli, press down gently, like you are making a cutout cookie, until you penetrate through both layers of the pasta dough.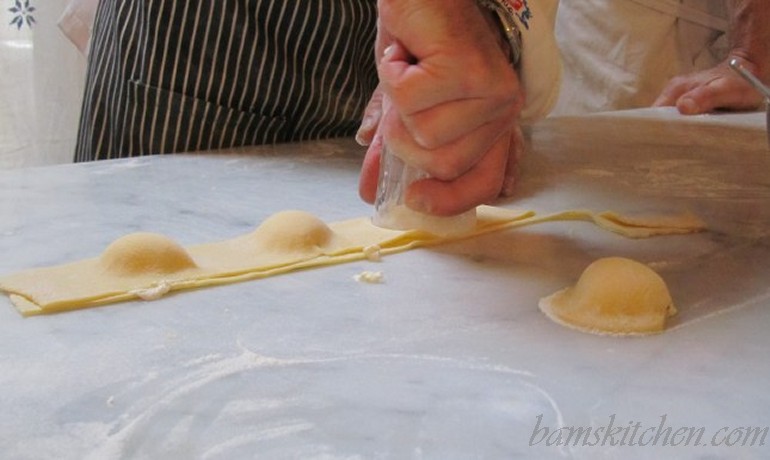 Step 11: Take a fork and crimp the edges to perform a good seal around the ravioli. (If you do not get a good seal you will have a blow out during the boiling process)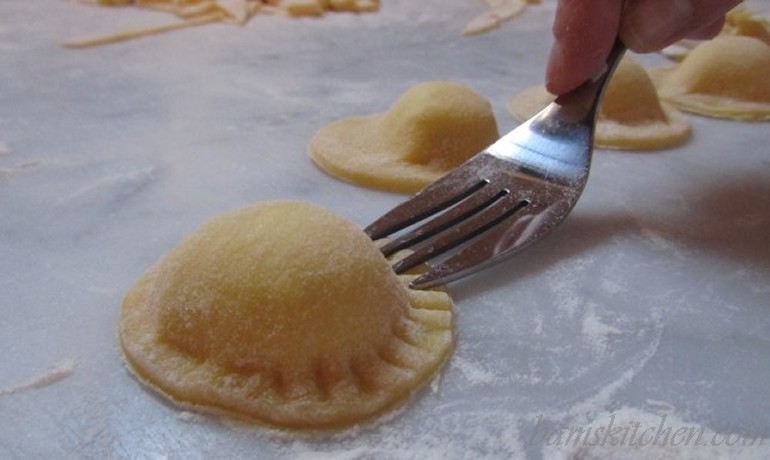 Step 12: Boil water for pasta and add salt to the water. Once the water is boiling add a few ravioli at a time and cook for about 2-3 minutes or until al dente.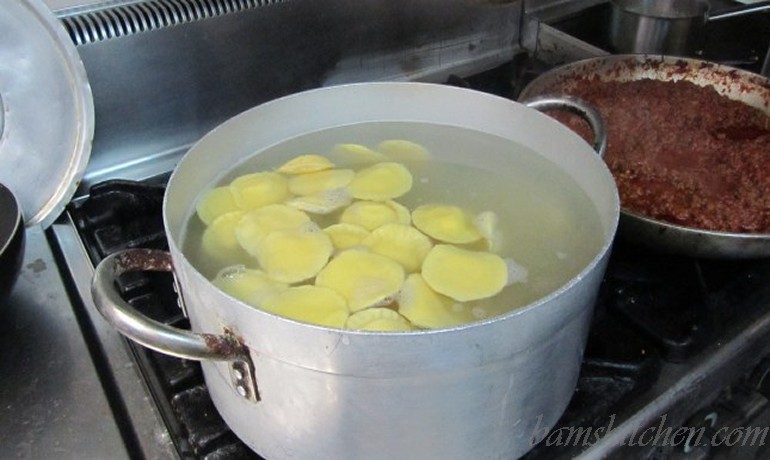 Step 13: Remove and drain the pasta from the water and place on a serving dish. Top the fresh ravioli with sage butter sauce, fresh ground pepper and lots of freshly grated parmesan cheese. Serve with a lovely bruschetta, salad and a of course a great red from the Chianti vineyards.
Ciao until next time.... Grazie to the team at Food and Wine Academy in Florence.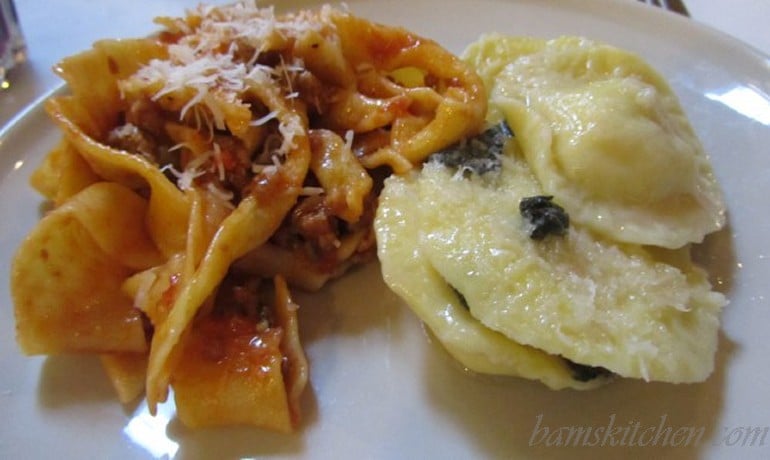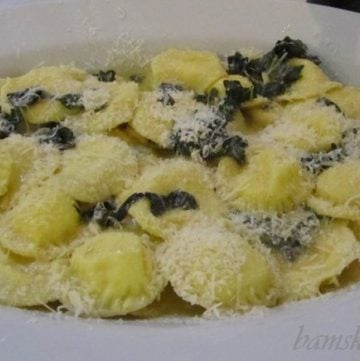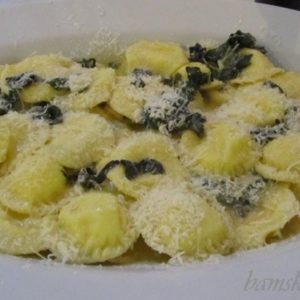 Ingredients
00 flour -

eggs -

ricotta cheese -

sage -

parmesean cheese -

butter -
Nutrition