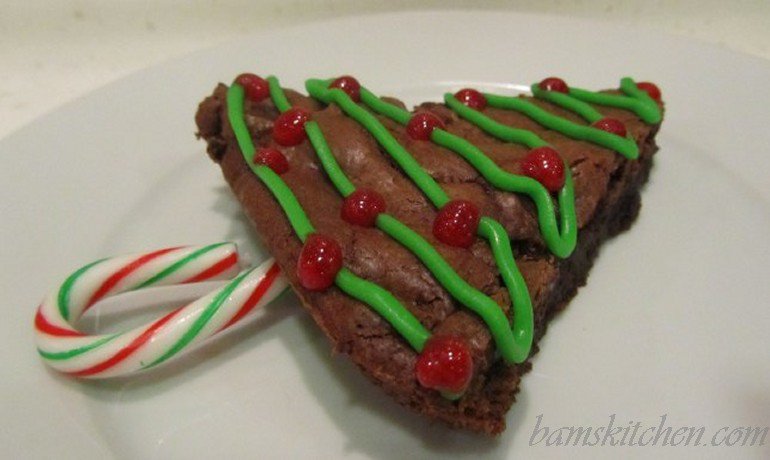 Let the holiday baking commence!!!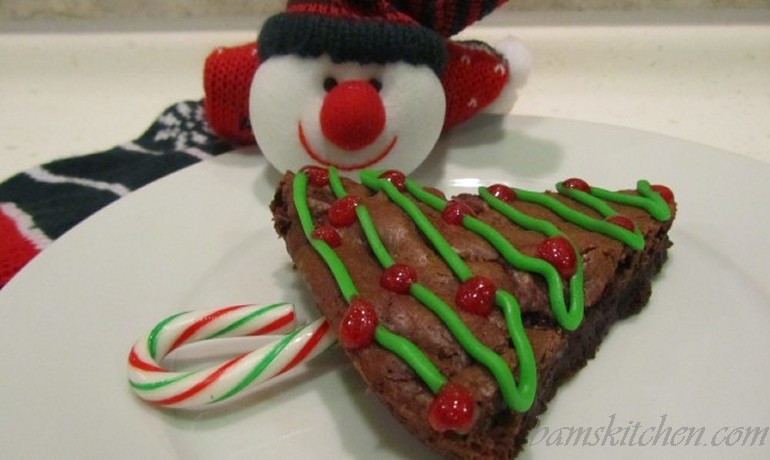 The hustle and bustle is in full swing here in Hong Kong. With over 8 million people crammed in this little city, it is pure chaos everyday, holiday or not. However, now, with happy Christmas music playing in the background and holiday decorations to view while you are out rushing about it helps add a little spring in your daily steps. Taxi's are honking. Trolleys are tooting. MTR's are crammed. Jackhammers are hammering. People are buzzing, just like it is every day here in Hong Kong. The Hong Kong people recognize the December holiday season of others but for them the big holiday coming up is Chinese New Year.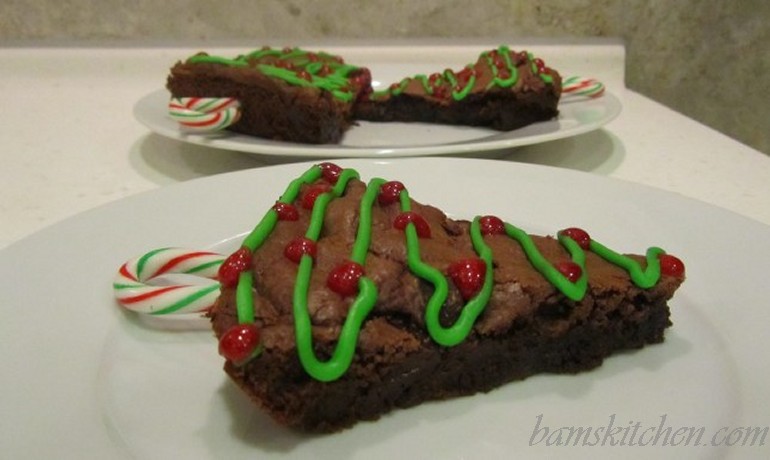 My dear friend, Aiko-sensei, has been requesting a good brownie recipe. So here is my double chocolate chunk brownie all dressed up for the holidays in a little bit of Christmas flare.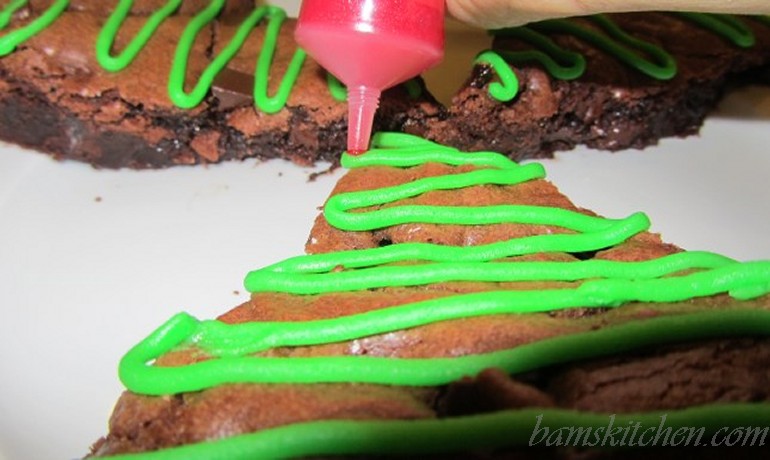 Double Chocolate Chunk Christmas Tree Brownies: (makes between 8-12 Christmas Trees)
Recipe adapted from Taste of Home
Ingredients
¾ cup baking cocoa
½ teaspoon baking soda
⅔ cup butter, melted (divided uses see below)
½ cup boiling water
2 cups sugar
2 eggs
1-⅓ cups all-purpose flour
1 teaspoon pure vanilla extract
¼ teaspoon salt
½ cup coarsely chopped pecans (optional my kids dislike nuts so of course I left this ingredient out)
2 cups (12 ounces) semisweet chocolate chunks (I know this can be difficult to find in Asia so I just crumbled some good Meiji chocolate into my brownies instead)
Mini candy canes (for the bark of the x-mas tree)
Decorating Icing tubes (green and red). If you are living in Asia and have difficulty getting your hands on decorating supplies, you can make a quick royal icing by mixing 1 cup confectioners or icing sugar, 2 teaspoons of milk, 2 teaspoons of corn syrup, and food coloring. Mix items together and add this royal icing mixture to a baggie, then cut a little hole on the end of the baggie. It's not glamorous by any means but it will work. Been there- done that!)
Candies for decorating such as M and M's, red hots and sprinkles (optional)
Directions
Step 1: Preheat oven to 350 degrees F (176 C)
Step 2: In a large bowl, combine cocoa and baking soda; blend ⅓ cup melted butter. Add boiling water; stir until well blended. Stir in sugar, eggs and remaining butter. Add flour, vanilla salt. Stir in the pecans (if you must) and chocolate chunks.
Step 3: Pour into a greased 13-in. x 9-in. baking pan. Bake at 350°( for 35-40 minutes or until brownies begin to pull away from sides of pan. Cool.
Step 4: Cut brownies into triangles and place on parchment paper to prepare for decorating. Let your imagination run wild and have a little fun and get creative. Use some ingredients and candies that are easy to get your hands on in the country you live in. At the bottom of the triangle, I pushed in a mini candy cane for the bark of the tree. I iced my tree with green and red royal icing to make it look like a little Christmas Tree. I was going to add some little chocolate sprinkles but low and behold my teenager had been eating them straight out of the container. (I am certain the little tyrant is drinking straight out of the milk container when I am not looking. Uggh BOYS! Double Uggh! TEENAGE BOYS!)
Step 5: Enjoy Double Chocolate Chunk Christmas Tree Brownies with a big glass of milk. Leave a very special treat for Santa on the night before x-mas with a few carrots for the reindeer.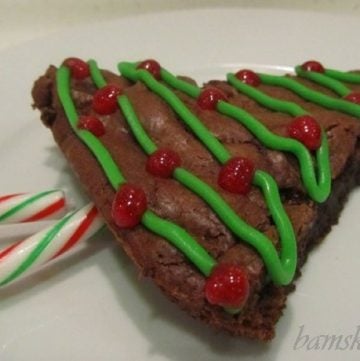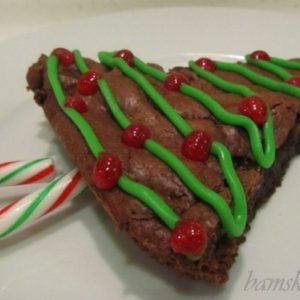 Ingredients
unsweetened cocoa powder -

butter -

eggs -

sugar or sugar alternative -

vanilla -

semi-sweet chocolate chips -

candy canes -

decorating icing -
Nutrition