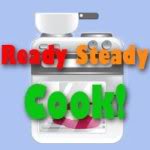 The other day I stumbled upon a fellow foodies website (Lavender and Lime http://tandysinclair.com/). I just loved reading about all of her inspiring recipes and inspiring food products. (Caution: you should not read her posts late at night or they might make you hungry and you might find yourself in your kitchen whipping up her curry chicken or fudge at 1am- not that has ever happened to me of course...)
In one of Tandy's most recent posts she summoned all Foodies for a Ready Set Cook Challenge. (You guys remember that show on TV where contestants were given a list of set of ingredients and a set time frame to create some wonderful culinary masterpiece) I think that I might be well out of my league, but I wanted to really join in on the fun, challenge my culinary skills and meet some new lovely fellow foodies along the way. After all, it sounded like a great distraction from studying for my Chinese Medicine Acupuncture MidTerm Exam.
The goal of the Ready Set Cook Challenge is that each participant is given by their challenger 7 ingredients and we must create a 3 course meal. In addition, we can use a defined list of pantry ingredients.
BAM's 7 INGREDIENTS FOR CHALLENGE
Taco Shells
Calamari
Mushrooms
Chicken Breasts
Nectarines
Butternut
Gouda
I think that living in many countries that finding any ingredient is relatively easy. However, I live in Hong Kong. This last week was Chinese New Year and everything has come to an abrupt halt, including all international deliveries. Even the basics like milk and bread, were non-existent on the grocery shelves. Seriously! The Park n Shop looked like the grocery shelves post tsunami in Japan. However, have no fear, I am resourceful. I begged, borrowed and foraged my way through endless wet markets and back alleys and found everything on my list.
Now with the list of ingredients in my possession, I was ready to go... or was I? What a strange combination of ingredients (taco shells, butternut squash, squid). No one ever said this was going to be easy. So there I sat pondering in my kitchen in solitude...then something just sparked and I was up for the challenge. Here is my menu...
Appetizer: Corn Tortilla Fried Calamari with Garlic Lemon Mayonnaise
Main Entrée: Open Faced Ravioli with Butternut Squash, Sautéed Chicken and a Creamy Wild Mushroom Sauce
Dessert: Nectarine Compote and Chocolate Souffle Tart
Please continue reading to enjoy the step by step recipes and pictures of my 3 Challenger dishes.
Corn Tortilla Fried Calamari with a Garlic Lemon Mayonnaise
Serves 2 adults or 1 hungry teenager
Corn Tortilla Fried Calamari Ingredients
2 medium squids cleaned and cut into ½ inch tubes.
3 large corn taco shells crushed finely and place in a sealable plastic baggie (I beat the taco shells with my trusty rolling-pin on the floor inside a sealed plastic baggie-I am sure our neighbors in the apartment below us, love me now)
¾ cup flour
1 tablespoon paprika
1 teaspoon garlic powder
salt to taste
ground black pepper to taste
Oil for frying
Garlic Lemon Mayonnaise Ingredients
2 egg yolks
1 small clove garlic, peeled
2 tablespoons fresh lemon juice
1 teaspoon fresh grated lemon zest and some for garnish
1 cup olive oil
salt and pepper
Step 1: Prepare your Garlic Lemon Mayonnaise: Put eggs, garlic, lemon juice, lemon zest, salt and pepper in the blender and mix until well blended. Slowly add the olive oil into the blender mixture and mix until well incorporated and set aside. (Garnish with a little fresh lemon zest if desired.)
Step 2: In a small pan place about 2 inches oil enough to deep fry your calamari and turn on the burner to heat up.
Step 3: While your oil is coming to temperature place in a separate sealable baggie the following items; flour, paprika, garlic powder, salt and pepper and shake to mix.
Step 4: Create an assembly line: First place a few squid ring into the bag of crushed tortillas and shake to coat. Second remove the squid from the tortilla bag and place into flour bag and shake. Third drop a few coated calamari into preheated oil and cook for about 2 minutes. Remove with slotted spoon and place on a dish with a towel. Salt calamari lightly if you wish. Continue this process until the rest of the calamari have been coated and fried.
Step 5: Serve Corn Tortilla Calamari hot with a side of garlic lemon mayonnaise. The addition of the corn tortilla really adds a new dimension of crunch and flavor to this appetizer.
Open Faced Ravioli with Butternut Squash, Sautéed Chicken and a Creamy Wild Mushroom Sauce
Serves 2 adults or 1 hungry teenager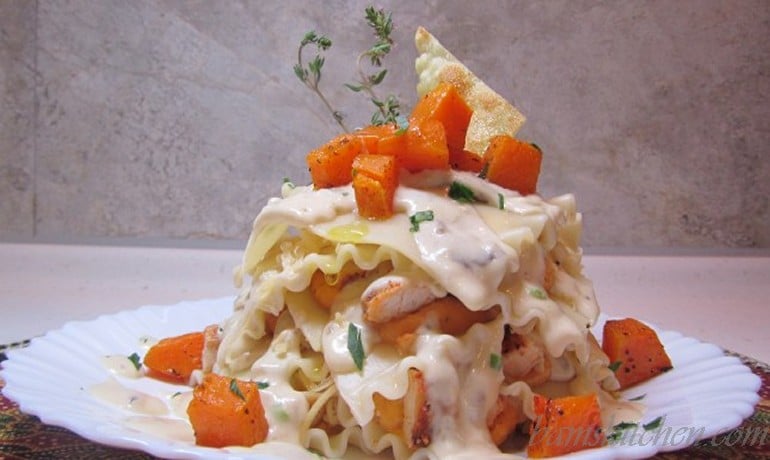 8 cooked lasagna noodles cut in half
Butternut Squash Ingredients:
1 fresh butternut squash (seeds removed, peeled and cut into ½ inch cubes)
one bunch fresh thyme leaves removed from stem (leave some intact and whole for garnishing)
½ teaspoon of ground nutmeg
2 tablespoons olive oil
2 cloves garlic crushed
¼ cream
salt and pepper to taste
Sautéed Chicken Ingredients:
1 chicken breast
¼ teaspoon garlic powder
⅛ teaspoon paprika
⅛ teaspoon dried basil
salt and pepper to taste
olive oil for saute
Creamy Wild Mushroom Sauce Ingredients:
1 tablespoon olive oil
1 tablespoon chopped onion
1 clove chopped garlic
handful of assorted wild mushrooms cleaned, stems removed and sliced thinly (shitake, brown mushrooms, button- whatever you like)
2 tablespoons flour
2 tablespoons butter
1 cup cream
½ cup gouda cheese grated
1 tablespoon chopped chives
salt and pepper to taste
Garnishing Ingredients:
2 tablespoons of baked butternut squash cubes
grated gouda cheese
2 sprigs of thyme
½ slice fried ravioli noodle (after cooking the ravioli noodles until al dente, place a little olive oil in pan and fry ravioli noodle until slightly toasty brown on each side)
drizzle of truffle oil
Step 1: Bake the butternut squash: Preheat the oven to 190 degrees Celsius. Place squash, olive oil, thyme, nutmeg, garlic, salt and pepper in a bowl and stir until well mixed. Bake butternut squash about 25 minutes or until fork tender. Set aside- keep warm)
Step 2: Take ¾ of the cooked butternut squash and place in blender with ¼ cup cream and salt and pepper to taste. Set aside and keep warm
Step 3: Saute the Chicken: Cut the chicken in half lengthwise so cooks evenly or pound chicken flat. Sprinkle chicken with garlic powder, paprika, basil, salt and pepper. Place a tablespoon of oil in pan and saute chicken until cooked- about 4 minutes per side. Chop chicken into bite sized cubes and set aside to keep warm.
Step 4: Make the Creamy wild Mushroom Sauce: In a small pot add oil and heat up. Add garlic, onions, wild mushrooms and cook until tender. Add flour and butter to make a roux and cook for a few minutes. Slowly add cream and stir until creamy and smooth, add salt, pepper and chives to taste. Set aside and keep warm.
Step 5: Cook lasagna noodles according to directions until al dente and run under cold water. Cut each lasagna noodle in half and set aside. Keep warm.
Step 6: Assembly: Place one half slice of the cooked lasagna noodle in the center of your plate. Add 1- 2 tablespoon of butternut cream mixture on top. Add a few pieces of chicken on top, a sprinkle of gouda cheese and a drizzle of creamy wild mushroom sauce. Then start the process again with another layer of lasagna, layer of creamy butternut, sautéed chicken, gouda cheese, drizzle of creamy wild mushroom sauce. I made up to 7 layers tall.
Step 7: Garnish top of open-faced ravioli with drizzle of creamy wild mushroom sauce, a few roasted butternut squash cubes, thyme and a fried ravioli wedge. Drizzle entire dish with a little white truffle oil. Layers of rich and creamy goodness is sure to bring some warm smiles to your guests.
Nectarine Compote and Chocolate Souffle Tart
Recipe adapted from the book "Never Skip Dessert" by Gregoire Michaud- (I highly recommend this cookbook. It is bilingual in both English and Chinese and he really takes desserts to a different level)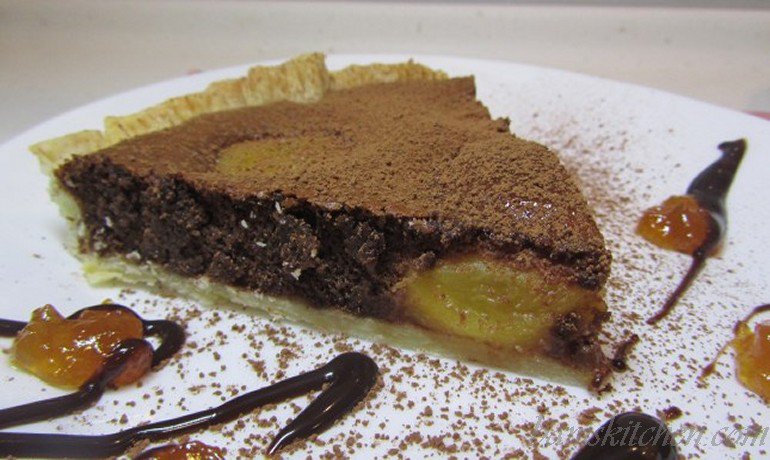 Serves 10 adults or 4 hungry teenagers
Tart Shell Ingredients:
1 ¼ cups all-purpose flour
¼ teaspoon salt
½ cup butter, chilled and diced
¼ cup ice water
Nectarine Compote Ingredients:
7 fresh nectarines cut in half, pitted and peel
juice of ½ lemon
70 grams whites granulated sugar
Chocolate Souffle
2 whole eggs
6 egg yolks
50 grams white sugar
140 grams liquid cream
15 grams cake flour
130 grams melted 70 percent good chocolate
Garnishes:
drizzle of remaining nectarine compote sauce
drizzle of remaining melted chocolate
sprinkle of cocoa powder
Step 1: Preheat your oven to 190 degrees Celsius.
Step 2: Create the tart: In a large bowl or using a mixer combine flour and salt. Cut in butter until mixture resembles coarse crumbs. Stir in water, a tablespoon at a time, until mixture forms a ball. Wrap in plastic and set in refrigerator while you prepare the compote.
Step 3: Make the Nectarine Compote: Place the prepared nectarines in a pot on the stove and squeeze juice of ½ lemon. Add the sugar and stir and heat until nectarines are tender and sugar is dissolved. Let nectarine compote mixture cool.
Step 4: Prepare and bake the tart dough: Flour your surface and roll out the tart dough until about 3mm thick. Grease a 25 cm tart shell and place your tart dough in the center. Press down lightly to shape the side. Cut off the excess dough and press with a fork on the top to make a design. With a fork, make holes on bottom and side of tart. Bake Tart for about 20 minutes until golden brown.
Step 5: Prepare Chocolate Souffle Mixture: In a medium pan warm up the cream and add the melted chocolate until it is smooth. Whip the eggs and sugar until it has a foamy texture. Then add the chocolate mixture into the egg mixture and flour and blend until smooth and creamy.
Step 6: Assembly: Place nectarine hollow side down in the bottom of baked tart. Drizzle chocolate souffle mixture on top of nectarine compote to only about 80 percent full. Bake tart at 200 degrees Celsius for about 15-20 minutes.
Step 7: Sprinkle a little cocoa powder on top of tart. Serve Nectarine Compote Chocolate Souffle either warm or at room temperature with a drizzle of remaining nectarine compote and a drizzle of chocolate sauce. Seriously sinful and decadent.