Grilled Prosciutto Black Mission Figs are mouth watering bites of deliciousness with juicy sweet figs and salty prosciutto with sage. 10 minute hot appetizer!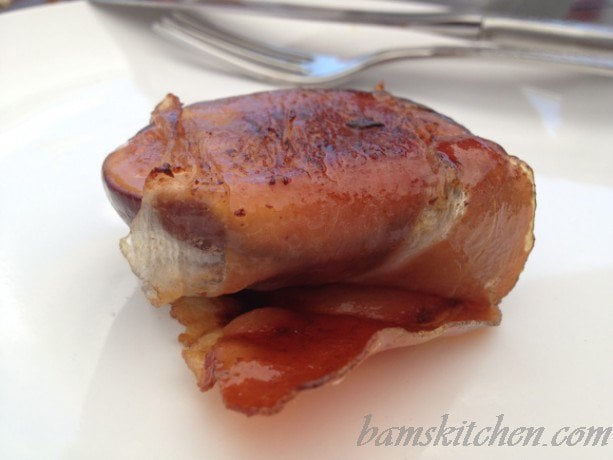 Perfect Day to enjoy Grilled Prosciutto Black Mission Figs
It was a gorgeous rare sunny clear day here in Hong Kong. The skies were blue. The sun was blazing. The hibachi grill was hot and ready to go and to top that off a fabulous reunion with our dear friends from Japan.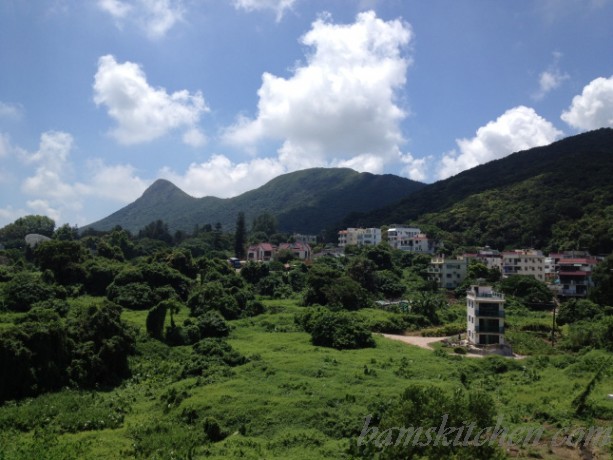 Grilling and Chilling
Gill and Simon were such lovely hostesses and my mouth is still watering thinking about all the yummy treats we enjoyed on their hibachi grill. We had delicious sausages, frittatas, seared Way beef, stuffed tomatoes with custard, portobella mushrooms with basil tomato and fresh mozzarella, but far my favorite was Gill's simple but delicious Grilled Prosciutto Black Mission Figs.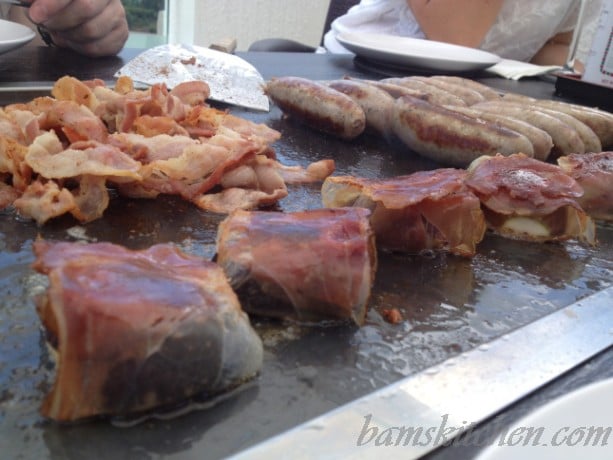 What is a hibachi grill?
A hibachi grill is a traditional Japanese heating device. In olden times it consists of a round, cylindrical or a box-shaped open-topped container, made from or lined with a heatproof material and designed to hold burning charcoal.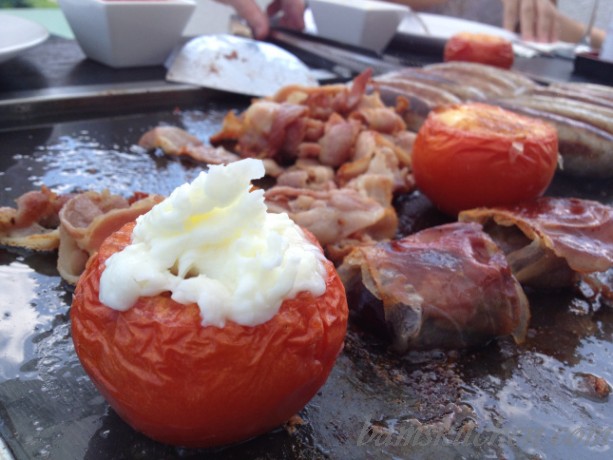 Today when most people think of hibachi most people have a small cooking stove heated by charcoal (actually called shichirin in Japanese) or by gas, and many times they have a hot iron hot plate (teppan) like the kind used in teppanyaki restaurants on top. This provides the flat surface to grill anything your little heart desires. If you are not blessed with owning a hibachi grill, then no worries, I have you covered and read the recipe below as these treats can be made in everyone's home.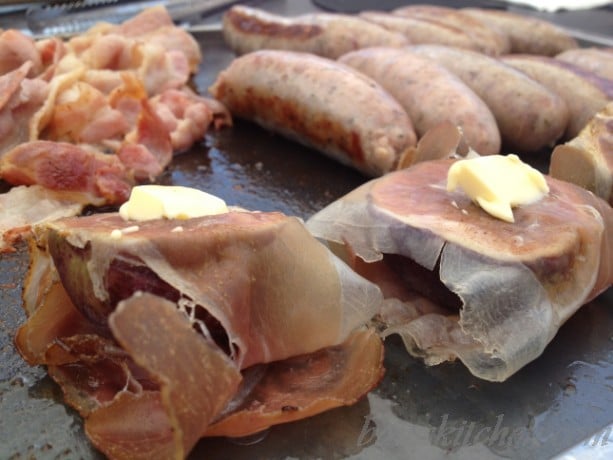 It's Fig Season
Its fig season in Southern California and their black mission figs are gorgeous. Black mission figs are available mid-May through November and are even shipped to Hong Kong. They are a purple to black-skinned fig with pink flesh and an intense earthy flavor.
Gill's recipe is super simple and super yummy and a great way to celebrate the fig season. The black mission figs are sweet and delicate and intensify in sweetness when grilled. I love grilling these little appetizers turns something quite simple into something very extravagant.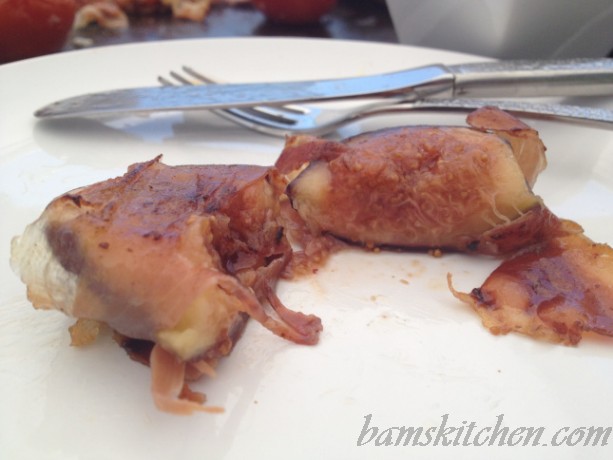 The combination of the salty crunchy prosciutto and the sweet and tender figs will make you feel like you are in heaven. Grilled prosciutto wrapped figs are the perfect hot fall appetizer bite.
Go ahead and grab your "gobbling irons" as these little figgy treats are just dreamy.
More Delicious Recipes with Prosciutto Ham
Chargrilled Halloumi Prosciutto Wrapped Nectarines and Balsamic Glaze
Prosciutto Chicken with Spinach and Feta and Peppers
Kicked Up Potato Salad
Hungry For More? Subscribe to our Newsletter and follow along on Facebook, You Tube, Instagram, and Pinterest for all the latest updates.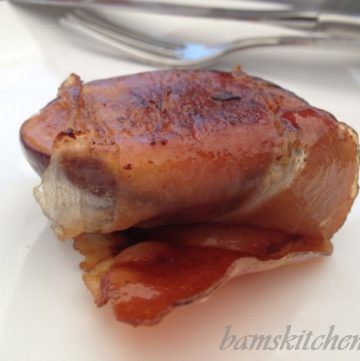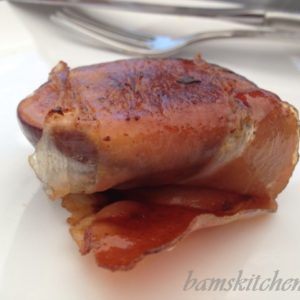 Prosciutto Wrapped Black Mission Figs on the Hibachi Grill
Grilled Prosciutto Black Mission Figs are mouth watering bites of deliciousness with juicy sweet figs and salty prosciutto with sage. 10 minute hot appetizer!
Print
Pin
Rate
Ingredients
6

whole

fresh figs


cut in half

6

slices

prosciutto


cut in half lengthwise

¼

teaspoon

sage

dried ground

1

tablespoon

butter

or olive oil to keep dairy free
Instructions
Wash, dry well and slice each fig in half from the pointed tip to the bottom.

Wrap prosciutto around the fig so that the cut portion of the fig is covered with the prosciutto. The prosciutto should wrap all the way around the fig.

Sprinkle prosciutto wrapped figs with a very light dusting of ground sage spice and drop a tiny bit of butter on top.
Cooking the prosciutto wrapped figs: (Please follow the directions below based on what cooking tools you have available in your home)
Hibachi Grill method: Heat up hibachi grill. Pour your self a glass of wine, enjoy your friends and the beautiful scenery. Repeat process until grill is ready. Place your prosciutto wrapped figs on the grill with a little butter and grill about 2 minutes on each side just until the prosciutto gets a little golden brown and the figs get tender.

Regular grill method: Same process as above but instead of butter you may consider using a little olive oil instead. Grill baskets are nice to use as well.

Top of the stove method: Preheat pan and place a little butter in your pan and saute the figs on both sides for about 2 minutes.

Oven method: Place figs in a buttered baking dish and bake at 190C or 375 degrees F for about 8-10 minutes or just until the prosciutto gets a little golden and the figs are tender.
Nutrition
Serving:
1
g
|
Calories:
51
kcal
|
Carbohydrates:
1
g
|
Protein:
1
g
|
Fat:
5
g
|
Saturated Fat:
2
g
|
Cholesterol:
10
mg
|
Sodium:
70
mg
|
Potassium:
16
mg
|
Sugar:
1
g
|
Vitamin A:
58
IU
|
Iron:
1
mg