"Garlic- Is there any other spice?"
This is a quote from my wise and eldest sister. This recipe is a tribute to her.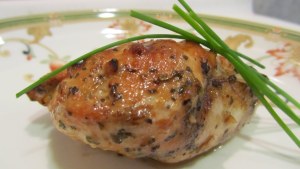 Garlic Glazed Grilled Turkey Breast
Growing up in Italian family, "Garlic" is a staple in the home and used in many dishes. Most days, we would start our cooking by putting a little olive oil and garlic in the pan and then figure out what we were going to make from there. Now that we have our own families, this tradition still remains part of our daily routine.


Garlic is an amazing spice and has many health benefits. For over 6,000 years, garlic has been used for both culinary and medicinal purposes. Garlic is native to central Asia, and has long been a staple in the Mediterranean region, as well as a frequent seasoning in Asia, Africa, and Europe. In many studies, garlic has been found to have antibacterial, antiviral, and antifungal activity. Garlic is also claimed to help prevent heart disease and cancer. Folklore states that garlic keeps vampires away and protects against evil eye so it has that going for it as well. Whatever the reason, it wonderful natural preventative medicinal spice and really adds some wonderful flavors to many dishes.


Depending on whether garlic is raw, baked or fried it takes on different flavors depending on how it is prepared. It can have very strong flavor when it is raw but very sweet and mild when baked. In the Garlic Glazed Grilled Turkey breasts lots of garlic will be used in the marinade and in the roasted vegetables it will be baked for a sweet and mild flavor.
Garlic Glazed Grilled Turkey Breasts
5 chopped garlic cloves (adjust more of less according to your taste)

2 pounds (approximately) Turkey breasts cut into into 1 inch fillets

1 teaspoon dried basil (or 1 tablespoon fresh basil chopped)

¼ cup olive oil

¼ soy sauce (tamari sauce for gluten free)

2 tablespoons fresh lemon juice

1 tablespoons brown sugar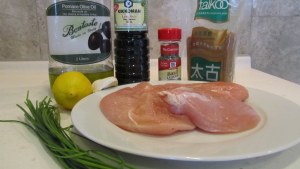 Step 1: Cut the turkey breasts in half so that it cooks evenly over grill.
Step 2: Marinate turkey breasts with garlic, soy sauce, basil, brown sugar and lemon juice for at least 1 hour but even better overnight. (Put in refrigerator)
Step 3: Take Turkey out of refrigerator and preheat grill to medium heat. (If you do not have a grill you can saute on top of stove or even bake in oven on 350 degrees F (176 C) for about 20-30 minutes until juices no longer run pink and internal temperature is 170 degree F (76 C.)
Step 4: Discard marinade and lightly oil grill plates and grill turkey breasts for about 6-8 minutes on each side or until internal temperature is 170 degrees F (76 C). (The length your grilling time depends on how thick your turkey breasts are. Therefore, you can reduce your cooking time if you cut up your turkey breasts lengthwise so turkey breasts are thiner and cook evenly on the grill)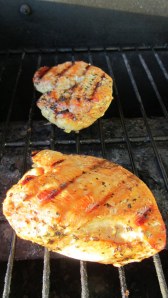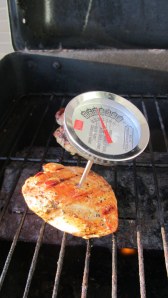 Step 5: Take Garlic Glazed Turkey breasts off the grill and serve with roasted vegetables (recipe follows below)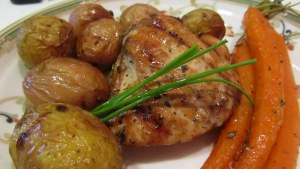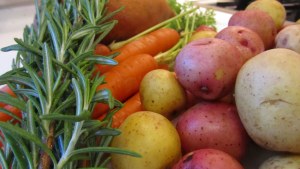 4-5 whole gloves of garlic still in peel

8 small carrots

3-4 shallots peeled and left whole

1 yam peeled and cubed (or any type root vegetables you like such as butternut squash, peppers zucchini, etc.)

10 mini yukon and/or red potatoes (or large potatoes cut in large cubes)

olive oil for drizzling

few sprigs of fresh thyme

1 tablespoon fresh chopped rosemary

salt and fresh cracked pepper to taste (Mrs. Dash)
Step 1: Preheat oven to 350 degrees F (176 C)
Step 2: Place chopped vegetables, potatoes, herbs, garlic, onions, and carrots on baking sheet.
Drizzles with olive oil and salt and pepper and mix ingredients right on the baking sheet.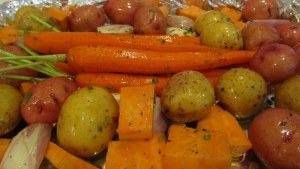 Step 3: Place vegetables in oven and cook for about 1 hour or until fork tender turning every 15 minutes.
Step 4: Remove vegetables from oven and serve with garlic glazed grilled turkey breasts or any main course and enjoy.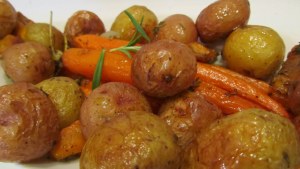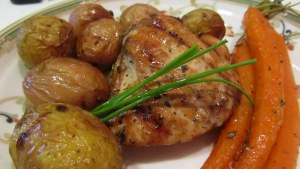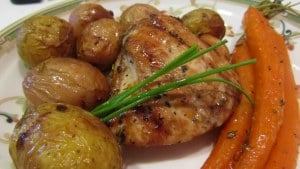 Ingredients
garlic -

turkey breasts -

dried basil -

olive oil -

tamari (soy) sauce -

lemon juice -

brown sugar -

carrots -

shallots -

yam -

thyme -

rosemary -

salt and pepper -
Nutrition