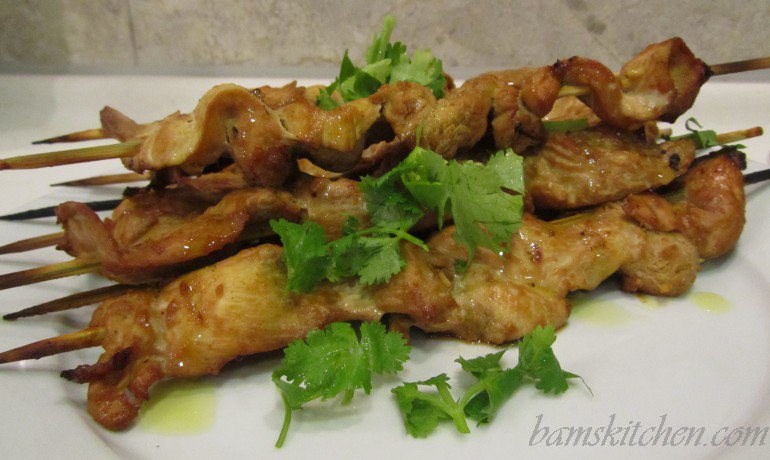 Why does mother nature have to be so difficult? Have you heard the news?
According to Thai Travel News, Severe Tropical Storm "Nok-Ten" hit Thailand and other countries in South East Asia and this flooding has left many people displaced and has claimed many lives. Thailand has experienced the worst flooding in almost half a century, with 30 provinces currently affected by the excess water.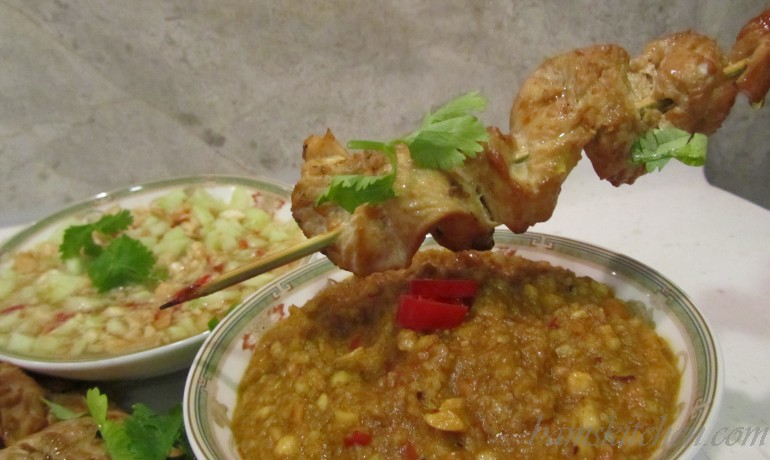 As of 9 Oct, flood area is about 1.2 million hectares (12,000 sq km) and is still spreading. It is affecting more than 2.6 million people and 244 have been found dead. A large mass of water hit Ayutthaya, just upriver from Bangkok, and expected to hit Bangkok next week. Thailand has been overwhelmed by tremendous flooding and now Thailand's capital, Bangkok, may be at risk.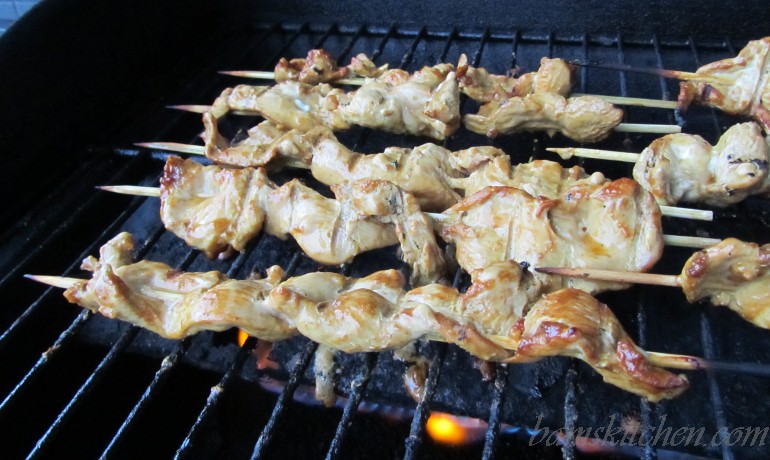 I have friends all over the world, including dear friends in Thailand. It is so difficult to be on the side lines and feel helpless as you watch the news. So after I contacted my friends to confirm that they were okay, I do what I always do to calm my nerves. I cooked! I dusted off the cook book called "The Food Of Thailand a Journey for Food Lovers", my dear friend from Thailand had given me as a gift, and made Sa-Te Kai (Chicken Satay).
Please send some positive thoughts to the people in Thailand so that they can quickly recover and stay strong.
If you are interested in doing a little more, the Thailand Red Cross are collecting donations.
http://english.redcross.or.th/home
I dedicate this Sa-Te Kai recipe to the dear people in Thailand in hopes that mother nature turns course soon.
Sa-Te Kai (Chicken Satay) - Makes 40 sticks or feeds 2 hungry teenagers
Recipe adapted from the cookbook, "The Food of Thailand- a journey for food lovers" by Oi Cheepchaiissara. This recipe is wonderful. The grilled chicken satay is so moist and delicious it really does not even need a dipping sauce. However, once you try one of these dipping sauces, you will be amazed at the depth of flavor. I made a quick noodle stir fry to go along with the chicken satay and stirred in a little of the peanut dipping sauce at the end. Super Yummy!
Chicken and Marinade:
1 kg (2 pounds 4 ounces) skinless chicken breast fillets
2-3 Asian shallots chopped
bunch roughly chopped coriander roots
2.5 cm (1 inch) ginger minced
1 tablespoon ground coriander
1 tablespoon ground cumin
1 tablespoon ground tumeric
1 teaspoon curry powder
2 tablespoons light soy sauce (Tamari for gluten free)
4 tablespoons vegetable oil
410 ml (1 ⅔ cups coconut milk)
2 tablespoons palm sugar (I used sugar substitute)
1 ½ teaspoons salt
40 bamboo sticks about 7-8 inches long
Step 1. Cut the chicken into strips and put them into bowl
Step 2. In a blender or with a mortal and pestle add shallots, garlic,coriander roots and ginger to a paste.
Step 3. Add the paste, coriander,cumin, tumeric, curry, soy sauce, oil, coconut milk, sugar and salt to sliced chicken strips.
Step 4. Marinate chicken in a covered container at least 2 hours or overnight and turn chicken occasionally.
Step 5. Soak the bamboo sticks for 1 hour to prevent burning
Step 6. Thread the chicken on to the bamboo stick as if you are sewing a piece of thread. (One piece per stick or in my case I used 3 pieces per stick and this worked great on my small grill)
Step 7. Barbecue stay sticks for approximately 4-5 minutes on each side or until the chicken is cooked and the chicken is slightly charred.
Step 8. Place Chicken Satay on a serving platter sprinkle with coarsely chopped coriander as a garnish and serve with Peanut dipping sauce and/or cucumber relish (Recipes for dipping sauces to follow)
Peanut Dipping Sauce (Naam Sa-Te): makes approximately 1 ½ cups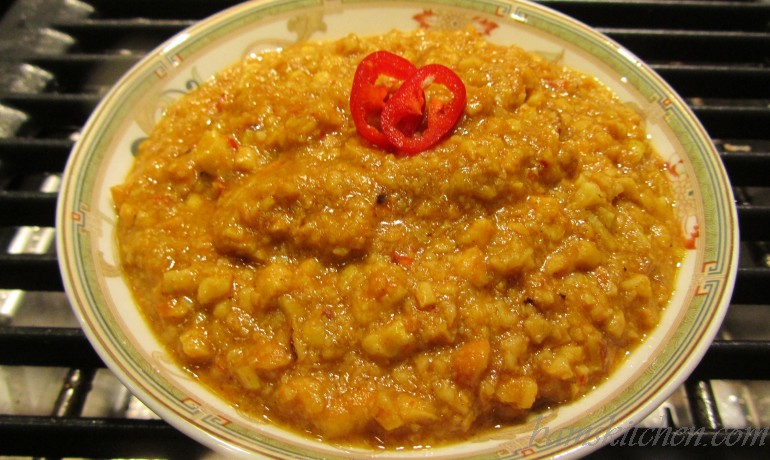 2 cloves crush garlic
1 tablespoon olive oil
4 Asian shallots finely chopped
1 lemon grass stalk, white part only, finely chopped
2 teaspoons curry powder
1 tablespoon tamarind puree (soaked in hot water enough to cover to dissolve)
1 tablespoon chili paste
160 g (1 cup) unsalted roasted peanuts, roughly chopped
375 ml (1 ½ cups) coconut milk
2 teaspoons palm sugar (I used sugar substitute)
salt to taste
Step 1: Heat oil in a saucepan and add garlic, shallots and lemon grass and fry until fragrant. Then add curry powder.
Step 2. Add dissolved tamirand puree, chili paste, roasted peanuts, coconut milk and sugar. Add enough boiling water to make a spoonable sauce and simmer for 2 minutes. Then add salt to taste.
Step 3. Place peanut sauce in bowl and serve with chicken satay.
Cucumber Relish (Ajat): makes approximately ¾ cup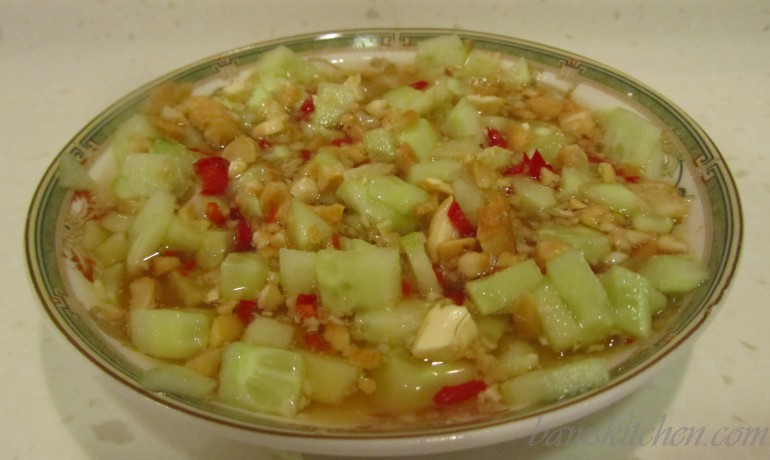 4 tablespoons rice vinegar
125 grams (½ cup) sugar (I used sugar substitute)
1 small red chili seeded and chopped (or to taste as these are pretty hot)
1 teaspoon fish sauce
80 grams (½ cup) roasted peanuts roughly chopped
1 cucumber finely chopped
Step 1 : In medium dish mix all the ingredients of the cucumber relish and serve with chicken satay.
Enjoy your Sa-Te Kai and please keep Thailand in your prayers.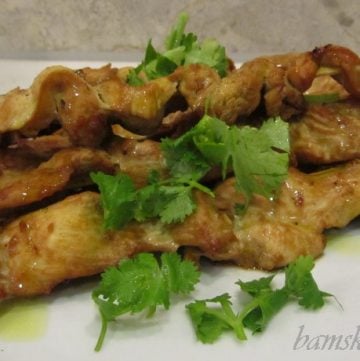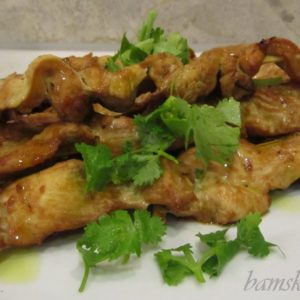 Ingredients
chicken breasts -

shallots -

coriander root -

ginger -

cumin -

tumeric -

curry powder -

tamari (soy) sauce -

coconut milk -
Nutrition