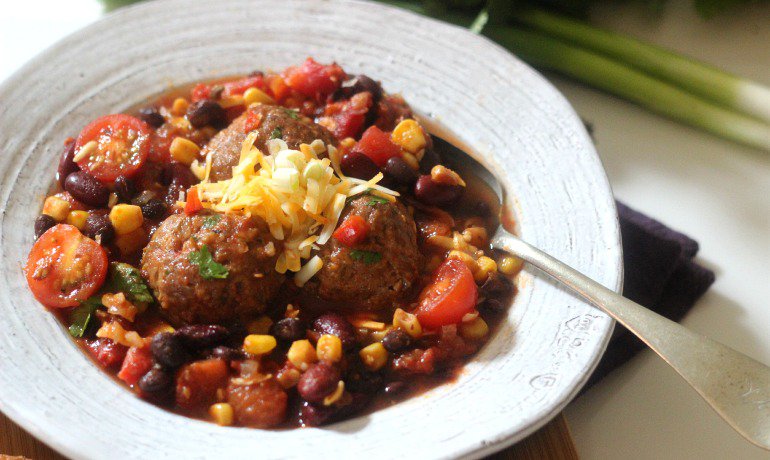 With great sorrow, I want to let you know that one of my dearest and most beloved friends in the foodie world, Robyn Gleason from Simply Fresh Dinners has passed on but will never be forgotten.
Robyn used to live in Canada and I live essentially on the furthest plane trip away in Hong Kong, China. On a map, it seems like we are a world apart but our values are the same in that we want to be able to eat healthy delicious food that does not take forever to prepare.
Robyn and I met, well in the virtual sense of the word, around 2011 ago when we both first started blogging. I guess I was one of the first persons to leave a comment on her blog and we have been blog buddies ever since. She was always such a kind soul and always helping others. I will miss the way that we used to face challenges together and give each other the support to go on.
Without further ado, please join me on welcoming Robyn, from Simply Fresh Recipes, and her delicious recipe for Bison Chili.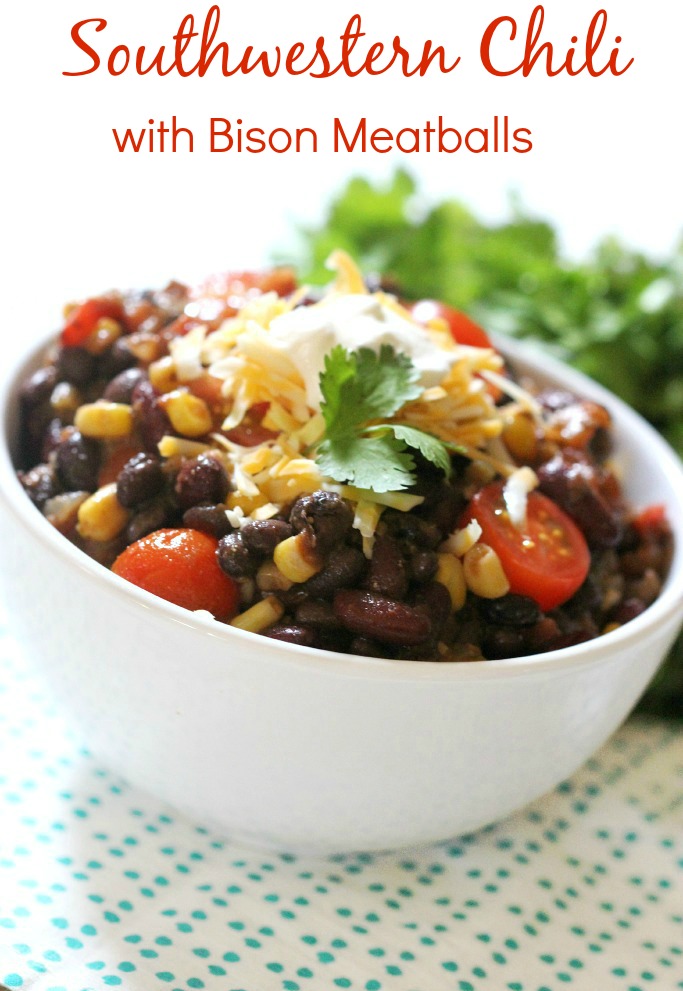 Hello there! I'm Robyn from Simply Fresh Dinners and thrilled to be here for my first guest post for Healthy World Cuisine. I have been a fan of the cooking magic for quite some time now so I jumped at the chance to join her here on the blog today.
First of all, I have a confession to make - I am a chili addict. A happily addicted chili enthusiast who will try almost any kind I come across. I've been pondering a new chili recipe since late summer but nothing original came to mind until I visited a local farm where I came across some bison meat and this dish was born.
Now if you're a little shy of trying bison, no worries, you can easily substitute beef or turkey. Actually, I mixed a little ground turkey with the bison as well but I thought it would make the title even scarier to some!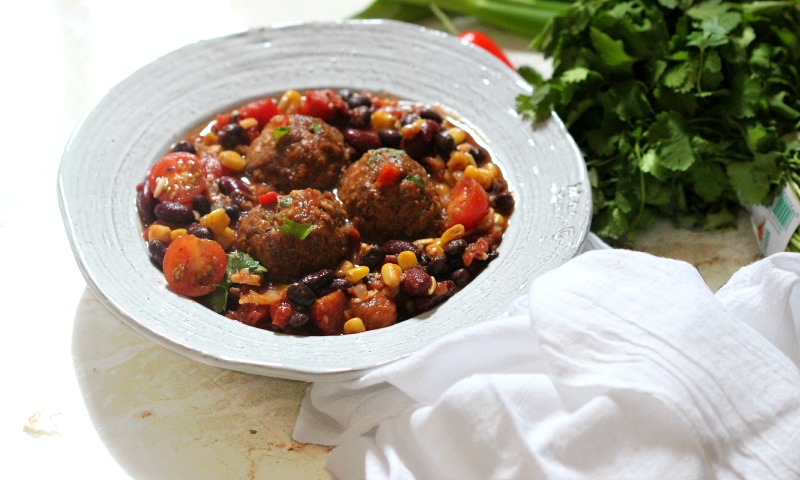 I've been reading so much about bison meat lately and I was long overdue from giving it a try. Bison meat is a nutritionally superior red meat. It is natural without growth hormones, steroids, drugs or chemical residue. It is also extremely low in fat with ⅓ less fat than beef. A single serving of bison provides much of your daily protein, iron and zinc requirements, plus most of the antioxidant selenium your body needs each day.
Bison are raised and processed without additives, preservation, steroids, growth hormones or drug residues. Bison spend the majority of their life grazing on forage and some producers finish their bison on grass while others finish on grains. It tastes much like beef but slightly sweeter and richer.
Have I made my case yet? Many grocery stores are carrying it now but, depending on where you live, you may have to search a little to find it.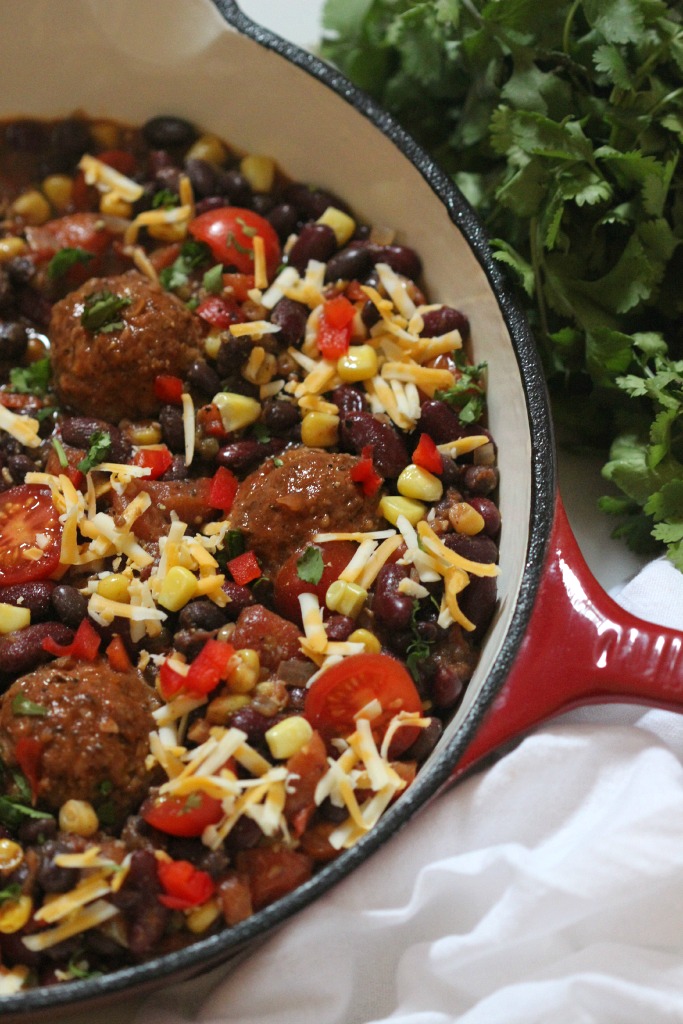 The meatballs are packed with loads of flavor and baking them makes for a healthier dish. I had some meatballs left over that went into the freezer so now its time to think up another recipe where I can use them. I welcome any suggestions. After all, it took me 3 months to come up with this one so I need all the help I can get!
If you are vegetarian or vegan, just omit the meatballs. The chili has a little bit of heat and lip-smacking deliciousness of the Southwest and I added some chipotle peppers in adobe sauce for good measure.
The readers on my blog will tell you that I insist on fresh herbs in my dishes and this is no exception. The fresh oregano in the meatballs made such a difference and you wouldn't want to miss out on that extra bit of flavor.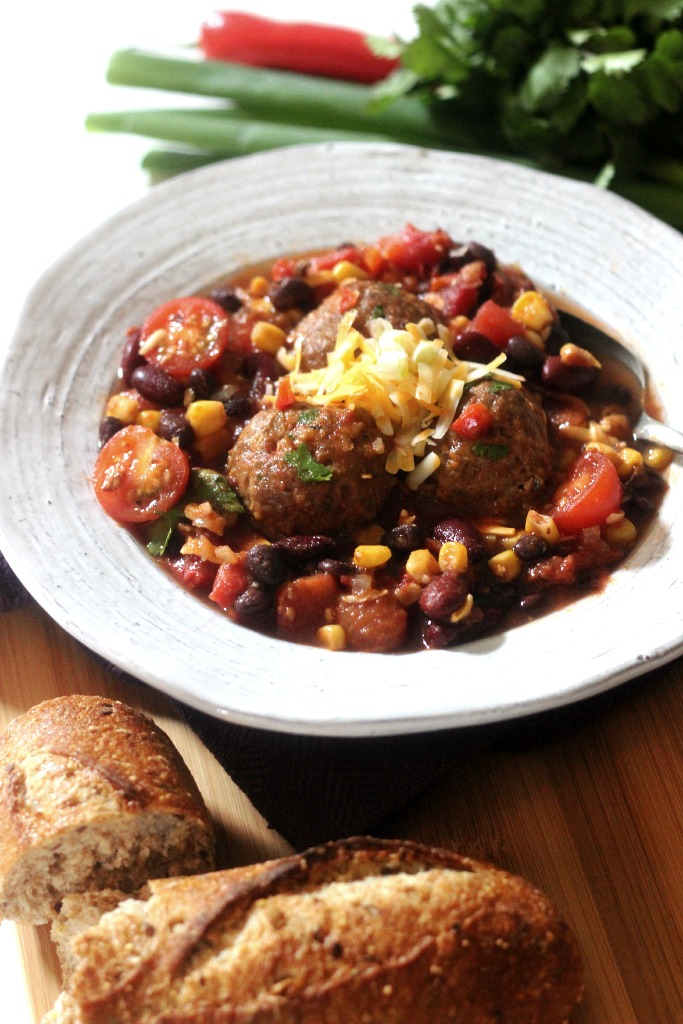 I hope you enjoyed my Southwestern spin on chili today. It`s been such a pleasure to bring you one of my dishes.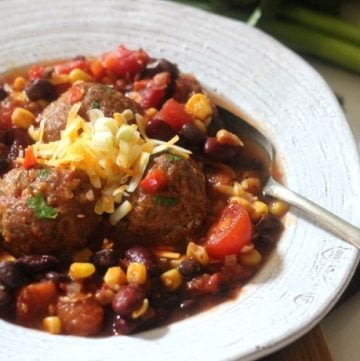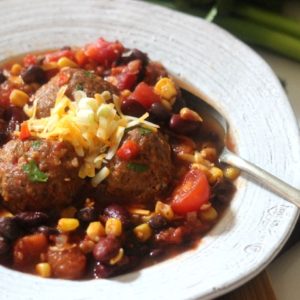 Southwestern Chili with Bison Meatballs
Southwestern Chili with Bison Meatballs is delicious, hearty and yet very healthy and lean.
Print
Pin
Rate
Ingredients
Meatballs
10

pz

ground bison

6

oz

ground turkey

extra lean

2

tablespoon

olive oil

1

onion

diced

3

cloves

garlic

peeled and minced

1

teaspoon

tomato paste

½

teaspoon

cumin powder

1.5

tablespoon

oregano

fresh chopped

½

teaspoon

chili powder

1.5

tablespoon

orange zest

2

dashes

hot sauce

¼

cup

panko bread crumbs

red pepper flakes

pinch

salt and pepper

to taste
Chili
1

tablespoon

olive oil

½

onion

peeled and chopped

2

cloves

garlic

peeled and minced

½

red bell pepper

diced

2

tablespoon

chili powder

2

tablespoon

paprika

smoked

1

teaspoon

cumin powder

salt and pepper

to taste

2

cups

tomatoes

cherry, halved

1

chipotle in adobo

plus 1 tablespoon adobo sauce

28

oz

tomatoes canned

12

oz

black beans

drained and rinsed well

12

oz

kidney beans

drained and rinsed well

10

oz

corn

frozen corn or can use fresh
Instructions
Meatballs
Preheat oven to 400 F

Heat 2 tablespoons extra virgin olive oil in small pan and saute onion, garlic, tomato paste, salt and pepper; about 2 minutes. Set aside to cool.

Mix bison and turkey together well and then add remaining ingredients including cooled onion mixture. Mix well and form meatballs. Do not over-handle the meat. I make golf sized balls but the size is your choice.

Place meatballs on parchment paper on baking sheet and bake for 15 minutes.
Chili
Heat olive oil in large pan and saute onion and garlic until soft. About 3 minutes. Add red pepper and cook for 2 minutes.

Add chili powder, cumin, smoked paprika and salt and pepper - cook for 1 minute.

Add tomatoes, adobe sauce, canned tomatoes, beans and corn; mixing well. Bring to a boil, cover partially and simmer for 30 minutes.

Add meatballs and simmer for an additional 10 minutes.

Options for topping: fresh cilantro, cherry tomatoes, cheddar cheese, spring onions, sour cream.

Prep Time: 30 minutes Cook Time: 45 minutes Yield: 6-8 persons
Nutrition
Serving:
1
g
|
Calories:
304
kcal
|
Carbohydrates:
44
g
|
Protein:
16
g
|
Fat:
9
g
|
Saturated Fat:
2
g
|
Cholesterol:
17
mg
|
Sodium:
209
mg
|
Potassium:
976
mg
|
Fiber:
13
g
|
Sugar:
9
g
|
Vitamin A:
2360
IU
|
Vitamin C:
30
mg
|
Calcium:
106
mg
|
Iron:
5
mg