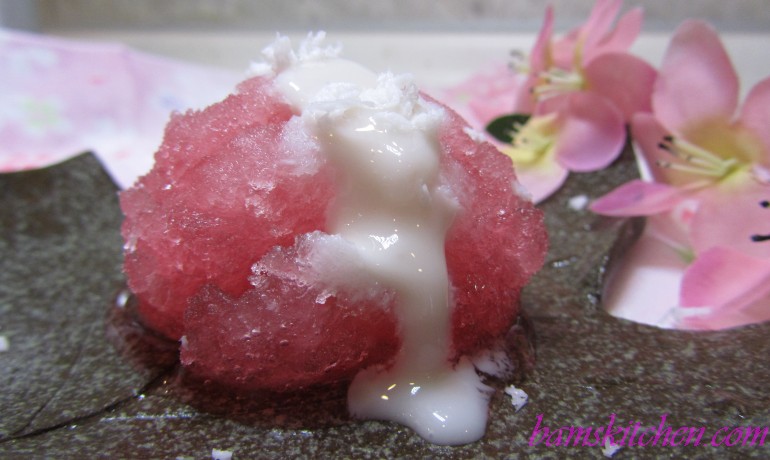 It is currently 55 degrees F ( 13 degrees Celcius) and snowing in Yokohama, Japan.
It is snowing beautiful white and pale pink flowers from the sakura trees (cherry blossom tree) that are in full bloom. When the wind blows the sakura off the trees, it looks like it is snowing.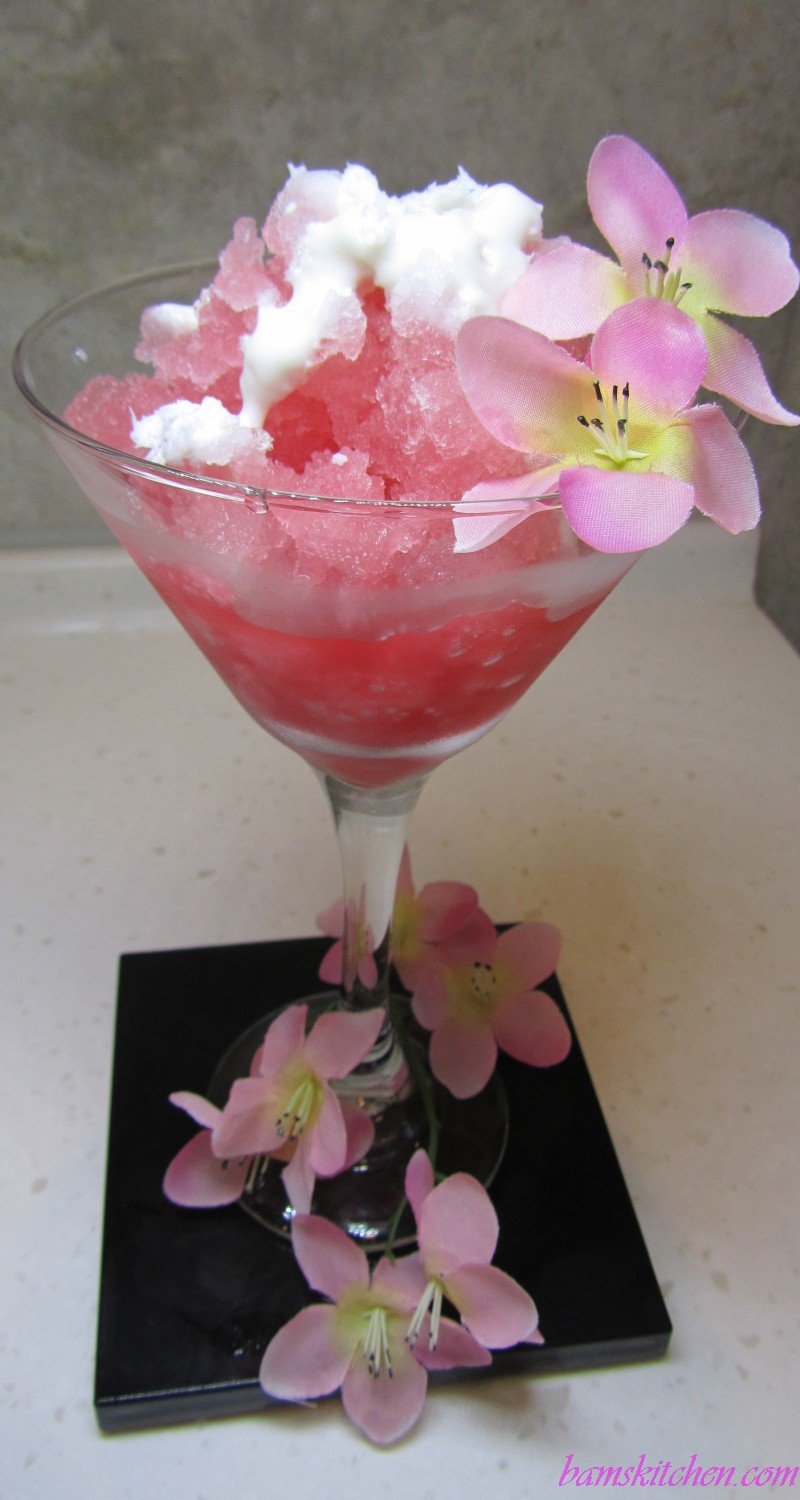 I was daydreaming of the days of when we used to live in Japan and would visit Negeishi Shirin Koen (park less than 5 minutes walk from my apartment). Every day during sakura season, I would go for a walk in the park. If I close my eyes and relax, I can still feel the cool breeze on my skin, smell the sweet and tantalizing aroma of the sakura, and could see the flowers of the sakura gently falling from the sky. This fleeting thought gave me insiration for a delightful snowy dessert.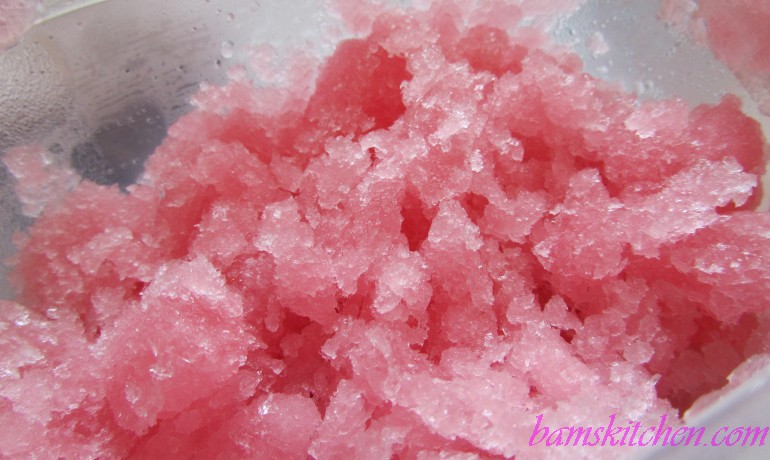 Sakura Grenadine Granita with Coconut Cream is a delicately sweet dessert. It is cool, refreshing, floral and dreamy with a little drizzle of coconut cream. When you take your first bite you can taste the delicate sweet floral aroma of the sakura and essence of raspberry mingle in your mouth. Then the coconut cream balances the taste with a creamy and dreamy little finish, just like the snow falling from the trees.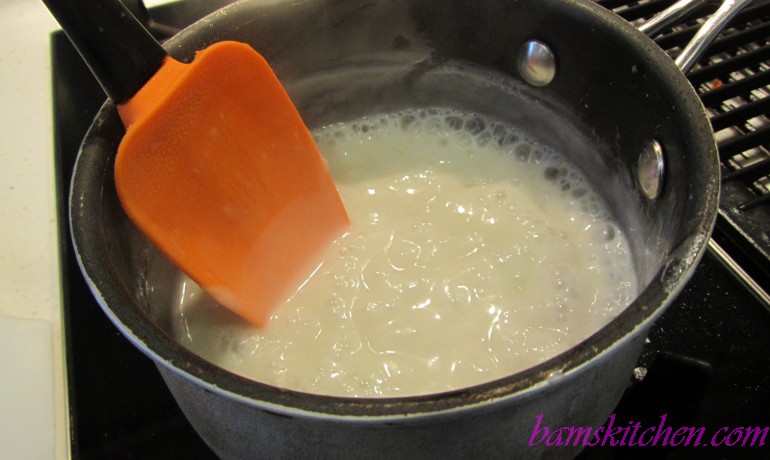 I searched my kitchen and found the last little serving of sakura tea nestled in with my tea collection. Now I needed a little something sweet and to give it a gentle pink color and there it was in the cupboard, a bottle of grenadine (pomegranate syrup). I needed a topping for my dessert that looked like snow but is delicately sweet and floral and is lactose free. I stood there and closed my eyes. I took myslef back in time where the sakura looks likes snow falling from the sky and then my inspiration was born... Sakura Grenadine Granita with Coconut Cream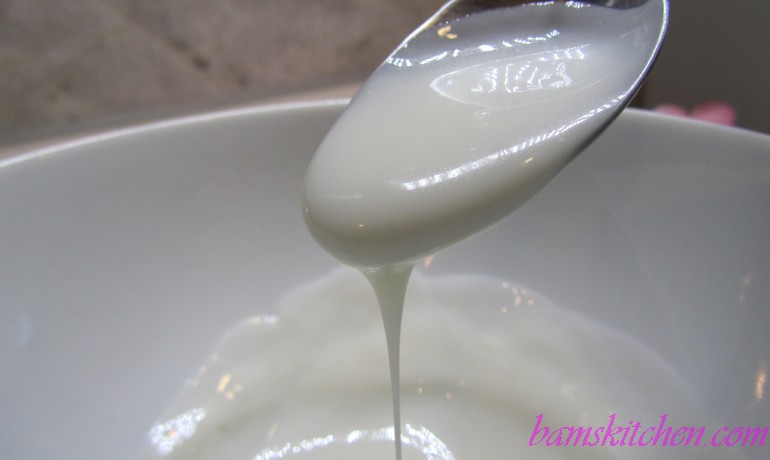 If serving this dessert to adults, a lovely alternative topping (instead of adding the coconut cream) is to drizzle a little umeshu (Japanese plum liquor) on top of your Sakura grenadine granita. Umeshu is a delightful sweet liquor. Umeshu tastes delicious cold and it pairs beautifully with the sakura flower aroma for a delightful ending to a meal.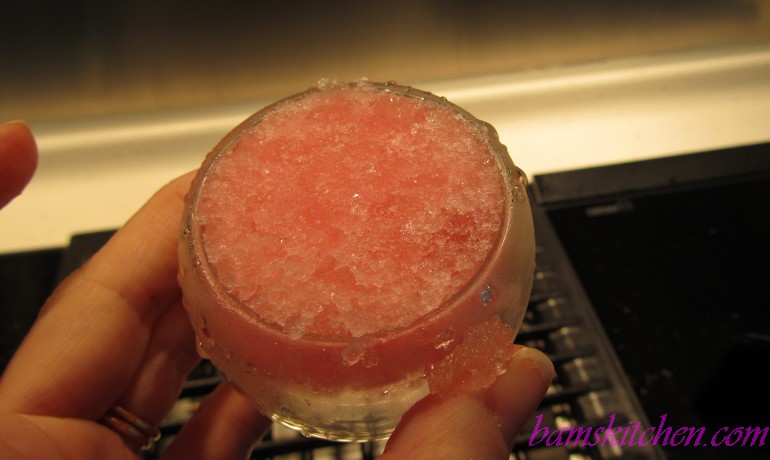 Sakura season is one of the my most favorite times of the year in Japan but it has a very short season. "Hanami" is the Japanese word used to describe the traditional custom of enjoying the beauty sakura flowers. Sometimes this can also include the beautiful ume (plum) flowers but more commonly the sakura. Rain, wind and temperatures can have a strong effect on the process of the sakura season.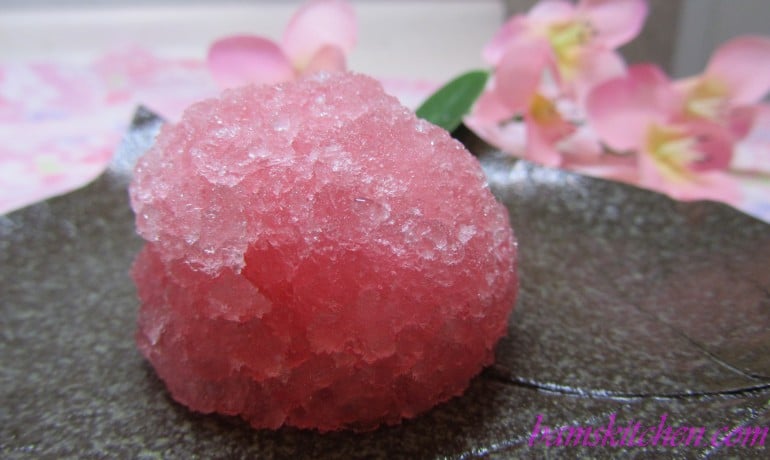 As expected, the areas further to the south that have warmer weathers usually bloom first and then it moves further north as the temperatures start to rise. I think this year is one of the earliest sakura seasons on record.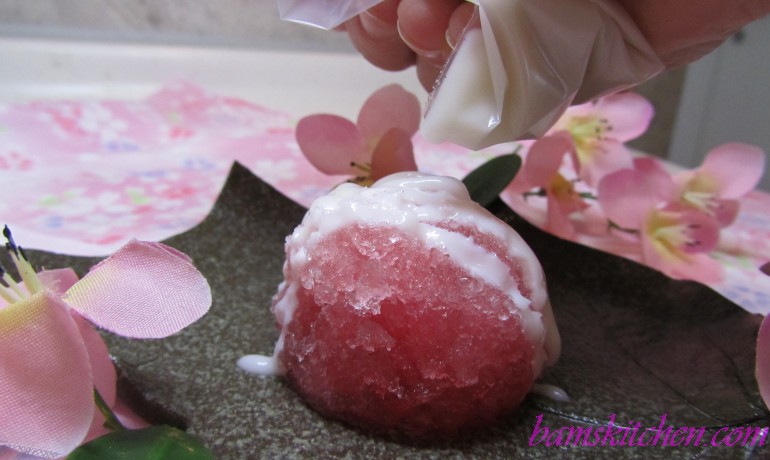 For those of you that have may have missed my Norimaki mochi with sweet sakura glaze here is the recipe link and my dear friend, Annina's beautiful photo of the sakura. https://www.hwcmagazine.com/dietary-restrictions/glutenfree/norimaki-mochi-with-sweet-sakura-glaze/.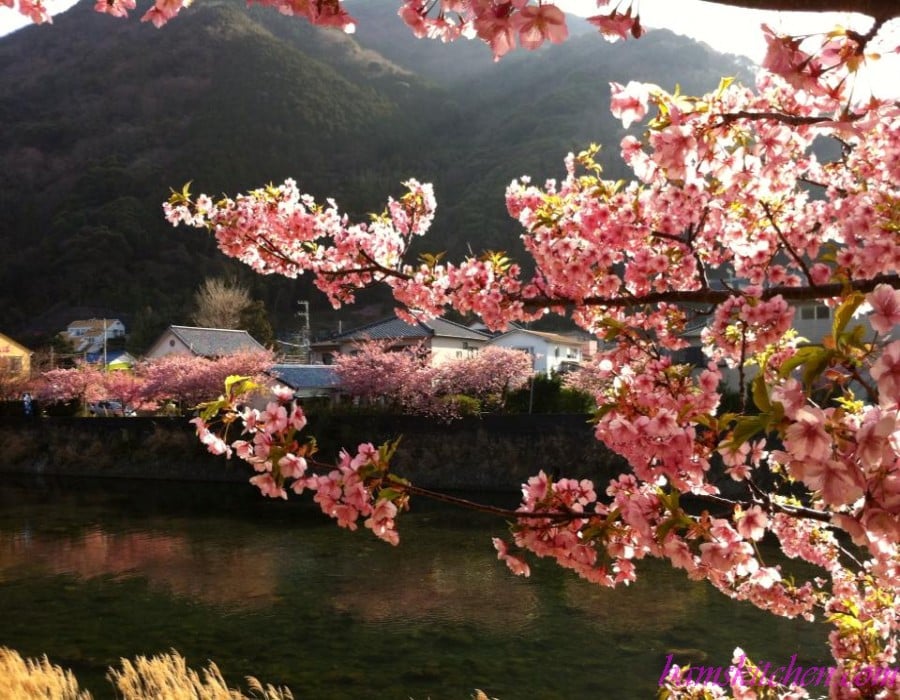 It is tradition in Japan for family members to enjoy the sakura together. Many families and couples can be seen having a picnic in the parks or visiting areas just to get those stunning photo shots. It is a time of celebration with many Cherry Blossom Festivals.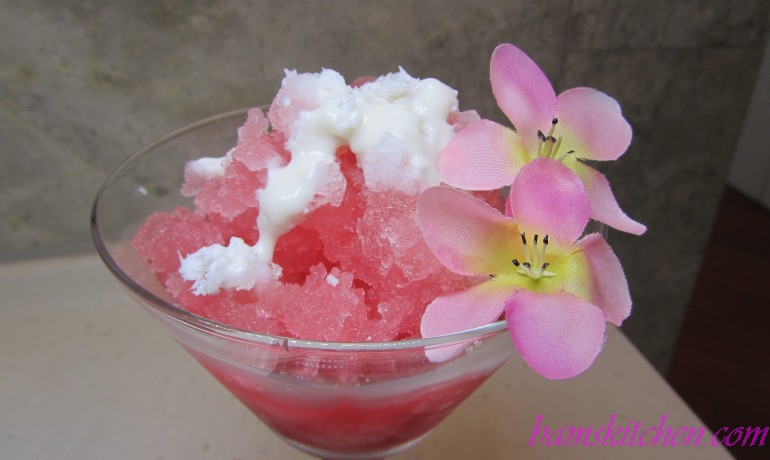 Traditional music is played, many new sakura treats will be available, kimonos are worn and the city is vibrant. In certain locations such as Shinjugyoen and Ueno Park, there are many sakura and ume (plum) trees and the views and photo opportunities are just amazing but the crowds, after 10am, can be intense. In some parks, they even have night viewing of the sakura and they have beautiful lanterns to light your way.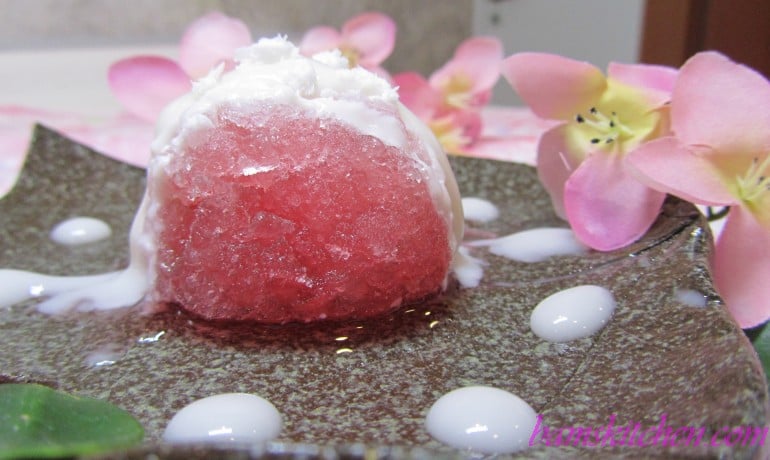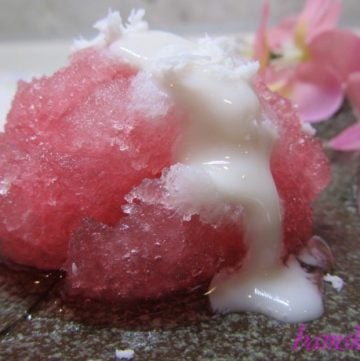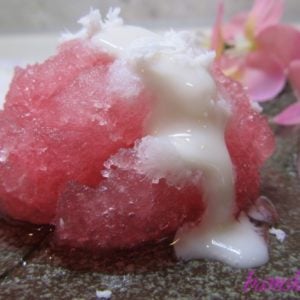 Sakura Grenadine Granita with Coconut Cream
Refreshingly cool with a Sakura flora essence and dreamy with a little drizzle of coconut cream
Print
Pin
Rate
Ingredients
sakura tea (cherry blossom) - 2 tea bags or loose leaf tea (can substitute with Ume plum tea)

water - 2 cups (hot for steeping tea)

grenadine (Pomegranate syrup) - ½ cup-¾ cup (depending on how sweet you like it)

coconut cream - 1 cup

sugar or sugar alternative - 3 tablespoons (adjust to your personal preference, I used coconut sugar)

fresh coconut - 1 teaspoon grated (garnish)

umeshu (plum liquor) - drizzle for garnish (optional)
Instructions
Steep Sakura tea for about 5 minutes in hot water. Set aside and let chill down.

Add Grenadine syrup to tea mixture stir together and place in a tupperware container and place in the freezer. (If diabetic, do not use grenadine syrup. Maple Groves Farms makes a great little diabetic red raspberry syrup that would be a nice alternative here) Adjust your addition of grenadine to your desired taste. I do not like my desserts too sweet.

About every half hour, scrape the ice mixture with a fork to keep it from freezing like an ice block. It should look like the consistency of snow.

Make the coconut syrup: In a small sauce pan add coconut milk and sugar (or diabetic sugar alternative) and cook over low heat for about 5- 8 minutes or until it is thick and creamy. (This will make extra coconut syrup and let me tell you this is fantastic on top of your tropical pancakes in the morning so that is why I made a bigger batch) You could reduce amounts of coconut milk and sugar by half, if you wish. I used white granulated sugar as I wanted a pure white glaze but you can use sugar alternatives such as agave but it makes your glaze a beige color but it tastes lovely. (If diabetic substitute with a sugar alternative of choice) Adjust sugar for your level of desired sweetness. I do not like my desserts super sweet.

Flake the sakura grenadine granita with a fork, one last time, and scoop into the glasses. Drizzle with sweetened coconut cream and top with fresh grated coconut. For the adults you can substitute a drizzle of umeshu (plum) liquor for the sweetened coconut cream. Enjoy!
Nutrition