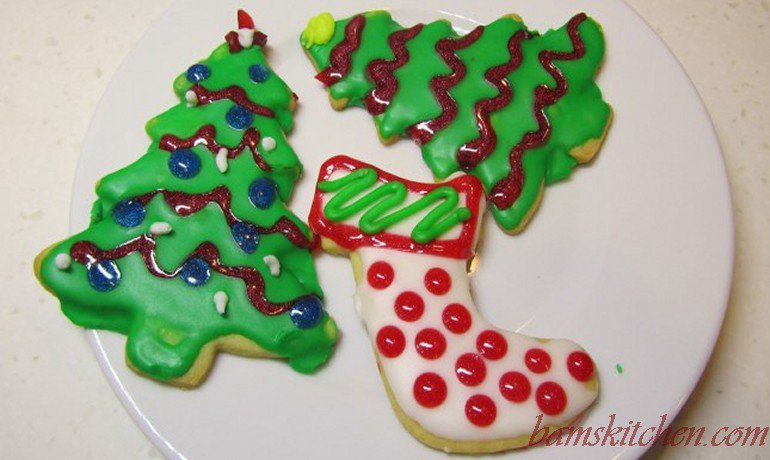 Prepare the visqueen! Cover all your valuables. Don your "hazmat suite" and invite the little crumb crunchers (kids) into your kitchen.
Get ready to have loads of fun decorating Christmas sugar cut out cookies with your kids, family and friends. Every year, it has been a tradition that I have a Christmas gathering at our home and we invite all family and friends with children to our home to enjoy decorating cookies together, sometimes even Santa comes for a short visit, hot cocoa and goodies for the kids and of course for the adults a little toast of cheer. Charley Brown's Christmas songs playing in the background, we sing x-mas songs and get creative decorating our little Christmas cookies together. Here is a our special visitor...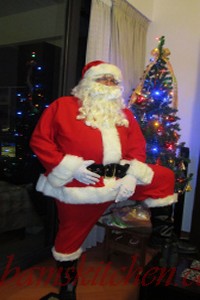 Loads of fun! Loads of mess and complete chaos! However, one of the funnest times of the year. Every possible surface that has the possibility to be covered with frosting with those little fingers will be. Sprinkles will end up everywhere. Actually, due to previous experience, we had to put a stop on those little silver balls for decoration as for weeks, heck months I would find those candies in nooks and crannies in our home. (If one kid drops the container of silver balls it is like dropping a million tiny marbles on the hardwood floor- you can guess how the rest of that scenario goes) Here are some of those artistic "kid decorated" cookies...So if MORE frosting and sprinkles is better, then this cookie is fabulous.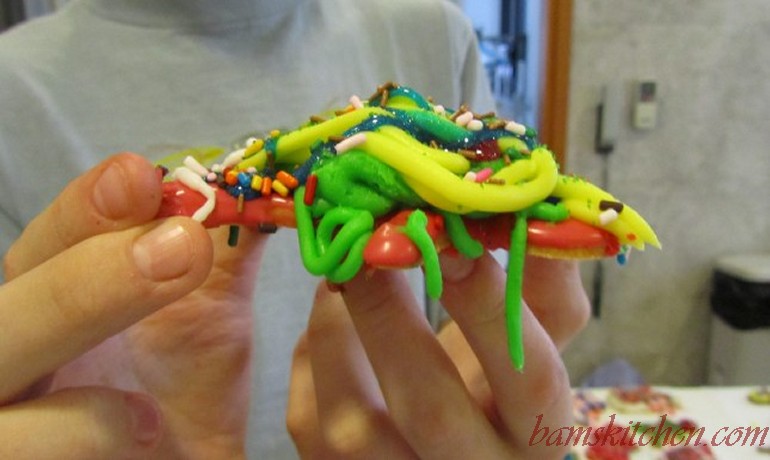 Of course there always has to be a little arch rivalry between the men/boys in our family so we have "U of Michigan" cookies done up beautifully in stars in maize and blue and Big M's, then there is that other interstate rival University girly "Michigan State" so we have made gingerbread girls in Green with white "S" on their Sparty skirts. I can only imagine the kinds of comments that will be held in the waiting for moderation in box on WordPress?????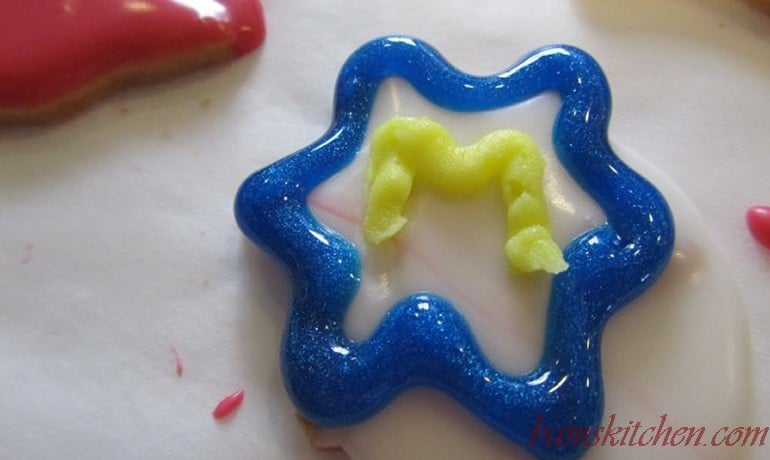 Christmas Sugar Cut Out Cookies- makes about 5 dozen cookies (If you keep your cookies under pad lock and key they might last until X-mas)
Recipe adapted from Bon Appetit, December 2003
Cookies
3 cups all-purpose flour
1 teaspoon baking powder
½ teaspoon salt
1 cup (2 sticks) unsalted butter at room temperature
1 cup sugar
1 large egg
2 tablespoons sour cream
1 teaspoon vanilla extract
Icing
4 cups (or more) sifted powdered sugar (also known as icing sugar)
3 tablespoons (or more) milk
food coloring (red, green, blue, yellow to your color preference)
Colored sugar crystals, sprinkles, and/or little candies
For cookies:
Step 1: Preheat oven to 350 degrees F (176 C)
Step 2: Sift first 3 ingredients into medium bowl. Using electric mixer, beat butter and 1 cup sugar in large bowl to blend well. Add egg, sour cream, and vanilla; beat 1 minute. Beat in dry ingredients in 2 additions until just blended. Gather dough together; divide in half. Flatten each half into disk; wrap in plastic and chill 1 hour. (Can be made 1 day ahead. Keep chilled. Soften dough slightly at room temperature before rolling out.)
Step 3: Line baking sheets with parchment paper. Working with 1 disk at a time, roll out dough to ¼-inch thickness (dough will be very soft). Using assorted cookie cutters, cut out cookies. Place cut outs about 1 inch apart on baking sheet. Continue to gather scraps and with other disk to cut out more cookies. Repeat until all dough is used.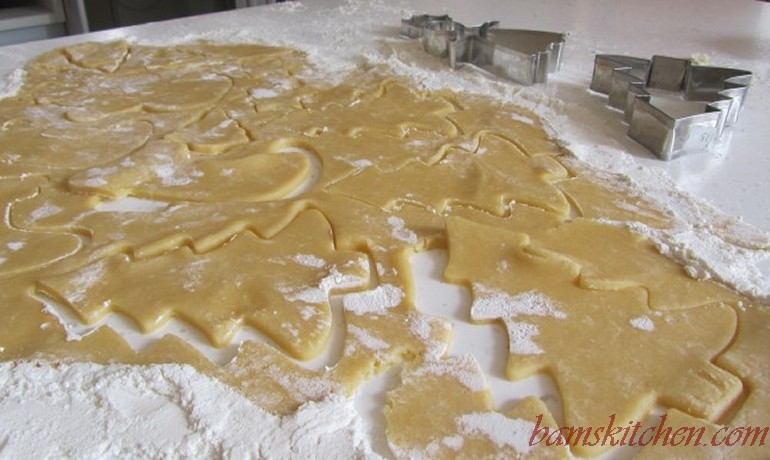 Step 3: Bake cookies until light golden at edges, about 12 minutes. Transfer cookies to racks and cool completely.
For Royal Icing:
Step 1: Combine 4 cups powdered sugar, 3 tablespoons milk in bowl. Stir until icing is well blended, smooth, and spreadable, adding more milk by teaspoonfuls if too thick or more sugar by tablespoonfuls if too thin. Add your food colorings. I usually keep one frosting plain- white and in addition I make one red, green, blue, and sometimes yellow. (Hint: If you want red frosting and not pink frosting, add a little blue coloring to red but not too much or it will be purple. If you want a darker green add a little blue to the green coloring to make the color a deeper green) You will go through lots of frosting so I suggest you double this recipe or at least to make enough for your cookies and all of the different colors of frosting you desire. Some people add egg whites to this recipe, but I am not very found of the idea of eating raw eggs so I make it without. If you can get your hands on some egg white powder, that would be great as it helps harden the icing. Now, for how thick or thin you like your frosting this is up to you. Sometimes, I make it very thick so I have I use a knife to frost them or put it in a bag to pipe the frosting on the cookies. Sometimes, I make it thinner so I do is dip my smaller cookies in the icing and it makes a thin and even layer of frosting.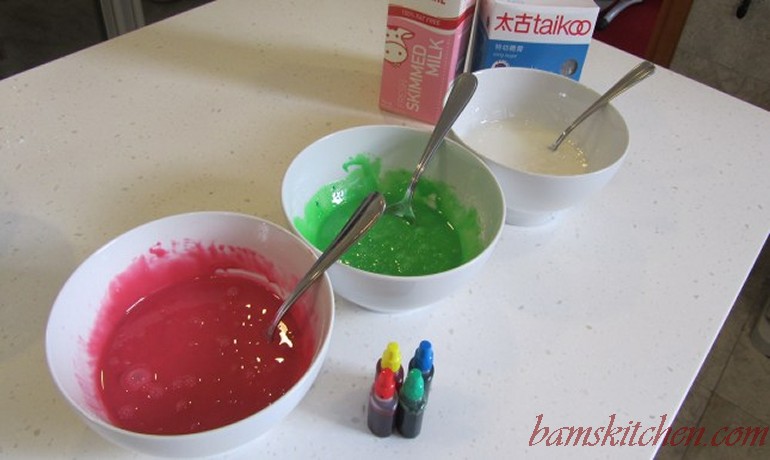 Step 2: Have fun decorating cookies. Get creative. If you choose to use sprinkles or candy decorations make sure that you put the sprinkles/candies immediately after frosting cookies so that the sprinkles stick on the cookies. If you want to first frost the cookies everywhere with one color and then wish to pipe a frosting decoration on top, let the frosting dry first as it will work better for you. Let the kids and adults have fun!!!!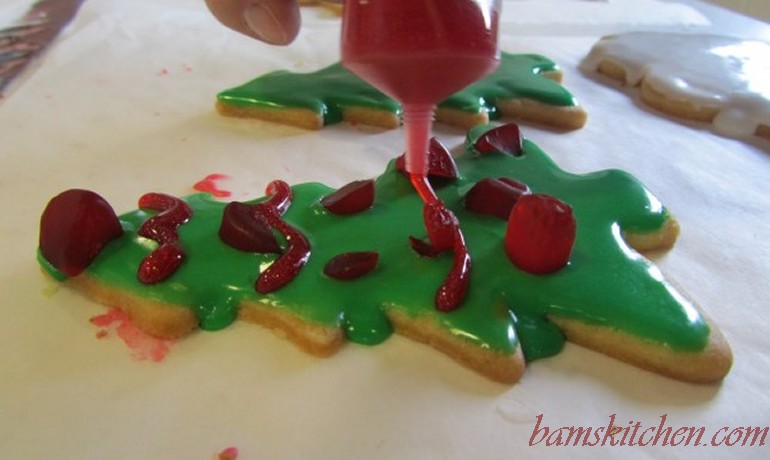 Step 3: Enjoy Christmas cutout cookies with a glass of milk or a cup of your favorite spirits and spread some holiday cheer. We find that if after we frost and decorate the cookies and then we freeze them for a few minutes on a flat sheet and then the icing hardens so that you can stack and place cookies in cookie tins or Tupperware for storage. They can be kept at room temperature for about 1 week in a sealed container or for a couple of months in the freezer in a sealed container. We have to put our under padlock and key or otherwise they are gone in nano seconds.
Wishing you a very happy and healthy holiday season !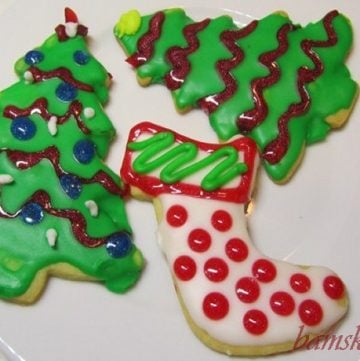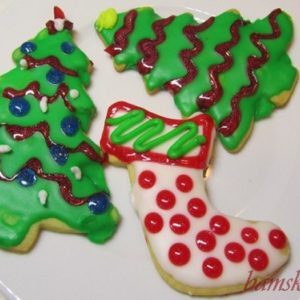 Ingredients
flour -

baking powder -

butter -

sugar or sugar alternative -

eggs -

sour cream -

vanilla -

powdered (icing) sugar -

milk -

food coloring -

sprinkles -

royal icing -
Nutrition