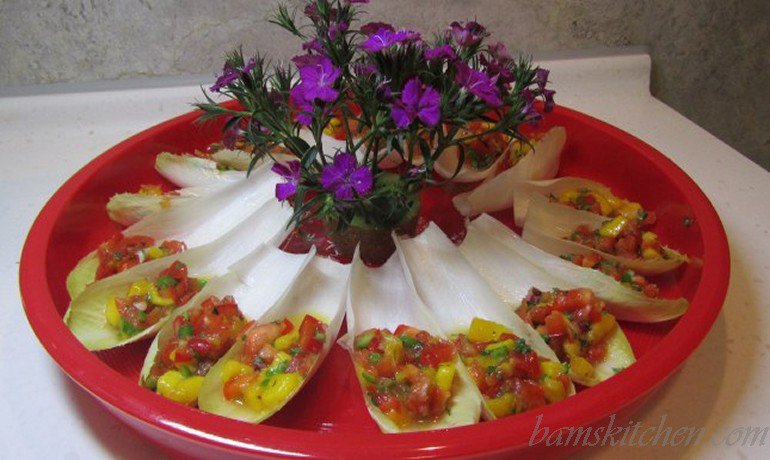 I had to do something very difficult last week. I had to say goodbye to a very sweet and dear friend. In our every day lives, we meet acquaintances. However, there are other times where you meet someone new and have an immediate connection. You read each others mind and finish each others sentences. These special friends are life long friends. I believe that send off's should be a happy occasion and full of inspiration despite the fact that you are hurting inside. The world is quite a small place and I know that our paths will cross again. I hosted a little evening gathering and decided make a few dishes that reminded me of my dear friend's bright, lively and colorful personality. Mango Salsa Dancing in Endive Cups is like biting into a little party. The natural sweetness of the mango and the spice of the chilli peppers and the crisp crunch of the endive make this is a colorful zesty appetizer.
Mango Salsa Dancing in Endive Cups: Makes about 18 cups just about enough for one hungry teenager
Recipe Adapted from Ellie Krieger from Food Network
1-2 jalapeno chili chopped finely(depends on how spicy you want it)
Juice from 1 lime
2 tomatoes finely chopped (or can add 1 cucumber and 1 tomato)
1 tablespoon honey or use sugar substitute
1 red bell pepper finely chopped
1 red onion finely chopped
1 mango chopped (Mangos from the Philippines are so sweet and delicious, my favorite)
Salt, to taste
Freshly ground black pepper, to taste
3 tablespoons fresh cilantro, finely chopped
2 endive (washed, separated and trimmed on the edges)
Step 1: Get the party started and pour yourself, the hostess, a glass of wine. After all you should let the wine breath...
Step 2: Mix jalapeno, lime, tomatoes, honey, bell pepper, onion, mango, salt, pepper, cilantro together and place in fridge in a covered container for about 2-3 hours to let the flavors mingle.
Step 3: This week in Chinese New Year and flowers are in abundance at all the markets and I need some decorations to liven up this party. My Mango Salsa Dancing in Endive Cups also conveniently became the center piece on the table. In order to create this edible decoration, just cut the kiwi in half and place the stems of the flowers inside in a decorative fashion. The moisture from the kiwi kept the flowers perky until the wee hours of the night.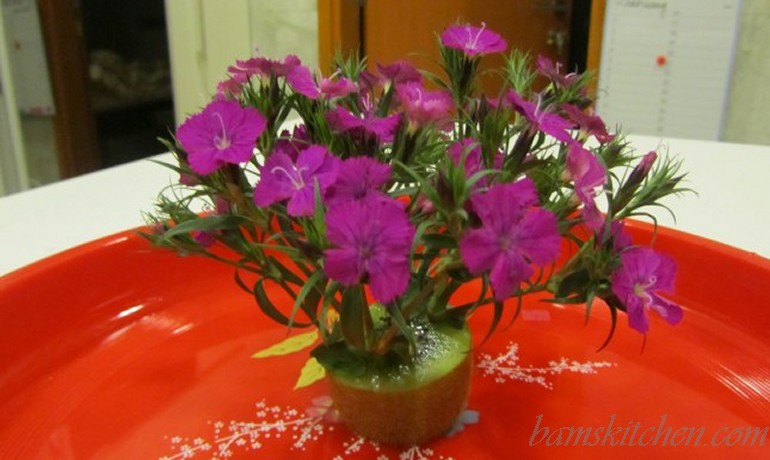 Step 4: Strain the mango salsa so that you remove the accumulated moisture from the marination process.
Step 5: Place the endive leaves on your plate and arrange around flower center piece.
Step 6: Add about 1 tablespoon of mango salsa to each endive leave. Do not over full, just enough salsa to make each endive cup a quick bite.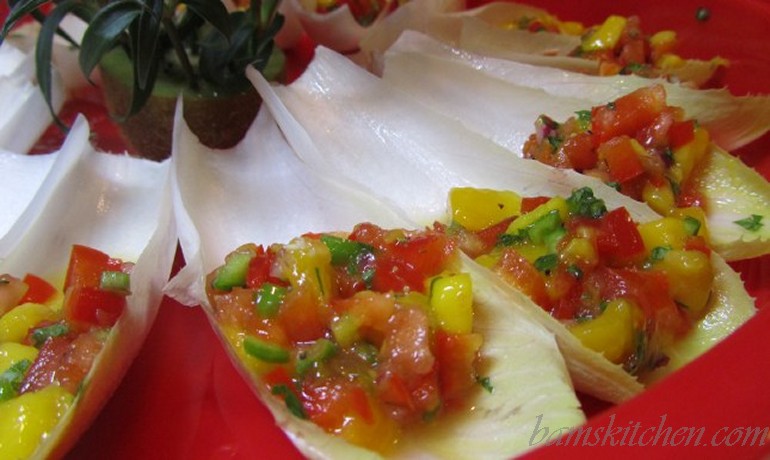 Step 7: Refill your wine glass and set your Mango Salsa Dancing endive cups on the table for a tasty light appetizer and beautiful center piece.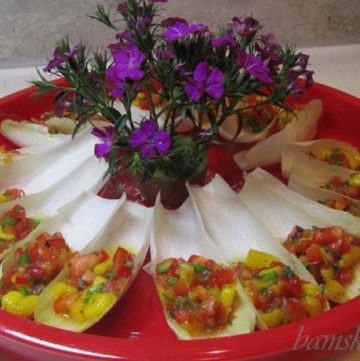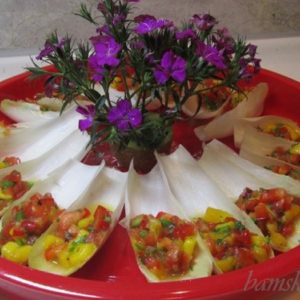 Ingredients
jalapeno -

cucumber -

mangoes -

low glycemic sugar alternatives -

tomato -

red bell pepper -

red onion -

cilantro -

endive -
Nutrition