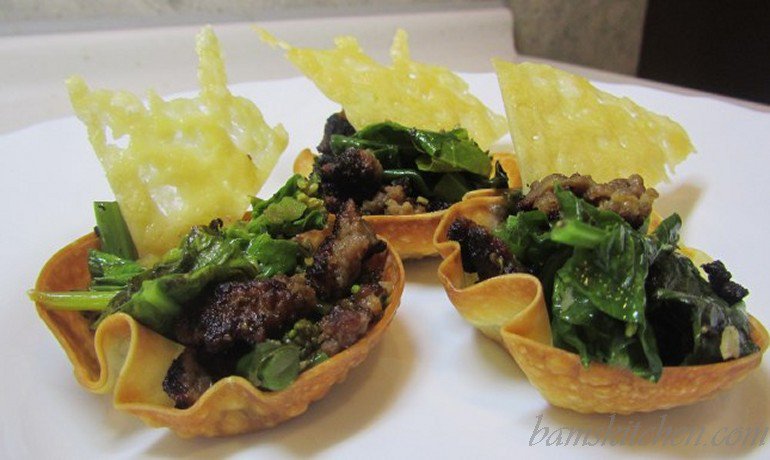 What is your usual response when you have unexpected guests due to arrive in less than 30 minutes?
Panic? Heck no, that call is usually just my cue to pour a myself a glass of wine to get the party started.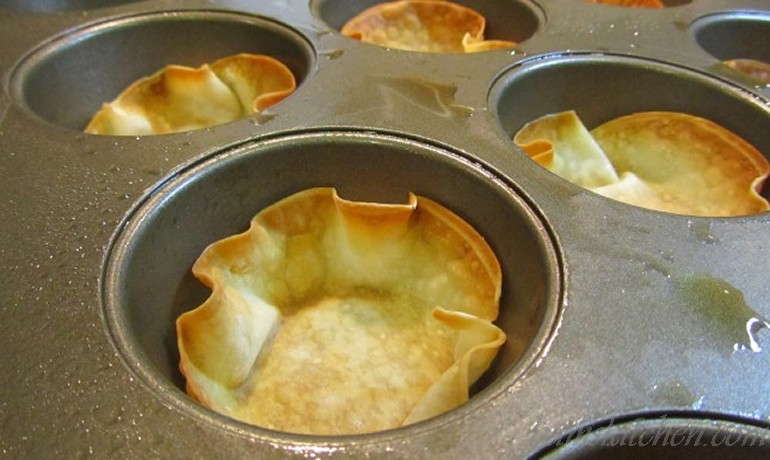 So let's do a little check we have some wine, CHECK. A little vodka, mixers and even some lemons and limes.- CHECK. A few beers- CHECK. Now lets see where we are with the snacks?...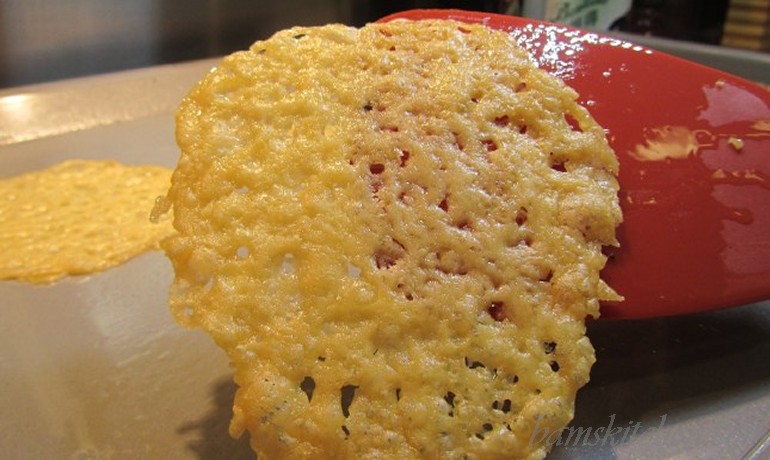 Now everyone usually has at least one little snack like nuts, pretzels, or popcorn right? Well when you have teenagers all snacks just immediately evaporate. I have no idea where they put it but it must disintegrate upon entrance to the home. Thank goodness they are not allowed drink the wine and beer or that would be gone too.
Of all days, I have the worst "Mother Hubbard's Cupboard". No time to run to the store. Hmmm.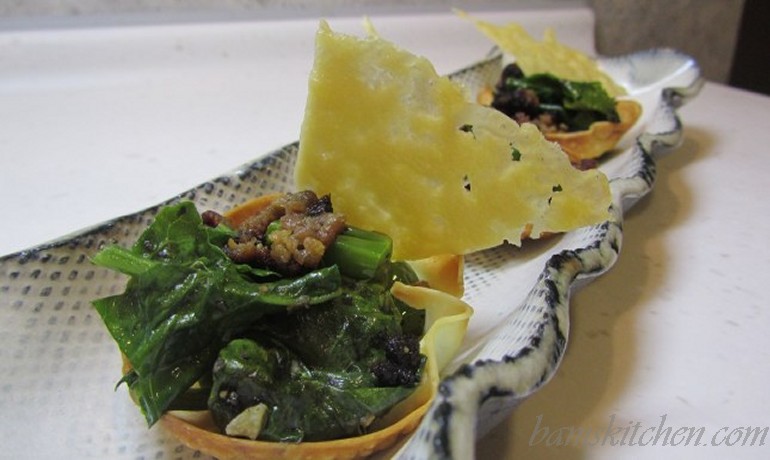 So, lets take a look in the fridge and freezer...
What can I make with wonton wrappers, sausage, Gailan, and Parmesan cheese? Then after my first half glass of wine, the inspiration came. A savory appetizer of Italian sausage and gailan in a baked wonton cup garnished with Parmesan crisps?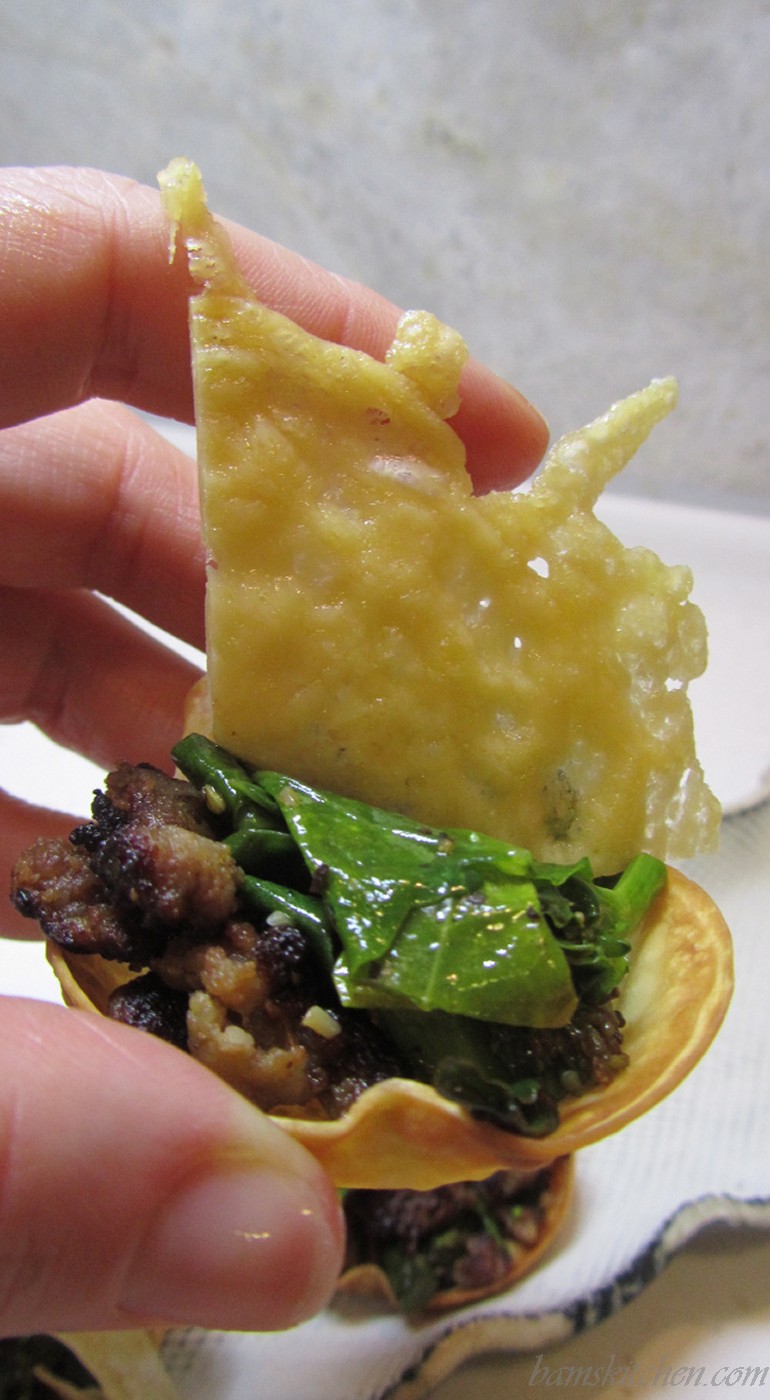 Seriously from initial idea to garnishing. I had this little wonder on the table is less than 15 minutes.
Italian Sausage and Gailan in Baked Wonton Cups Garnished with Parmesan Crisps
Serves 4 adults or 1 hungry teenager as a snack.
12 jiaozi or wonton wrappers
spray oil
½ pound of ground mild italian sausage or spicy Italian Sausage
2 cloves chopped garlic
½ chopped small onion
1 Large handful of Gailan chopped (Chinese broccoli or Kale would be nice too)
salt and pepper to taste
1 dollop of oyster sauce
½ cup finely grated parmesan cheese (garnish)
Step 1: Refill your wine glass so you can be a happy host or hostess.
Step 2: Preheat oven to 190 degrees Celsius.
Step 3: Spray your muffin or cupcake tin with spray oil and place one jiaozi or wonton wrapper in each.
Step 4: Bake for about 5-7 minutes or until crispy golden brown.
Step 5: While your wontons are baking, in a medium pan sprayed lightly with oil, add onions and garlic and saute and then add sausage. Cook sausage until browned and then add chopped Gailan, season to taste with salt and pepper and then add oyster sauce. Cook until Gailan are still bright green but slightly tender. Remove pan from heat and set aside.
Step 6: Remove baked wontons from oven and set aside.
Step 7: On a pre-greased baking sheet, place one tablespoon of grated parmesan cheese about 4 inches apart on baking sheet. Bake for about 5-6 minutes until golden brown and lacy. (Make at least 4- 5 parmesan crisps as they good plain for snacking and to be used as your garnish)
Step 8: Carefully remove baked wonton wrappers from cupcake baking trays and set on serving tray.
Step 9: Place one scoop of the Italian sausage and gailan into each wonton cup.
Step 10: Remove the Parmesan crisps from oven when they are golden. Let cool a minute or 2 and then cut into quarters for garnishing.
Step 11: Garnish Italian Sausage and Gailan Appetizer Cups Garnished with Parmesan Crisps and bring out to enjoy with your guests while they are still hot and yummy.
Step 12: Pour yourself another glass of wine. Dim the lights as your house might be tad messy but who cares as the food is great, they have a relaxed and friendly host and you created a fantastic little appetizer in no time flat.
Have a fun and relaxing weekend.
Take care,
BAM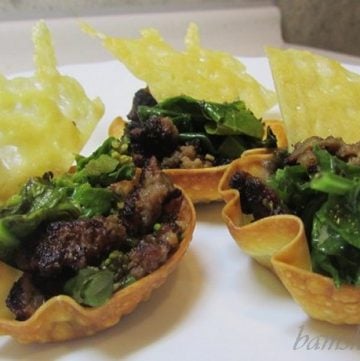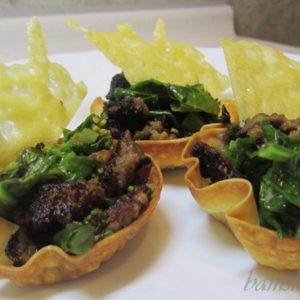 Ingredients
wonton wrappers -

gailan -

parmesean cheese -

italian sausage -

oyster sauce -

garlic -

onion -
Nutrition