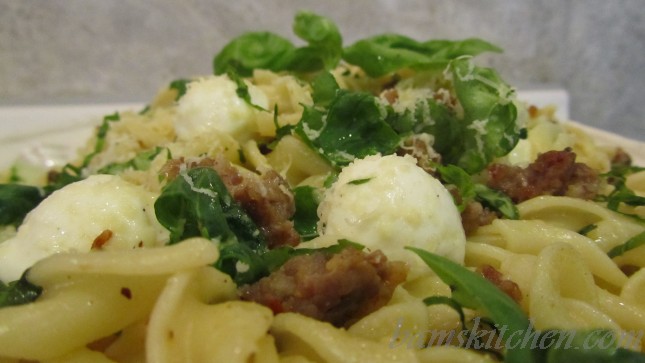 Weekday meals are always such a rush !!! You need to get a great meal on the table in 30 minutes or less. Italian Cavatappi Pasta with Spicy Sausage and Fresh Mozzarella is just the perfect dish for those rushed weekday meals. This dish is not only quick and filling but it has a lot of delightful flavors such as the creaminess of the mozzarella balls, the spiciness of the sausage and the freshness of the basil and vegetables that are sure to be a hit.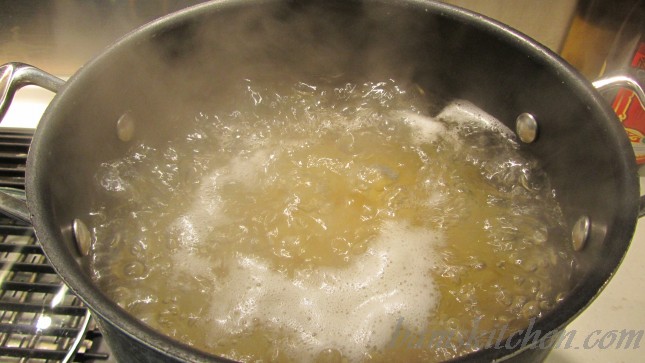 I remember the panic feeling you get when you are in your car on your way home from work and the kids are in the back seat and complaining that they are hungry. You still have to get everyone to their sporting activities and tutor lessons and then you realize the only thing that you have at home to eat is a fully "frozen" chuck roast in the freezer.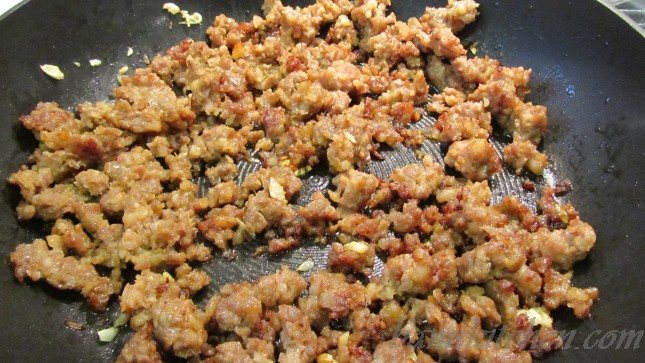 Well if you want to eat sometime in the next 8 hours you better have a plan "B" and it can't be the unhealthy Golden Arches again. Italian Cavatappi Pasta with Spicy Sausage and Fresh Mozzarella can be made with many items from a well stocked pantry and with some food exchange alternatives can be a good standby dish.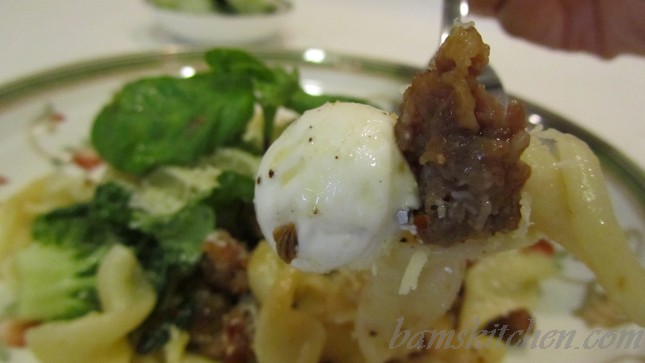 A well stocked pantry is so vital for ease of getting things on the table quickly, even when the groceries get low. Here is a list on some of the things I try to keep in my pantry, spice shelf, refrigerator and freezer to make my life easier. (Everyone's needs are different depending on the types of dishes you prepare in your home. My pantry is very international, so I have a variety of items) What kinds of items do you like to keep in your pantry? I would love to hear from you.
Pantry ( Cupboard)
flour
sugar (granulated, brown and confectioners)
baking powder
baking soda
vanilla
chocolate - 70% cocoa solids
honey
rice (short grain, basmati, wild or brown)
soy sauce (dark and light)
oil (olive oil and sunflower)
vinegars (balsamic, Chinkiang, rice and red wine)
shao xing wine (or better yet, whatever wine I am drinking- little for mom and little for the dish)
sesame oil
pasta (bows, spagetti, etc)
pancho Japanese breadcrumbs
chicken and beef bouillon (or canned stock)
beans and lentils
canned tomatoes
cornstarch
cooking oil spray
sesame seeds
Dashi
Miso paste
Spices:
black pepper corns
ground white pepper
Low sodium salt
dried crushed red chili peppers
dried oregano
dried basil
cinnamon stick
ground turmeric
garlic powder
paprika
whole cloves
chili powder
ground nutmeg
coriander seeds
cumin seeds
Dry mustard
Refrigerator (perishable items)
onions
garlic
ginger
carrots
potatoes
herbs
lemons
limes
fresh chillies
Cheese (parmesan, mozzarella, etc)
eggs
Freezer
frozen chicken breasts
frozen italian sausage
frozen berries
frozen peas or vegetables (also doubles as a great ice pack for those school kid injuries)
Now with some of these items in your well stocked pantry, the Italian Cavatappi Pasta with Spicy Sausage and Fresh Mozzarella is a breeze to make. You can exchange cubed low moisture mozzarella for the fresh mozzarella and frozen peas for the fresh vegetable and dinner is on the table in a snap.
Italian Cavatappi Pasta with Spicy Sausage and Fresh Mozzarella (serves 4 adults or 2 hungry teenagers)
1 pound Cavatappi Pasta (spiral Pasta or any pasta you have in your pantry)
1 pound Spicy or mild Italian sausage (removed from casings)
2 cloves garlic
½ small onion (optional)
olive oil for drizzling
½ cup grated parmesan cheese
1 small container fresh mozzarella balls (if small- baby sized leave whole and if large cut into quarters) (or if going into pantry refrigerator chop regular low moisture mozzarella into ½ inch cubes)
bunch of basil leaves (torn into pieces or 1 teaspoon dried basil from pantry)
½ cup white cooking wine (or whatever you are drinking)
1 chicken bouillon cube
2 cups fresh spinach or baby bok choy chopped (or if going into pantry reserve 1 cup frozen peas)
Salt and pepper to taste
Step 1: Boil noodles in salted water and cook until al dente
Step 2: Unthaw sausage and remove from casings
Step 3: In large pan, add about a tablespoon oil and cook onion and garlic until aromatic.
Step 4: Add sausage and cook until brown.
Step 5: In a separate container add chicken bouillon cube to wine and dissolve and then add to sausage mixture.
Step 6: Drain pasta and add pasta to the sausage mixture
Step 7: Add bok choy, spinach, peas or vegetables of choice and gently stir
Step 8: Salt and pepper to taste
Step 9: Add basil, mozzarella and stir
Step 10: Remove from skillet and place on large serving platter and garnish with fresh grated parmesan and basil.
Step 11: Mangiamo! Let's eat!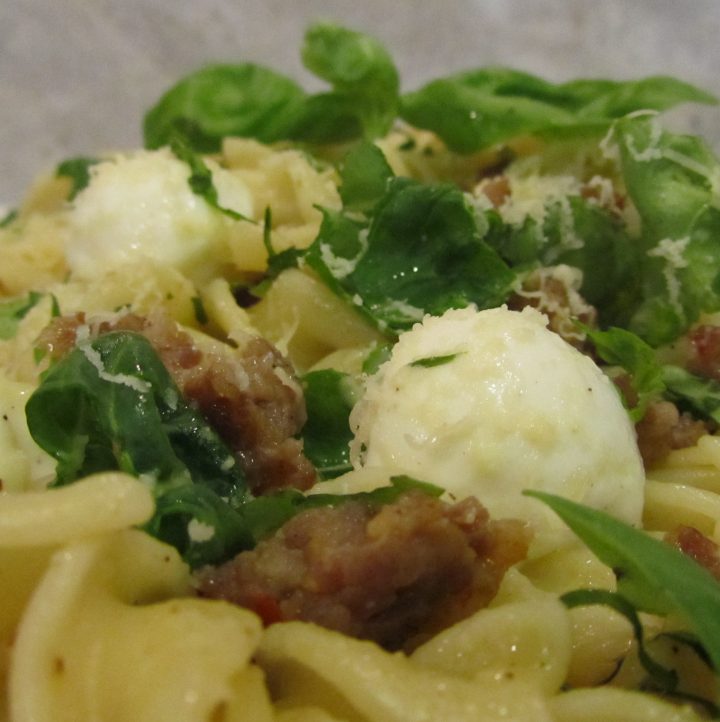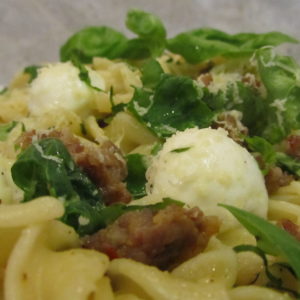 Ingredients
Cavatappi Pasta (spiral pasta) -

italian sausage -

mozzarella cheese (fresh) -

garlic -

onion -

white wine -

chicken broth -

parmesan cheese -

basil -

baby bok choy -
Nutrition