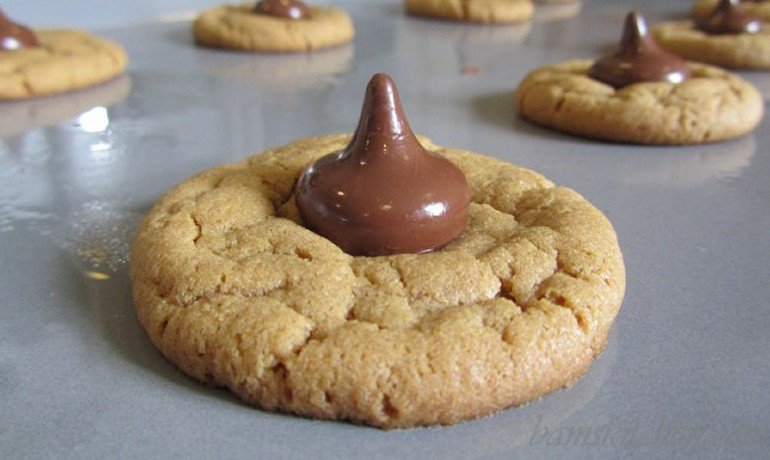 My eldest teenager's favorite cookies are chewy peanut butter chocolate kisses. One chewy bite out of the cookie is like getting a big hug and kiss from Mrs. Claus. Fresh out of the oven the melty, rich chocolate covers your tongue and then you bite into the chewy warm peanut butter cookie. My teenage boys usually stalk me like hungry wild dogs during the first 8 minutes it takes for these easy cookies to bake as the whole house smells like a yummy treat. The first batch of warm cookies are eaten directly off the cookie sheet by the boys. It is a good thing that this recipe makes 48 cookies because the first 12 are usually spoken for.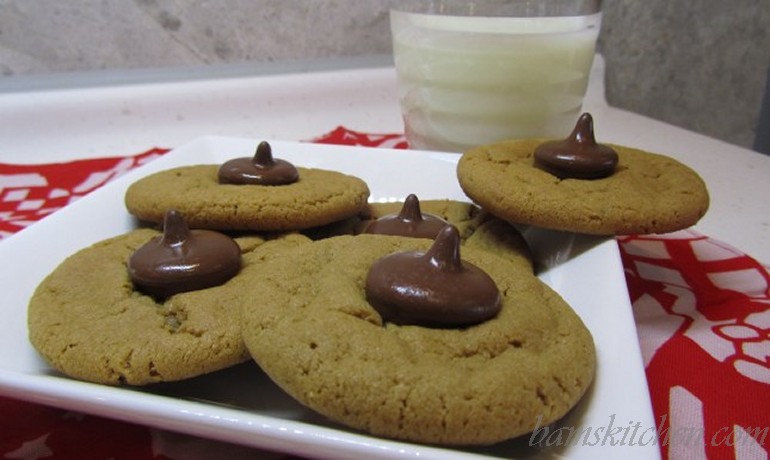 I was going through some of the old recipes that my mom has given me over the years. I wish I could give proper credit to the one who invented this cookie but this one was hand written on a recipe card many years ago. There are many similar recipes out there but this one has few ingredients and in addition it is super easy, so this makes this one a winner.
Hugs and Peanut Butter Chocolate Kisses for Santa
Makes about 48 cookies
½ c. butter
½ c. peanut butter (creamy)
½ c. sugar
½ c. packed brown sugar
1 egg
1 ¼ c. flour
1 tsp. baking powder
¾ tsp. baking soda
¼ tsp. salt
48 Hershey kisses- wrappers removed ( I used Hershey Kisses milk chocolate but you could use the Hershey's stripped white and milk chocolate, or dove chocolates or heart shaped chocolates or anything your little heart desires.)
Step 1: Preheat oven to 375 degrees.
Step 2: Mix together butter, peanut butter, sugar, brown sugar, and egg with blender until light and fluffy.
Step 3: Mix together flour, baking powder, baking soda and salt and gradually mix into peanut butter mixture until you form a sticky dough. Roll into small balls and place onto a greased cookie sheet.
Step 4: Bake 8-10 minutes or until just golden brown. Remove from oven.
Step 5: Place Hershey kiss (with wrapping removed) in center of each cookie, while they are still hot.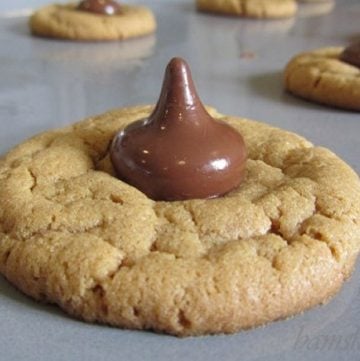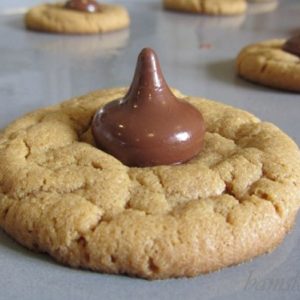 Ingredients
butter -

peanut butter -

brown sugar -

sugar or sugar alternative -

egg -

flour -

baking powder -

baking soda -

hershey kisses -
Nutrition