Gluten-free Coconut Curry Laksa is a very special Singaporean dish made with a rich laksa broth that is made from a delicious mix of dried shrimp, chillies, shallots, garlic, coriander and curry. The laksa has a rich coconut broth and filled with gluten-free rice noodles, shrimp and topped with hard-boiled eggs, coriander, bean sprouts and drizzled with a little fresh lime juice. Sublime!
.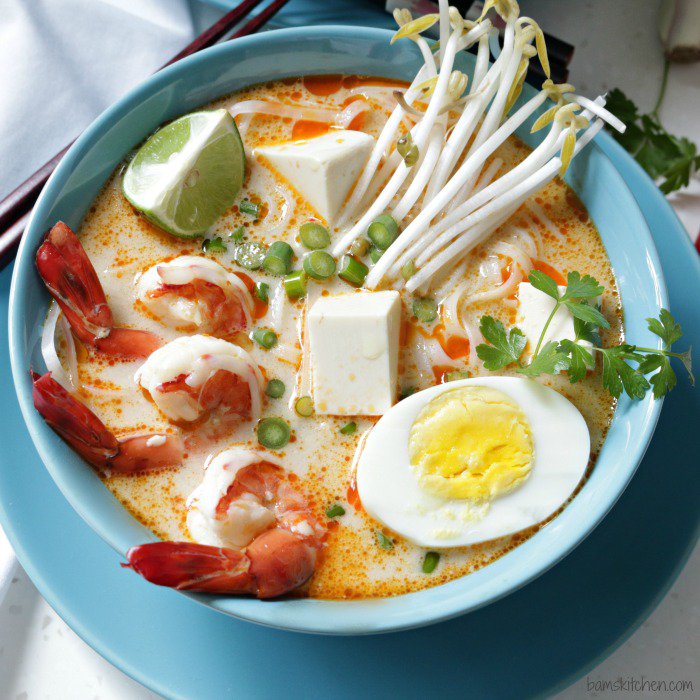 Today, I am excited to be guest posting over at The Foodie Baker today and sharing my take on my Gluten-Free Coconut Curry Laksa. You can find the recipe HERE.
I just can't seem to get enough of this delicious gluten-free coconut curry laksa comfort dish as it is a little spicy , a little sweet, a little savoury and fresh with lime and herbs and delicious toppings. A couple of weekends ago I went to Singapore to visit a close Auzzie friend, ate loads of delicious Coconut Curry Laksa and guess who I met up with? I will give you a couple of hints...she loves to bake, she has an infectious smile and she has done a guest post on Healthy World Cuisine before. Do you give up?
You guessed correctly! It was Jasline from The Foodie Baker and she brought along a dear friend who makes the most amazing bento boxes I have ever seen. You guessed right again! You guys are smart! I also met Jean from Bento Days.
The world is really a very small place! A fantastic perk about being a foodie blogger is meeting fantastic foodies, like your self, from all over the world. You name a country or a region and I know a foodie buddy. The best way you get to know a country is through its people, language and you guessed it "The Food. Food is something that transcends all cultures, ages, and religions and is a great way to meet new people in a foreign place.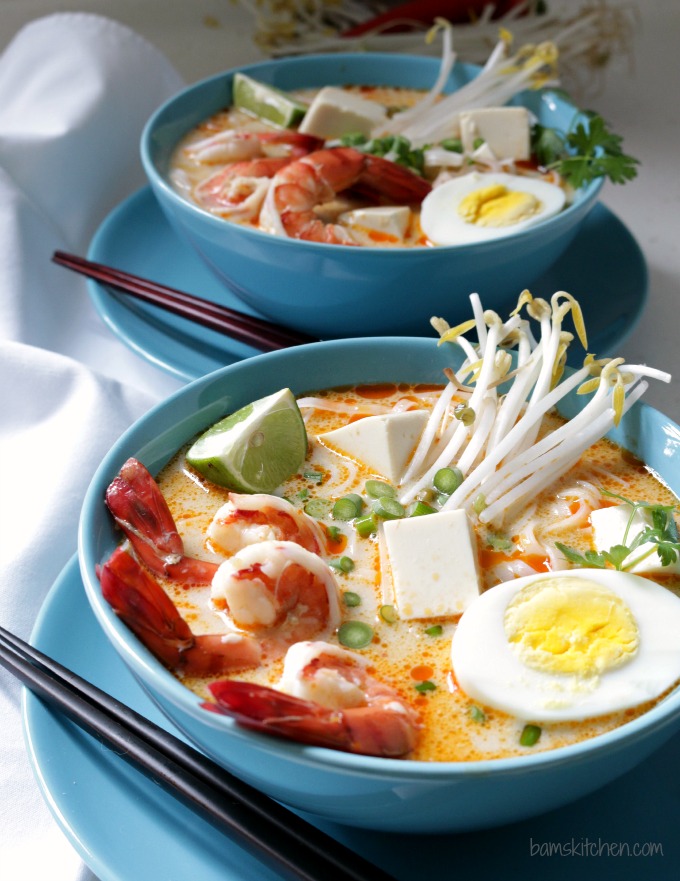 Singapore Wet Markets and the Foodie Scene
I was on a mission to get to know Singapore at its heart and that my dear friends is in their wet markets and hawker stations. I know where most of you would be hitting the shopping, parks and sites of Singapore I was having a blast in the wet market scoping out the fresh pandan leaves, discussing with local vendor on how he makes his rice noodles every day and testing out the hawker food stalls. (I know you are shocked! Smiling....)
Singapore is clean, friendly and has great hawker stands almost everywhere you look. Hawker stands are scored with A through D grade to notify the public of their grades they received for cleanliness and hygiene in their cooked food stalls. The food stalls are required to display their scores in the window. There were so many to choose from but as I say when you are in Rome...or Singapore... I needed to try the Coconut Curry Laksa. You can just smell that amazing aroma and you know you have to try it.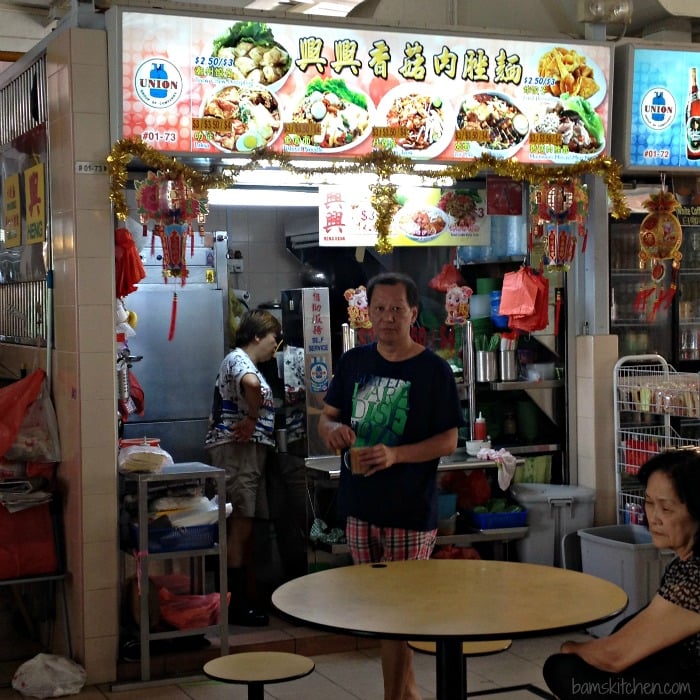 Why you are going to love Gluten-Free Coconut Curry Laksa
Sublime is the only word I can use to describe this delicious Coconut Curry Laksa also known as "Curry Mee". You are just going to love the rich coconut broth and the delicious noodles because if you buy the laska paste already made you can have this delicious dish on your table in less than 30 minutes. I was praying that I would never be able to find the end of my bowl as it really is a bowl of comfort. Did you know that Coconut Curry Laksa was noted as one of the top dishes in to eat in Singapore?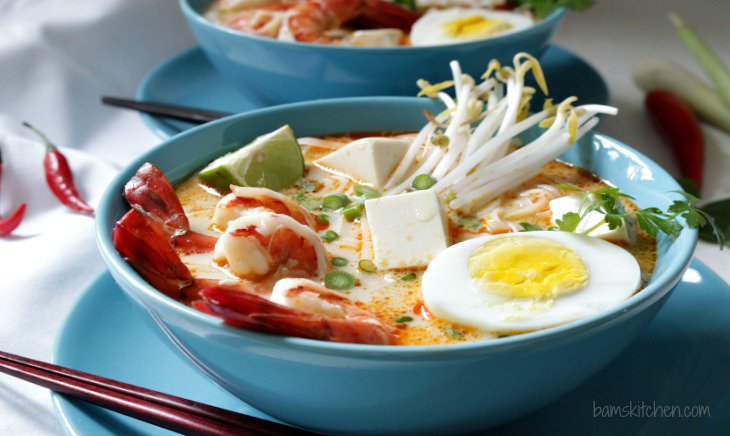 Balance of Flavors
Much like Thai dishes, coconut curry laksa has the balance of spicy from the chillies, sweet from the palm sugar, sour from the lime and salty from the dried shrimp to tantalize your senses. There are essentially 3 different types of laksa in Singapore such as curry laksa, asam laksa and Sarawak laksa. However, I like coconut curry laksa the most as it has the flavor combinations from both the Chinese and Malay together. This recipe is a little different from one vendor to another. I also have my spin on this dish as I wanted to make this dish gluten-free too.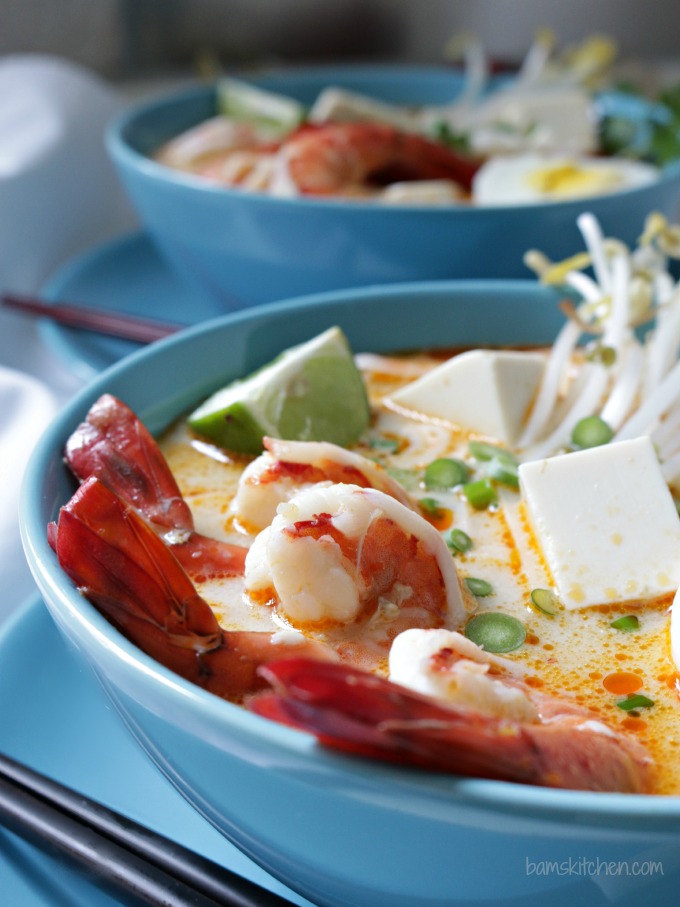 Do not worry if you notice that this recipe has a long list of ingredients as many of them are optional so keep on reading... If I did not have to worry about the gluten-free diet, I would just have used one of the delicious Malaysian Laksa (rempah) paste on the shelves of your Asian grocery market. (What other person that you know has only 2 days in Singapore (SG) spends part of her day in the wet market? Ok, I guess now you know I am a true foodie)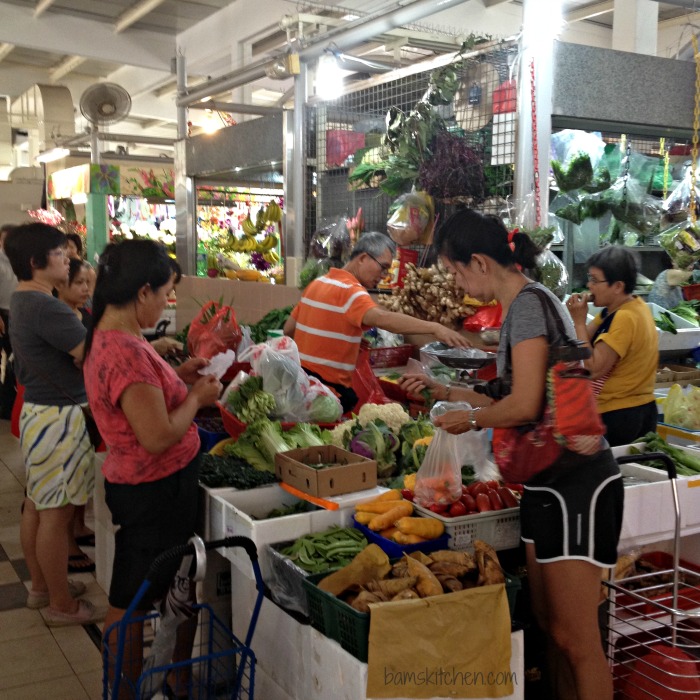 How to make your Laksa Gluten-Free
I wanted to remove the obstacle of the gluten-free factor so I made my own rempah paste from scratch. I used a mortar and pestle to blend the ingredients but you could also use a food processor. Then, I added shallots, loads of garlic, bird chillies, dried chillies, dried shrimp that I had soaked and drained, macadamia nuts (as I could not find candlenuts at the market) curry powder (or can use fresh curry leaves) and fresh coriander roots (or can use coriander powder) , brown sugar (as I could not find palm sugar at the market today) and salt to help with the mixing process.
We skipped the shrimp paste as I could not be certain, it was gluten-free. However, shrimp paste does add a deep earthy flavour to the paste. The beauty of making your own laksa paste is that you can adjust the heat, salty and the sweet in the dish to your liking. I love spicy food but sometimes it does not like me so I made my laksa very mild. You can skip this whole step and save time, if you find a Malaysian laksa (rempah) paste pre-made at the market.
I also used a fresh Tom Yum pack that is available in our local Park n Shops here in Hong Kong and it includes fresh lemon grass, chillies, galangal, kaffir lime leaves, fresh limes and shallots. However, I know that these items will be very difficult to come by if you are not in Asia. I just love the aroma from the lemon grass and kaffir lime leaves but it you cannot get it where you live just omit this from the recipe. As bare minimum, you need to have the following items and these are rempah paste, coconut milk, brown sugar, limes, rice noodles, shrimp and some fresh toppings like cilantro and bean sprouts.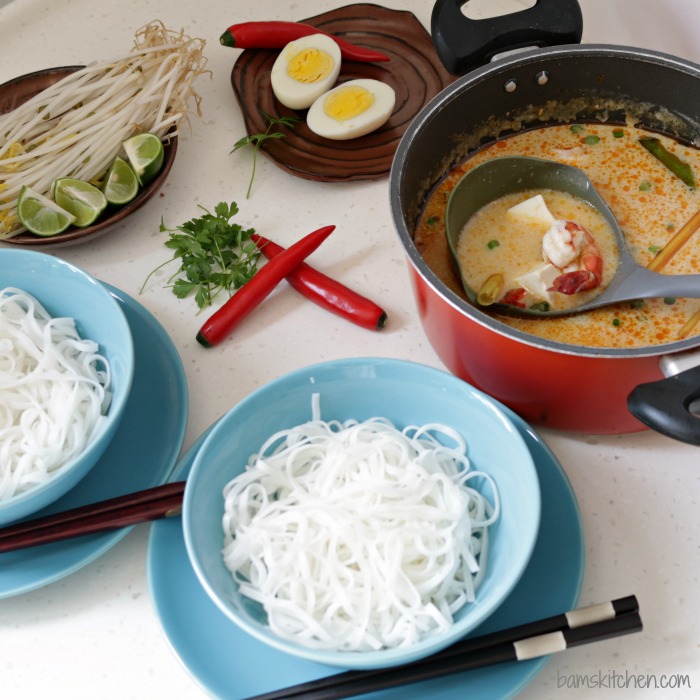 Laksa is also made with different starter broths and we will never be able to get the secret to the broth from the vendors as this is the secret to their success. You can use canned or boxed chicken broth, vegetarian broth or even fish broth as your starter broth and you can have this dish on your table in less than 30 minutes. (Wet market in Singapore- picture below)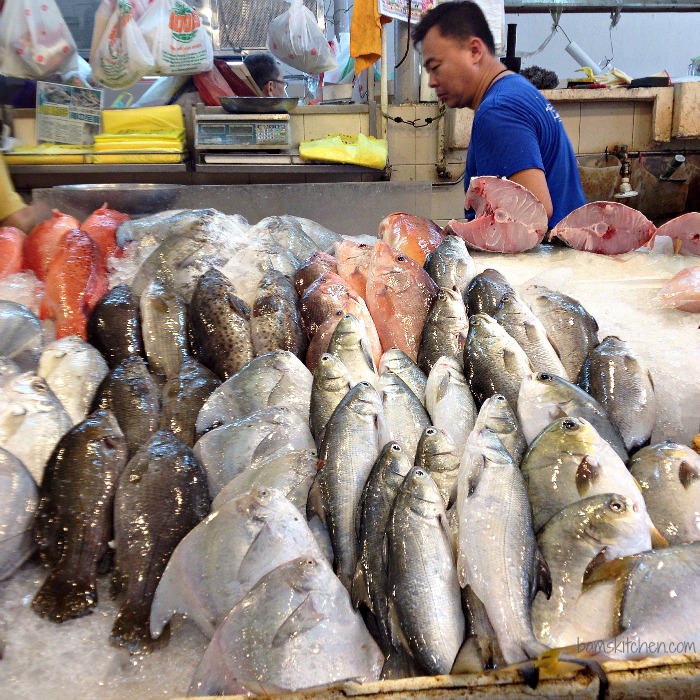 How to make Homemade Shrimp Broth
If you are a little more adventurous, you can make your own shrimp broth. I always buy my shrimp fresh from the wet market and they come with the heads on and all of their original equipment. First, I start my broth with a little canola oil in my pot and add some shallots and lemongrass. Then, I add the shrimp heads and shells to the pot and then I simmer for about 10 minutes. I add water and bring to a boil and then to a simmer for about 40 minutes and skim along the way. Next, remove the shrimp heads, shells and lemongrass and season with a little salt to taste and you have a beautiful shrimp broth.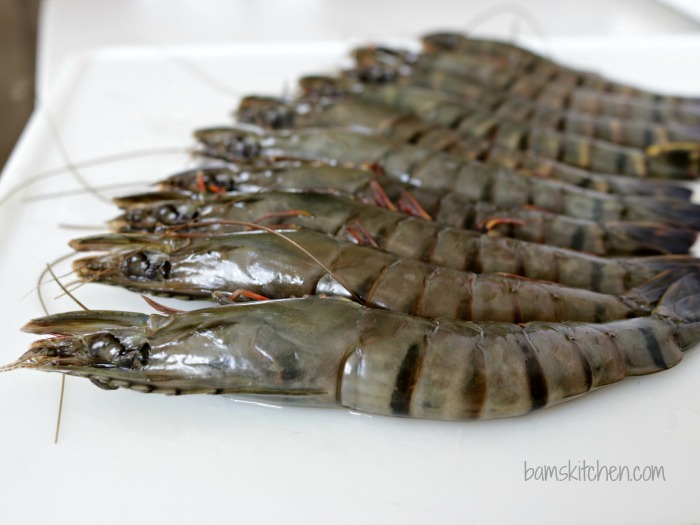 Laksa Noodles
In Singapore, they used these really thick and delicious laksa noodles. It is very difficult to find these laksa noodles elsewhere so I just exchanged with dried pad Thai gluten-free rice noodles or you could even use rice vermicelli. The trick of making this delicious laksa soup with noodles is not to over cook the noodles. I love when my noodles are a little aldente.
I place my dried in a bowl and add boiling water and soak for about 5 minutes or just until softened but not all the way cooked and then drain them and set aside. Do not add them to the soups broth to cook or otherwise the noodles will soak up all the delicious broth. It is best not to cook the noodles all the way as when you pour the delicious hot steaming broth over the noodles it will cook them in your bowl while you are adding the garnishes.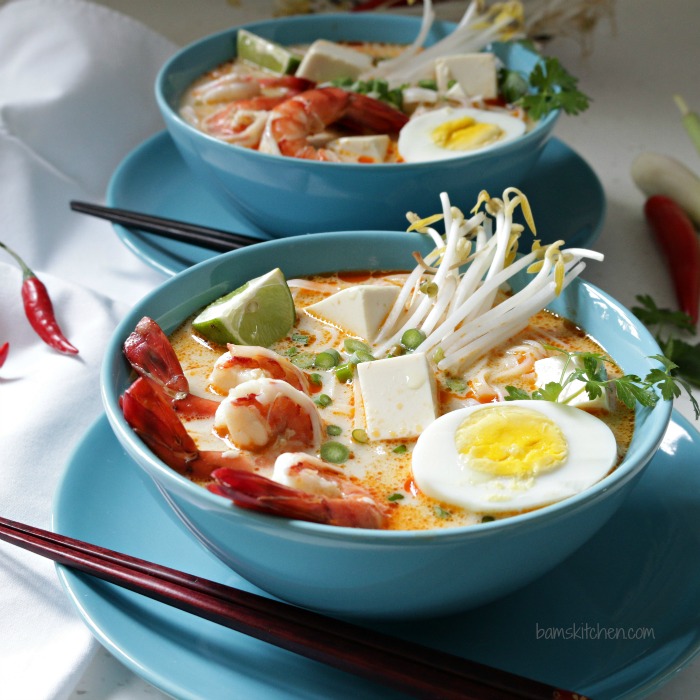 What are traditional toppings for a Laksa?
Now for the fun toppings... I love something crunchy on the top and bean sprouts (mung beans) are delicious. They traditionally serve deep-fried tofu squares but I wanted a healthier version so I just used firm plain tofu sliced into squares. Coriander (cilantro) leaves is a great substitute for the Vietnamese coriander called daun kesum. Slices of fish sticks, cockles and other goodies can be found at the hawker stations. Hard boiled eggs a big favourite as well as shrimp, limes and a side of chili sambal to taste.
What are your favourite toppings for your laksa?
More Nourishing Soup Recipes
Immune Boosting Chicken and Rice Soup
Hungry For More? Subscribe to our Newsletter and follow along on Facebook, You Tube, Instagram, and Pinterest for all the latest updates.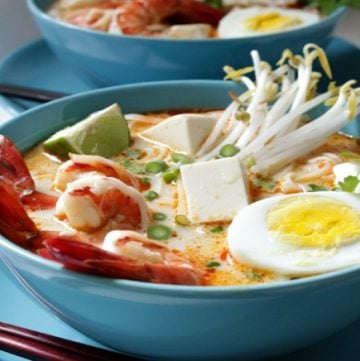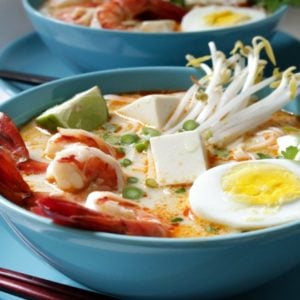 Gluten-Free Coconut Curry Laksa
Rich laksa broth is mixed in a rich coconut broth and filled with gluten-free rice noodles, shrimp and loads of delicious toppings.
Print
Pin
Rate
Ingredients
Rempah Paste/Laska Paste (or skip this step & buy your favourite Malaysian Curry Laksa paste
2

bird chillies

fresh (more or less for desired heat level)

2

chili peppers


dried (more or less for desired heat level)

2

shallots


peeled and chopped

5

garlic


peeled

2

inch

Galangal (Kha)


knob peeled fresh (can exchange with fresh ginger)

2

inch

turmeric


peeled, fresh (can exchange with 1 teaspoon dried ground)

2

stalks

lemongrass


fresh white parts only, chopped

3

tablespoon

dried shrimp


soaked and drained

2

teaspoon

curry powder -


ground (or 4 fresh curry leaves)

1

tablespoon

coriander root


(or 1 teaspoon dried ground)

6-8

macadamia nuts


(or candle nuts)

2

teaspoon

salt


or to taste

2

tablespoon

brown sugar


or to taste (palm sugar would even be better if you can get there where you live) (sugar substitute as needed)
Soup Base
150

grams

rice noodles


medium (soaked for 5 minutes in hot water, rinse with cold water and drain)

1

tablespoon

canola oil


3

cups

chicken broth

(can use vegetable broth, shrimp broth) gluten free


13

oz

coconut milk


or about 1 cup

3

stalks

lemongrass

beaten and chopped in half so that they release flavour (optional)


2

leaves

kaffir lime leaves


fresh leaves, remove the stem to release flavour (optional)

6

shrimp

4

oz

tofu


firm cut into large cubes
Garnishes
2

limes


quartered fresh, I used key limes (optional)

2

hard boiled eggs


2 cut in half (optional)

½

cup

bean sprouts


cut in half also known as mung beans (optional)

cilantro

handful roughly chopped (coriander or Vietnamese coriander called daun kesum) –(optional)


Chili sambal sauce

as desired (optional)
Instructions
Skip to step 2, if you have purchased pre-made rempah paste. If you are making your own rempah past, place your bird chillies, dried chillies, shallots, garlic, galangal, lemongrass, dried shrimp, curry powder, coriander, macadamia nuts, salt and brown sugar to you mortar and pestle or food processor and process until a smooth paste. If you need to get the food processor moving, add a little of canola oil.

Soak your dried pad Thai noodles in hot water for about 5 minutes and then drain, rinse and set a side. You want your noodles to be aldente and not cooked all the way as they will continue to cook when you put a ladle of hot broth over the noodles during the serving process. Do not cook your noodles in the broth or they will soak up all of the lovely coconut broth.

Place one tablespoon of oil into your soup pot and add 2 tablespoons of your prepared rempah past into soup pot and cook until you can smell the aromatics, 2 minutes. Add your chicken broth or broth of choice in the soup pot, coconut milk, lemon grass and kaffir lime leaves and bring to a boil and then reduce down to a simmer and cook for 15 minutes. Add the shrimp and cook for about 1-2 minutes or until they turn pink. Add the fresh tofu squares. Turn off the burner.

Divide the softened rice pad Thai noodles amongst 2 bowls. Ladle several scoops of the delicious coconut broth over the rice noodles. Garnish with limes, hardboiled eggs, bean sprouts, fresh cilantro and chili sambal as desired. Enjoy!
Notes
If you buy your own Rempah Paste/Laska Paste, you can skip the step of making your own paste and that is a huge time saver.
Nutrition
Serving:
1
g
|
Calories:
551
kcal
|
Carbohydrates:
55
g
|
Protein:
22
g
|
Fat:
30
g
|
Saturated Fat:
19
g
|
Cholesterol:
242
mg
|
Sodium:
1225
mg
|
Potassium:
648
mg
|
Fiber:
3
g
|
Sugar:
9
g
|
Vitamin A:
213
IU
|
Vitamin C:
28
mg
|
Calcium:
184
mg
|
Iron:
8
mg