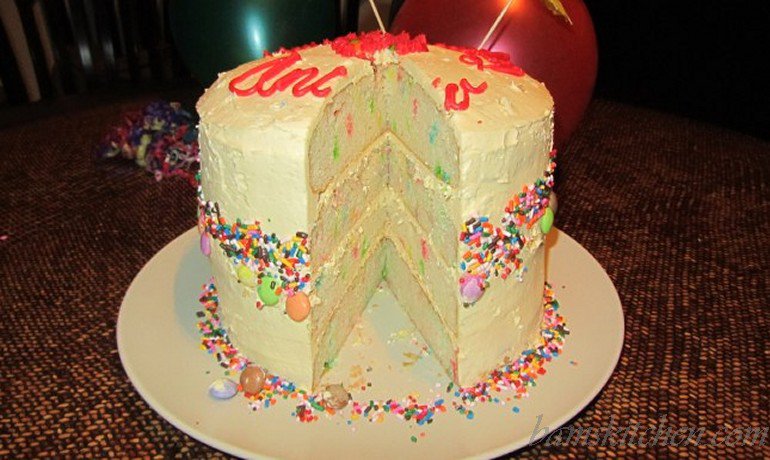 My teenager wanted a cake as tall as he is for his birthday.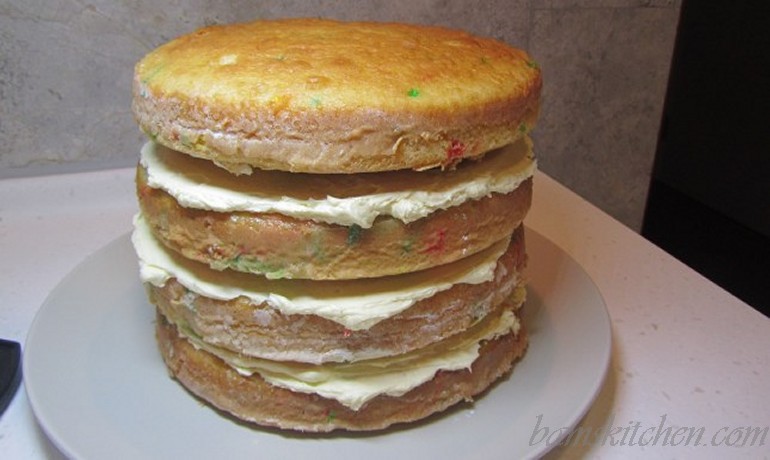 A 5 foot 10 inch cake!!! Are you kidding? BAM's Kitchen does have some limitations.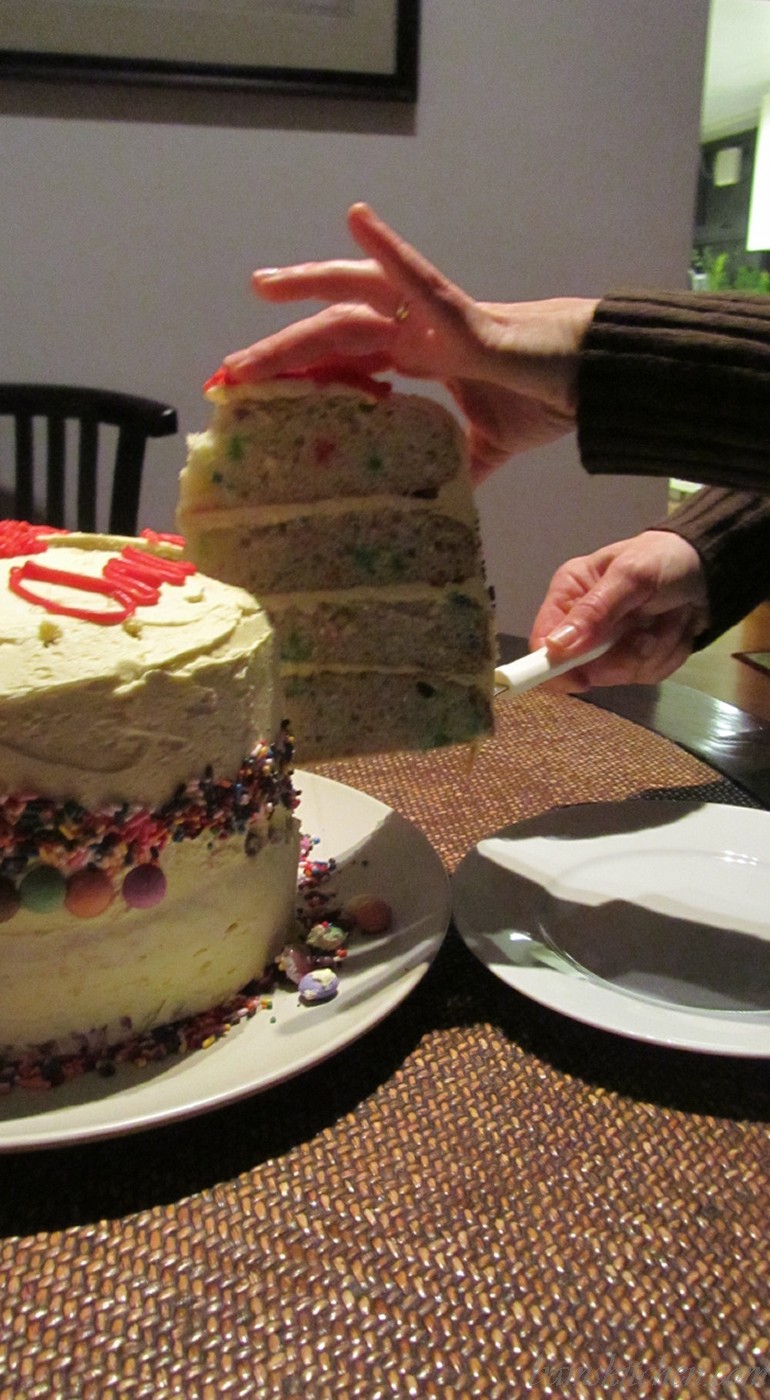 My youngest teenage boy has grown over 12 inches, just this year. Really !!!! He eats me out of house and home and of course towers over me. You may also know him better as Healthy World Cuisine QA Analyst and Food Consultant. For all of his hard work and efforts of taking pictures in BAM's Kitchen, taste testing and having to wait to eat something because it has not yet been photographed; I wanted to do something special for him. A four tiered towering confetti birthday cake with creamy butter cream frosting was just perfect the perfect way to say thanks and wish him some very special birthday wishes.
Lots of love from mom, buddy this post is for you ...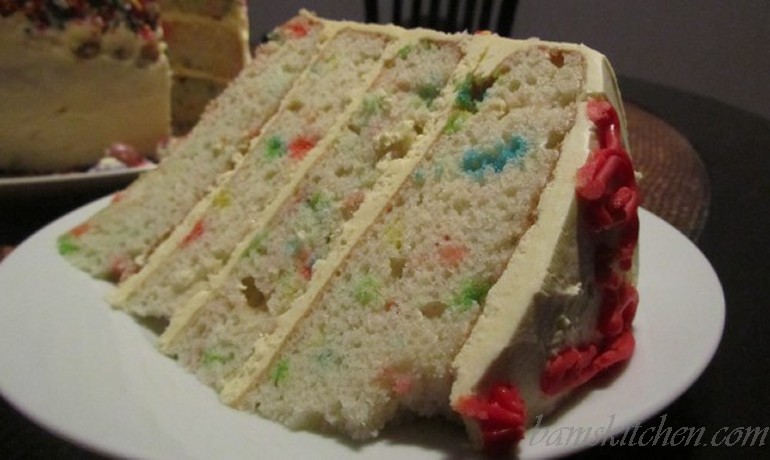 Four Tiered Towering Confetti Birthday Cake with Creamy Butter Cream Frosting
Serves 12 adults or 4 hungry teenage boys
Confetti Cake ( Simple White Cake Recipe adapted from All Recipes.com by Scottsoman)
Makes enough cake to make four (9x9) cakes
4 cups white sugar
2 cups butter
8 eggs
2 tablespoons and 2 teaspoons vanilla extract
6 cups all-purpose flour
2 tablespoons and 1 teaspoon baking powder
2 cups milk
⅓ Confetti sprinkles (multi-colored Jimmies)
Preheat oven to 350 degrees F (175 degrees C). Grease and flour (4) 9x9 inch pans.
In a large bowl, cream together the sugar and butter. Beat in the eggs, one at a time, then stir in the vanilla. Combine flour and baking powder, add to the creamed mixture and mix well. Stir in the milk until batter is smooth. Finally, add the confetti sprinkles and gently fold into cake mix. Pour or spoon batter into the prepared pans.
Bake for 30 to 40 minutes in the preheated oven. Cake is done when it springs back to the touch or toothpick comes out clean. (You may need to adjust your cooking time depending on how many cakes you were able to fit into the oven at one time)
Creamy Butter Cream Frosting (Recipe adapted from Gale Grand's Quick Vanilla Butter Cream Frosting)
Makes enough frosting to cover a four tiered cake
6 cups confectioners' sugar
2 cup butter
2 teaspoon vanilla extract
2 tablespoons whipping cream
1. Mix together sugar and butter. Mix on low-speed until well blended and then increase speed to medium and beat for another 3 minutes.
2. Add vanilla and cream and continue to beat on medium speed for 1 minute more, adding more cream if needed for spreading consistency.
3. Assemble cake with frosting in between layers and frost outside out cake. Decorate with sprinkles, candy and decorator icing. (Get ready for the sugar coma)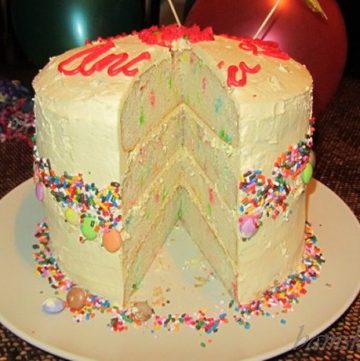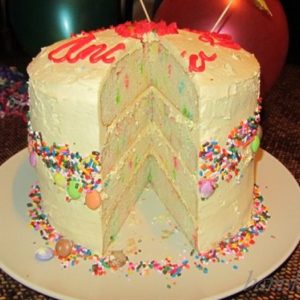 Ingredients
sugar or sugar alternative -

butter -

eggs -

vanilla -

baking powder -

milk -

confetti sprinkles -

powdered (icing) sugar -

whipping cream -

buttercream frosting -
Nutrition