Crab Stuffed Whitefish is made with succulent whitefish stuffed with creamy and dreamy crab filling and topped with a lemon butter drizzle...in just 30 little minutes.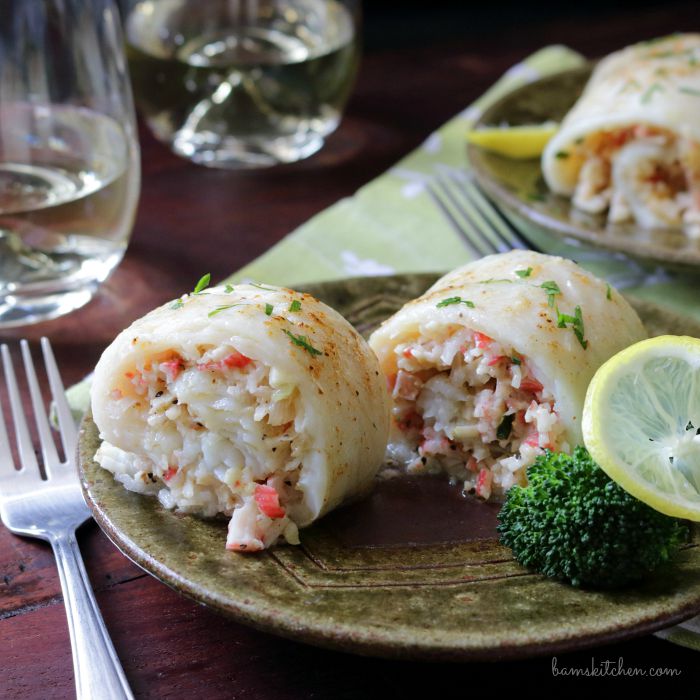 You are just going to love this simple and easy crab stuffed whitefish because the flavours are going to make you feel like you are dining gourmet. Crab stuffed whitefish is low carb, diabetic friendly and gluten-free, if you use real crab. You can choose the whitefish of choice in your region while making good sustainable seafood choices and it is so easy to throw together.
Seriously, you could come home from work and your fish still be a frozen rock solid and still get dinner on the table in 45 minutes and that includes 15 minutes of thaw time. Trust me, it is possible. I have been there, DONE THAT!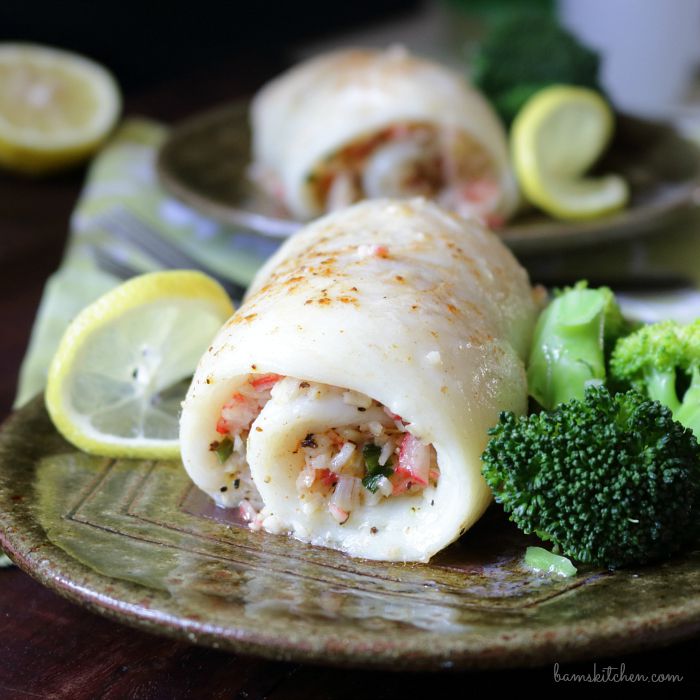 This time of the year is so busy with back to school, crazy work and social obligations you need some easy dependable dishes that are even fancy enough to serve your guests. Well this little Crab stuffed Whitefish recipe does just that.
I first posted this recipe on September 15th, but have made this recipe many times since and have experimented with different fish and fillings and finally retook some of the photos. However, I have kept one of my old photos just below to remind me of last years beautiful clear September day.
Just as the rest of the world is just about ready to dig into the back of their closet for their comfortable jeans, sweatshirts and scarves, in Hong Kong we would be delighted that it is just not a million degrees outside in the evenings.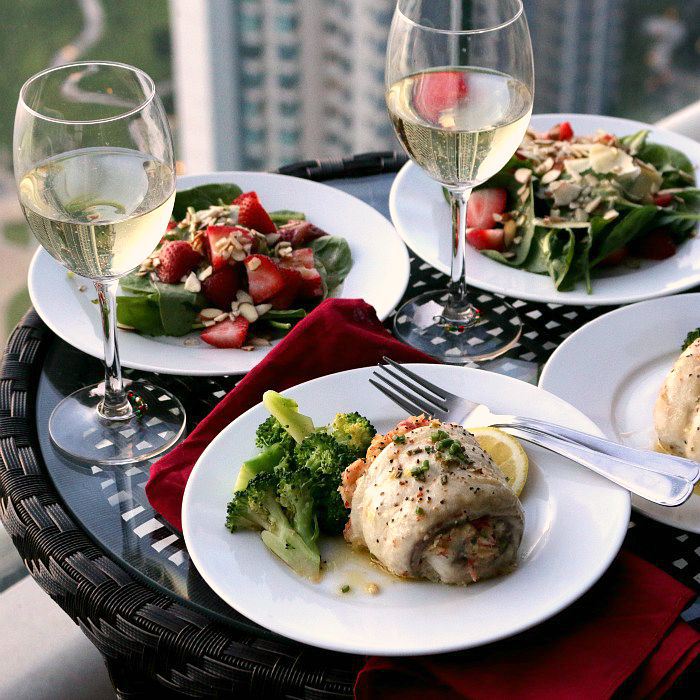 Early Fall is the perfect time of the year to enjoy some relaxed alfresco dining and take in some of the stellar sunsets. There is something so romantic about enjoying an elegant dinner just before the sun begins to set with a glass of wine to toast (and before the mosquitos come out in full force...)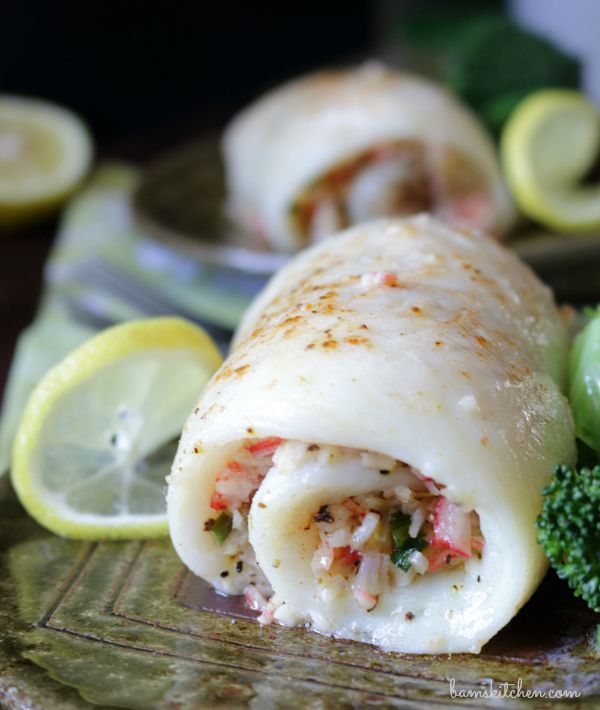 I used to make this easy and elegant dish often when I used to live in the States but I used to use sole or flounder. However, now that I am living in Hong Kong, neither of those fish are readily available. However, you can use any easy flaking white fish you desire such as tilapia, mahi mahi, perch, walleye (pickerel), etc. I snagged the last 2 filets from the fish monger and then went over to check the price of crab meat. I nearly lost consciousness. I can't even type the amount down on the keyboard as it makes me shutter. My goodness you could buy a small flat in Central for that!!!?!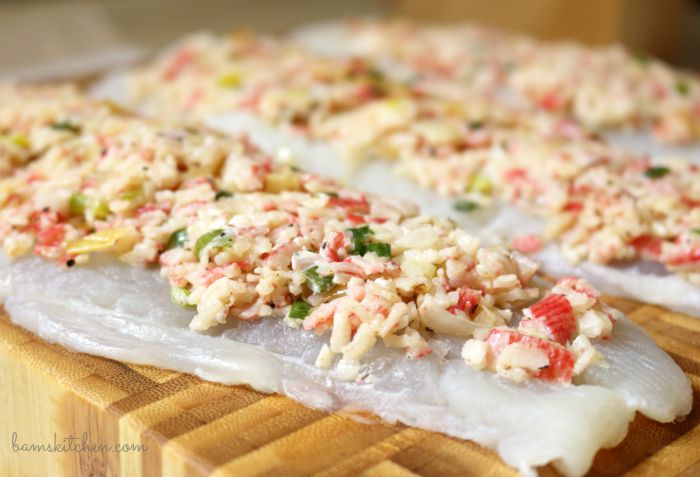 Have no fear as you can get this whole dish on the table in about 30 minutes and that includes a veggie, tossed salad, linen napkins and corking a wine of your choice. A nice Margaret River Sandalford Sauvignon Blanc would pair nicely with this dish or a delightful lemonade for the kids.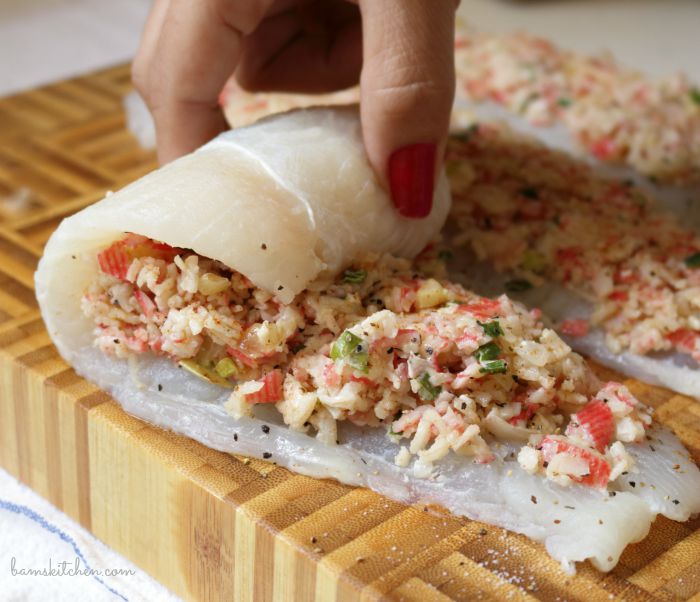 The crab filling is so delicious I could just eat it by the spoonful. I did not add mayonnaise, eggs or breadcrumbs in my stuffing but instead lots of caramelised onions, garlic chives and just a tad of light cream cheese and a dash of old Bay Seasoning. The cream cheese and the caramelised onions help the stuffing bind to the inside of the fish when rolled up. If you are lactose intolerant like me, just skip the cream cheese step and use a lactose free margarine instead of butter. If you are following a gluten-free diet or diabetic friendly diet make sure to use real crab as imitation crab has gluten and sugar in the ingredient list.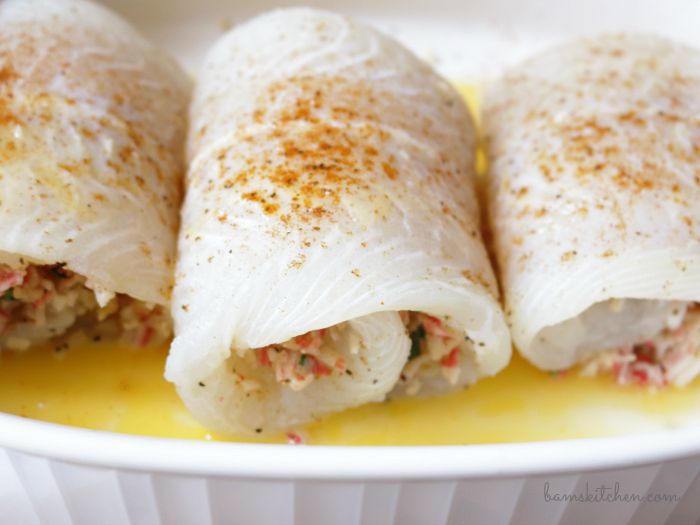 One ingredient that is very difficult to find here in Hong Kong is Old Bay Seasoning. However, I found a great little Old Bay Seasoning Recipe for those of you like me that have to make their own. Thanks so much David!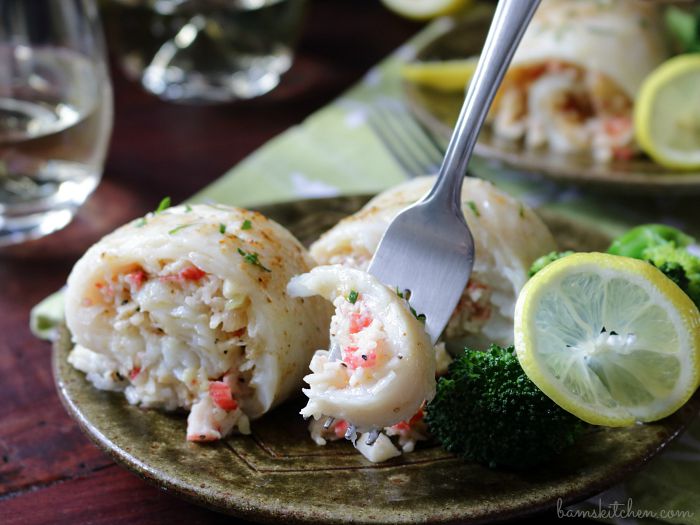 I drizzled the fish with a little lemon and butter drizzle before I popped it in the oven and it is light and delicious.
If you liked our recipe for Crab Stuffed Whitefish you may also like to try...
Spicy Citrus Baked Salmon Packets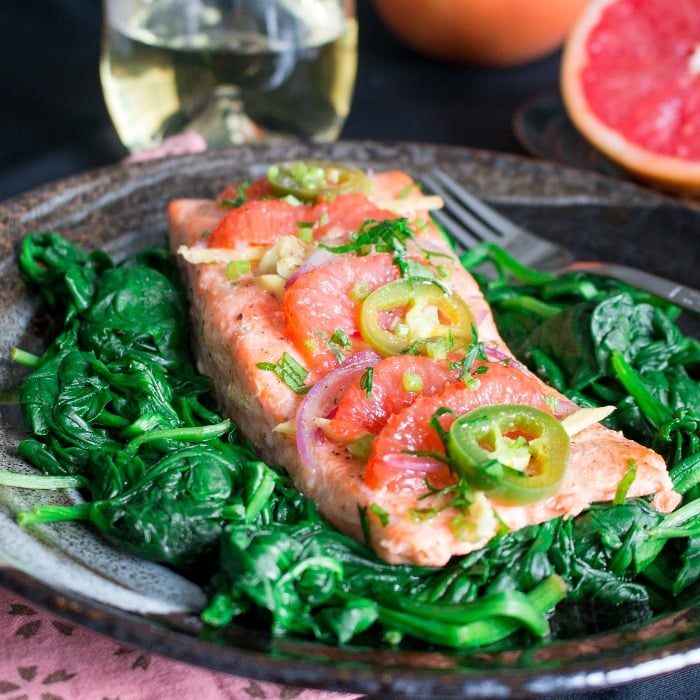 Baked Tilapia with Caramelized Onion Lentils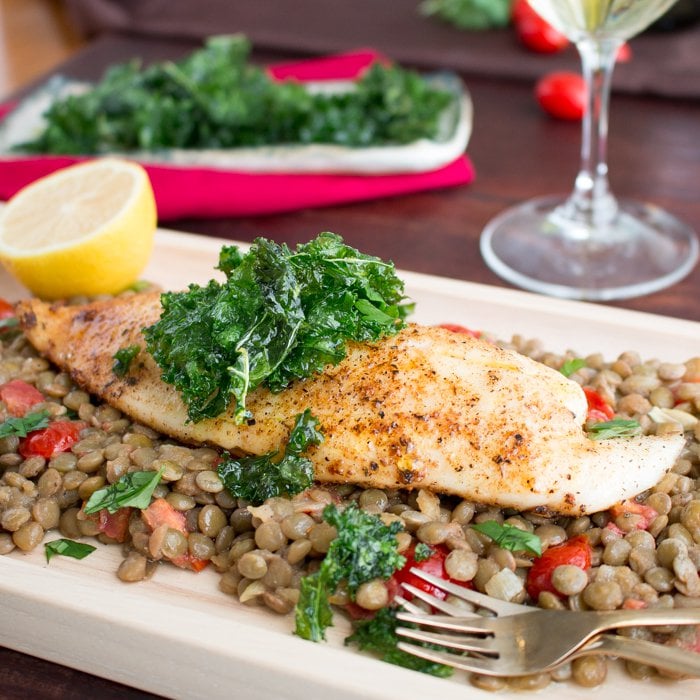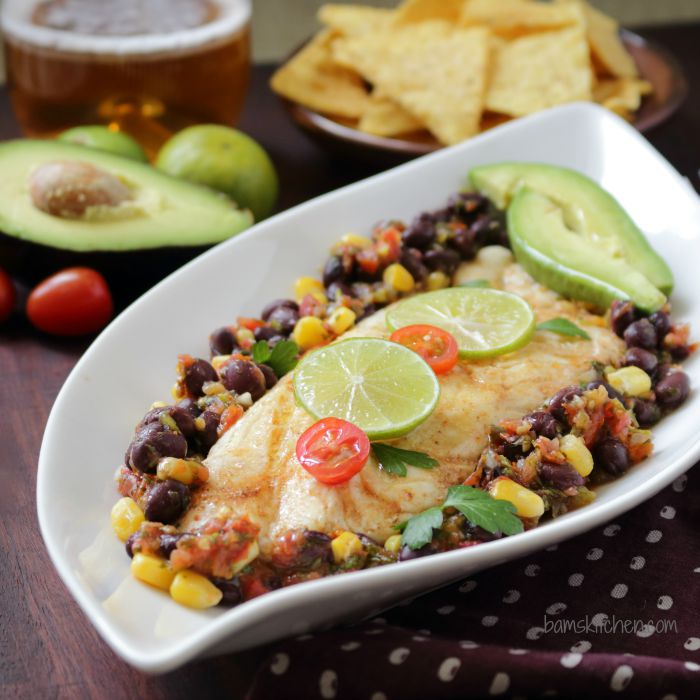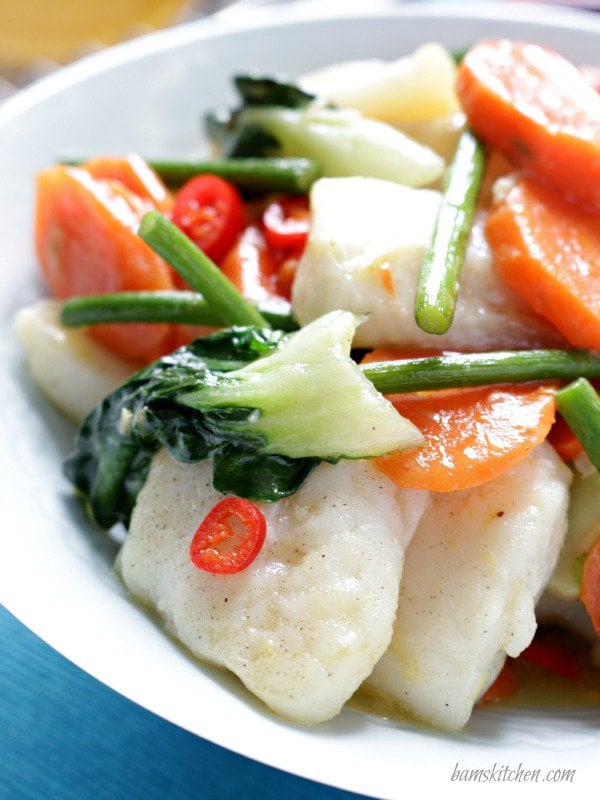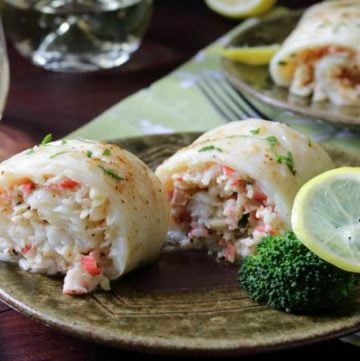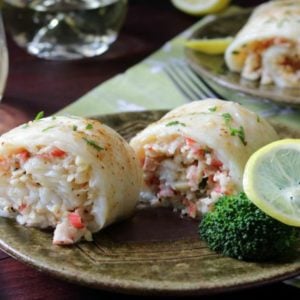 Crab Stuffed Whitefish
Crab Stuffed Whitefish is made with succulent whitefish stuffed with creamy and dreamy crab filling and topped with a lemon butter drizzle...in just 30 little minutes.
Print
Pin
Rate
Ingredients
2

pounds

white fish


1

tablespoon

olive oil


½

cup

onion


or small onion chopped (if lactose intolerant increase to ¾ onions and omit cream cheese)

2

cloves

garlic


minced

8

ounces

crab meat

(fresh picked over for bones or imitation crab) Use fresh crab for gluten free and diabetic friendly diets


3

tablespoon

cream cheese


(I used light cream cheese)- if lactose intolerant just omit this and add a few more caramelized onions and it is just as delicious

1

teaspoon

Old Bay Seasoning


or to taste

salt and pepper


to taste

2

tablespoon

garlic chives


finely chopped (optional)
Lemon Butter Sauce
2

tablespoon

butter


(Use dairy free margarine if lactose intolerant)

2

tablespoon

lemon

or juice of one lemon
Instructions
Preheat oven to 190 degrees C (375 F)

In a medium sauce pan add olive oil and heat to medium heat. Add in onions until they begin to sweat down and even start to caramelise a little bit and then add garlic. Add chopped up crab meat/imitation crab meat, cream cheese (hold if lactose intolerant), old bay seasoning, salt and pepper and garlic chives and stir until well incorporated. Remove crab mixture from heat and allow to cool.

Lay out your white fish, remove all bones, skin and wash and dry and lie on cutting board with the back side up and top side facing down. Layer on a thick layer of crab meat mixture on to each fish fillet and spread until it is even.

Roll up each fish fillet and lay with seam side down on a greased baking pan. I did not use toothpicks to hold in place and all was fine.

Melt butter. In a small cup mix melted butter and lemon juice and if you like a tad bit of the old bay seasoning and a little salt and pepper and drizzle over the tops of the crab stuffed flounder.

Bake crab stuffed whitefish for about 20-25 minutes or until they flake easily with fork. It depends on the size of your fish. If you have a smaller fish start checking them after 15 minutes. Every 1o minutes, I drizzled the pan dripping of the lemon butter sauce over the crab stuffed whitefish during the cooking process.

Serve the crab stuffed whitefish hot out of the oven with a drizzle of the lemon butter sauce with extra wedges of lemon on the side with a nice tossed salad and vegetable.
Notes
If your white fish fillets are too thick to roll, no worries. Hon your sharpest knife and cut your white fish fillet lengthwise down the center so you end up with 2 thinner long white fish fillets. We have used this technique with thicker cod fillets and it works like a charm.
If real crabmeat is out of your price range, imitation crab works just fine. There are many gluten-free crab imitation crab meats on the market too. However, if you are diabetic, please note that some of the imitation crab meats may have sugar or glucose additive. You will have to read the ingredient list or use fresh crab meat.
Nutrition
Serving:
1
g
|
Calories:
398
kcal
|
Carbohydrates:
4
g
|
Protein:
57
g
|
Fat:
17
g
|
Saturated Fat:
8
g
|
Cholesterol:
164
mg
|
Sodium:
678
mg
|
Potassium:
855
mg
|
Fiber:
1
g
|
Sugar:
1
g
|
Vitamin A:
348
IU
|
Vitamin C:
10
mg
|
Calcium:
72
mg
|
Iron:
2
mg