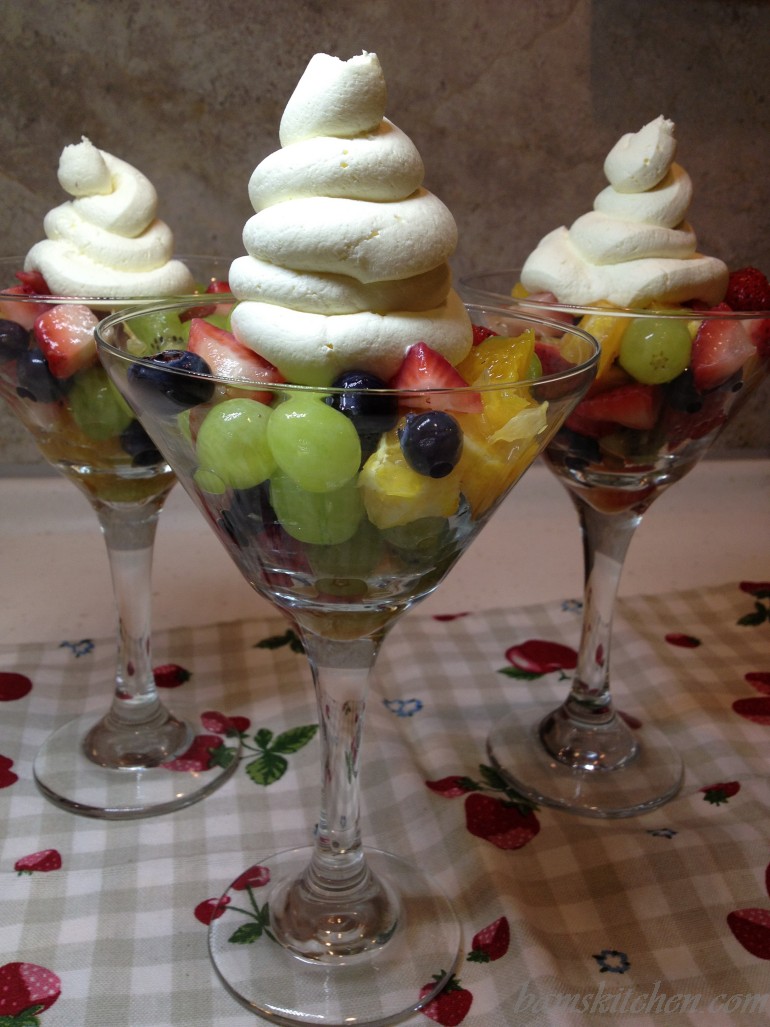 One way to beat the heat this summer is to cool off with some refreshing juicy exotic fruits that are towering with billowing clouds of Rambutan flavored whipped topping.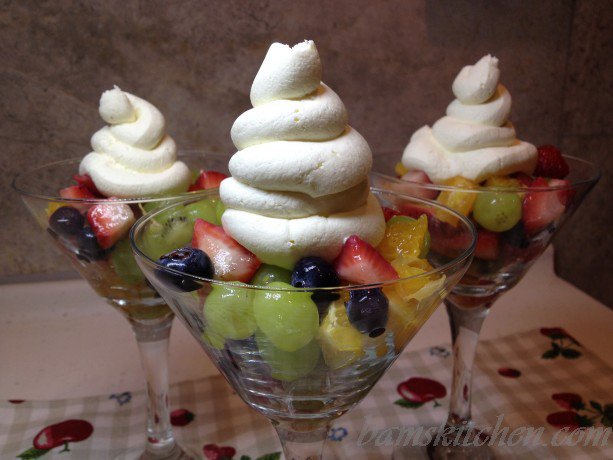 Fresh fruits in the summer are abundant but let me introduce you to a few new ones that you may or may have not tried before. Have you ever tried a rambutan, sapodilla or salak?
If you can't get rambatan, sapodilla or salak fruits in your home country, keep on reading because I have some great alternatives and simply fresh ideas for keeping your summer a fun and easy one in the kitchen.
Here is the sequel to "Exotic Desserts Without Breaking a Sweat". For those of you that might have missed my first edition to the series please check out Exotic Fruits
A rambutan is a member of the lychee family. It is native to warmer tropical areas like Asia. It is hairy on the outside and usually has a red, purple color and slightly gives to the touch, when ripened. To describe the taste I would say they are slightly floral sweet and juicy. They have one large seed in the inside that must be removed before eating. I have watched many people try to open to eat this fruit and it is always amusing. The best way to open a rambutan for me is to put my thumb nail into the skin and they holding the rambutan in both hands squeeze and turn until the skin gives ad then it comes out in one easy movement.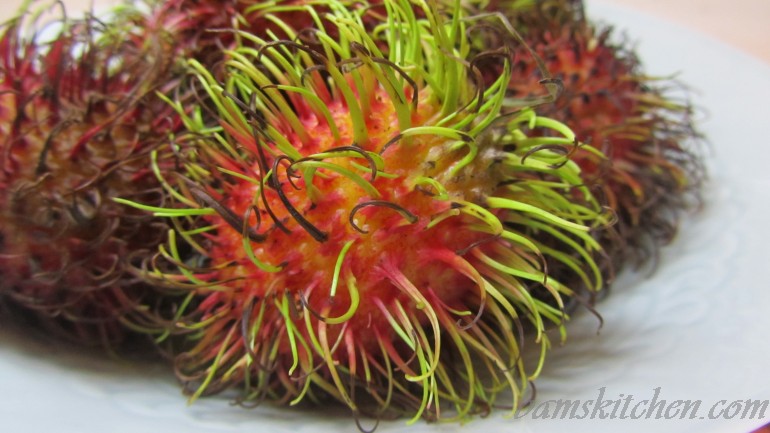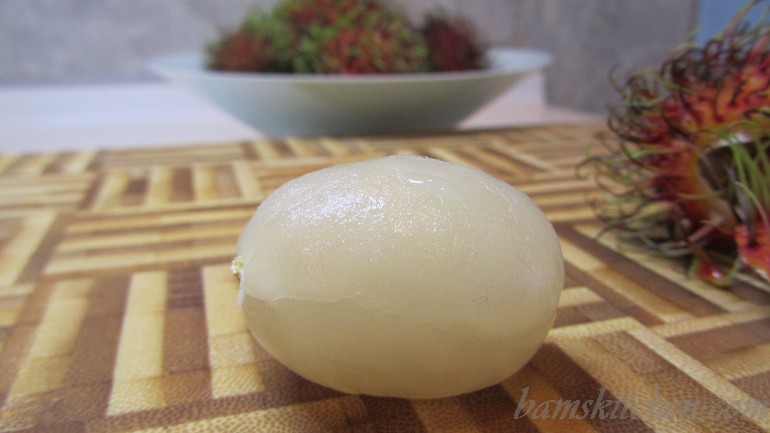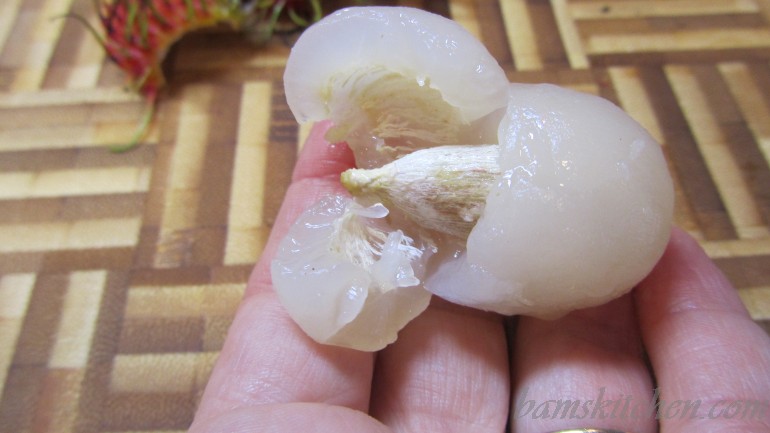 A sapodilla is a fruit that originated in the central American rain forests but is now readily found in Asia in the tropical regions. The exterior of the fruit is light brown like a potato and when you cut it in half it has a soft flesh on the inside that is not really juicy but very sweet kind like a date, it is a starchy fruit in texture.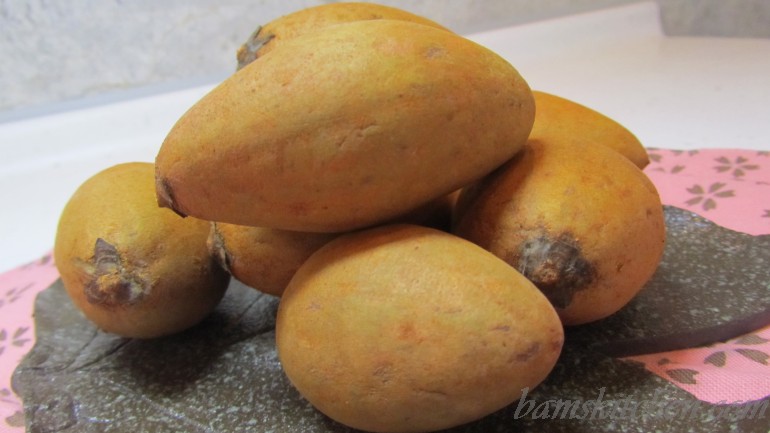 Some of my friends said they kind of look like a pair of kidneys when sliced in half. (so they have that going for it) There are several little brown/black seeds inside that need to be removed before eating. The easiest way I have found to eat them is to cut in half and use a spoon to scoop out the flesh while picking out the seeds.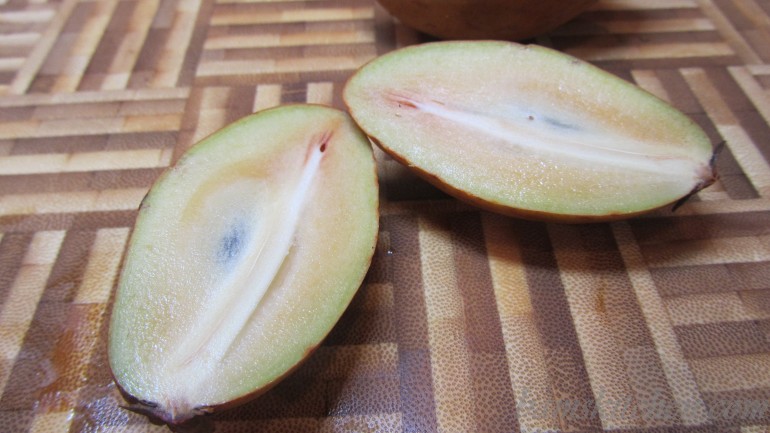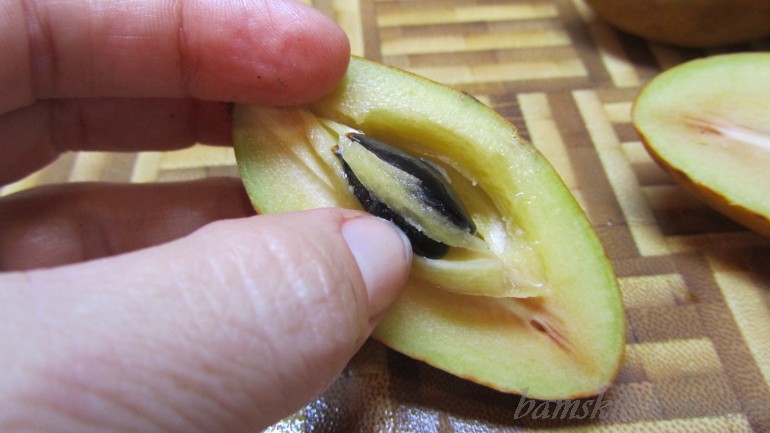 A salak also known as a snake fruit because of the reddish-brown scaly skin.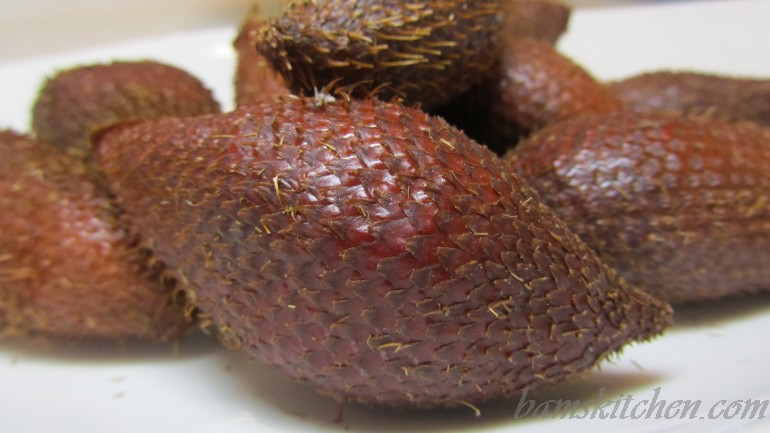 It is native to Indonesia. On the inside of the fruit it has several light yellow-white bulbs that look like huge garlic heads.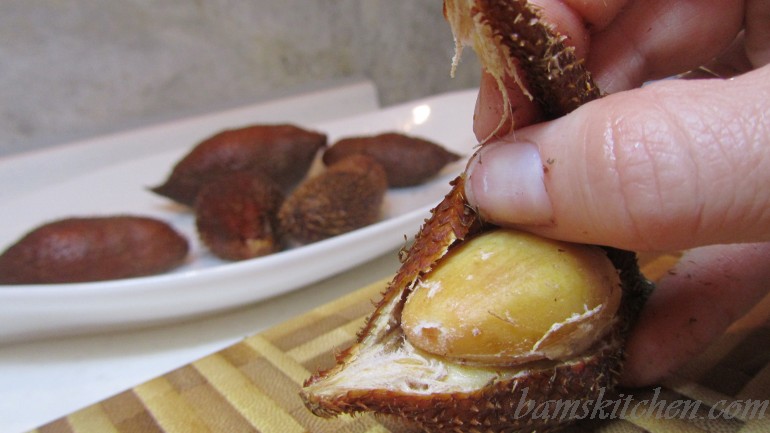 I think they taste like grape sweet candy, I used to nibble on in Japan. The texture of the fruit is crispy. I have found the best way to eat a Salak is to first peel off the skin, then separate the bulbs then just pop the bulbs in your mouth and then spit out the seeds. They are little bit of work to eat, but they are super tasty.
However, I have teenagers! Really do I need to say anything more! Do you really think teenagers are going to try a fruit they can't even pronounce? My goodness I have laying on my table fruit that has hair, exotic fruit that looks like a snake and one that looks like a pair of kidneys. (So in these particular cases it is imperative to come up with dessert plan B for the restless natives. I swapped out strawberries, mangos, oranges, blueberries and grapes and they were happy campers.)
Whipped topping is like a little cloud of happiness for my yummy fruit. However plain or with just a little vanilla is so BORING. I decided to give my whipped topping a little facelift and summer time freshness by adding some the pureed rambutan. You can really add any flavoring you like to whipped topping maybe some fresh lemon oil, orange oil or mint. You can puree any fruits you like such as strawberries, blueberries, kiwis, the sky is the limit. (Shhh. I chose rambutan as they are clear and the teenager QA testers would not know until they tried it that I added some exotic fruit to their dessert) They loved it and kept on asking for more. Keep on reading to find out how to make this super easy 5 minute Tutti Frutti with Billowing Clouds of Rambutan Whipped Topping.
Tutti Frutti with Billowing Clouds of Rambutan Whipped Topping
Serves 4 adults or 2 hungry teenagers
4 cups of assorted tropical fruit (whatever is in season where you live and whatever your family likes)
1 cup whipping cream
1 tablespoon powdered sugar (or 2 packets of sugar alternative)
2 tablespoons of rambutan fruit puree (or any fruit you like pureed)
4 martini glasses
Step 1: Make sure your bowl and your beaters and everything that is going to come in contact with your whipping cream is ice-cold (I put my bowl and beaters in the freezer for a minute just to help with the process as if they are warm your whipping cream will not whip into fluffy clouds but will be a liquid mess)
Step 2: Cut up your fruit and mix and place into cool martini glasses and out into the refrigerator to chill.
Step 3: Puree about 4 rambutan in the food processor blender until really smooth.
Step 4: Put really cold whipping cream into the really cold bowl and whip with the super cold beaters until stiff peaks form. Add sugar and rambutan puree and mix thoroughly.
Step 5: Place rambutan whipped topping into a piping bag and decorate top of fruit with tall twisty swirls of bellowing clouds.
Step 6: Enjoy cool and refreshing Exotic Tutti Frutti with Billowing Clouds of Rambutan Whipped Topping while viewing the sunset.
Have a super Day!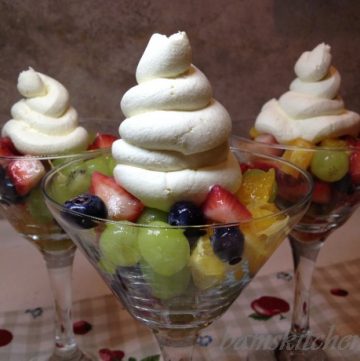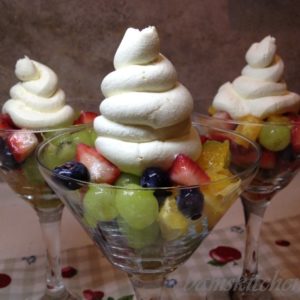 Ingredients
rambuton -

tropical fruit -

exotic fruit -

whipping cream -

powdered (icing) sugar -
Nutrition