What is your first response when your teenager calls you on his/her way home from school to alert you that he/she is bringing home 6 hungry teenage friends and can they please stay for dinner? Don't panic! Unless your teenager has also invited their 6 lovely friends over for a sleep over and then at least pour yourself a tall cocktail to help settle your nerves.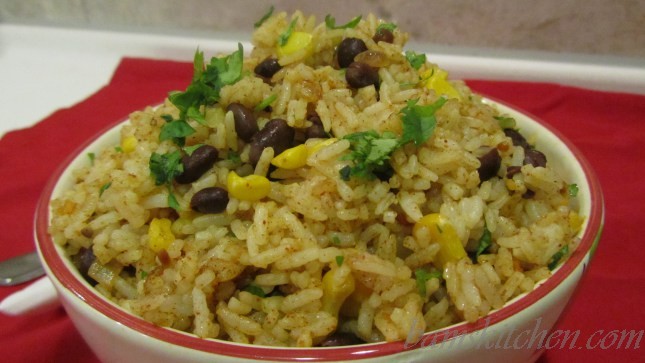 You have to love kids and especially boys there is absolutely no planning or forethought in their lives, everything is spontaneous. Actually now that I am thinking of it, this also applies to our husbands and significant others. How many times have they said, " Oh honey, by the way I am going to host a little gathering this evening." and he calls to tell you this at 4:30pm while you are still at work. Once again, don't panic as I have the perfect quick and delicious TEX- MEX dinner you can host in no time flat.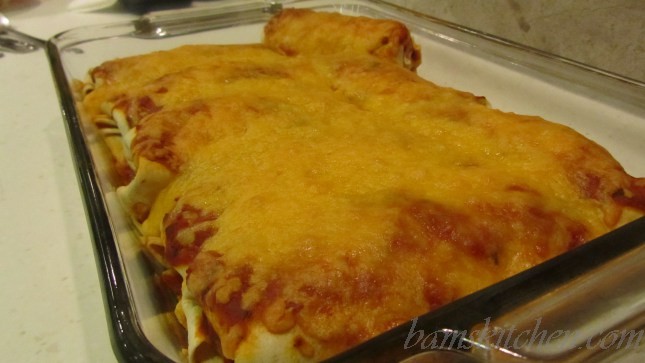 It all has to do with having some basic food items on your cupboard shelves. Here are some items that have a long shelf life and are always great to have on hand; tortilla wraps in a vacuum wrap seal, canned enchilada sauce, taco seasoning, rice, canned black beans, and onions. In the freezer, it is always nice to have frozen corn and also some chicken breasts. With these handy items, you can make a quick, hearty and tasty chicken enchilada feast that will keep the party rolling.
Chicken Enchiladas with Spanish Fried Rice - Serves 8 adults or 4-6 hungry teenagers
Ingredients for Chicken Enchiladas
2 pounds of boneless, skinless chicken breast cut into bite size thin pieces (Make a little extra chicken as I have a great Tortilla recipe soup recipe you can make from your leftovers)
1-2 tablespoons of olive oil
½ small red onion chopped
½ packet of dry taco seasoning mix or you can make your own by mixing these ingredients together

1 tablespoon chili powder
¼ teaspoon garlic powder
¼ teaspoon onion powder
¼ teaspoon crushed red pepper flakes
¼ teaspoon dried oregano
½ teaspoon paprika
1 ½ teaspoons ground cumin
1 teaspoon sea salt
1 teaspoon black pepper

8 tortilla wraps (I used flour tortillas but corn tortillas are nice as well)
8 ounce canned enchilada sauce
12 ounces grated cheddar cheese
2 cups of Spanish Fried rice cooked (ingredients and recipe below)
Ingredients for Spanish Fried Rice
4 cups dried basmati rice
4 cups water
2 tablespoons olive oil
½ small red onion chopped
2 garlic cloves minced
½ packet of dry taco seasoning mix (See above for details)
1 cup frozen corn
14.5 ounce can of washed black beans
handful of fresh cilantro coarsely chopped
I hope you have some extra cooked chicken and some left over Spanish fried Rice from todays cooking activity. (Save these extra items/leftovers in your freezer as I have a fantastic Chicken Tortilla soup to make with the left overs and I will share with you this week- super yummy meal and on the table in less that 30 minutes)
Step 1: Make the Spanish Fried Rice. Wash the basmati rice. Add the rice and water into a large pan, put the lid on and bring to a boil and then turn down to a simmer and cook for about 12 - 15 minutes. You can also cook your rice in your steamer or use left over cooked rice. (One half of the cooked Spanish rice you will use inside the chicken enchiladas and the other half you will save to serve as a side dish for this TEX MEX meal)
Step 2: Place olive oil into a pre-heated large skillet (I used my wok) and add onion and garlic and fry until aromatic.
Step 3: Add the cooked rice, taco seasoning, corn and black beans and fry. Adjust seasoning as desired. Add cilantro and set aside.
Step 4: Make the Chicken enchiladas. Heat olive oil in pan and add onions and cook until aromatic. Then add the chicken and ½ packet of taco seasoning and cook for about 5 minutes until chicken is cooked and the juices no longer run pink.
Step 5. Pre-heat the oven to 350 degrees F.
Step 6. Microwave the flour/corn tortilla wraps for a few seconds just so that they are easier to work with. (8 wraps for about maybe 20 seconds)
Step 7. In a 9 x 13 greased baking dish, place at the bottom of pan a couple of tablespoons of the enchilada sauce and spread to cover bottom of dish. Set Aside.
Step 8. Take one wrap into your hand and place a couple of scoops of the Spanish fried rice mixture and flatten on wrap. Then add a scoop of chicken onto of rice and then wrap up tortilla. Wrap the tortilla by first folding one side and then the other and then roll up. (Do not overfill tortillas as they will be difficult to roll up) Repeat this process for the remaining wraps.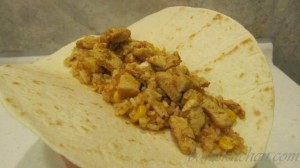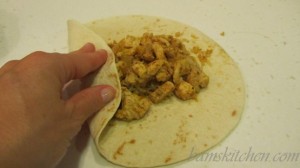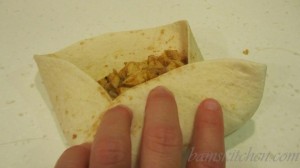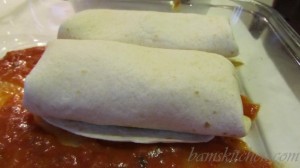 Step 9: After you are done rolling up the chicken enchiladas then place enchiladas in the 9 x 13 prepped baking dish. Add the remainder of the enchilada sauce on top of the wrapped chicken enchiladas and then cover the whole dish with graded cheddar cheese.
Step 10: Bake Chicken Enchiladas uncovered for about 15-20 minutes until the cheese is all golden and bubbly.
Step 11: Remove Enchilada from the oven and serve with Spanish fried rice and chips and salsa on the side. OLE!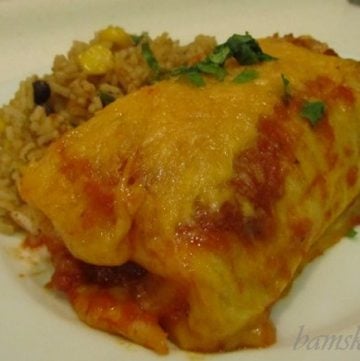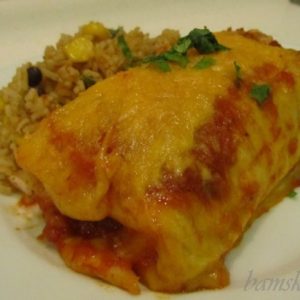 Ingredients
chicken breasts -

red onion -

taco seasoning -

tortilla wraps -

enchalida sauce -

cheddar cheese -

spanish fried rice -

corn -

black beans -

cilantro -
Nutrition