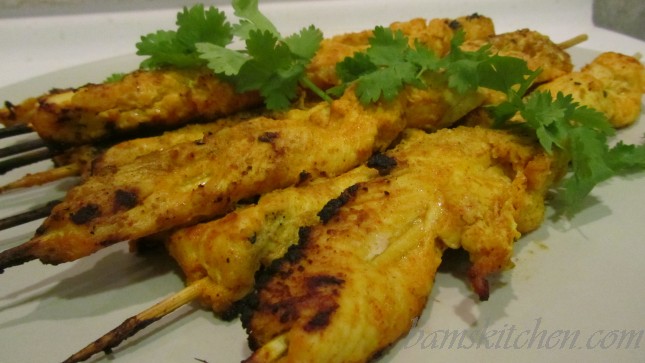 Welcome to the discovery of Indian Spices. I have just ground my own fresh Garam Masala (Indian herb/ spice mixture) with a mortar and pestle and it was quite a workout. My arms are sore but now my hands have the lovely fragrance of the spice and I am hungry for some Indian dishes. Garam Masala is a delightful mix of coriander, peppercorns, cumin, cinnamon, cardamon, nutmeg, cloves, etc.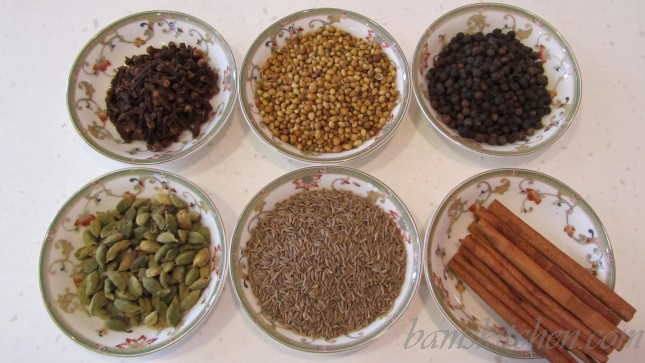 A special thanks to Isis, my dear cooking friend, who gave me directions to a place here in Hong Kong to get some much needed spices. If you happen to live in Hong Kong, and stumble upon the Wanchai wet markets then you are very close to Indian Provision Stores located at 18-20 Bowrington Road, Wanchai, Hong Kong. Stop by and take a look around and you can find all the ingredients you need to make most Indian dishes.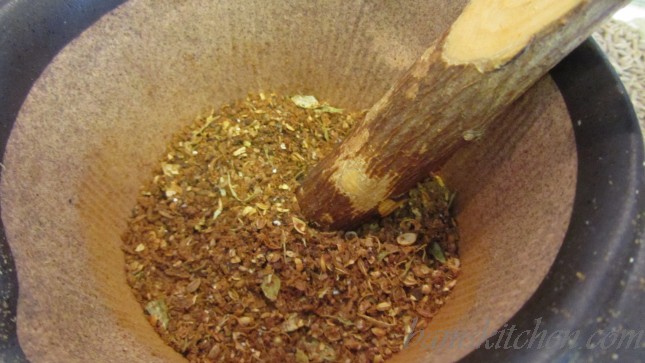 As I am feeding teenagers that are not real keen on strange sauces and such, I have made alterations to the traditional dish to make it kid friendly. This dish has all the lovely Indian flavors on the juicy grilled chicken minus the "mystery sauce" that petrifies most kids.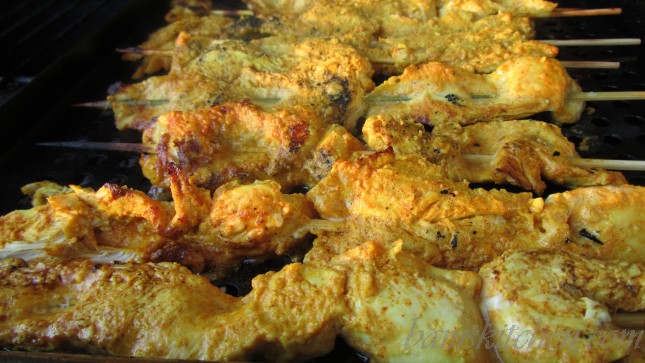 Indian Chicken Tikki- (serves 4 adults or 2 hungry teenagers)
Prep Time: 10 minutes
Marinate time: At least 1 hour
Cook time: 8 minutes
3 pounds chicken breasts or chicken tenders
juice of 2 lemons
1 tablespoon of salt (15ml)
½ cup of plain yogurt (125ml)
3 tablespoons of ground almonds (15ml)
1 tablespoon of freshly grated ginger (15ml)
5 cloves of chopped garlic
3 teaspoons of paprika (15ml)
2 teaspoons of garam masala (10ml) - RECIPE BELOW
1 teaspoon of ground turmeric (5ml)
½ teaspoon of freshly ground pepper (2.5ml)
½ teaspoon of cayenne pepper (2.5ml)
2 teaspoons olive oil
Bamboo skewers
chopped coriander for garnish
Step 1: Pound chicken flat and cut into long lengthwise pieces. Place the chicken in a bowl to marinate and squeeze lemon juices on top and stir.
Step 2: In a separate bowl combine salt, yogurt, ground almonds, ginger, garlic, paprika, garam masala, tumeric, pepper, cayenne pepper and olive oil. Mix well and then add to chicken and stir well.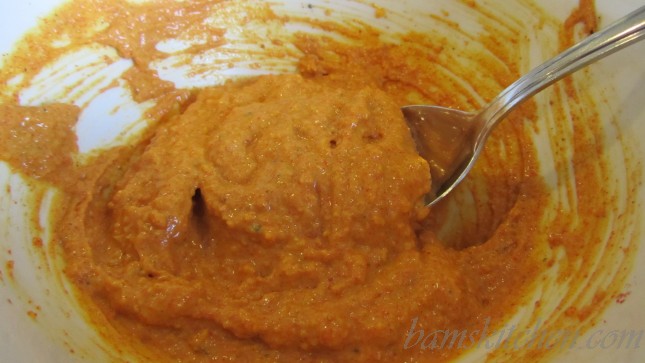 Step 3: Marinate chicken for at least 1 hour but 4 or even overnight is better in the refrigerator.
Step 4: Soak bamboo skewers so ends do not burn.
Step 5: Clean grill and oil grill plates so chicken does not stick.
Step 6: Place 2 peices of chicken on each skewer.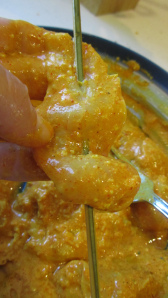 Step 7: Cook chicken on grill for about 4-6 minutes on each side or until juices run clear.
Step 8: Garnish Chicken Tikki with coriander and serve with basmati rice and nan bread.
Quick and Easy Garam Masala Spice: (makes about ¼ cup spice mixture)
1 tablespoon ground cumin
1 ½ teaspoons ground coriander
1 ½ teaspoons ground cardamom
1 ½ teaspoons ground pepper
1 teaspoon ground cinnamon
½ teaspoon ground cloves
½ teaspoon ground nutmeg
Option 1: You can either buy all of your spices pre ground and just mix together and then store in tupperware container for future use.
Option 2: You can buy whole fresh herbs and grind together in mortar and pestle or in electric grater and then store in tupperware container for future use.
Option 3: Garam Masala is also available pre-made in Indian provisions stores or in specialty stores.
Enjoy Garam Masala spice in Indian Chicken Tikki and many other delightful Indian Dishes.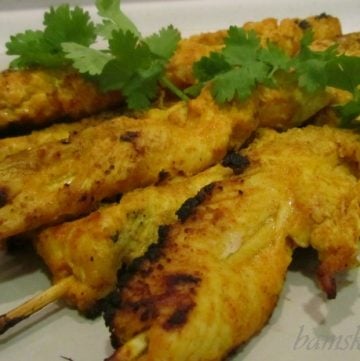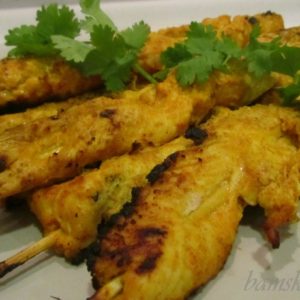 Ingredients
chicken breasts -

garam marsala -

lemon juice -

yogurt (plain) -

gound almonds -

ginger -

garlic -

paprika -

tumeric -

cayenne -

coriander -

cumin -

cardamom -

cinnomen -

cloves -

nutmeg -
Nutrition