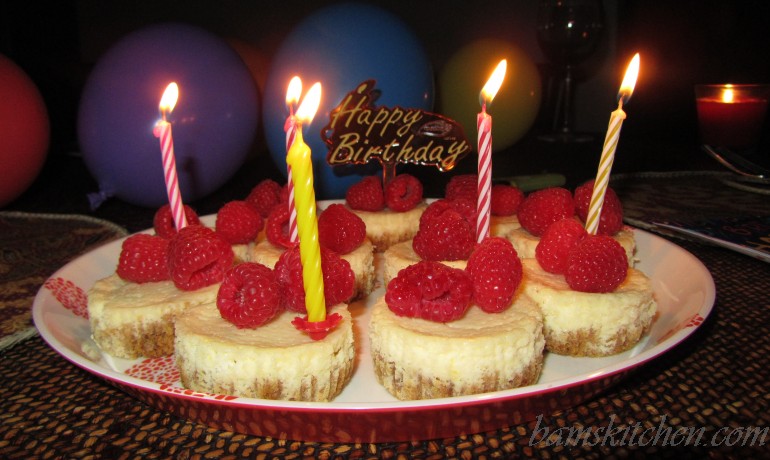 Happy Birthday to you.. Happy Birthday to you... Happy Birthday to you...!!!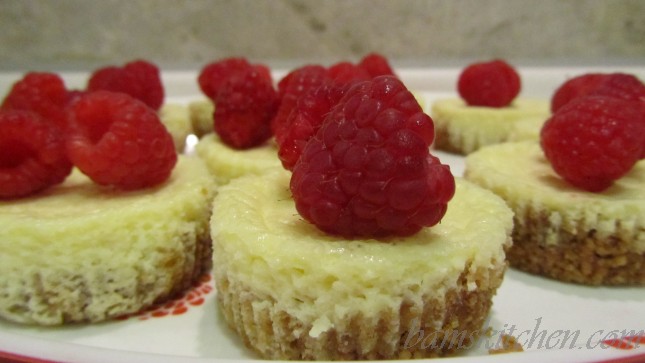 September is a big birthday month at the Marshall household. Three birthdays in one month. We are very busy with all of the celebrations. Everyone in our family has their favorite type of cake, one likes chocolate, one likes cheesecake and I like lemon. So the dilemma is which type of cake should I make? Is there one cake that can please everyone in our family?
I found the perfect solution individual mini-cheese cakes that can be decorated or garnished to please everyone in the family. These little mini cheesecakes are creamy, light and have a delicate taste of lemon.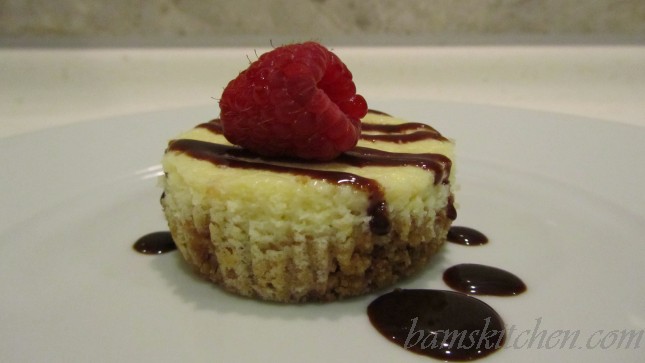 Birthday Mini-Cheesecakes (serves 12 adults or 4 hungry teenagers)
Ingredients Crust:
6-7 digestive biscuits ( or about 1 cup graham crackers)
3 tablespoons melted margarine or butter
1 tablespoon sugar
Ingredients Filling:
8 ounce of cream cheese (low-fat)
2 tablespoon sour cream (low-fat)
1 teaspoon lemon zest
juice of one lemon (about 3 teaspoons)
2 eggs
⅓ cups sugar
Toppings: (whatever you like or yummy just plain)
Fresh fruit, chocolate sauce, canned pie filling, nutella, lemon sauce, etc. (Sky is the limit)
Step 1. Preheat oven to 190 degrees C (375 degrees F)
Step 2. Place digestive biscuits in a ziplock bag and crush with rolling-pin or other hard device. (Feeling frustrated ? There is something about beating your food with a hammer or rolling-pin that is quite therapeutic)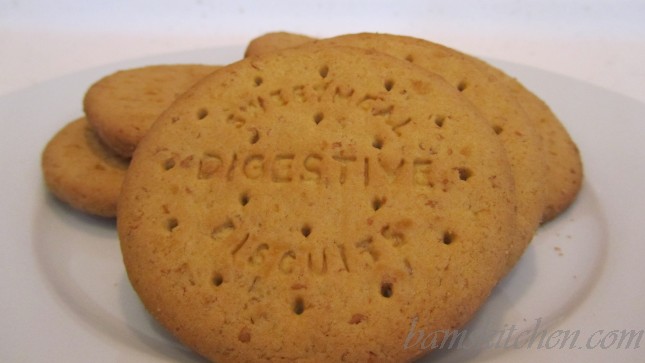 Step 3. Melt margarine/butter in microwave for 20 seconds or until melted.
Step 4. In a medium bowl combine digestive biscuit crumbs, 1 tablespoon sugar and margarine/ butter and stir until mixed.
Step 5. Place muffin/cupcake paper cups inside muffin pan.
Step 6. Place digestive biscuit crumble mixture in the bottom of each muffin cup - divide equal portion among the 12 cups. Use bottom of small spoon to pat flat.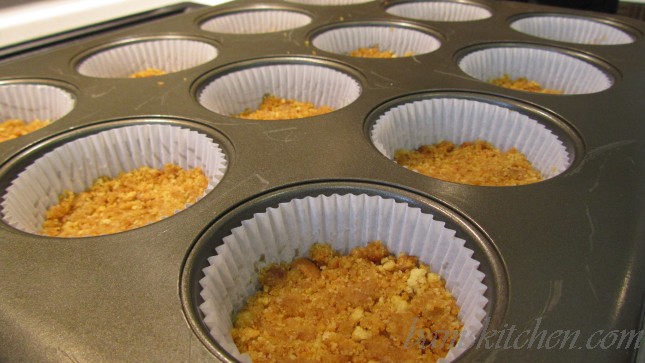 Step 7. Use either a blender or food processor (or your strong muscles with a whisk) to mix the following ingredients together; cream cheese, sour cream, lemon zest, lemon juice, and eggs.
Step 8. Use a spoon to place the cream cheese mixture into each muffin pan on top of the digestive biscuit crust. Evenly distribute between 12 muffin cups. Fill about ¾ full.
Step 9. Pop the mini cheesecakes into the oven for about 15-18 minutes. Remove from oven and let cool for another 20 minutes in the muffin baking pan. Remove mini cheesecakes from baking pan and let completely cool. It is best to cool for a few hours in the refrigerator before serving.
Step 10. Remove muffin paper wrappers from each mini cheese cakes and serve with your favorite toppings or serve plain.
Step 11. Add candles and sing happy birthday and enjoy! Yum!
Notes: Don't over cook as they will continue to cook once you remove them from the oven. Don't overfill muffin cups as they rise in the oven and unless you are into cleaning your oven, not highly recommended. I love a nice lemon sauce drizzled on top with a few raspberries on my mini cheesecake. (To make a quick lemon sauce, combine the juice of 1 lemon, zest of lemon and 3 tablespoons of icing sugar together.)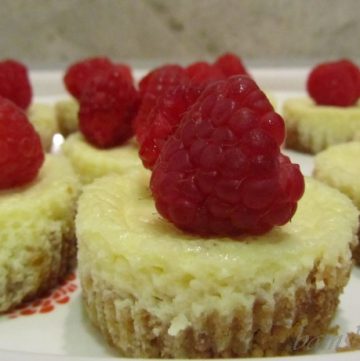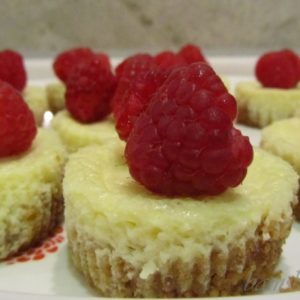 Ingredients
digestive biscuits -

butter -

sugar or sugar alternative -

cream cheese -

sour cream -

lemon zest -

lemon juice -

egg -
Nutrition