Egg Fruit Dessert Soup is a smooth and creamy tropical dessert soup made with only 3 ingredients in under 15 minutes.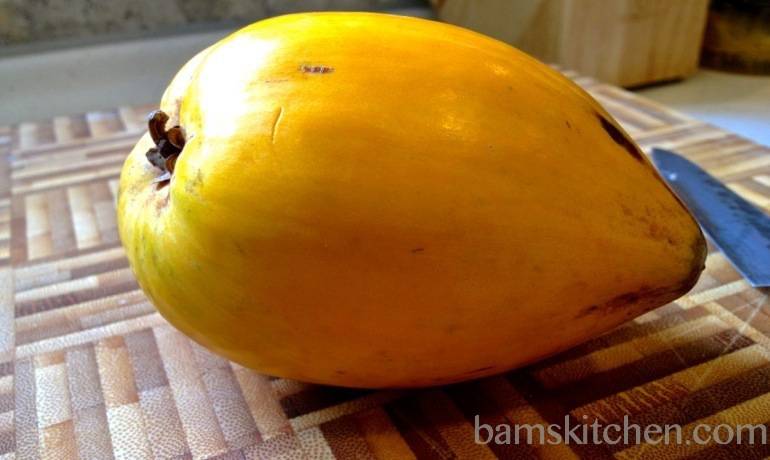 Do any of you know what kind of fruit this is? A big bonus prize, or at least bragging rights, goes to anyone who know both the proprietary name and at a least one colloquial name for this exotic fruit.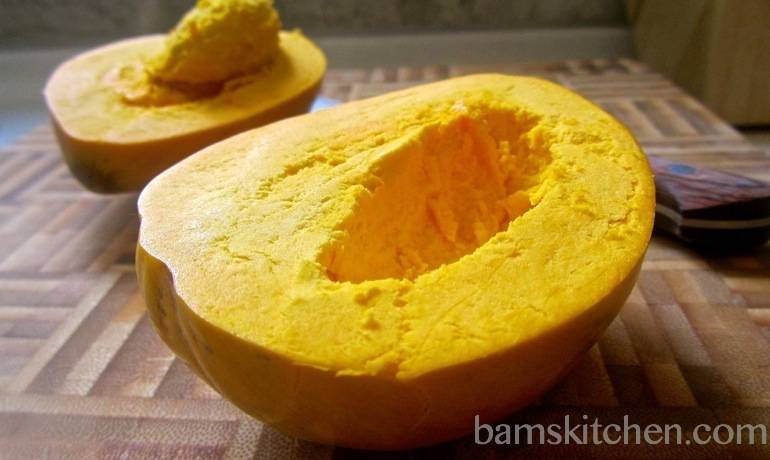 How about from this angle?
A few weeks ago I visited a local organic farmers market and they had this weird fruit that I had never seen before. I asked the elderly Chinese man working the stand what kind of fruit it was and he told me a Jīdàn guǒ 鸡蛋果. In English we call this a canistel, Pouteria campechiana Baehni or Egg Fruit and there are many other names too. I asked him when can I eat the egg fruit and he told me in 2 days.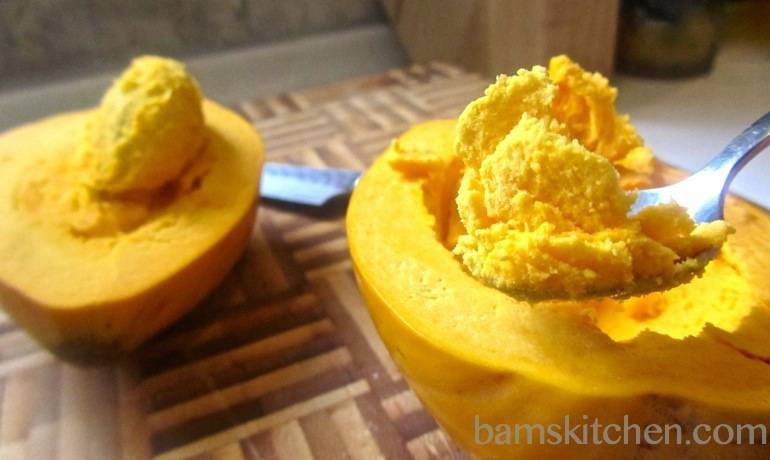 He was right. I cut it open on day 2 and it was perfectly golden and ripe. The outside of the egg fruit was golden-yellow and the flesh slightly gave in to my fingers when I squeezed it, much like a mango. I cut in half and it has a large pit in the inside. The texture or flesh of the fruit was just like the yolk from a hard-boiled egg. I guess this is why they call it an egg fruit.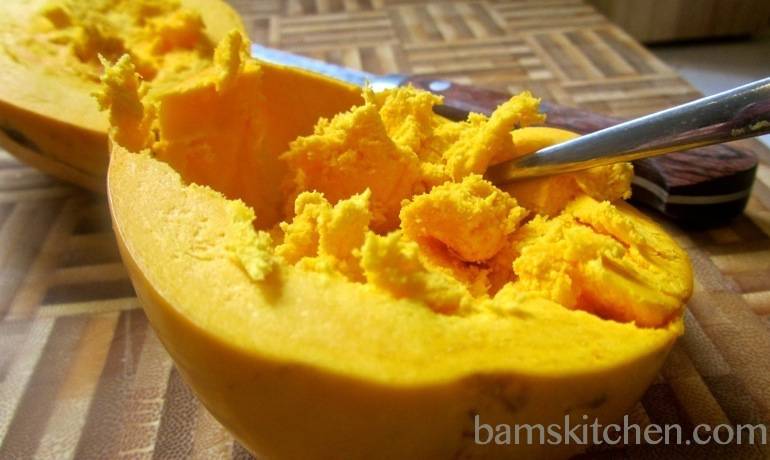 What does egg fruit taste like?
I raised the egg fruit to my nose and it smelled sweet and fragrant. I took my first bite of the egg fruit and it was delicate and sweet and almost reminded me of delicately sweet cotton candy or roasted sweet potato. The texture was a little odd at first but then it was addictive as it was nothing like I had ever tasted before.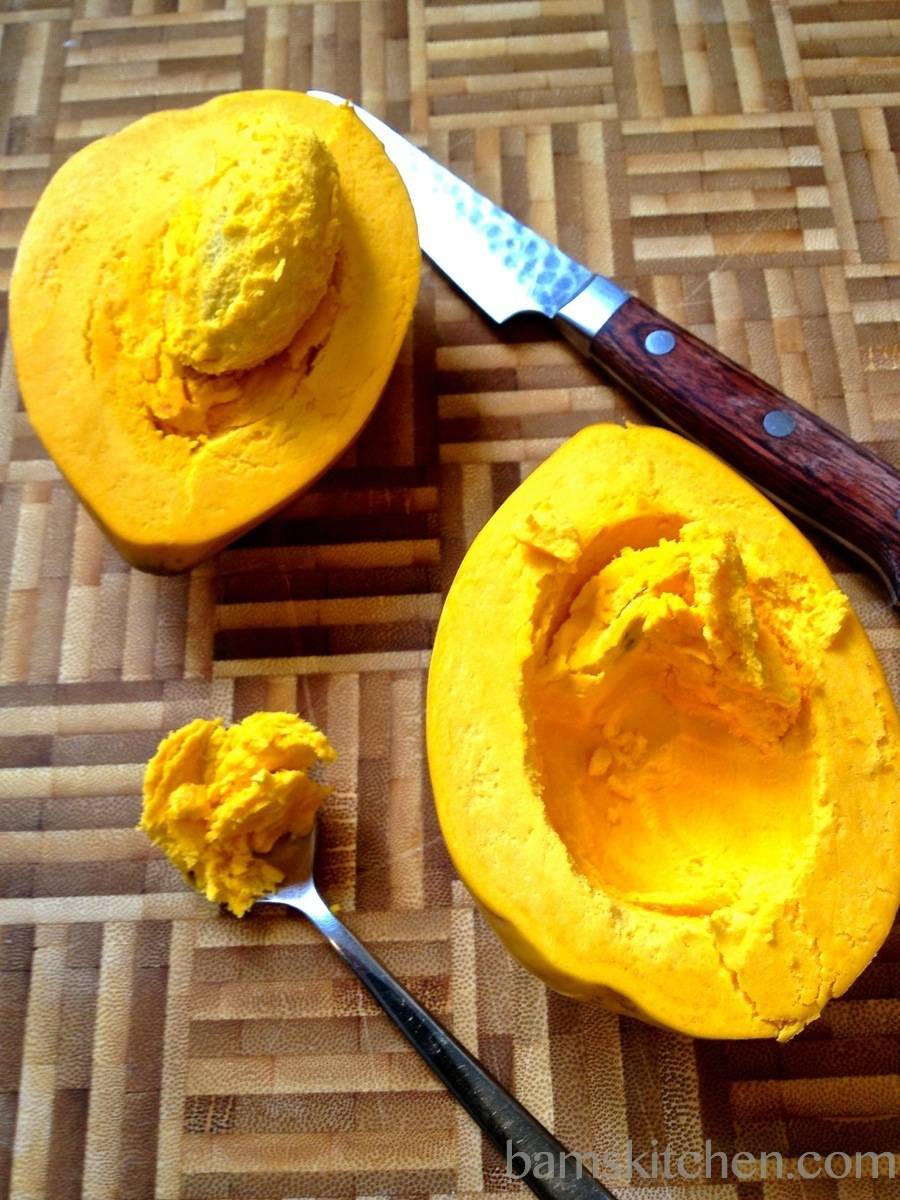 An egg fruit is an exotic fruit grown in warmer climates such as South America, Florida, Hawaii, Asia and other warm climates. The peak season is from around October to February. The health benefits of eating egg fruits are that they contain several vitamins and minerals such as niacin, carotene, ascorbic acid, iron and fiber. However, the best reason to try them is that they are delicious superfood.
Egg fruits are fun to eat with your family but are much too rich to eat a whole one by yourself. As I let the flavours of the egg fruit mingle in my mouth, I thought this is just too big of a prize just to eat it plain, the egg fruit was much more like a dessert than a fruit.
As you know, I do not make desserts but when I do, I like them only delicately sweet. I made an egg fruit sweet dessert soup with just 3 little ingredients, in less than 15 minutes and it is gluten free.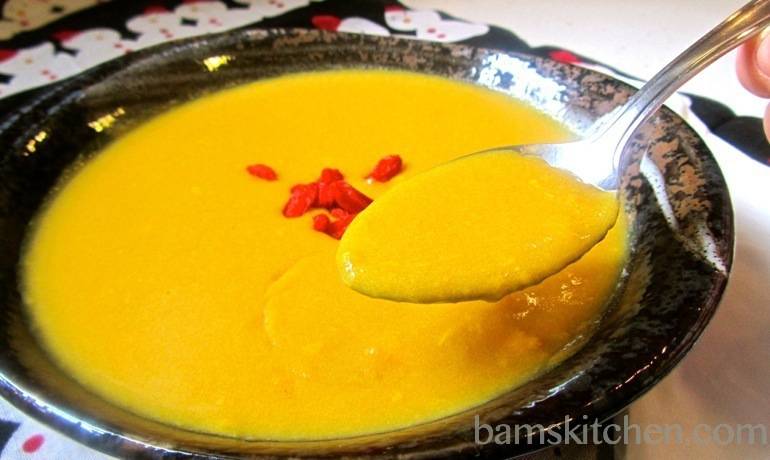 The egg fruit dessert soup is delicately sweet and warming and is just the perfect ending to a meal. It is at the end of the egg fruit season but what a perfect way to celebrate the end of your Chinese New Years meal or any time you want a quick and easy no-fuss dessert.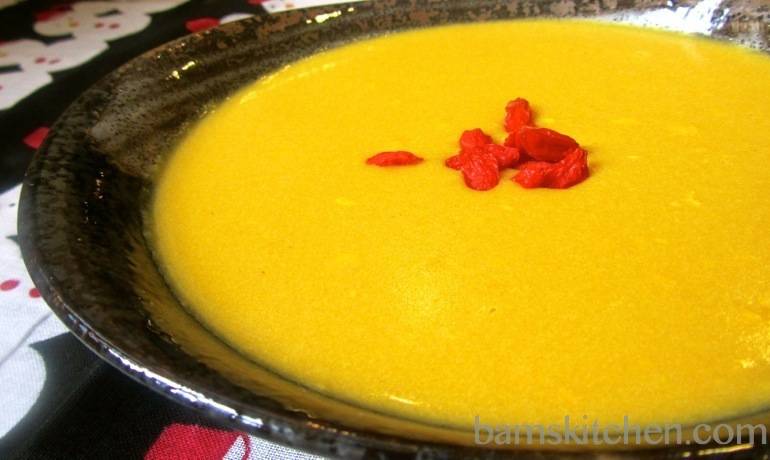 I seasoned and prepared the egg fruit dessert soup only with the items that you would have in a traditional Chinese home to keep it simple and easy. If you want a smoother texture, than you may wish to put the ingredients in a food processor before heating. I used soya milk but you could also use almond milk or regular milk or even cream if you want a richer taste. I used light brown sugar, as this is a staple in many homes here in Hong Kong. However, feel free to substitute with honey, agave, coconut sugar or other sugar alternatives. I garnished with goji berries as these little treats are plentiful here in China and add a beautiful colour contrast to the dessert.
If you ever see an egg fruit at the market, I hope you buy one and give my egg fruit dessert soup recipe a try.
More Delicious Dessert Soup Recipes
Pacifying the Dragon with Tong Sui
Hungry For More? Subscribe to our Newsletter and follow along on Facebook, You Tube, Instagram, and Pinterest for all the latest updates.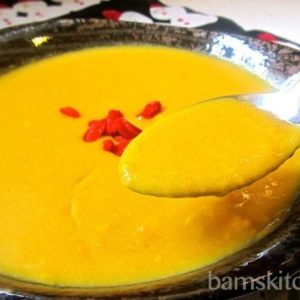 Egg Fruit Dessert Soup
The egg fruit dessert soup is delicately sweet and warming and is just the perfect ending to a meal.
Print
Pin
Rate
Ingredients
1

whole

egg fruit

pit and skin removed

1

tbsp

brown sugar

1

cup

soy milk

(can also use almond milk, regular milk or even cream)

goji berries - as garnish

garnish - optional
Instructions
Cut the egg fruit in half. Remove the pit. Scrap the flesh of the egg fruit into a bowl and mash with a potato masher or your fork until it resembles small crumbs.

Place soy milk into the egg fruit mixture and mix until smooth. I just used a whisk but you could also put in in the food processor for a smoother texture.

Place the egg fruit mixture in a medium sauce pan and heat on medium heat. Add brown sugar to taste and continue to stir until warm, thick and delicious.

Place egg fruit dessert soup into bowls. Garnish with goji berries as dessert and serve warm. Enjoy!
Notes
If you want your dessert soup smooth, place in a blender before heating on the stove top.
Nutrition
Serving:
1
g
|
Calories:
152
kcal
|
Carbohydrates:
18
g
|
Protein:
1
g