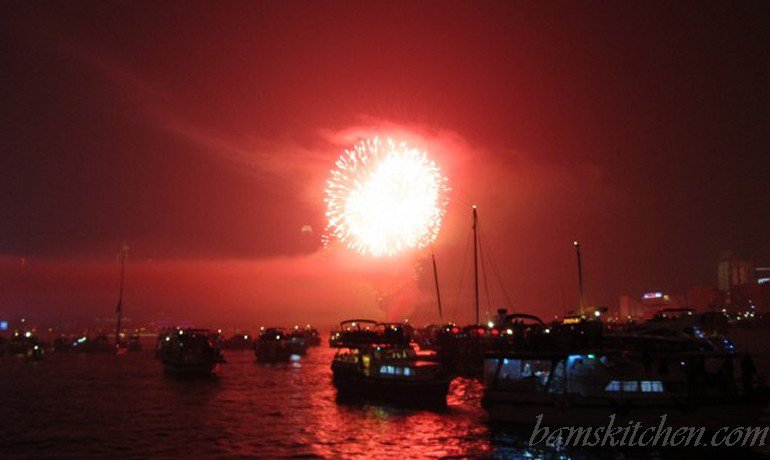 Xian Nian Kuai le!
Gong Hei Fat Choy!
Happy Chinese New Year to Everyone!!! The Year of the Dragon!
A New Year is a time to look forward and reflect upon the past. A Chinese proverb states that all creations are reborn on New Year's day. The Chinese New Year is a celebration of change … out with the old and in with the new! However, we could have never accomplished today without the experiences of the past.
Starting up Healthy World Cuisine was a celebration of change.
I always loved to cook, dabble with photography and because of my profession, write. Of course I did all of these things in solitude, isolated and locked in Healthy World Cuisine away from the rest of the world. Before starting up Healthy World Cuisine website, I almost felt trapped like a prisoner in my own kitchen slaving away to feed the family with no recognition of my efforts other than an occasional grunt or moan from a hurried teenager. Participating in the new world of blogging has really opened up my eyes to a whole new world that I did not even know existed. I have met some amazing people from all over the world that continue to inspire us all with their talents from everything from recipes, photography, funny antics and proverbs, and most importantly their talented writing. My day would just would not be complete without reading my fellow bloggers new posts. I think we all feel a real connection with our followers and fellow blogger buddies, even though many of us have not met and are living thousands of miles apart. Thanks to all of you for making this possible.
I always like to go out with a big bang (just like my fireworks picture above) and with the honor of receiving not 1, but 2 different blogger awards this week, what a fantastic way to bring in the New Year. Thank you for nomination of The Kreativ Blogger Award and the Reader Appreciation Award.
A special thank you to Marie from My Little Rhode Island Corner, for nominating me for the Kreativ Blogger Award.

Please visit Marie's website at http://mylittlerhodeislandcorner.wordpress.com/ , it is a chronicle about gardening and cooking at their Rhode Island home, with the occasional visit from the local wildlife, Paris adventures and stories about her family. My day just would not be complete without looking at her amazing photographs and funny antics. I enjoy experiencing life in Rhode Island through the lens of her camera.
As a part of the Kreativ blogger award, I have to discuss 10 points or facts about me that you may not know…Hmmm…so here goes.
1) I am only 5 posts away from my 100th post only after about 6 months of starting up Healthy World Cuisine and am even surprised at myself for this accomplishment. What goals should I strive for next?
2) My camera never leaves my purse and is with me all the time. You never know what life throws at you and you never get a second chance to get that perfect shot or to share your life experiences.
3) My camera always some type of greasy film or food substance on it from trying to cook with one hand and take photos with the other. (I know, I really need to invest in a try pod)
4) I love the view from my apartment here in Hong Kong. We call it the million dollar view that promotes high spirits and resolves all writing ruts.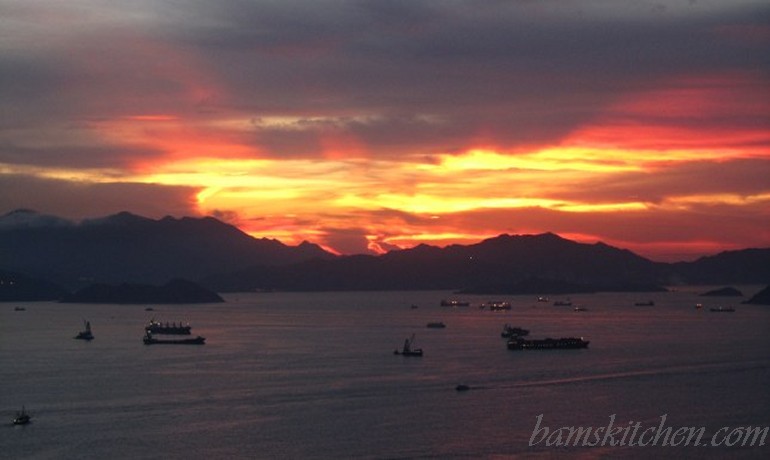 5) I love to exercise. I love the feeling of freedom it brings to forget about everything or think about everything. It is the one time during the day that is just for me. Not only is exercise a great stress reducer and good for your health, it is a time of solitude to be contemplate, meditate and bring closure to some of the things you have no control over in your life.
6) I adore and miss my parents dearly. I cherish every day I get to talk to them as I know that each day left is a blessing. They are both in their late 80's and are in declining health but still never cease to amaze me with their stories and support.
7) I am studying Traditional Chinese Medicine (TCM) Acupuncture at the Hong Kong University. As you already know I have been in the medical field for many years and practicing Western Medicine. However, learning Eastern Medicine is causing some major growing pains. Please Meet Tong Ren, my new anatomically correct acupuncture doll who sits here on our dining room table.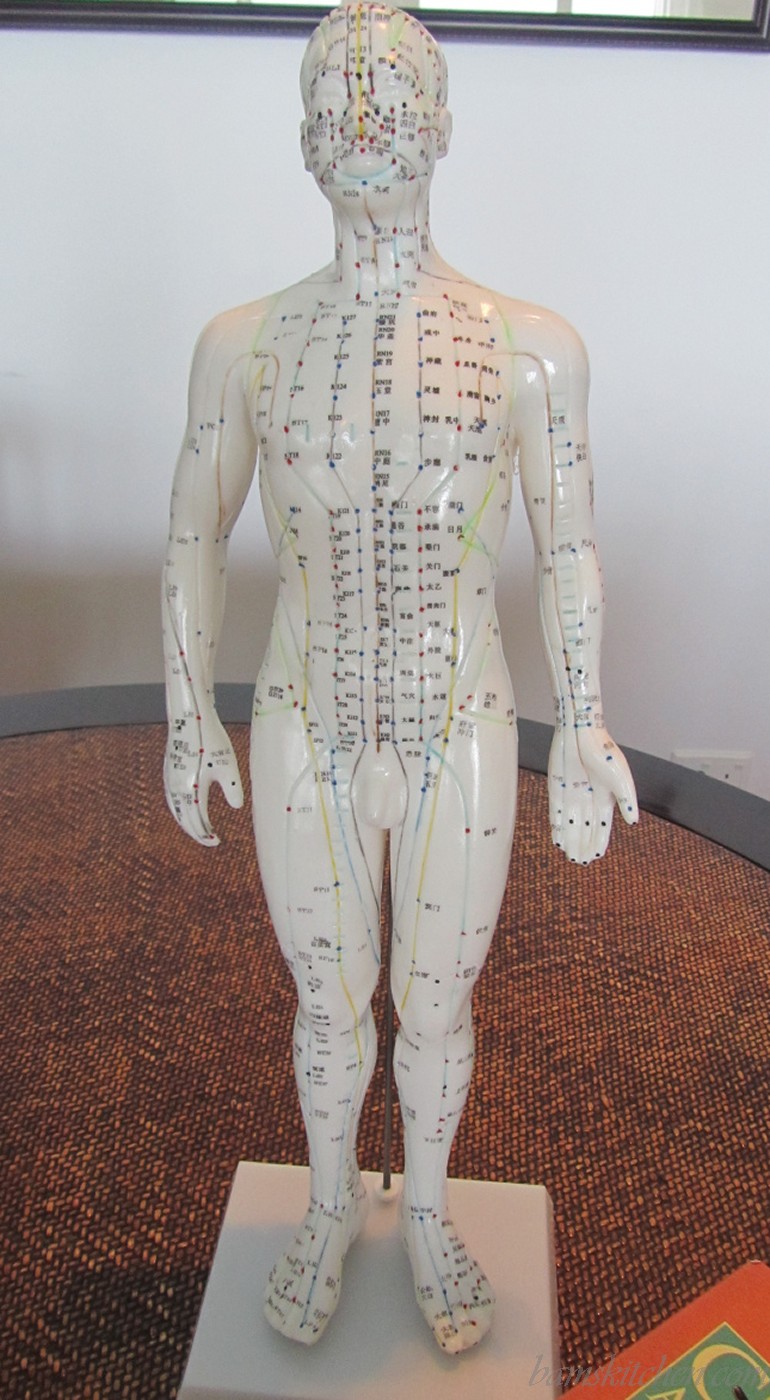 8) I have a TCM Acupuncture midterm exam here in February and thanks to Healthy World Cuisine, I have all kinds of distractions to avoid learning all of those acupuncture points, meridians and theories.
9) I dislike hominy (you know that disgusting vegetable that has a weird texture and tastes like soap) in any form it may be served. Really? Is this an actual food?
10) My better half's favorite vegetable is hominy. (So the probability that he will ever actually get to eat this vegetable is not even a topic for discussion. Sorry honey…)
Now here comes the fun part I am to nominate some fellow bloggers the Kreativ Blogger Award…Here they are not listed in any particular order.
1) Zoe from Pantry and Fridge: http://pantryandfridge.wordpress.com/author/zoedoogal/. Please visit Zoe's little piece of the "pie" where you can follow along to her many trials and tribulations on the road to becoming a better home cook. She is always such a fun and positive person. I know her posts will make you smile.
2) Mandy from The Complete Cookbook: http://thecompletecookbook.wordpress.com/ Her motto which transcends all of her posts, "Recipes for favourite dishes are passed down through family generations and given to friends and neighbours reaching across the seas –a sharing that has resulted in a rich heritage of blending different cultures for unique and interesting recipes." Mandy has a wonderful way of making you feel like you are in her kitchen cooking alongside her and her family. She shares her experiences in the kitchen and describes techniques might make it easier for you.
3) Martyna from The Wholesome Cookbook: http://wholesomecook.wordpress.com/. Martyna has been a real inspiration to me as she is always very creative. I remember the month of tower foods where everything had to be in the shape of a cylinder. Her ideas were endless. She even hosts cooking classes in her home for those who want to learn how to make wholesome meals. I wish I lived closer!!!
4) Nami-san from Just One Cook Book :http://justonecookbook.com/blog/ . Nami-san shares quick & easy Japanese home cooking recipes on Monday & Thursday's. It makes me homesick for Japan with all of her delicious recipes. Her very sweet and gentle ways are evident in everything from her responses on her blog and her attention to detail.
5) The Big Fat Noodle: http://thebigfatnoodle.com/. Here is one fun and crazy Hong Kong born, well-traveled lady who met an Englishmen and even uses the word "Whilst" in her blog posts. She is just too much fun and always makes me laugh with her cooking antics. You can see a slight Asian flare in her cooking methods and of course, I am all about that.
Now on to the 2nd award the "Reader Appreciation Award".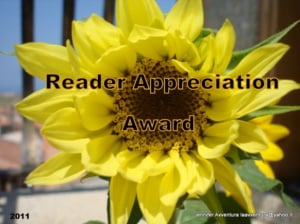 A special thank you to Mandy from the Complete Cookbook, http://thecompletecookbook.wordpress.com/ for nominating me for the Reader Appreciation Award. Greatly appreciated! Mandy always inspires me with her new dishes and the tidiness and organization of her kitchen and website. Her website is a wonderful reflection of her personality as it is very organized, easy to navigate in and fun to visit.
The rules of this award are to:
Award your top 6 bloggers who have commented the most.
Be thankful.
You cannot award someone who has already been awarded and you cannot give the award back to me.
Don't forget to tell the bloggers you've awarded.
If you don't want to pass on this award, that's okay to. Just admire it.
I would like to nominate the next 6 lovely bloggers very being so supportive…Please visit their websites and check out their latest delicious recipes.
1) Vicky from Recipe Adapters: http://recipeadaptors.wordpress.com/. Vicky is currently living in Perth and she emphasizes on presenting you with tasty food, but in an easier and cheaper way than the original recipe.
2) Sharon from Chinese Soup Pot: http://www.chinesesouppot.com/. Sharon is currently living in US but was born in Hong Kong. Chinese Soup Pot is a family blog about Chinese soups that has an aim to share, preserve, and contribute to the art and culture of Chinese soup making. Sharon has a background education in food science and shares a wealth of knowledge about Chinese medicinal soups.
3) Sibella from Baking With Sibella: http://bakingwithsibella.wordpress.com/. Here is one serious little baker. She always amazes me with her attention to detail and unique recipes. She has so much patience.
4) Jasline from Food is my Life: http://foodismylife.wordpress.com/. Jasline is currently living in Singapore and tackles some very interesting and difficult recipes. You should see the Chinese New Year Pineapple Tarts she just posted and you will see what I mean. She has a hidden talent. Jasline is also well-traveled and takes us along with beautiful photography from around the world.
5) Katy from Katy Arich Kitchen: http://katyarichkitchen.com/: Katy writes her recipes in three languages, English, Portuguese and Spanish so all readers can enjoy. Hola and Bravo to Ms. Katy for attempting this huge feat.
6) Katherine from Step By Step in the Kitchen: http://stepbystepinthekitchen.blogspot.com/. Katherine's new blogger website has just started with a bang as she takes you through step by step how to make recipes in her kitchen.
7) Jen from Zesty Bean Dog : http://zestybeandog.wordpress.com/ Jen is from Austin Texas and she shares the most stunning recipes some with a Tex Mex Flare such as an Agave Chicken, family recipes and many others. Check it out.
Oh my there are so many great fellow bloggers that deserve an award and if I could list each and every one of you I would, but really now I have to get cracking on my studying. Enough procrastination! It is time for me to learn all those dreaded meridians and extra points for acupuncture. ayyyahhhh!