Do you remember your first trip on the Star Ferry in Hong Kong?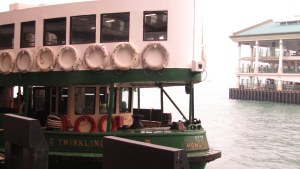 Star Ferry

Most people never forget their first experience on the Star Ferry. The Star Ferry has been existence for about 100 years. The Star ferry is a boat that runs from Central to TST or from Wanchai to TST and the ride takes only about 5 minutes. If you have not had the opportunity to ride the Star Ferry, then I have one more fantastic reason to visit the Central Pier #7- the burgers. My teenagers think the burgers at the "Burger Box" are some of the best burgers they have ever had. They are made with lots love and are so juicy that you better ask for double the napkins. The "Burger Box" located conveniently under the Central pier has only 3 small tables available for alfresco dining so come early or take away in a box.
On my way home today from the Star ferry passing by the yummy aroma of grilling burgers, I was inspired. I am on a mission to make my own juicy burgers with an international flair. "Juicy Teriyaki Burger"with some zesty buttery "Chili Lime Corn on the Cob" is a just a perfect way to end this day.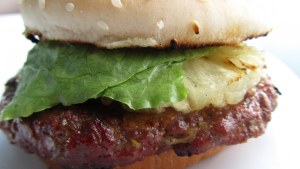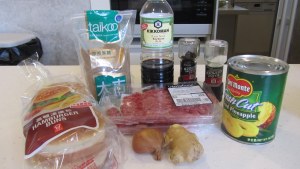 Juicy Teriyaki Burgers:
4 teaspoon soy sauce or teriyaki sauce or tamari
1 teaspoon brown sugar (sugar alternative)
2 teaspoon sesame oil
1 minced garlic
1 teaspoon minced ginger
1 minced shallot
1 pound ground beef
Fixings:
4 slices either fresh or canned pineapple - grilled
Lettuce
½ cup mayonaise
1 teaspoon wasabi sauce
1 teaspoon soy sauce
4 hamburger buns
butter for buns
Step 1: Preheat grill
Step 2: Mix ground beef with soy sauce, brown sugar, sesame oil, garlic, ginger, shallot together and form into 4 patties. (Put your 4 patties on a plate and into the freezer for about ½ hour and this will make it easier for you to handle burgers on the grill.)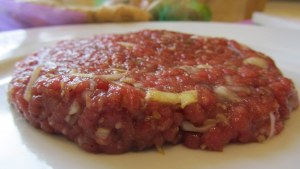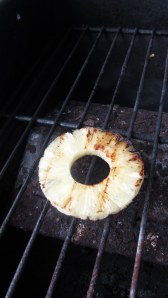 Step 3: Grill pineapple on each side about 2 minutes until you have nice grill marks.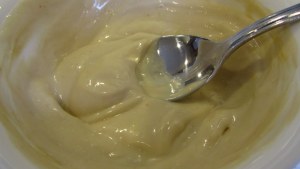 Step 4: Prepare the Wasabi sauce (Mix mayonnaise, wasabi sauce and soy sauce in a dish)
Step 5: Grill hamburgers on the grill for about 3-4 minutes on each side. At last 1 minute butter buns and grill for 1 minute.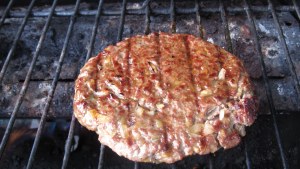 Step 6: Serve up the burger with all of the fixings. (On the lightly toasted sesame bun place the burger, then place a the grilled pineapple then a dollop of wasabi mayonnaise and lettuce and top with bun or anything else you fancy)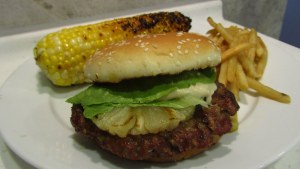 Step 7: Enjoy burger with Buttery Chili Lime Corn on Cob- (Recipe is below)
Buttery Chili Lime Corn on the Cob
4 tablespoons butter (room temperature)
1 teaspoon lime zest
1 teaspoon chili powder
¼ teaspoon garlic powder
½ teaspoon salt or to taste
¼ teaspoon black pepper
4 ears of corn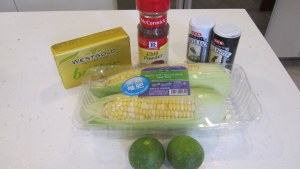 Step 1: Leave husk on corn on cob but peel back so that you can remove as much of the silk as possible.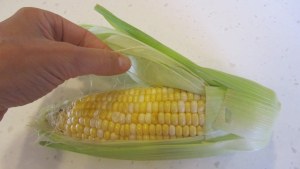 Step 2: Soak the corn on cob with husks in water for at least 30 minutes (to help prevent the husks from burning so much on the grill)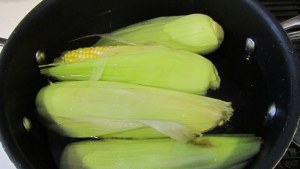 Step 3: Prepare the butter blend: Mix together the butter, lime zest, chili powder, garlic powder, salt and pepper and set aside.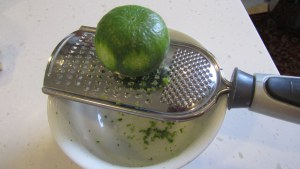 Step 4: Remove corn on cobs from water bath and dry with towel.
Step 5: Pull back husks around corn on cob with out tearing them off just enough to brush on the lime chili butter sauce and then push the husk back around the corn on the cob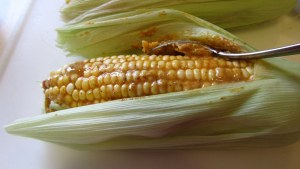 Step 6: Place corn on cob on medium grill and turn occasionally for about 20-25 minutes or until done.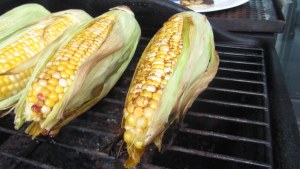 Step 7: Remove husks and drizzle with a little fresh lime juice and salt and serve. Yummy!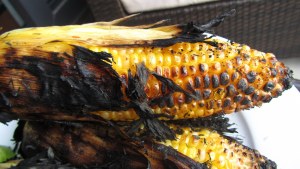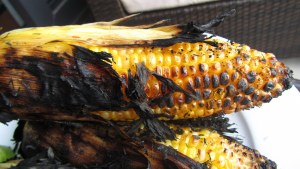 Ingredients
teriyaki sauce -

tamari (soy) sauce -

sugar or sugar alternative -

sesame oil -

ginger -

garlic -

shallots -

ground beef -

pineapple -

lettuce -

mayonaise -

wasabi -

hamburger buns -

butter -

lime zest -

chili powder -

garlic powder -

salt and pepper -

corn on cob -
Nutrition