Golden brown puffed savory Gluten-Free Herbs de Provence Buns are gluten-free, dairy free and delicious hot out of the oven.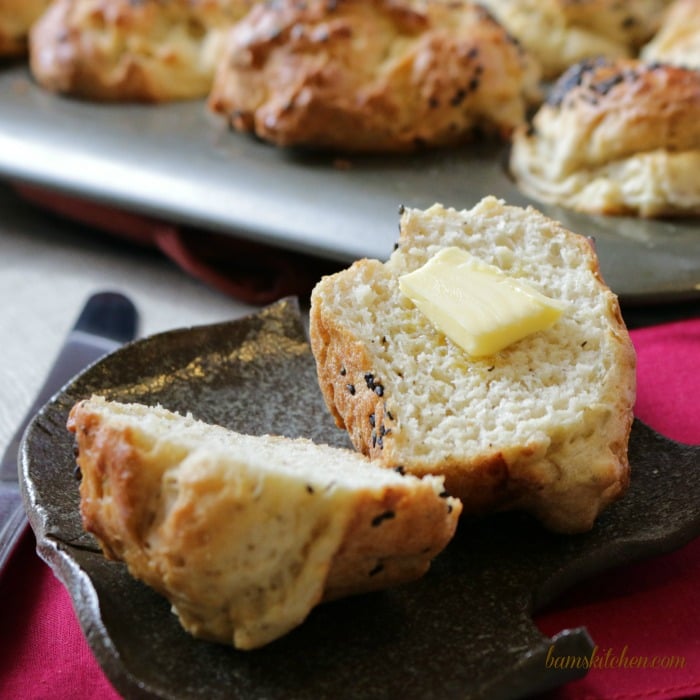 Cut one in half and slather a little butter while the steam rises and bite into the crispy crust and the tender middle.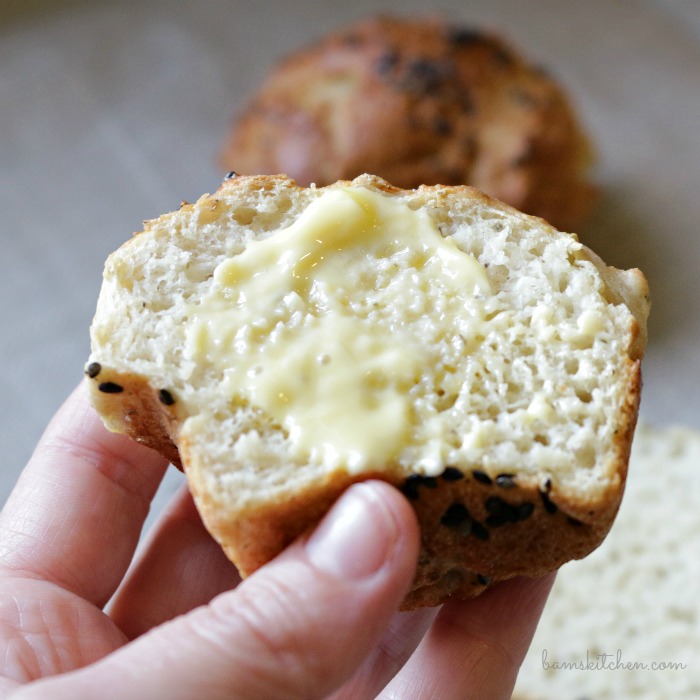 These little Golden brown puffed savory Herbs de Provence buns are gluten-free, dairy free and delicious hot out of the oven. These would be the prefect accompaniment to any Thanksgiving meal or any time you want to have a savory snack or for sandwich bread in the kids lunches. I made something extra special with my gluten-free herbs de Provence buns the other day. It is a surprise and you will have to stay tuned to read more about the upcoming recipe.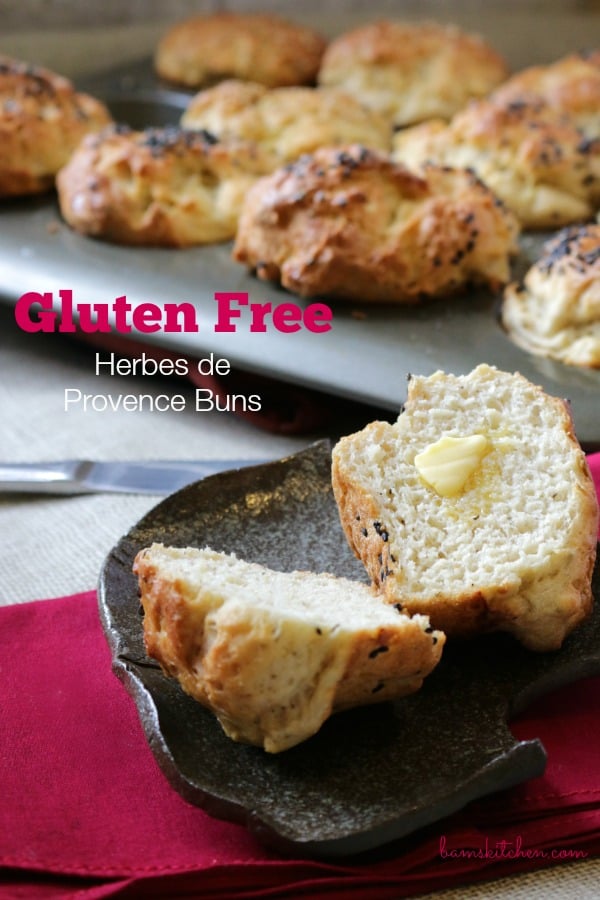 I first made a batch of pull apart buns using regular wheat flour and in my opinion they were a complete failure. I swear I don't know what happened but after 2.5 hour of kneading, and letting it rise and making ball and then waiting for them to rise again I want something that is out of this world and it wasn't. These rolls were just plain old boring and texture was not the best.
As the boys were huddled in my kitchen poking and prodding at my failed wheat flour/yeast rolls that just came out of the oven, I worked on my gluten-free herbs de Provence buns. I used Bob's Red Mill Homemade Wonderful GF Bread Mix, Gluten Free, 16 oz (1 lb) 453 g. Every time I work with this product I have successful results and it is much easier than making standard wheat flour/yeast buns. You can feel to swap with any of the Gluten Free (GF) bread mixes you enjoy but this is the one that I have access to in Hong Kong.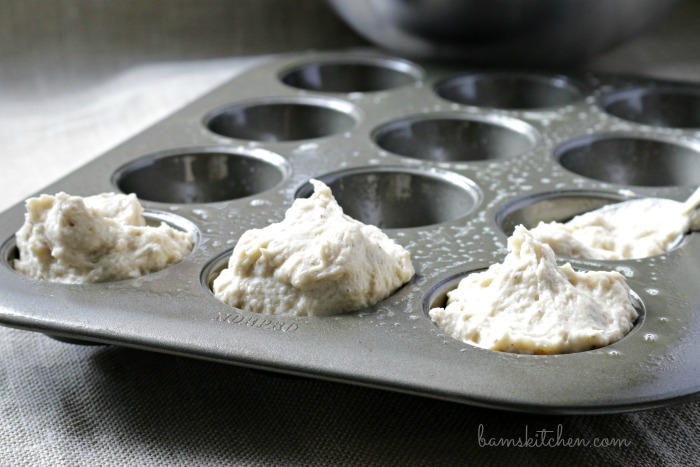 I tested the Bob Mills GF bread product with almond milk and also used a vegan gluten-free egg replacement. However the best results were with real eggs as they came out lighter and fluffier and you really get a nice golden brown glaze on top using egg. The bread even has those little nooks and crannies on the inside and that crispy crust on the outside that I love. If you love little nooks and crannies in your bread, be sure to try our Whole Wheat Herb Focaccia Bread.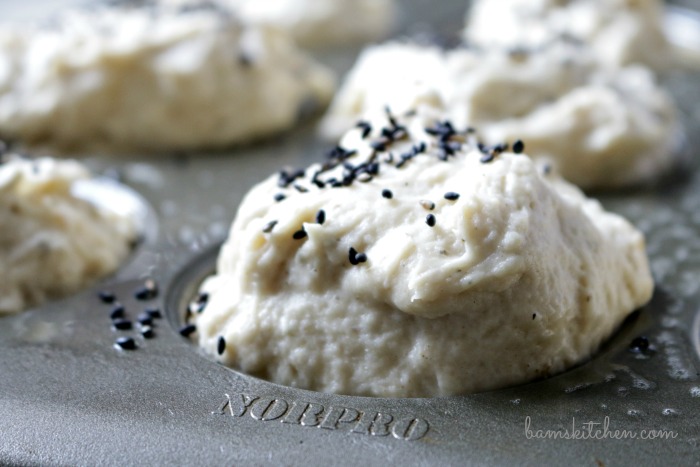 I followed the instructions for baking by hand but had to make some alterations to meet my needs. I used almond milk instead of cow milk. I also used my lactose free butter instead of real butter. I added Herbs de Provence and salt to the mix. I also glazed the top of the rolls with an almond milk and egg mixture and I also added sesame seeds (Yes, some of my sesame seeds are black. Have fun with your toppings) and sea salt on top before baking. However one of the best changes was baking these rolls in a muffin pan. In addition, I did not put just enough mix to meet the sides of the pan, instead I placed a dollop of it in the muffin pans and let the mixture rise above the sides of the muffin tin for some beautiful looking buns.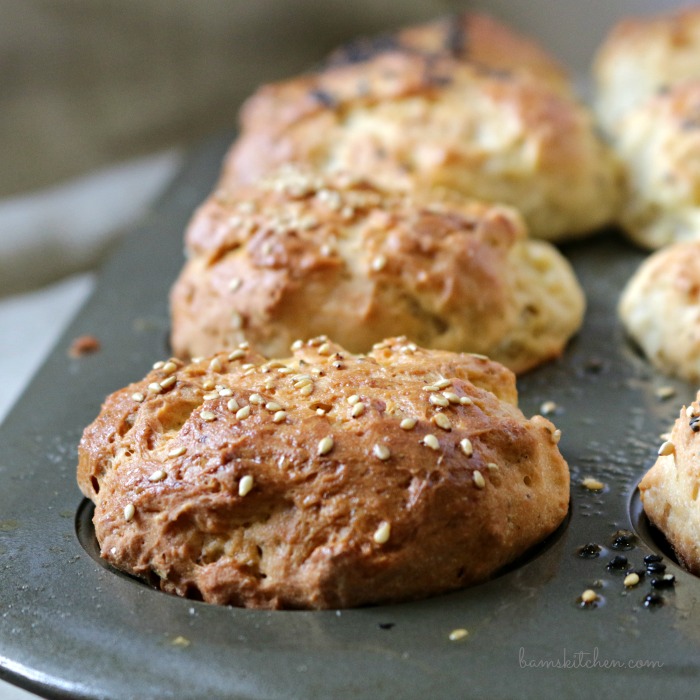 I am sad to report that I had made these gluten-free herbs de Provence rolls for myself but my teenagers preferred these muffins to the regular wheat flour and yeast recipe. So guess what? I was only able to eat one of the 12 rolls myself and the other 11 have mysteriously vanished and must have been taken by gremlins.
I encourage you to try this recipe and add your own fun additions. By all means you do not need to add herbs de Provence but may try some fresh rosemary, basil, sage or maybe if you are not lactose intolerant add some cheese. Maybe you want to make them sweet and add some honey or sugar alternative and apples and cinnamon. I guess the ideas are endless and try whatever your little heart desires.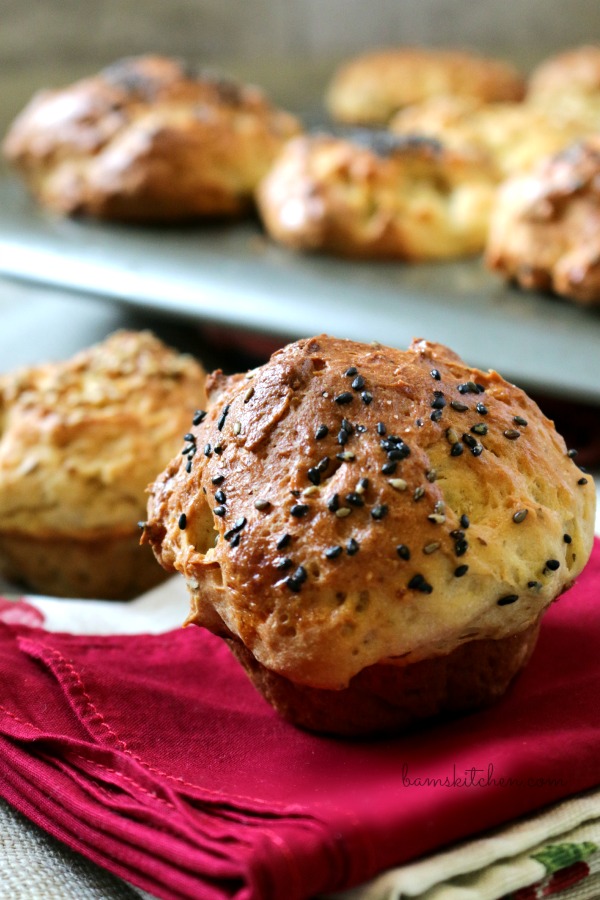 These delicious gluten-free herbs de Provence buns are best eaten hot out of the oven. You can also microwave or reheat in oven on low heat just to reheat them through before serving. I also highly recommend storing them in the refrigerator in a sealed plastic bag or tupperware so they stay fresh longer and freeze them within 3 days if they are not eaten right away. (If you are looking to save some time on your hectic Thanksgiving day these could be easily be made in advance and frozen and just heat up on the day of your event) I am sure they would last at least 3 days in the refrigerator if you do not have gremlins.
More Gluten Free Baking Recipe Ideas
Chewy Gluten Free Orange Cookies
Best Orange almond Flourless Cake
Dark Chocolate Macadamia Nut Cookies
Muffuletta Pizza
Hungry For More? Subscribe to our Newsletter and follow along on Facebook, You Tube, Instagram, and Pinterest for all the latest updates.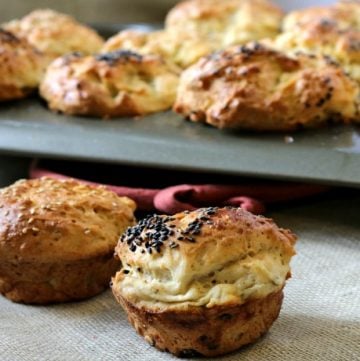 Gluten-Free Herbes de Provence Buns
Golden brown puffed savoury herbs de Provence buns are gluten free, dairy free and delicious hot out of the oven.
Print
Pin
Rate
Ingredients
1 and ⅔ cup

almond milk

warmed to 110 degrees F(you can exchange with soy milk, coconut milk or even cows milk)


1

package

yeast


or about 2 and ¼ teaspoons

16

oz

Gluten Free Flour Mix

(I used Bob's Red Mill Homemade Wonderful GF Bread Mix, Gluten Free but use whatever one you like)

1

egg - 1 whole egg


plus enough egg whites to make ¾ cup (or can use vegan gluten free egg replacer)

¼

cup

butter

(I used lactose free margarine but you can also use vegetable oil)


1

teaspoon

apple cider vinegar


1

tablespoon

herbs de Provence


1

teaspoon

sea salt

for the mix and a little extra for the topping

cooking spray


to prevent your bread from sticking to your muffin tin or paper muffin cups

sesame seeds


optional- garnish
milk and egg glaze

1

tablespoon

almond milk


(or any milk of your choice)

1

egg

(or skip this is going vegan and just brush with the milk)
Instructions
Preheat your oven to 190 degrees C or (375 degrees F) I do this so it gets my kitchen warm and cozy and a nice place for my rolls to want to rise.

Place your warmed 110 degree F milk in a small bowl with the yeast and leave it set for about 5 minutes until the yeast has a chance to start foaming up. The yeast packet was included inside the Bob Mill's GF bread mix and I do not know if this is different than other yeasts but I did not have to use and sugar or honey to get the yeast active. (It is very important that your milk is not too hot or it will kill the yeast and if it is not warm enough it will not activate the yeast.)

Add the yeast mixture, egg (or egg replacement if want it vegan), melted butter (or butter alternative of choice), apple cider vinegar and ½ cup to your GF flour bread mixture. With regular beaters, beat slowly and add one ½ cup of GF flour at a time and be certain to scrape down the sides of your bowl occasionally. Add herbs de Provence and sea salt just until mixed. Your dough will be very wet and sticky. Set aside.

Spray your cupcake/muffin tins with cooking spray or oil so the do not stick. Place large heaping spoonfuls and fill up your muffin tins evenly over the 12 cupcake/muffin holders. My heaping spoonfuls overfilled the muffins tins by a little and this is okay.

Garnish with sesame seeds (or maybe just a little more herbs de Provence on top) and combine your almond milk and egg glaze and slather over each roll in the muffin tin and add a little sea salt on top if you wish. (if vegan just skip the egg and glaze with either soy/almond or milk of choice) Place a greased plastic wrap delicately over your rolls and place in a warm place with no drafts for about 25 minutes until they rise.

Bake your gluten free herbs de Provence rolls for about 45-50 minutes or until your toothpick comes out clean.

Enjoy your delicious gluten free herbs de Provence muffins hot out of the oven with a little butter, if you wish, or use these rolls to make your favorite sandwiches.
Notes
Either use a vegan egg replacer or 1 tablespoon ground flax seed mixed in 3 tablespoons of water for each egg replaced to keep this recipe vegan or plant based.
Nutrition
Serving:
1
bun
|
Calories:
159
kcal
|
Carbohydrates:
25
g
|
Protein:
5
g
|
Fat:
6
g
|
Saturated Fat:
3
g
|
Cholesterol:
37
mg
|
Sodium:
240
mg
|
Potassium:
16
mg
|
Fiber:
4
g
|
Sugar:
1
g
|
Vitamin A:
170
IU
|
Vitamin C:
1
mg
|
Calcium:
35
mg
|
Iron:
2
mg