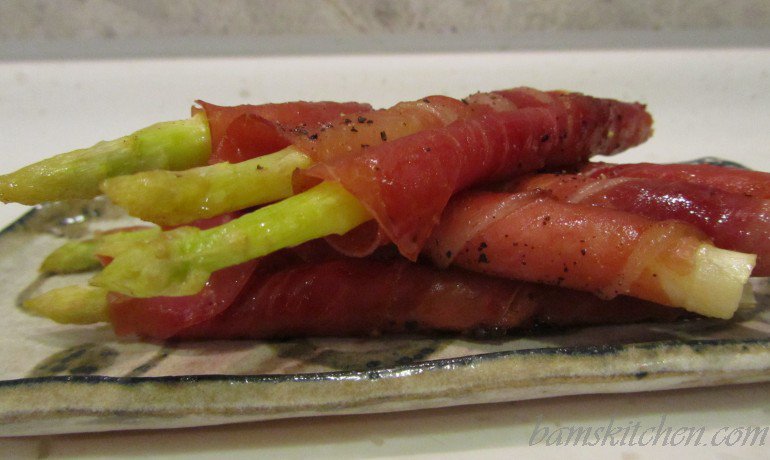 It is Spanish Tapas night in BAM's Kitchen. Tapas are small appetizers or snacks in Spanish cuisine. Tonight we are going to start with some delicious Prosciutto Wrapped Asparagus. These little tapas are so lovely as they have the crispy texture and salty taste of the prosciutto ham paired with the tender and sweet asparagus. Prosciutto Wrapped Asparagus tapas are very simple to make and because the vegetable is camouflaged under the taste of delicious prosciutto, even teenagers will love them.
The word "tapas" in Spanish means lid or cover. There are many legends on the reason why these little scrumptious snacks are called tapas. In ancient times, a piece of flat bread or even a slice of thin ham would often be placed on top of the wine or drinks before it was served to protect it from getting fruit flies or sand inside. Some say it is because in traditional bars in Spain, they would eat and drink while standing up and place their little plate of food on top of their drink. Some say that the word Tapas was used because old tavern owners would serve strong tasting cheese to "cover" the bad taste of the cheap wine they were serving. Needless to say for whatever reason this little tradition came about I am happy to celebrate it in my home.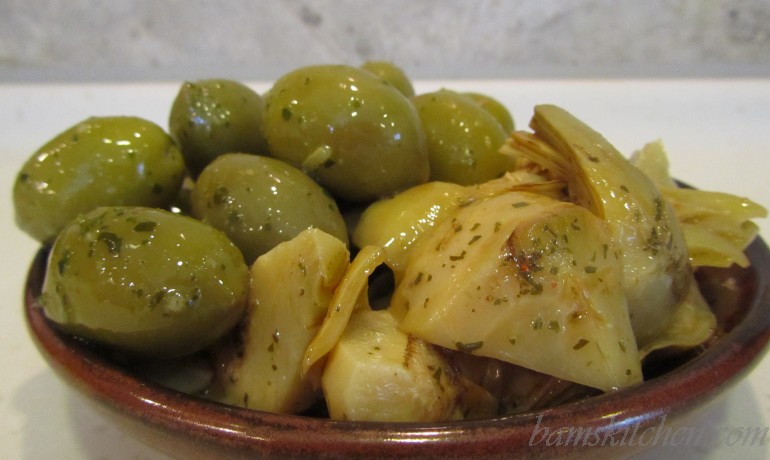 Sharing a Tapas evening or afternoon in your home is a fun way to have a no hassle gathering. Tapas are very easy to prepare and can be as simple as setting out olives, breads and cheeses along with some of your favorite wine and/or some non-alcholic beverages for the children. Everyone can just help themselves to the finger food and mingle.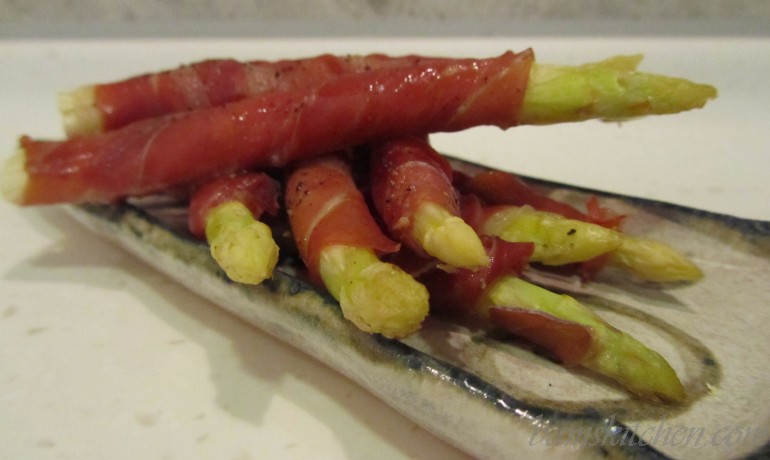 Many tapas can be served at room temperature and made in advance so the hostess can join in on all the fun and less time in the kitchen. This evening we are going to start out with some Prosciutto Wrapped Asparagus. However, coming soon from BAM's Kitchen are empanadas and other tapas treats.
Prosciutto Wrapped Asparagus: (Serves 4-6 adults or 2 hungry teenagers as a snack)
Prep time: 10 minutes Cook time: 12-15 minutes
16-20 asparagus- about 1 pound (green or white- I used white as this was my only option at the market)
8 ounce very thin sliced prosciutto
Olive oil for drizzling
Cracked black pepper
Step 1: Preheat oven to 400 degrees F (204 degrees celsius) - (Grilling them is a great option if you wish)
Step 1: Wash asparagus and break off ends where they are tough.
Step 2: Cut prosciutto slices lengthwise in half.
Step 3: Start at one end of the asparagus and wrap the prosciutto around. (I have picky teenagers, however, if your family likes cream cheese then at this step a nice addition is to place a little of cream cheese on one side of prosciutto before wrapping up the asparagus- yum)
Step 4: Place prosciutto wrapped aspargus on baking sheet and drizzle lightly with olive oil and add cracked pepper.
Step 5: Roast prosciutto wrapped asparagus in oven for approximately 12-15 minutes or until prosciutto is slightly crispy and asparagus in tender.
Step 6: Serve warm or at room temperature with other tapas and a lovely "red" wine for the adults or a lovely "red" soda or juice for the kids.