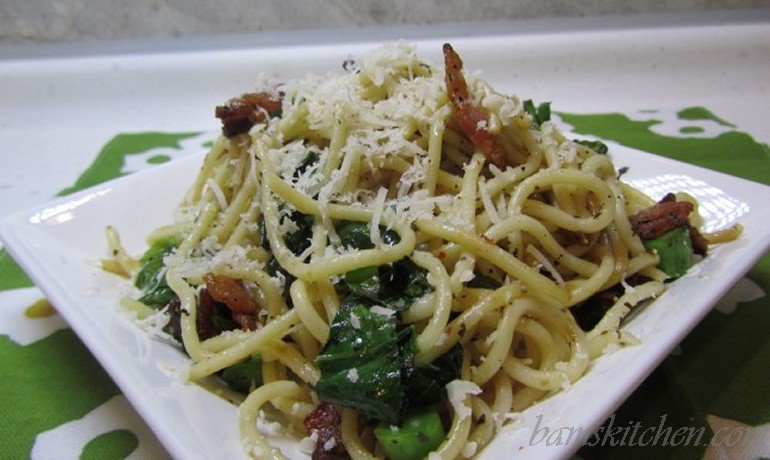 Food for fuel.
This is what this recipe is all about. I have a growing teenager boy that comes home from school absolutely ravenous, every day. He will eat everything in sight, unless I can get a quick healthy meal on the table fast. Lets see, what do I have in my fridge and pantry that I can whip up? Hmm, my fridge is echoing due to the vast empty space. My cabinets look like Mother's Hubbard cupboard as I am way over due to head to the market. Now lets see I do have pasta, some pancetta cubes and some green veggies... Now that sounds like a dish in the making....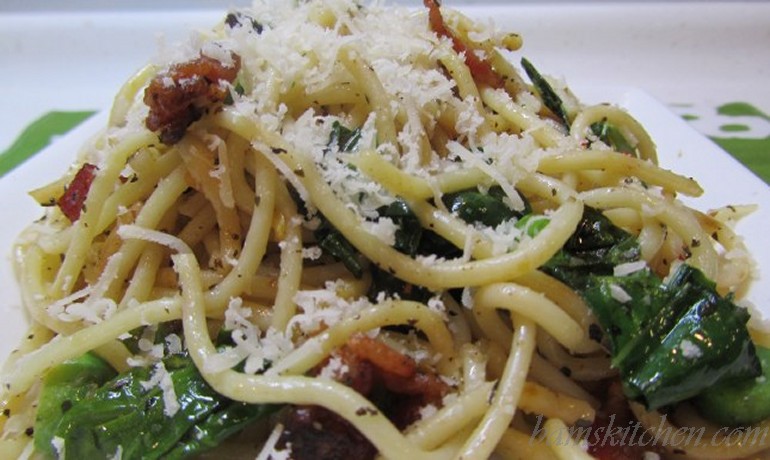 Pancetta linguine with "Gai Lan" (Chinese broccoli) sautéed with garlic, herbs and grated Parmesan Reggiano is a great way to get a quick bolus of protein, carbohydrates, vitamins and minerals into your hungry kids fast. Seriously in less than 20 minutes or 30 minutes if you want to make a tossed salad for the side, you can a great week day meal. Especially with the holidays looming and all of the chaos in our lives, we need a great stress buster. This easy pasta meal makes a week night dinner menu simple, healthy and a breeze to prepare.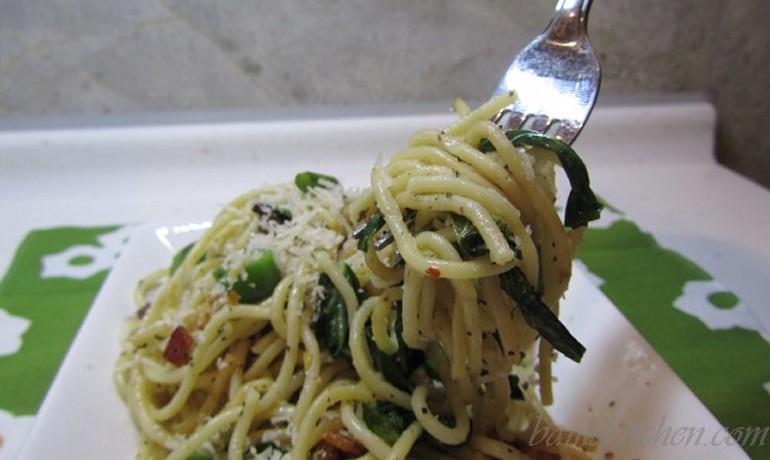 You can actually prepare this dish with any vegetable that is easy for you to gain access to in your home country. Some good alternatives might be spinach or broccoli. However, as we are currently here in Hong Kong and the prevalent vegetable is Gai Lan. Gai Lan (芥兰) is from the same family as kale, collard greens and coniferous vegetables including broccoli and cauliflower. There are dozens of varieties of gai lan which may be found at markets under the name Chinese Kale. Gui Lan has thick green stems and branches with glossy variegated blue-green to deep green leaves. When the plant matures they produce underdeveloped flower buds. The younger plants have crisper tender stalks and leaves. Gai lan has a flavor similar to broccoli, both bitter and sweet. Its flavor mellows with cooking.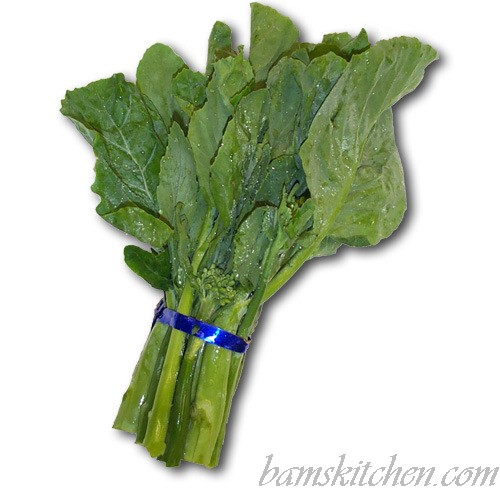 Pancetta linguine with Gai Lan 芥兰 (Chinese Broccoli)
Serves 4 adults or 1 hungry teenager
1 pound linguine pasta (or spaghetti, or gluten-free, whole wheat or whatever your little heart wishes)
1 package of pancetta cut into cubes (or ¼ pound of bacon)
2-3 cloves garlic sliced thinly or minced (whatever you prefer)
1 tablespoon olive oil (or can use fat drippings from the pancetta,gives dish added flavor)
2 cups chopped Gai Lan 芥兰 (Chinese Broccoli) (or whatever green leafy vegetable you prefer)
salt and pepper to taste
1 teaspoon dried basil (or 2 tablespoons fresh basil)
dash of dried red chili peppers (optional)
Fresh grated Parmesan Reggiano
Step 1: Boil pasta as directed until al dente. Drain and set aside.
Step 2: In a large pan or wok, add pancetta and fry up until golden brown. Leave about 1 tablespoon of pancetta fat drippings in the pan or drain and use olive oil instead (whatever you prefer). Add the garlic, Gai Lan, salt and pepper, basil, dried red chili peppers and saute until vegetables turn bright green and are slightly tender.
Step 3: Add the pasta to the pancetta ad vegetable mixture and mix well. Adjust seasonings.
Step 4: Serve Pancetta Linguine with Gai Lan with fresh grated Parmesan Reggiano and a side salad. Enjoy!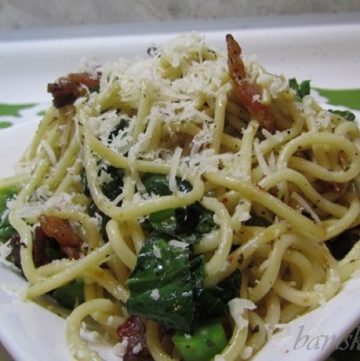 Ingredients
linguine pasta -

pancetta -

garlic -

gailan (Chinese kale) -

basil -

dried chili flakes -

parmesan cheese -

olive oil -
Nutrition