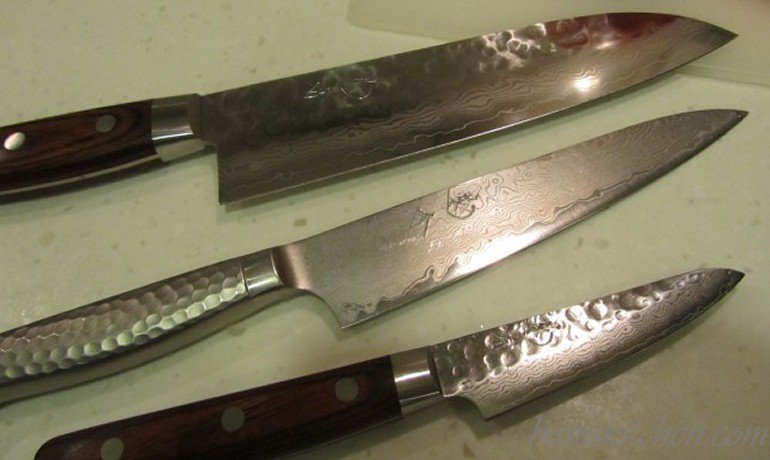 Do you remember this scene from the movie,"Kill Bill"?
Hattori Hanzo: What brings you to Okinawa?
Urma Thurman: I'm here to see a man.
Hattori Hanzo: Oh yeah? You have a friend living in Okinawa?
Urma Thurman: Not quite.
Hattori Hanzo: Not a friend?
Urma Thurman: I've never met him.
Hattori Hanzo: Never? Who is he, may I ask?
Urma Thurman: Hattori Hanzo.
Hattori Hanzo: What do you want with Hattori Hanzo?
Urma Thurman: I need Japanese steel.
Hattori Hanzo: Why do you need Japanese steel?
To slice and dice with the utmost of ease of course!
What kitchen would be complete without your favorites knives and mine are made of Japanese Steel. Japanese steel, it is like nothing else you have ever used in the culinary world. The balance of the knives are superb. The blade accuracy is so sharp it can cut tomatoes with ease. Japanese steel has strength, but yet is so light to use. When I'm looking for a knife in my kitchen to do intricate cutting, I immediately grab for one of my favorite Japanese knives. Small detail work like carving, sushi prep, and slicing are some of my favorite uses. (If I want to do mass chopping and prep for stir fry or cutting up fish bones, I grab my Chinese cleaver as this knife is best for these types of activities.)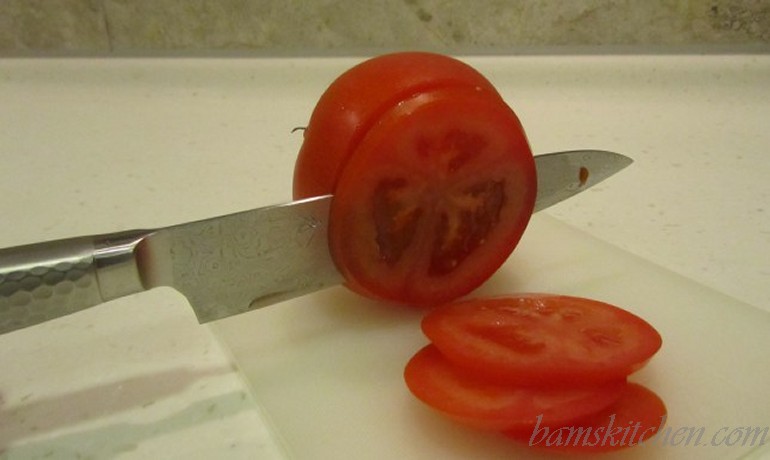 About one week before we moved from Japan to Hong Kong, I bought myself a going away gift of Japanese Steel. There is a little knife store in Yokohama near the Kannai Eki (Station) on Isezaki Cho. I am very partial to this knife and very protective of it, and of course it is my favorite. A special thank you (arigato gozarimashita) to my dearest hubby for getting me an early x-mas gift during his recent trip to Japan. Two new pieces of Japanese Steel!!! I am so blessed and motivated to be in Healthy World Cuisine. Now to add to my collection, I am a proud new owner of a Kikuichi chefs knife and pairing knife.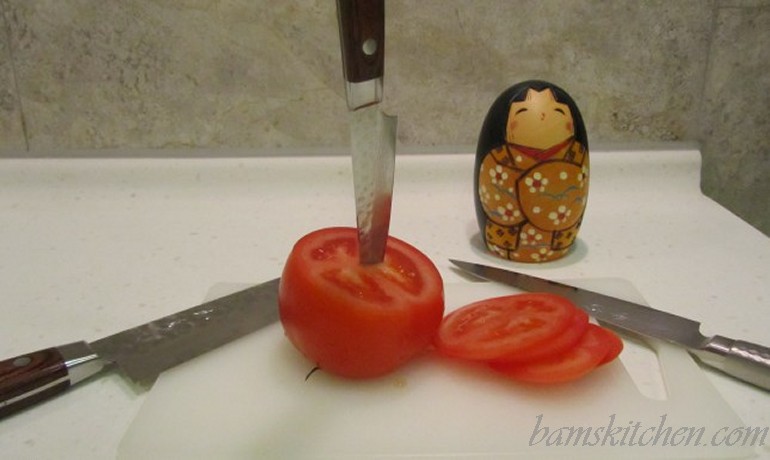 Kikuichi craftsmanship dates back seven centuries, and the company's cutlery still bears the emperor's chrysanthemum symbol, a legacy of its Samurai sword smith history. Every Tsuchime knife is hand-engraved, hand-sharpened and hand-hammered to unique perfection. These award-winning, full-tang knives are made in Japan from 16 layers of Damascus steel. These knives are made with a hard stainless core which provides excellent edge retention. The damascus exterior of the blade is hand forged and provides stability, toughness and beauty to the blade. Kikuichi Warikomi Damascus Tsuchime Knives are very unique. The word Tsuchime means hand hammered. This line features a clad knife has High Carbon Steel surrounded by a stainless steel exterior for protection and stain resistance. The hard stainless core of the blade provides excellent edge retention. Finally the blade is hand hammer to give it a rustic look and also help prevent food from sticking to the sides of the blade.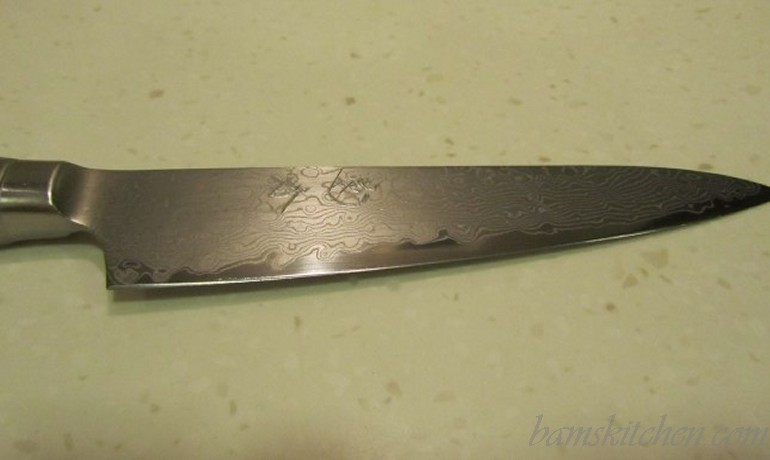 One of the most important differences between a Japanese knife and Western knife is the hardness. Japanese knives are much harder than Western knives and because of this they stay sharper longer and need less sharpening. Western knives are softer and need sharpening more often and this means you loose more steel with each sharpening of the knife. However a softer Western knife will have less chance for chipping compared to its harder Japanese counterparts. So the choice on what your needs and preferences are it is just up to you and what feels good and natural in your hands.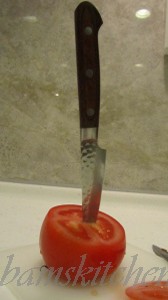 What kinds of knives do have in your kitchen? What are the pros and cons of the knives you own? I would love to hear about your stories.
Of course, with all of this being said you must take really good care of your knives if you plan to keep them for a lifetime.
Wash and dry the blade by hand immediately after use. Dishwashers are very bad for all knives.
Do not throw your knives in the sink or they may chip.
Use a soft cloth to wash the blade. Avoid abrasive dish scrubbers and powders as these can damage the finish of your beautiful knife.
Do not cut through bones. You can certainly cut along/beside bones, but do not cut into bones. This can, at worst, chip the blade.
Never use this knife to cut frozen food.
Never twist, cleave or prod with the blade.
Always use a wooden or plastic cutting board. Never cut on bamboo, glass, marble, slate, a plate, china, marble, arborite or anything harder than steel.
Store knives in a way that the blades will not knock into each other. Use a block, magnetic strip, slotted hanger or edge guards.
Never transport knives unprotected.
Dull knives are hazardous. Keep your knives sharpened and be gentle with any of these sharpening devices. There are many types of sharpening options out there such as your hand-held knife grooved steel, benchstones and waterstone, guide systems, rod and clamp systems, V-systems and crock systems, pull through systems and electric sharpeners. Another option is to send off your knives for professional sharpening.
It is so fun getting new gadgets for the kitchen. However, chef knives are a life long gift that can be passed down from generation to generation with a little love and care.